How Hotel Brands are Gaining Customer Satisfaction & Loyalty
By Jennifer Corwin Senior Manager, Customer Insights, J.D. Power | March 15, 2020
If you can't beat them, join them. That is exactly the narrative that is taking shape from both the established hospitality industry and the alternative lodging sector as the latter creeps up on controlling 30% of the U.S. market this year. It is a story of remarkable growth, disruption and market share capture when you consider that just five years ago alternatives to the traditional hotel stay accounted for only 6% of the market.
To put this growth into context, 2019 has seen the alternative lodging industry hit a significant milestone; consumer spending on Airbnb in the U.S. has surpassed those of Hilton Worldwide and the more than four thousand properties spread across its 15 brands.
While the rapid growth of alternative lodging players might make incumbents nervous or even fearful, it should not. The good news for the industry as a whole is that the pie is expanding: the alternative lodging sector can be credited with bringing new travelers into the market, creating a rising tide that has offset any serious carnage among the major players in the hospitality sector. Of course, this has all occurred in the context of an unprecedented period of uninterrupted economic growth.
No one can predict with any degree of confidence how the economy will evolve in the coming months and years. What we can say with certainty is that the demographics of the traveling public are rapidly shifting to younger and more digitally-oriented generation. Millennials are projected to account for the lion's share of business travelers as we approach the mid 2020s, with Generation Z -- those born after 1996 and who can truly be called digital natives -- now entering the workforce to become a significant factor in the lodging industry.
For this reason, it should come as no surprise that the big brands in the industry have taken note of the rapidly shifting demand factors. Most, if not all, of the major players have launched their own response to carve into the share of travelers that Airbnb and other players have pulled into the market, even as they shore up conventional operations and redouble efforts to engage with travelers interested in a broad variety of experiences. Marriott International, for example, has announced Homes & Villas by Marriott International. The service enables members of Marriott's loyalty program to earn and redeem points when they book and stay at some 2,000 homes in 100 destinations around the world.
Along the same lines, Onefinestay was acquired by AccorHotels in 2016 and offers luxury home rentals as an opportunity to keep high-value customers loyal and engaged in the Accor ecosystem. Additionally, Hyatt and Choice Hotels have both dabbled in similar initiatives, and many other major hotel chains are exploring the efficacy of incorporating alternative lodging offerings into their loyalty programs.
While the jury is still out on how successful these initiatives will ultimately be, we do know that they have presented significant challenges. Since acquiring Oasis two summers ago, for instance, Hyatt's leadership has wrestled with how to maintain the kind of quality control that is essential to its brand promise. Large hotels are also struggling to reconcile the different -- and often conflicting -- regulatory requirements that govern the industry in different parts of the world.
Meanwhile, Airbnb has itself counter-punched through its own initiatives to engage with institutional players – including hotels of varying sizes and traditional bed and breakfast operations – to advertise their rooms on Airbnb. Just as challenging has been the nearly half billion dollar move by Airbnb to acquire HotelTonight, as it further seeks to integrate is alternative lodging offerings into last-minute demand for traditional and boutique hotel services.
Managing Risks in Muddied Waters
In short, the clear lines that once distinguished the players and their unique value propositions have been muddied. In itself, this is neither good nor bad, provided all concerned parties manage their risks.
For hotel chains, the biggest imperative is to protect their brand and ensure that the hard work that has been invested in developing a clear value promise with consumers is not lost. Many repeat guests who have accumulated thousands of dollars in loyalty benefits have come to expect a consistent experience and could be disappointed by any perceived degradation in the service they have come to depend on. Of course, this challenge is not necessarily a new one for the big chains. Many of their properties are, in fact, independently – not corporate – owned.
As a result, processes, procedures and operational mechanisms are already in place to protect their brands. Marriott, for one, is taking steps to avoid brand damage from unsatisfactory homestay experiences by offering its members access to "premium and luxury homes," and has put in place measures to verify that each property meets their high standards.
Ironically, players in the alternative lodging market face a similar risk in their own quest to capture market share. The new players have tapped into the notion of using their platforms to deliver unique "genuine" local experiences that are untouched by corporate control; this promise could be undermined if they are not careful.
Taken together, all these initiatives mean that, for guests, there is the potential for accommodation options to become more complex, more confusing and less distinct.  However, this same dynamic can be a major opportunity for those who look at complexity through the customer lens. For instance, at J.D. Power we are seeing high levels of satisfaction among well informed guests who have researched their many options to make decisions. The challenge comes when there is too much choice, or if those choices become commoditized.
The onus is on chains in the lodging space to find the right balance between presenting suitable options for guests without overwhelming them. While certainly not easy, it is worth the effort, since doing so will likely leave guests more satisfied and thus likelier to become regular customers.
Tapping into the Prevailing Mood of the Traveler
In any case, it is clear that travelers today are increasingly open to splitting their travel dollars between alternative lodgings and hotels. Often, their choice depends on the experiential objective consumers have.
Young travelers to Paris may have little intention of staying in their place of lodging, planning instead to be out and about to experience the sights and sounds of the City of Lights. Conversely, those same consumers may plan separate trips with the objective of taking advantage of high-end amenities offered by well-respected hotel brands. One thing we know for sure is alternative lodging users are often very savvy hotel guests. They value authentic local experiences and tend to make the most of hotel services and amenities when they do choose hotels for their lodging needs.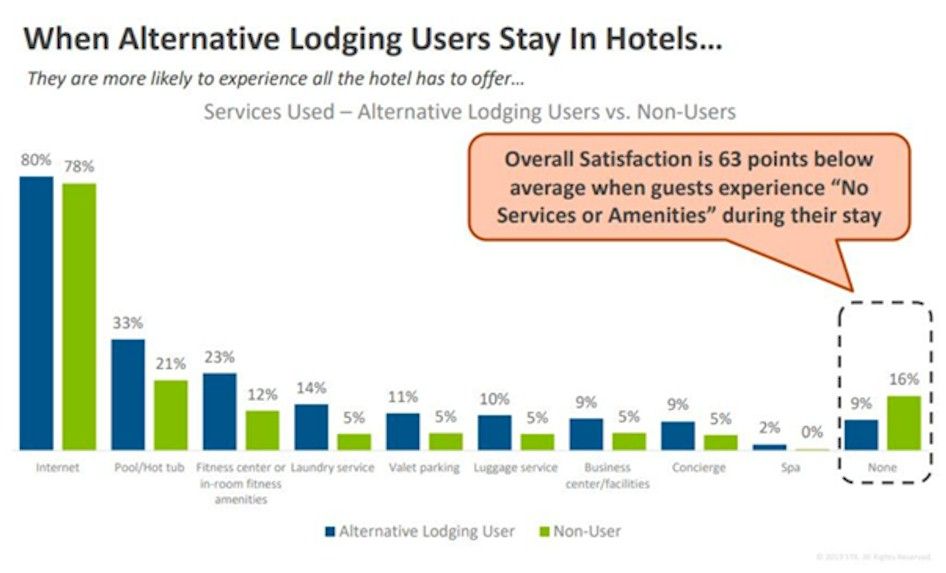 Strong Communication with Target Audiences is Key
It is for this reason that it will be so important – across the board – to develop and execute communications initiatives that target specific audiences with discrete messages that clearly describe the experience guests can expect to receive. In this context, we are talking about taking personalization and one-to-one engagement models to an entirely new level.
The state of the art used to revolve around marketing to a specific individual. In the emerging hospitality sector, the key to success will be to effectively engage with individuals in the context of highly personalized trips.
This is no mean trick when you consider how varied the expectations are for today's traveler. High-frequency business travelers may demand a consistent lodging experience in order to offer some sense of control or comfort in the turbulent life of the road warrior. There is much to be said for being able to wake up in the middle of a jet-lagged night and easily navigate a semi-familiar layout.
Things can change dramatically, however, when the same individuals pivot to their "traveling for pleasure" mode. In many ways, the expectations of travelers are flipped. More often than not, the (older) Facebook and (younger) Instagram generations want to bring back stories and images based on unique -- and perhaps unexpected -- experiences.
This is where advanced analytics and artificial intelligence/machine learning (AI/ML) are likely to play an important role. If the customer engagement systems of hosts -- whether they are traditional players or alternative providers -- are unable to determine if guests are "traveling for business or pleasure," the chances of delivering a mis-matched experience will rise.
This will be significant in the battle for travelers' hearts and minds. On one hand, it may well be that alternative lodgers have a bit of an edge. They tend to be "digital native" players that have extremely sophisticated web- and mobile-app operations that are well integrated into all aspects of their user interfaces (UI).
On the other hand, few established industries have leveraged technology and data to capture customer preferences better than the traditional hospitality sector. Indeed, Chief Marketing Officers of major hotel brands often have bigger technology budgets than their Chief Information Officer counterparts running enterprise IT.
It will be interesting to see how things unfold. In the merged hospitality environment that is taking form, delivering customer satisfaction will hinge on setting – and then meeting – different consumer expectations in very specific individual and experiential contexts.
HotelExecutive retains the copyright to the articles published in the Hotel Business Review. Articles cannot be republished without prior written consent by HotelExecutive.