9 Benefits of Hosting Corporate Events on Campus, and Tips to Maximize
By Diane Tighe Director of Catering & Conference Services, Washington Duke Inn & Golf Club | April 26, 2020
Whether you're fresh out of college or graduated decades ago, there is a lot that universities can teach us outside of a lecture in a classroom.
Too often overlooked, university settings offer ideal environments for corporate meetings and conferences, along with a variety of lessons in successful hosting. At their core, universities are filled with personality and the energy that comes along with new breakthroughs, bright minds and endless opportunities. My favorite aspect of an on-campus conference or meeting is that it lays the groundwork for attendees to generate big ideas, because the setting differs from a typical venue, yet feels nostalgically familiar.
From the multipurpose and flexible nature of a campus to its plentiful accommodations, I'm sharing some insider tips on how to capitalize on the many benefits that come with a university setting.
Washington Duke Inn & Golf Club, Durham, North Carolina
1. Universities are flexible and convenient
Going well beyond the conference room, campus settings offer any type of event space that an organization may need all within one attractive, walkable area. An amphitheater may host a keynote address while smaller breakout boardrooms can host planning meetings and allow for more personal connections. Attendees can easily walk between the spaces while taking advantage of a breath of fresh air and a moment to clear their heads.
Pro tip: Take advantage by using spaces that can be easily converted to serve multiple purposes. Renting out a classroom that can be converted from a large lecture hall to multiple intimate classrooms allow different events to be hosted all within one space during the course of a conference, with only a simple set-up change required.
2. College spaces are specific, yet general
The variety of event spaces allows for location selections based on not only size of the audience and format of the presentation, but also on the space's ambiance and message it sends. For example, a high-tech company may choose to host a session within the campus' technology center or innovation hub where attendees are immersed in the latest 3D printed projects or research projects on display. This type of setting can elevate the energy of an event and offer conversation icebreaker topics among attendees. Suddenly, the event is part of something bigger.
3. Knowledge lives here
A range of industries can make the most of a college campus by tapping into the professors that specialize in a relevant topic. Whether it's a largescale healthcare provider, an analytics company, a law firm or a hospitality industry organization – authorities in every sector are just a building away. Invite relevant professors to present on their research, sit on a panel, give an address or simply attend networking events. Industries that are seemingly disparate will often have tips and key learnings that translate across sectors; just like cross-training in fitness, the overall strengthening and conditioning ends up contributing greatly to another activity that seems unrelated.
Pro tip: Take advantage by blocking out time for attendees to explore a topical area of interest on campus, even if it's not directly affiliated with the original event subject matter. Not only will they appreciate a fresh perspective, but it can serve an unforeseen purpose down the road. The human brain does an excellent job of finding similarities and connecting the dots between two matters, which can ultimately enhance creativity and allow people to approach problems with new solutions.
4. Schools are inherently connected to the world around them
State-of-the-art technology is already integrated into event spaces, allowing seamless use of AV equipment and effortless wireless connections for presentations. If extra support is needed, IT professionals are readily available to ensure success.
Even the seemingly small things, such as access to electrical outlets, make all the difference. On a campus setting, outlets are already strategically placed to allow conference attendees the much-needed ability to plug in laptops and charge mobile phones. Much like today's students, meeting and conference attendees are always connected. Whether they are taking notes, checking emails in-between sessions or posting live on social media about the event, connectivity is no longer a bonus, it's an expectation.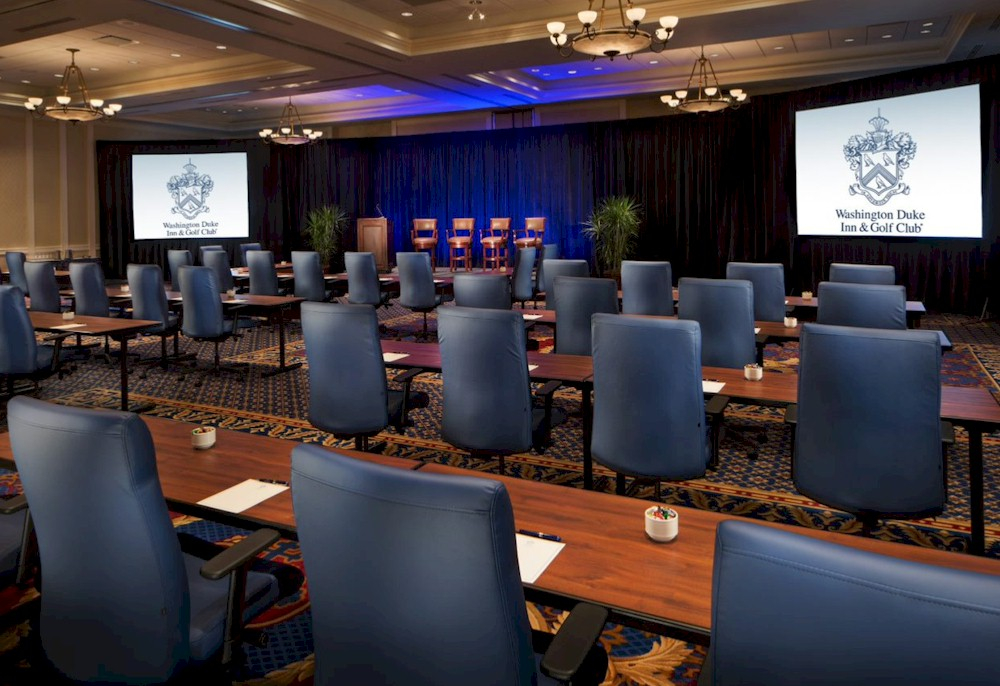 The Ambassador Ballroom at the Washington Duke Inn & Golf Club
5. Colleges nurture top talent
Companies and industry organizations hosting events on campus are not only reaching current employees and members, but also the next generation of talent. Higher education campuses contain bright minds that can add value and ingenuity to a company and attracting the best candidates begins long before they apply.
Pro tip: If timing allows, organizations can capitalize on job fairs, morning coffee and connection events or professional development center activities. Planners can take it one step further by having executives lecture a senior-level class or hosting dedicated sessions or networking events geared towards students.
6. Entertainment abounds
At a university, there are a bounty of experiences available to get attendees outside of a formal conference setting. Providing team-building opportunities for attendees to get to know each other in a relaxed setting can help create synergy among the group.
Campus tours enable everyone to get outside and move around between sessions. Entertainment and activities abound between on-campus sporting events, performing arts centers and shopping areas typically cater to both town and gown. Local coffee shops provide a quick pick-me-up before a day of meetings and can serve as great networking spaces outside of the conference. Proximity to diverse and trendy dining options meet various needs, from the adventurous eater to dietary preferences. Alumnae attendees can even share their favorite spots around town.
7. Campus settings are easy to navigate
Universities have already thought through foundational logistics such as parking and signage. Maps are readily available and easy to customize based on the event and spaces utilized. If transportation is needed from one area to the next, options like campus buses and safe rides are constantly operating.
Each college town has a unique culture and local business scene that contributes to the overall package, as they have a solid customer base, either visiting or regularly enrolled in the university, that aid the health of local shops. Any partnerships or affiliations are easily known and advertised on campus.
Pro tip: There are usually brochures and resources available in the student center to help navigate the surrounding city or town, which is perfect for the planners, but also for attendees arriving early to events or those staying longer.
8. Schools are prepared and equipped for emergencies
Every facility conducts and plans for typical safety protocols, like fire drills and testing equipment to ensure reliability, but universities have an elevated communication system in place to distribute news fast and manage effectively. Emails and text messages are immediately distributed across campus, alerting its inhabitants of any dangers, and have structured plans in place for what to do next.
Outside of larger threats, there's always the possibility that an attendee will catch a cold, twist an ankle or experience more serious, unpredicted medical concerns. University-affiliated hospitals like the Duke University Medical Center are some of the best in the world, with doctors who have very rare specialties to general practitioners. Selecting a site that can rise to the occasion in the face of an emergency is just as important as selecting a site that provides each of your educational needs, and with universities, you don't have to choose one or the other.
9. Accommodations are ready
University hotels are conveniently located on campus or immediately nearby. Both Washington Duke Inn & Golf Club and JB Duke Hotel are on the campus of Duke University. Catering to alumnae, students and corporate needs alike, these facilities often feature attributes that conference and meeting attendees appreciate. From noteworthy business meeting rooms and study spaces to check emails, to collegiate bars that are perfect for networking or grabbing a bite to eat between sessions – these facilities have already thought through what attendees need.
Pro tip: Make sure to do your research on which facilities and accommodations are open to the public. Many people assume that various options, like executive conference centers, are private, but there is more open market accessibility than many planners realize.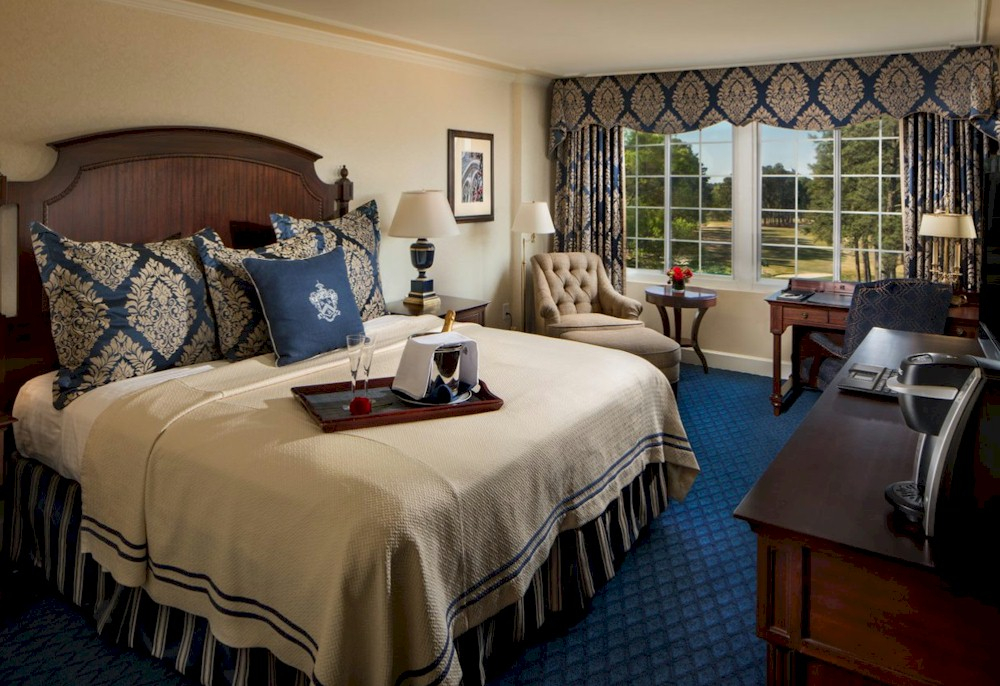 Guest suite at the Washington Duke Inn & Golf Club
Working at on-campus properties like Washington Duke Inn & Golf Club and JB Duke Hotel, I get to witness the excitement and ingenuity first hand in our world-class meeting rooms and beautiful event spaces. Our guests can utilize several different spaces depending on their goals, and even better, all stay in the same place, which cuts down on travel logistics. We enjoy accommodating the big ideas while handling the small details, so organizations can accomplish their objectives with ease.
With a changing world and workforce, corporate meetings and conferences must become as flexible and engaging as the people who attend them. Creating elevated, professional events don't have to come at the expense of an inviting, innovative atmosphere.
Hotels on campus or near campus can take advantage of these benefits through disseminating awareness during the sales process or simply leveraging as a knowledge bank when questions arise to provide solutions. If planners are looking for flexibility, convenience, recruitment and connection, a university setting might just earn the top grade in 2020.
HotelExecutive retains the copyright to the articles published in the Hotel Business Review. Articles cannot be republished without prior written consent by HotelExecutive.