Why Hoteliers Need An Authentic Brand Story
By Felicia Hyde Principal & Lifestyle Studio Director, H. Hendy Associates | May 10, 2020
As the hospitality industry becomes markedly competitive, hoteliers today are asking the same question: how does one differentiate their property and establish a unique brand that resonates with modern consumers? Whether selling a product or service, to thrive in today's ever evolving marketplace it's crucial to generate consumer loyalty with an authentic brand and purpose that people can relate to and support. Research shows that nearly half of all businesses fold after five years due to poor branding and visual storytelling. So, it's no surprise that the most profitable companies worldwide have one thing in common: a uniquely recognizable and memorable brand.
When selecting hotel accommodation, modern consumers are no longer paying for location, facilities or room types. Rather, they're opting for memorable destinations with a strong, eclectic culture and spaces that tell the brand and region's narrative through compelling design, spaces and amenities. The bottom line: travelers want to stay in spaces that tell a story, evoke emotion, and become a significant part of their travel journey.
While the demand for immersive and memorable travel accommodation and experiences continues to rise, it's a paradigm that's already transformed multifamily communities nationwide. With the intent to elevate the resident experience, multifamily architects have evolved their strategy to incorporate well-planned design elements and spaces that seamlessly unite to tell a unique story. Here are best practices hoteliers can apply to successfully achieve a fully branded destination that takes locals and visitors alike through their brand's narrative.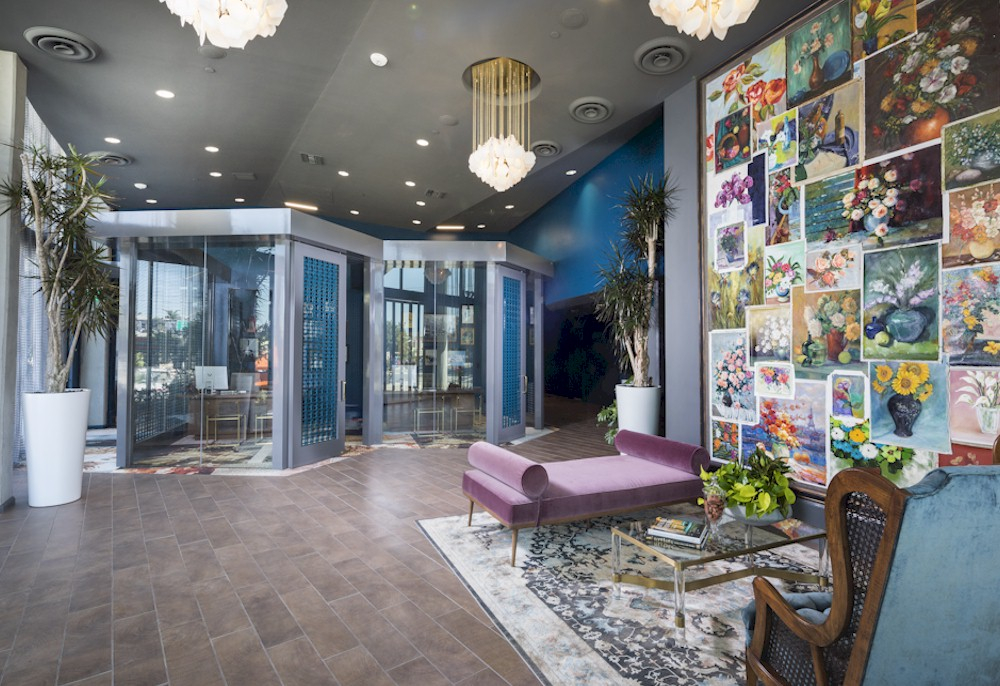 Broadstone North Park features a creative atmosphere inspired by the historic craftsmanship of the locale.
Discover the Brand
Whether building a multifamily or hotel destination, a thoughtfully crafted and branded space will have a consistent and cohesive storyline that's seamlessly weaved throughout the property. To deliver on this, developers should engage in demographic and consumer research to help uncover the brand identity and create a foundation on which to build. The following are key research strategies multifamily developers are applying that hoteliers may want to consider:
How do you unearth the brand identity of a hotel? Start by doing research. Study the surrounding city and take a close look at what makes the region unique – its historical elements, arts and events, food and drink, shopping, and more. As part of this study, make sure to analyze the region's most visited sites and classify what sets these places apart and how they work together to build the region's ethos.
It's also important to learn about the history of the city and how it has evolved into the destination it is today. Drawing upon a community's past can reveal a powerful narrative rooted in the region's history that can be applied to your property to evoke a sense of place, nostalgia, and connection for locals and travelers.
Another key aspect that cannot be ignored is the demographic makeup of the community. Hotel developers should ask themselves: who makes up the population? Other details to consider include resident's and traveler's income, habits, preferences as well as likes and dislikes. The composition of the area demographic should then be used to inform not only key amenity spaces needed to appeal to your audience but help craft the brand narrative.
Whether on a relaxing vacation or on a mission to take in the sites, a hotel property and its locality is a traveler's first touchpoint and your property should fully embody the destination's unique character. In order to design a hyper-local experience for residents and travelers, one must not only visit the destination but fully immerse themselves in its culture with a set of fresh eyes.
Be sure to familiarize yourself with the area surroundings, people and the community at large and uncover physical signs of culture that can be integrated into the property's design. By infusing key aspects of the area's history and culture, hoteliers can create an authentic and memorable guest experience that builds trust and credibility for the hotel brand.
Now that you have done your research, it's time to translate your findings into a strong brand narrative. This storyline should nod to the region's history, ethos and locale as well as your company's mission, purpose and values. Once defined, be sure to create a distinct set of guidelines to navigate the user through the brand experience. These principles should emulate your brand identity across all aspects of the business and serve as a tool for organizational success.
This step should be followed by transforming your findings into a brand platform that includes imagery, tone, color palette, typography and key messaging that serves to drive consumer perceptions and emotional responses. Defining a brand narrative and look and feel early on creates a platform of uniformity that can be optimized throughout the design of a hotel.
An example of a multifamily project with a compelling brand narrative is Broadstone North Park, a midrise 7,200 square foot residential community in North Park San Diego designed by H. Hendy Associates (Hendy). Walking through this community stimulates multiple senses – music humming before entering the front door, cohesive imagery at every turn and enticing aromas flooding each room. Research on the city's history and demographic informed the brand narrative and design which revealed that the region has a deep eclectic culture comprised of Millennial and Gen Z residents who enjoy art, music and vintage craftmanship.
The community's creative atmosphere came to life through a mix of classic art, antique furniture and decor and floor-to-ceiling murals curated by local artists. Brand guidelines laid the foundation for the property's design concept and the team worked diligently to weave the brand story through the property with one-of-a-kind spaces and custom architectural finishes.
Designing 'On-Brand'
Think of a brand as not only the face of a business. It's also the personality. It is the all-encompassing look-and-feel of an environment. In a hotel, having a recognizable thread of the brand running through every space is what delivers a memorable experience for visitors. There should be consistency and synergies between the reception area, lobby, cafe and each guest room that is not necessarily seen but felt. Architectural designers can achieve this harmonious ambiance by linking the spaces together through architectural elements, materials, and decor.
The following are design concepts multifamily architects and developers are applying to imagine 'on-brand' communities:
In order to have a fully unified and branded environment, hoteliers must start with the bones of the space. Before the walls go up, architectural three-dimensional imagery should be conceptualized with specific products in mind that will help support the brand identity. These elements have the ability to be much more than a roof and four walls. Rather, they are total environments – exteriors and interiors – that fulfill functional requirements as well as create dynamic, stimulating features that become the first layer of the brand story.
To deliver on this, consider engaging an architect from the beginning of the project to help identify key architectural elements needed to imagine a memorable and branded space from ideation to implementation.
The next layer of a branded environment comes from the materials and lighting that are chosen to support the architectural elements. This includes exposed interior finishes such as wood, glass, metal, carpet, tile, and applied materials which are key in setting the tone of a hotel environment. For example, an environment featuring light wood, white furniture and earth tones would convey a much different message than an environment complete with shiny metals, blacks and rich fabrics. When designing a hotel, be sure to reference your brand guidelines to ensure that the architecture and design features materials that work in concert to enhance the brand theme and message.
Another key element that should stem from the brand narrative is lighting. Not only is lighting functional, but it has powerful effects on the way people feel within a space. For example, lower, ambient lighting reinforces a relaxed, tranquil mood while bright lights can boost productivity and creativity. Lighting fixtures also help define a room by acting as a focal point or accentuating centerpiece. Think of lighting as the jewelry of hotel design – it can dress up a space and add an element of flare or dress it down for simple elegance.
The Tangibles
Furniture, artwork, plants and accessories are the tangible building blocks that tie a space together as a complete package. Just like lighting is a highly functional, ornamental element, furniture also can manipulate the overall feel of a space and determine how people use it. For example, an intimate setting can be created by placing furniture close together, or fixtures can be harmonized with adjacent, complimentary features such as a fireplace. The arrangement of furniture as well as the size, material, shape and texture of key design elements should be well planned with the goal of telling a consistent and unique story that travelers and locals can relate to.
So much of a brand story can be told in the details. The artwork in a space is a direct expression of style. Whether it is hanging on the walls, in the form of a sculpture or an original art installation, art is a powerful tool to complement a design concept. In a fully branded environment, every detail down to the plants and accessories should have a purpose and support the narrative.
For example, Broadstone Cavora, a multifamily community in Laguna Niguel, features custom signage to initiate the story of the brand well before users even arrive at the leasing office. Upon pulling into the visitors parking lot, potential renters are greeted with quirky taglines that reinforce the community's vibrant and eclectic brand theme and culture. Tag lines such as "Have you been tickled today?" serves to intrigue visitors, make them laugh and inspire guests to continue their journey into the space. These captivating art installations are more than fun visual statements but also helps curate a memorable experience that visitors take away and associate with the brand.
Key Takeaways
The concept of fully branded environments has transformed the hospitality industry on a national scale. Maintaining a unique, authentic and consistent brand theme and storyline enables consumers to recognize your brand and helps set the destination apart. In fact, research shows that consistent brands earn 23% more revenue annually as consumers place value in the emotional footprint a brand or place creates. As modern travelers seek accommodation that provides an immersive experience, hoteliers should leverage key multifamily design strategies to imagine memorable on-brand properties that nod to the region's history and culture, and evoke a sense of emotion for visitors.
HotelExecutive retains the copyright to the articles published in the Hotel Business Review. Articles cannot be republished without prior written consent by HotelExecutive.