Hospitality's Contribution to Promote Socio-Economic Growth and Development
By Hicham Jaddoud Senior Director of Hospitality, North Star Mohican Casino|Resort|Golf Course | May 10, 2020
Hospitality has become a major industry and one of the most important social phenomena in the United States over the past two decades. Hospitality sector currently accounts for over 11% of global GDP. The greatest perceived socio-economic impacts of the hospitality sector are increased employment, improved living standards, greater tax revenues to State and local governments, and growth in local retail sales.
Hospitality sector encompasses many subsectors: lodging, food services, gaming, cruise lines, travel, etc. There is an overlap between hospitality and tourism. Some existing literature view the two sectors as two separate industries. For the purpose of this article, we will discuss the contribution of the hospitality and tourism as one single holistic industry combining hotels, food service outlets, casinos, travel, entertainment and tourism-related activities. Hence, hospitality is not only important to customers, and employees, but also to economies, and local communities.
The hospitality industry generates substantial direct and indirect revenues for local and regional economies. Directly, is when consumers spend money to receive value in accommodations, F&B, and entertainment. Indirectly, is when these businesses purchase goods and services from other suppliers and retailers.
In addition to the Direct and Indirect impact, arguably, hospitality has a Fiscal and Induced impact. Fiscal impact includes federal, state, and local taxes that are collected from the operations of the business (sales taxes on revenues and payroll taxes). Additionally, some local governments collect lodging taxes and other business fees, i.e.: Sellers Permit and State license. Whereas Induced impact refers to the benefits on the contractors, and suppliers through the jobs created and income generated by vendors that supply goods and services to the hospitality firms. In other words, Induced impact is when the household income/wages of employees and suppliers is re-spent on consumer product in the community stimulating the economy further.
By providing employment and contributing to the improvement of local infrastructure, the hospitality industry is one of the main drivers in the growth of local societies, enhancement of living standards and decrease of crime rates in communities where it conducts business.
In a broader sense, hospitality expenditures are vendor purchases, wages paid, and taxes and fees. These expenditures not only increase the tax revenues of local communities, but also reduces the number of unemployed and welfare recipients in the community. And if we take one step back, we should also include the substantial amount of capital spent on the construction or expansion of the hospitality facility. All these expenses and revenues are injected back in the community in the form of household expenditures and infrastructure.
Conceivably, the most noticeable impact of any hospitality and tourism operations is the creation of employment. In 2019 the hospitality accounted for 381 million jobs worldwide and is projecting the addition of 72 million jobs within the next 10 years.
Figure1: Continuous Cycle of Impact: Hospitality Expenditures and Revenues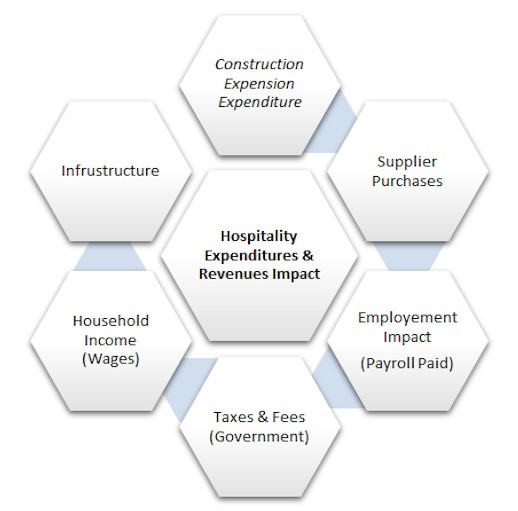 Hospitality properties don't exist in a vacuum. They have an impact on various collaborators: financial firms (banks and investors), local labor market, supplies, labor market, Chambers of Commerce, trade associations, and local development groups. Hospitality is considered an important economic and social component in the development of the community. In some cases, local governments offer incentives for hospitality firms to develop and implement operations in a specific community. These incentives vary from tax breaks to assistance with financing or favorable land leases.
Among the many consumer-driven trends that the hospitality industry has introduced to appeal to socially conscious travelers, is the introduction of socially conscious consumerism. Given its large footprint and consumption of natural resources like water, energy, and food supplies, the hospitality industry is at the forefront of implementing practices that aim at minimizing the negative impacts of its business on the environment. Because some hospitality companies understood the importance of improving the life of local communities, they have implemented initiatives that give back to the community through different channels.
As part of their sustainability program, a few hospitality firms adopted steps that preserve the nature while conducting business. Efforts include attempts to increase fuel efficiency, reduction of food waste in restaurants, and water and energy saving in hotels. along, other hospitality firms opted for onsite composting and sewage treatment and grey water recycling. Additional practices consider swapping out lightbulbs for energy efficient alternatives, installing low flow taps and toilets, and reducing plastic use. Some companies went even further and built facilities using renewable materials only. All these steps not only educate and build sustainable communities, but also contribute to the protection of the environment and conservation of natural resources in the area.
Additional inspiring steps that various hospitality properties are taking are the involvement in charity work and donations to causes they believe will bring most impact to the community. An example of these initiatives is the Feeding America's Say Goodnight to Hunger campaign led by Omni Hotel & Resort, and No Kid Hungry initiated by Kempton Worldwide. Larger hospitality firms have also rolled out nationwide programs to support local communities. Spirit to Serve Our Communities by Marriott Hotels & Resorts is one of the most impactful programs in the industry. Wyndham Worldwide launched Wyndham Worldwide Core Value, which is the company's own code of ethics that include social responsibility as a way of living.
Moreover, the industry has embraces other social concerns, and major hospitality companies have implemented Corporate Social Responsibility initiatives related to promoting workplace diversity, inclusion, and community projects. Another approach of social impact that follows the CSR-driven initiatives is when firms are adopting the well-being of employees. This includes steps demonstrating the firm's care about its workers, not only in term of wages, training or free meals, but also in terms of health and lifestyle improvement. The Pause program initiated by Hyatt Hotels is a case in point. Initiatives like this one are enthusiastically welcomed by employees because they strengthen Esprit de Corps and corporate engagement.
At the Hilton Hotels & Resorts, the support for local communities is conducted through corporation-wide program such as The Community Foundation as well as financial support and partnerships with well-known organizations, for instance Habitat for Humanity, Save the Children or UNICEF. Starwood Resorts (now part of Marriott family) encourages its associates to volunteer at least 8 hours a year to activities that benefit the children in local communities. Many of the corporate initiatives focus on underserved communities or third-world countries. Some independent casino hotels and cruise lines formed a partnership with Clean The World, which is an organization that "Turns Trash into Treasure" by recycling used soap and amenities, transform them to "Hygiene Kits" and distribute them at low-income communities and poor countries.
Food is important and top priority is given to healthy menu and local-grown options. In the food industry, a program that is becoming central to many communities in different States is Healthy Eating. Since malnutrition and obesity are widespread epidemics among low-income communities, a large number of restaurants have teamed-up to roll out The Healthy Options Program, which offers an economical and low-maintenance program for owner-operated restaurants and increases awareness among consumer of existing healthy menu options and substitutions.
Other hospitality businesses' efforts led to the implementation of other community-related activities. Meals on Wheels program, sponsoring local sport teams, serving meals to the homeless, offering part-time employment to senior citizens and people with disabilities, and talking to school children about various social issues are among the most impactful actions that reinforce the feeling of unity and shared values.
Consumers today are more conscious about their impact on the world than ever before. They want to support hospitality businesses that are doing what they can to impact the community positively. World Tourism Organization argues that the phenomenon of social intercourse between visitors and locals is one of the major driving forces behind respect, understanding, peace, and harmonious societal coexistence in an increasingly globalized world.
Hospitality's cooperation with local communities not only helps less-advantaged areas but also strengthens communal bonds and coherence. Future articles should investigate the cultural contributions of the hospitality industry on local communities.
HotelExecutive retains the copyright to the articles published in the Hotel Business Review. Articles cannot be republished without prior written consent by HotelExecutive.