Hotel Design CV19: A Whole New World of Materiality
By Lesley Hughes-Wyman Principal & Partner, MatchLine Design Group | September 06, 2020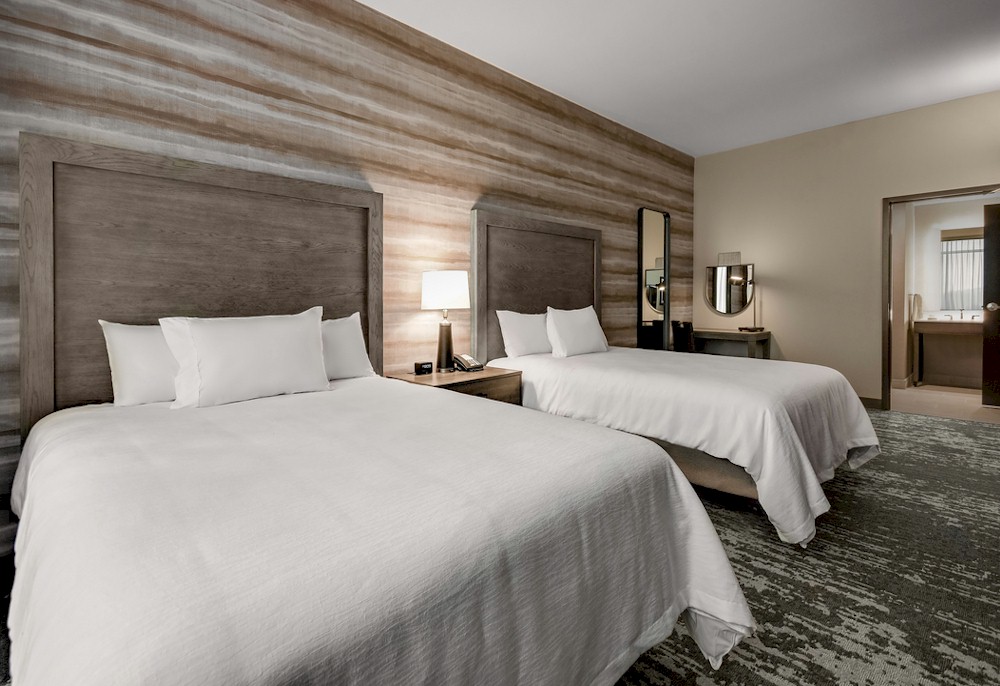 In thinking about the post-pandemic future of the hospitality sector, leaders are redefining what 'safety' looks like, where 'clean' is becoming the new 'green.' From the guest's perspective, what safety measures need to be enforced is driving the conversation about what the hospitality industry of a post-COVID-19 era truly looks like.
Over the last decade, a heavy focus on sustainability's best practices, including the specification of eco-friendly materials, has underscored much of the design process. While this will continue to be a priority, a focus on anti-microbial materials - and communicating their specification and characteristics to guests - will become more prevalent than ever before.
Although quite a few months have passed since the initial outbreak of the COVID-19 pandemic, hotel designers and hospitality brands continue to navigate the future of the hotel industry. A hotel that doesn't include a breakfast buffet or minibars would have been inconceivable to many travelers just five months ago, but as humans, we're very adaptable to change. To evolve with the pandemic, an approach that prioritizes guest safety, while not compromising on the ideals that define the hotel experience - a sense of community, luxury, gathering, and respite - is today's common goal among executives, hoteliers, and designers.
When hotels were forced to temporarily close their doors, a discussion surrounding the safety of these properties and the well-being of guests began - what initiatives will help serve customers, carry on business, and maintain the utmost cleanliness? Just a few months later, it's unsurprising that hotel designers are utilizing materials that can meet rigorous cleaning requirements to help stop the spread of viruses. While budgets have become slimmer and pandemic guidelines are ever-changing, a phased-approach to the design process has become key, which allows design work to continue at a rate that keeps up with still-evolving research.
While a guest's first impression of a hotel is still largely driven by the property's aesthetics, the added reassurance of a hotel's cleanability, sanitization, and adherence to COVID-19 best-practices is what will increasingly bring guests back into the hotel's front door. Here's a look at what hotels are doing to fulfill these needs - which go beyond new cleaning protocols - during this unprecedented, challenging time.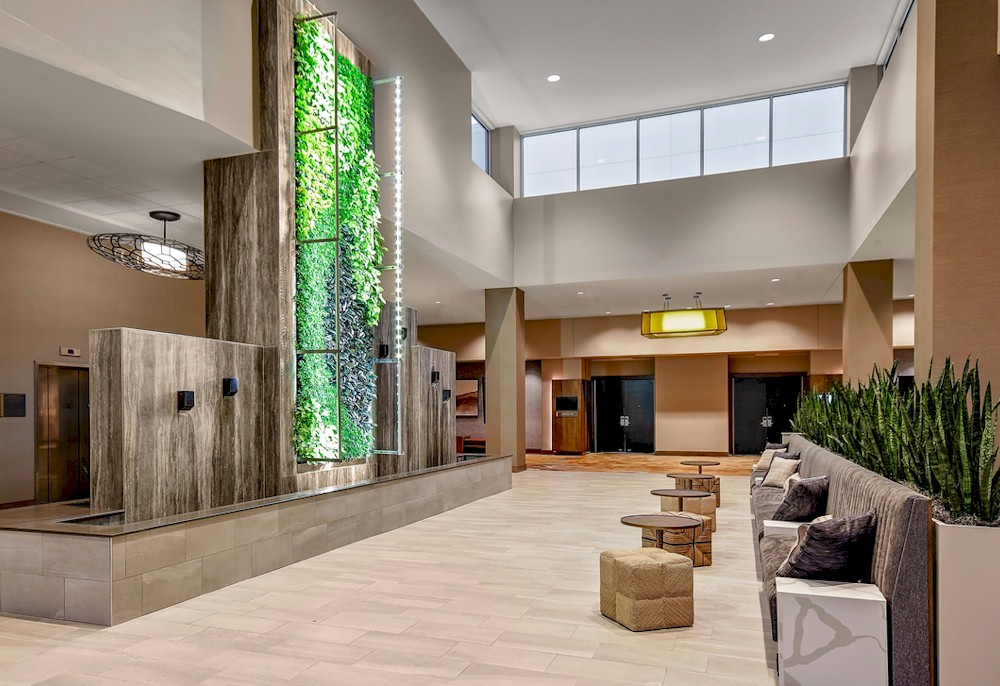 For communal spaces with a higher volume of touchpoints, visual cues like furniture groupings and material changes help alter the circulation. Photo: The Embassy Suites by Hilton, Jonesboro, Arkansas.
Public Spaces: Seeing Is Believing
Today's guest is trusting that the industry - including those who are helping redesign it - is reacting proactively to mitigate the safety risks, as they decide to step out of the comfort of their homes and into their favorite hotel.
A guest's stay is inherently defined by the level of hospitality provided by the hotel brand, and the public areas of a hotel are fundamentally important to this hospitable hotel experience. However, to prioritize the safety of guests and the property's staff, hotel brands are implementing a check-in process with as little human contact as possible - 'contactless,' virtual check-in. It's a common notion that first impressions count, and the hotel check-in experience is one way to make a lasting one by keeping everyone well informed.
Today, defining the check-in process and this new communication dynamic that goes along with it - separate, but together - is important. Brands, now more than ever, need to maintain a comfortable, clear level of communication (read: relationship) with the guest to get them to their room, informed of all measures the property is taking to ensure their well-being, and what else the hotel has to offer. As a solution, designers are becoming more creative by integrating signage within their design while incorporating more branding elements throughout, including signage that is a little playful - created not to downplay the pandemic guidelines, but to bring a little lightheartedness that acknowledges the situation while reassuring that hotels are doing their due diligence.
Just like before the pandemic, the post-COVID-19 design process requires designers to put themselves directly in the guests' shoes - navigating each and every space within the hotel or resort on a micro scale to determine the particular touchpoints that guests favor when discovering and unlayering the various parts within the hotel. For communal spaces in particular, which have a higher volume of touchpoints, this helps designers create visual cues that are straightforward and discernible through furniture groupings, or material changes.
As designers, we want to celebrate the brand while simultaneously reassuring guests of that brand's adaptability. Overall, in public areas, the integration of touchless technologies, hard versus soft surfaces, and woods versus metals will be implemented in hotels moving forward.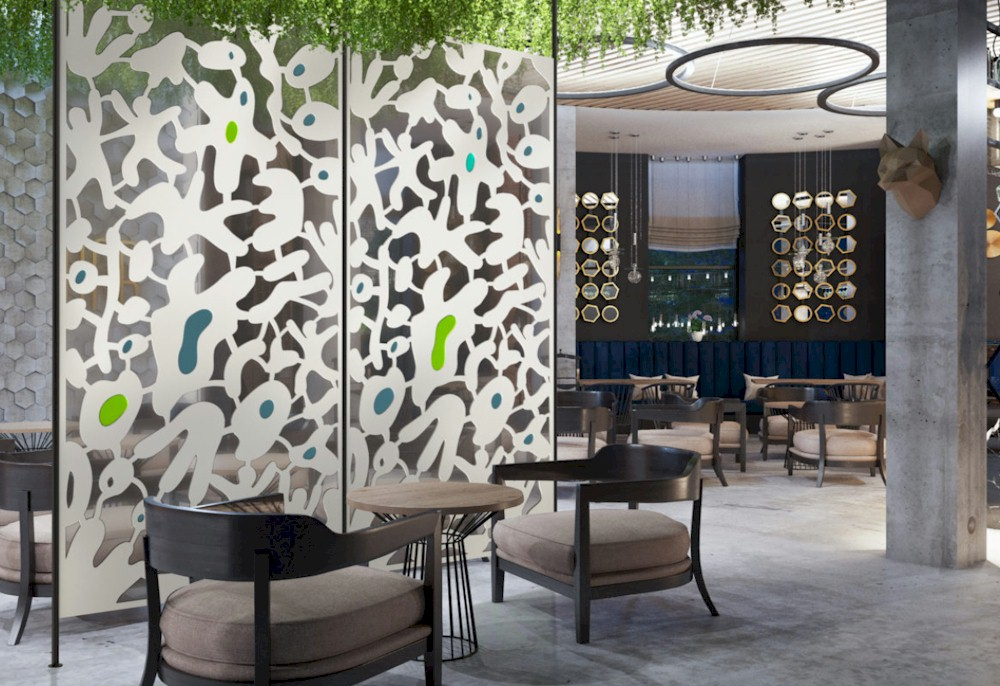 Yellow Goat Design's highly graphic, acrylic panel screens
Together-but-Separate: Inclusivity Through Exclusivity in Dining
As with any business, hotels will need to convey what the brand, ownership, and staff are doing to ensure they are following even higher cleaning standards than before. In addition to implementing signage that communicates this, newly defined seating plans have become a significant reassurance for guests, highlighting the hotel's social-distancing efforts through how tables are placed within a dining area.
In the post-COVID-19 dining era, newly conceptualized exclusive dining zones will be considered a sought-after feature. Minimizing the feelings of social separation, or the longing for the nostalgic, pre-COVID-19 restaurant experience, designs will increasingly rely on a thoughtful floor plan and furniture layout. For an economically minded solution, the large, stationary community tables often found in a hotel lobby or lounge spaces can be achieved by using multiple, smaller table sizes - placing them together in a figuration determined by the family and group size (that's really dining-101, anyway). For onsite dining options, we will see booths with taller dividers coming into play, as these panels are able to be switched out with greater ease, helping with cleanability and regular sanitization.
Similarly, movable divider walls meant to be placed between tables, such as Yellow Goat Design's highly graphic, acrylic panel screens, could assist in keeping with the flex-configurations. Integrating more intimate dining zones will provide both the physical distancing that is now considered safe practice, and the visual distancing for guests to feel more at ease and secluded.
Rethinking Touchpoints
To keep a client's guests comfortable, products that can function with fewer touchpoints, such as automatic window treatments and lighting scenarios based on the guests' location within their guest room, will be specified, while considering removal of some accessories and most unessential collateral like bedding throws and decorative pillows. The good news is that quite a few materials that our firm, along with others, have been specifying over the years for numerous projects, often already have some kind of antimicrobial properties.
Some wallcoverings, for instance, have antibacterial properties and can allow it to be bleached clean, unlike paint where it requires an additional touch up on the surface. Many of the high-pressure laminate (HPL) surfaces have antimicrobial protection built-in. As a firm, we like to use quartz extensively, which is a non-porous product.
It is important to note that even before the pandemic hit, the majority of hotels implemented very high cleaning standards and designers have been using products that not only were attractive, but functional and safe too - many hospitality textiles already have proven to meet the CDC safety standards, which stipulates that the coronavirus loses its efficacy when exposed to heat in excess of 132 degrees, which breaks down fat membranes.
For example, manufacturer Studio Twist's textile products can endure high temperatures up to 140 degrees, where the warmest water can be used to wash and dry the fabric while maintaining the longevity of the material. However, it is also important to note that antimicrobial materials and antiviral materials are defined by two separate treatments; EPA approval is required to label any textile as antiviral, and currently there are no approved antiviral textiles in the U.S. market.
In regards to materials that are EPA-registered in the U.S., Colonial Bronze's CuSalus Antimicrobial Copper Handles are made with CuVerro copper alloys - a EPA-registered copper material that continuously resists infectious agents and kills 99.99 percent of bacterial organisms. These handles can be used on casegoods, doors, and other openings.
For in-room technology, we are seeing an uptick in smartphone-driven technology, where guests can use their personal devices as the in-room TV remote. Another example of a technology gaining traction is the voice-command smart mirror, which connects directly to concierge. The Touch Free Smart Mirror by Smarti utilizes Alexa to provide two-way messaging, displaying staff responses to the guests' voice-enabled requests. Manufacturers are also providing customizable, in-room hand sanitizer and disposable glove dispensers making it easy for guests to sanitize when they enter their room or before heading out.
The integration of air filtration systems within the spaces is also becoming more a part of the design itself, which gives credence to the notion that materiality does not exist in a vacuum - rather, spaces within the hotel are part of a larger ecosystem, with each design and construction decision affecting the rest.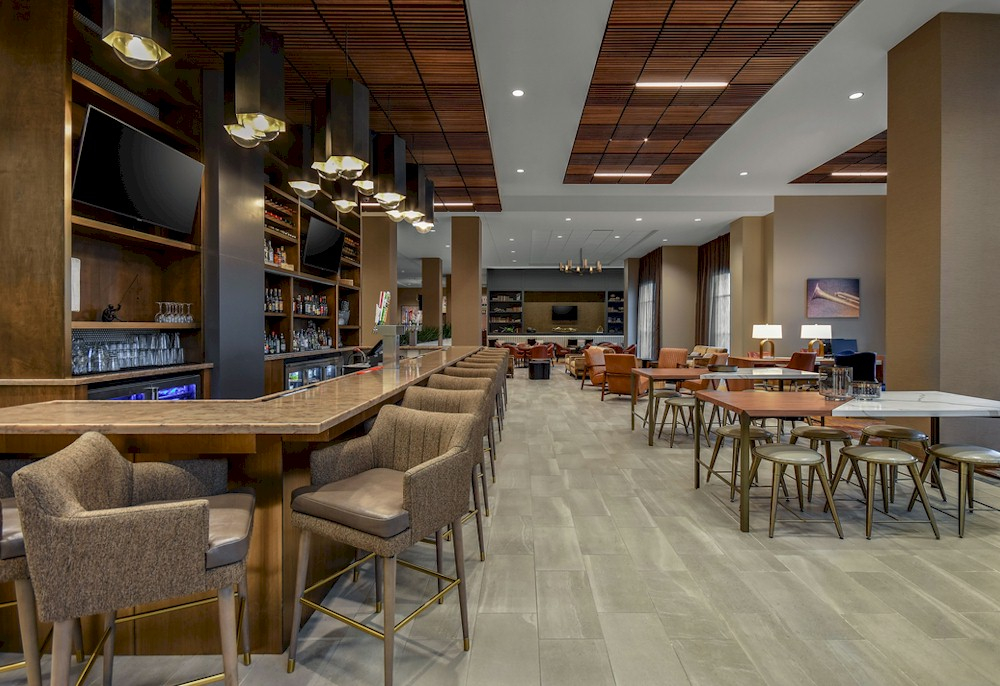 Many of the hard-working materials specified in pre-COVID-19 F&B spaces will remain relevant due to their already high-cleanability. Photo: The Embassy Suites by Hilton, Jonesboro, Arkansas.
What Lies Beneath: Flooring
In regards to flooring, we're yet to have any projects that have requested the total removal of carpet because as long as it's disinfected properly, it has been proven that it can be safe. There has been an uptick in requests for enhanced resilient tile (ERT) in the guest rooms, which allows for faster, more efficient cleaning procedures to be followed while guests arrive and depart, and the perceived visual of a cleaner floor. However, rugs and carpet tile are still being requested by hotel ownership and hospitality brands. Most guests still want the flooring to be soft underfoot without having it feel so clinical.
Looking further into flooring, tile flooring using regular cement grout presents hidden challenges that hoteliers might not know about, as it traps water, stains, and possibly infectious bacteria. The industry will see a switch to the specification of epoxy grout that resists staining and water penetration and can stand up to the harsher chemicals that are now being used to sanitize. Epoxy grout is more challenging to install properly, but if done right, it has more longevity with the enhanced cleaning methods.
Properties are also starting to use flooring materials that double as visual cues for spatial distancing. It's easy to incorporate these materials within the design itself, getting creative with tile patterns that subtly offer the necessary signals without distracting or looking like an afterthought. These flooring patterns are subtle enough that their immediate purpose – shifting wayfinding to encourage social distancing - is not immediately, if at all, obvious; post-pandemic, these patterns will continue to function as mere design details, rather than a blatant pandemic-driven design initiative.
Communication and Flexibility Is Key
Specifying antimicrobial materials within hospitality becomes redundant if hotel brands don't operate knowing the difference between 'cleaning' and 'disinfecting,' as the former removes dirt and impurities while the latter kills germs on the surface after cleaning. Knowledge and messaging is key in order for guests, staff, and anyone walking into the property to feel at ease and safe. As designers, it's our job to help hotel owners proactively communicate that they're enforcing these newly established measures, even if it's via small details like a single use pamphlet or crafting an online service application.
Also, guests aren't going to mind seeing the cleaning staff working throughout the public spaces - previously, hotel cleaning happened discreetly. Assuming this situation will continue to ebb and flow while everyone looks to strategize the best solutions moving forward, at MatchLine Design Group, we think flexibility is really key. Given how quickly things are changing, and the lower revenues that many facilities are seeing across the board, not everyone can order brand new furniture to adapt to the new normal.
The hospitality industry is inherently resilient and strong. The industry is defined by the relationship and trust found between the hotel and its guests - two groups that, without the bond that evolves through the experience had at a property, are otherwise unrelated. In the post-COVID-19 era, we have the opportunity, and the obligation, to rediscover what that relationship means.
More than ever before, interior design solutions need to be guided by current research, and provide real mileage that can endure the evolving economic and health stipulations that will continue to shape how we provide - and experience - hospitality.
HotelExecutive retains the copyright to the articles published in the Hotel Business Review. Articles cannot be republished without prior written consent by HotelExecutive.