The Impact of Effective Revenue Management on F&B Performance
By Hicham Jaddoud Senior Director of Hospitality, North Star Mohican Casino|Resort|Golf Course | November 15, 2020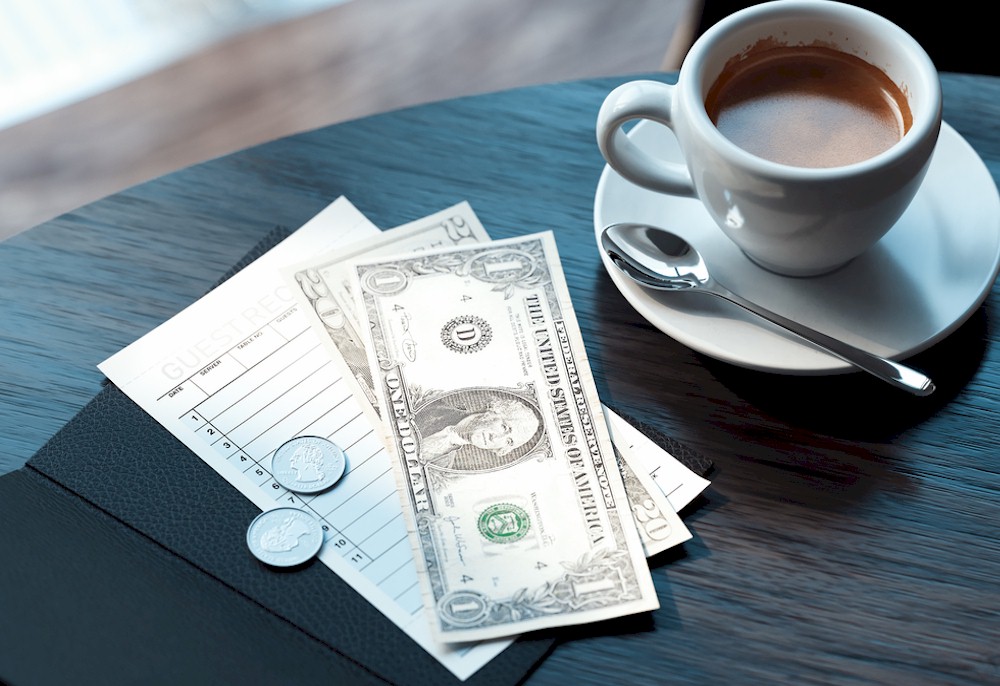 There has been some hearsay going around lately. Some may say "there is no need for revenue management in F&B" or "historical data for the purpose of revenue management is useless". Some may even say "business volume in the food industry is unpredictable, you don't need revenue management". Well, I am here to set the record straight and say, "that's incredibly shortsighted!"
On the rooms end, hotels have long used revenue management to optimize rooms' bottom line, maximize occupancy, and generate higher ADR (Average Daily Rate). In a hotel setting, rooms occupancy growth does not necessarily guarantee growth in F&B. F&B operations need to implement their own independent strategies to appeal to a variety of consumers: hotel guests, corporate clients, and local residents. Although revenue management has been pioneered by the airline industry in the 1980s, and embraced by hotels in the 1990s, F&B sector has lagged behind in developing revenue strategies specific to the food industry.
Like an airline seat or a hotel room, a restaurant table/seat is perishable. Every time period that seat is empty, it represents lost revenue. Now, more than ever, revenue management plays a crucial role in predicting consumer demand, optimizing inventory, and maximize revenue growth. The availability of financial and consumer data and ways to analyze it creates a great opportunity for hospitality professionals to build and implement effective revenue management practices.
The best strategies are based on the concept of maximizing restaurant revenues, while minimizing meal duration and increasing Revenue per Available Seat-Hour (RevPASH). With that in mind, some of the challenges that come with managing F&B operations is the capacity constraint and perishable assets.
The preliminary steps in the process of F&B revenue management is to analyze the property's competitive set, define the product positioning strategy, and segment the consumer the restaurant is targeting. This data will enable the operator to identify areas in need of improvement and establishes a baseline against which to compare future performance to verify that improvement, in fact, has occurred. When implementing a revenue management strategy, there are several components to explore:
Unconstrained demand
Table and seat occupancy
The duration of the dining experience
Revenue per available seat-hour (RevPASH)
Arrivals pattern (guest arrivals to the restaurant)
The conventional wisdom is that food outlets sell meals, rather than selling time. Without a solid revenue-generating strategy, restaurants continue to sell time in the form of meals of unpredictable length. To achieve better revenue opportunities, restaurant managers must increase control over the length of time consumers are occupying their seats. They must keep track of the length of time guests occupy a table for a given day part or meal.
The length of time that guests use a table is usually measured either by the number of minutes or hours that they actually occupy that table or by the cumulative length of the individual events related to a meal. From this field observation, F&B professionals are able to determine an average meal length. If restaurant managers can accurately predict meal duration, they can make better reservation decisions and give better estimates of waiting times for walk-in guests, therefore generating higher revenues, and enhancing guest loyalty. Restaurateurs can reduce the length of a meal by minimizing the wait-time at the beginning and end of meal, creating a seamless workflow, improving delays caused by service bottleneck, and implementing a reservations process.
The following diagram introduces a set of variables restaurateurs need to take in consideration when implementing a revenue management approach.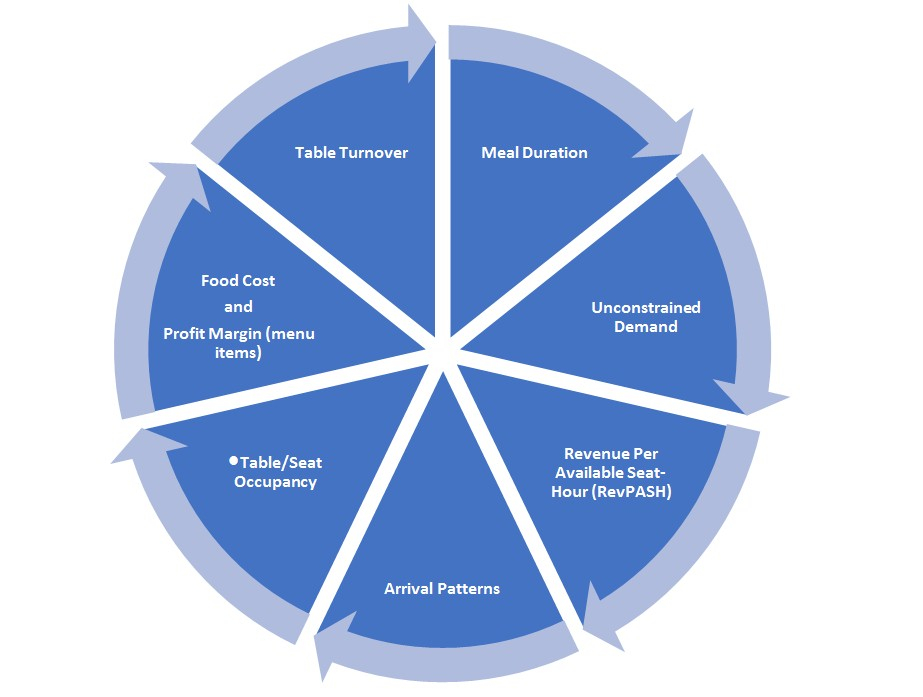 Revenue management in the food industry is enhanced by understanding different types of costs, market challenges, and defining KPIs (Key Performance Indicators). There is a tendency in the industry to measure performance based on Average Check (average transaction amount), Total Revenues, and the number of covers served during a specific period of time.
Revenue management should go beyond these measurements and include additional indicators that assess the portion of revenues generated during different days and times of the day as well as missed revenue opportunities. One of these performance indicators is RevPASH (Revenue Per Available Seat-Hour). It measures the income generated by each seat available per hour. Having data about the difference in the sales per seat averages enables management to investigate the variability of shift revenues and make educated decisions to improve service and food offerings.
The other indicator is Unconstrained Demand. It can be defined as the number of customers a restaurant could handle if its capacity were unlimited. Unconstrained Demand data can be collected qualitatively and quantitatively (field observations, interviews, and surveys). Practically, customers wanting to dine at the restaurant may have been turned away, walked out after waiting a bit, or simply noticed that the restaurant was busy as they were driving by and never stopped at all. Unconstrained Demand can be assessed by keeping an accurate count of guests who walk out before being served and track the number of reservations that are turned away during busy periods. Doing so will provide at least an estimate of demand that could have been honored.
Savvy restaurateurs know that it is not just having any consumer at the restaurant occupying a seat, that matters. It is having the right customer who has the potential of ordering high revenue/high profit margin items. As a result of poor revenue management efforts, low-revenue customers often tie up restaurant tables and spaces that could accommodate high-revenue generating guests. As it is important to have the right mix of menu offering, it is critical to have the right mix of customers to generate appropriate profits. Regardless of the volume an F&B property achieves, poor seat utilization can even lead to loss of revenue by causing long lines, frustrated guests, and unengaged employees.
To achieve this optimization goal, F&B managers should start asking questions such as:
How many people is my property serving at various times during the day?
During which hours is my restaurants serving the most people?
How many tables are occupied during specific hours? How many seats at those tables are occupied and how many are empty?
How many people could my restaurant serve if we were able to seat everyone who came to the restaurant-even those customers who might have chosen to leave because of limited capacity and wait time?
Key Takeaways
Revenue management in the context of F&B should give managers the opportunity to assess their outlets beyond just the Average Check and Total Revenues. The evaluation of the performance of F&B operations should include additional leading indicators, such as RevPASH and Meal Duration, and Unconstrained Demand assessment.
The most successful F&B professionals are savvy operators who continually look for tools to learn and improve the way they run their business, gaining an edge over the competition. Although strategic revenue management is key to profitability, a structured marketing and positioning approach is very helpful.
Effective revenue management efforts do not only help operators drive business and increase profitability, but also enable F&B outlets to cut costs (labor-related costs & supplies costs). These efforts will lead to staffing efficiency, optimizing menus, reducing waste, and buying cheaper food supplies (without compromising quality).
To conclude, the food industry and consumers' preferences are evolving faster than operators and employees can handle. The shift toward healthy choices, valuing local food offerings, and Grab-n-Go options will continue to be the highlights of the industry trends. However, the biggest shift we have seen in the last few years is technology-driven transaction. As new demographics enter the market, consumers and operators are relying more and more on technology to communicate, promote, and sell. Future research in the context of F&B should investigate the impact of technology on revenues generation. 
HotelExecutive retains the copyright to the articles published in the Hotel Business Review. Articles cannot be republished without prior written consent by HotelExecutive.