Travel is Back, but It's Different: How Hotels Can Adapt
By Ryan Mann Partner, McKinsey & Company | September 2022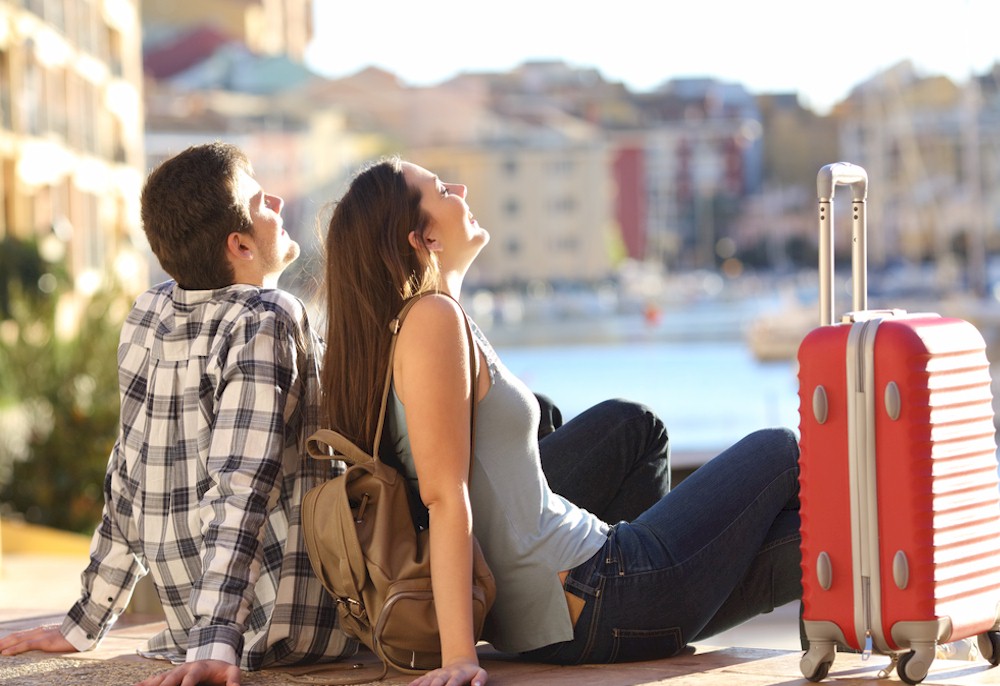 There's no doubt about it: travel is back.
Last summer saw renewed enthusiasm for hitting the road, and this summer confirmed it.
This should be no surprise: pandemic or inflation notwithstanding, people love to travel. According to the most recent McKinsey travel survey, Americans were determined to get out again, no matter what. Indeed, asked what they would do with a $10,000 windfall, respondents ranked travel ranked second (after saving/paying down debt).
And while economic concerns mean that significant numbers are staying closer to home, taking a shorter break, or cutting back on activities, the desire to get out and about is undiminished. For example, while almost nine out of 10 Americans are driving less, due to pain at the pump, an estimated 42 million of them nonetheless road tripped over the 4th of July weekend.
This is good news of course for all sections of the travel industry. US domestic airline traffic, for example, isn't back to 2019 levels, but continues to rise, and hotel occupancy rates hit post-pandemic highs in June. So what happens next? I don't know, and if recent history tells us anything, it's that the future can be wildly unpredictable.
That said, there are five trends that will shape that future that the hotel industry needs to recognize-and respond to.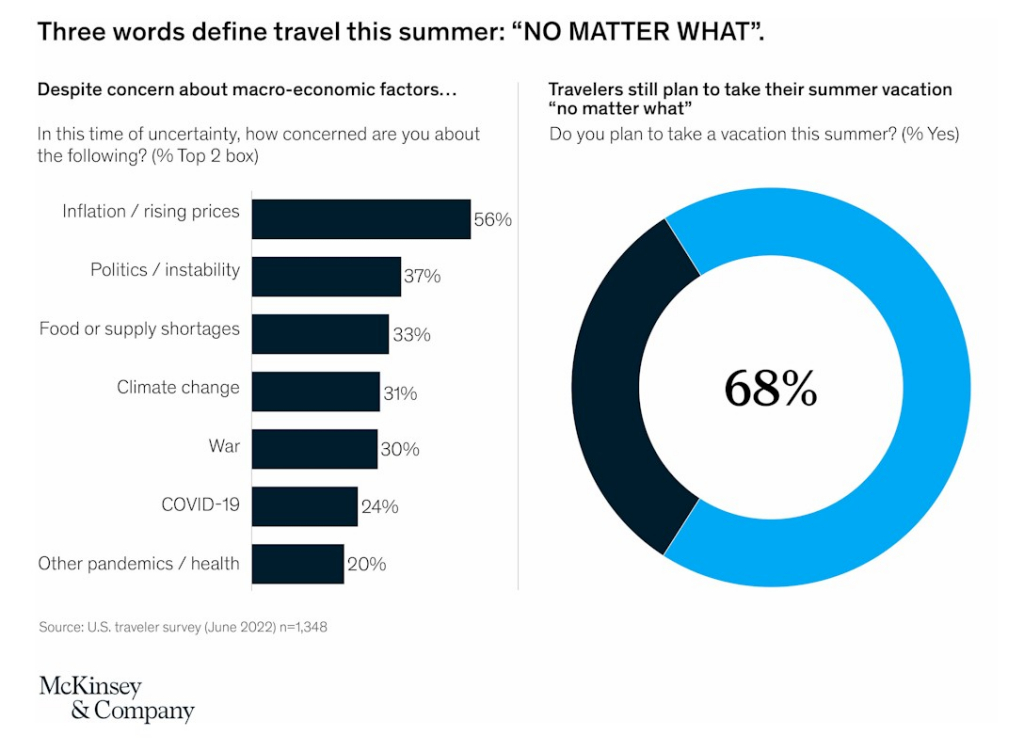 1. Leisure Travel is Bouncing Back Faster Than Business Travel
Travel spending in April exceeded 2019 levels for the first time since the start of the pandemic-largely driven by leisure travel. Airline data show that business travel has not recovered as much. Revenue per available room in the United States is outstripping not just 2020 and 2021 levels, but also sometimes 2019. Hotels aren't quite as full as they were in 2019, but rates have increased-the average daily rate (ADR) is around 15 percent more now than in 2019. Across the United States, the average ADR was $102.59 in June, compared to $97.44 the same month in 2019. Only in large metropolitan markets have prices fallen over this period-and only by 52 cents.
In 2021, there were 229 million business trips, up from 185 million in COVID-crunched 2020, but still far short of the record 464 million in 2019. But the signs are good. Four out of five companies are already allowing domestic travel-up from 67 percent earlier in the year. And almost nine out of 10 travel suppliers say they are seeing more bookings from their corporate customers-up from 45 percent in February.
Implications for hotels: Business travelers account for as much as 70 percent of revenues for global high-end hotels, so the slower bounce-back obviously hurts. Even the current double-digit growth means it will be some years to get back to 2019 levels, and given the growth in teleconferencing, maybe longer. Hotels can encourage the growth of "bleisure"-combining business and pleasure-by highlighting local attractions and events. In addition, while hotel room demand has largely recovered, group demand is still well short of what it was in 2019. Hotels therefore need to find new purposes for meeting and conference spaces, which will be slower to fill.
2. There Are More Choices Than Ever
Hotels, home shares, all-inclusive, even glamping and RVs: away from home, Americans have a ton of options. Moreover, if they go online to find a place to stay, the search results often list hotels alongside these other possibilities. So, it's complicated. Even in this environment, though-and perhaps especially given the experiences of COVID-hotels have a lot to build on. In the McKinsey survey, 78 percent of travelers said they were comfortable staying in a hotel, compared to only 61 percent of the alternatives.
Implications for hotels: In many markets, alternative accommodations are readily available, and survey respondents value them for being unique, private, and authentic. Hotels may find it difficult to compete head-to-head on those grounds, but they can keep those values in mind. Moreover, hotels get credit for being safer, more relaxing, more comfortable, and friendlier. By doubling down on their strengths, and communicating what makes them different, hotels can meet the competition.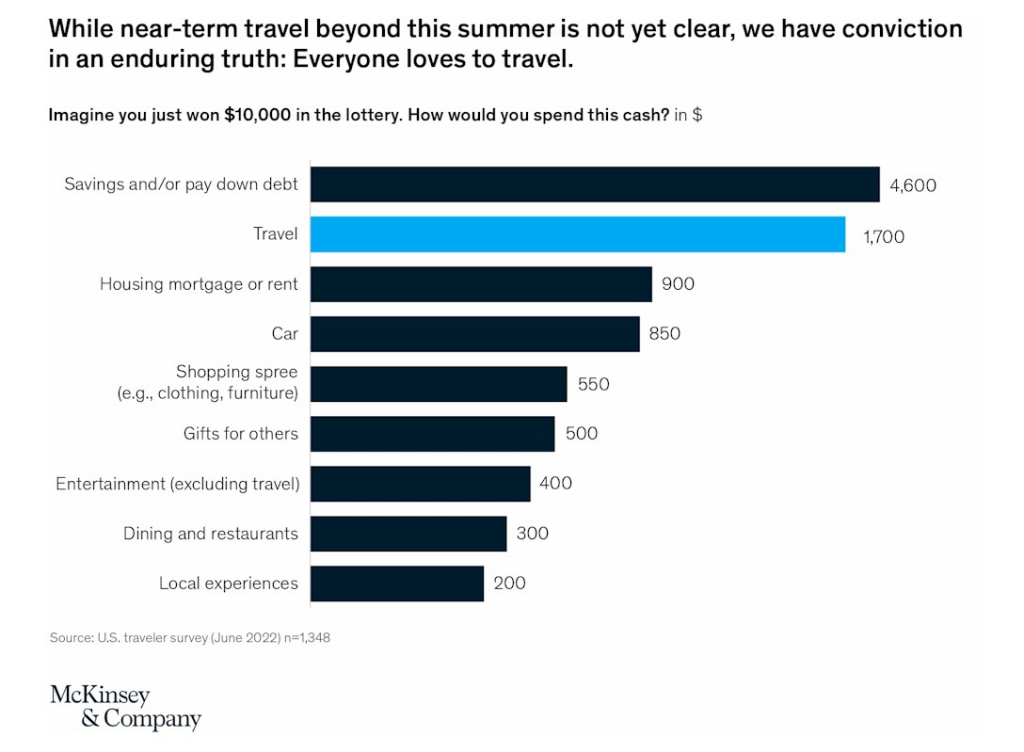 3. Loyalty is Up for Grabs
Higher prices plus rising demand plus more options. That equation means that customer loyalty cannot be taken for granted. For one thing, guest satisfaction has fallen sharply in the last year, except for the luxury sector, where it was flat. For another, the competition is intensifying, as credit card companies try to woo their customers to their own travel portals with offers of discounts, perks, and even lounge access. And finally, in general, consumers in the last couple of years have proved willing to try different brands.
The McKinsey survey shows, however, that many travelers, particularly higher-income ones, don't feel they get enough value from hotel loyalty programs, which they also consider too complicated. Only a little more than a third of respondents who were part of a loyalty program say they try to stay with that chain whenever possible; three in 10 said that such programs "seldom yield real benefits."
Implications for hotels: Some features of loyalty programs matter more than others: Offering free or discounted stays; having the right footprint so guests can stay where they want; and having good options to redeem points (including flights and online retail); are the favorites. Higher-income travelers rank the ability to accumulate points quickly most; they are also more likely to strongly prefer a specific loyalty program-something worth bearing in mind given that these are also often high-value business travelers. It's clear that hotels can and need to do better to inspire loyalty. For example, almost 30 percent of higher-income travelers regard hotel loyalty programs as less valuable than airline programs.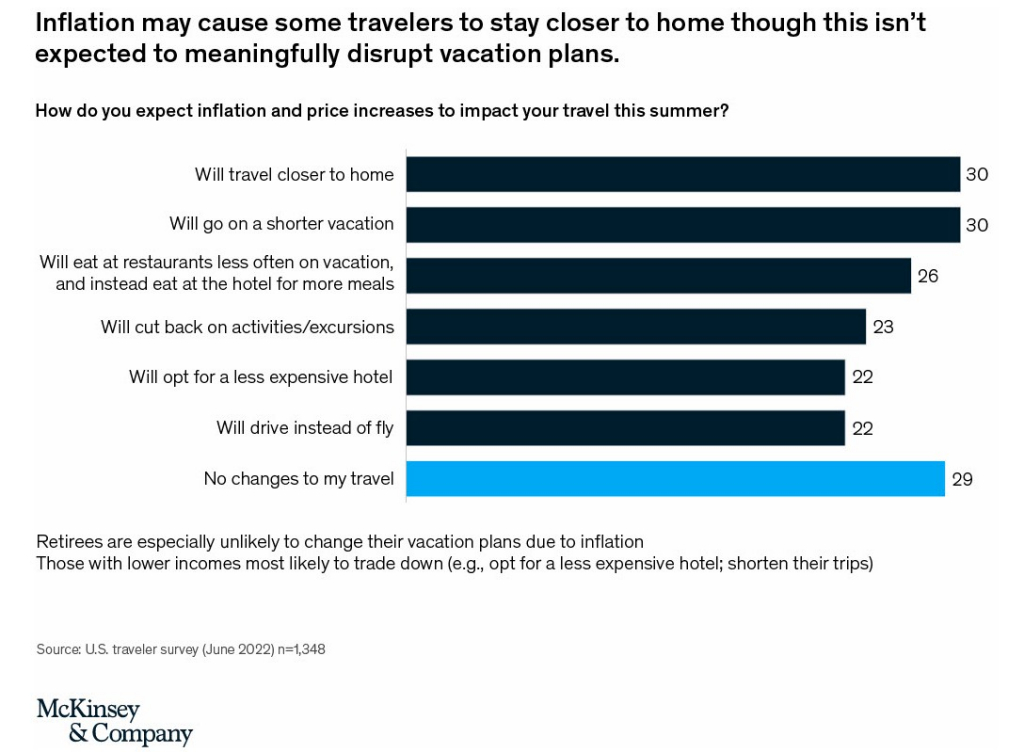 4. Younger Travelers Are Different
Those under age 34, and even more the under-25s, have a different sensibility. They are more likely than their elders to book a cheaper hotel because of inflation. In part, this is because they are also less brand loyal in general, and indifferent to loyalty programs when it comes to booking. They spend more time upfront to book the right place. If they are traveling in a group, they are much more likely to seek out non-hotel options. They are also more likely to say they would be willing to pay a green premium for eco-friendly practices. Finally, almost all of them are comfortable with a digital-enabled guest experience, and like it.
Implications for hotels: Because young people are the travelers not just of the present, but of the future, it is worth learning about their values and preferences. Half of 18-to-34-year-olds say they expect to travel more in the next three years, compared to 35 percent of the rest of those surveyed.
5. Sustainability Matters
Three-quarters of respondents said that a hotel's commitment to the environment is very or somewhat important when they are booking. The options mentioned most often-by at least 40 percent-- were using green cleaning supplies, replacing plastic key cards, and reducing the use of paper, for example by supplying electronic receipts. One in five respondents mentioned that they would like to have the option of hybrid or electric vehicles in the hotel fleet.
Implications for hotels: One interesting thing about the most popular options is that they are relatively cheap and simple to do--much less so than, say, converting to low-carbon energy or to green building practices. It may be relatively straightforward, then, for hotels to launch such green initiatives, and then communicate them to their guests.
Human curiosity and the desire to connect with loved ones are eternal. Moreover, most businesses have begun to resume travel, albeit with a new sense of when exactly they need to connect in person with clients, partners and suppliers. That is why the impulse to travel is so enduring, indeed unchangeable. But circumstances do change, and the past is not necessarily prelude. Historical booking curves may not be a good indicator of future behavior. At the same time, consumers are becoming more demanding; they are getting ever more used to quick and easy responsiveness at a few clicks.
The bottom line is that the customer experience is critical-from searching to booking to checking out and moving on. If there is even one pain point, the entire perception of the experience can be degraded. And that is the final insight: expectations of what a great customer experience looks like have changed, too.
COVID-19 didn't create this trend, but it did accelerate it. Hotels that accept this fact, and learn from it, can not only benefit from the return of travel, but separate themselves from the rest.
HotelExecutive retains the copyright to the articles published in the Hotel Business Review. Articles cannot be republished without prior written consent by HotelExecutive.