Building Trust Through Design
As The Global Pandemic Wanes, Uneasiness Remains. Thoughtful Design Can Help Put Guests at Ease
By Lara Rimes Senior Associate, Senior Interior Designer, LEO A DALY | November 2022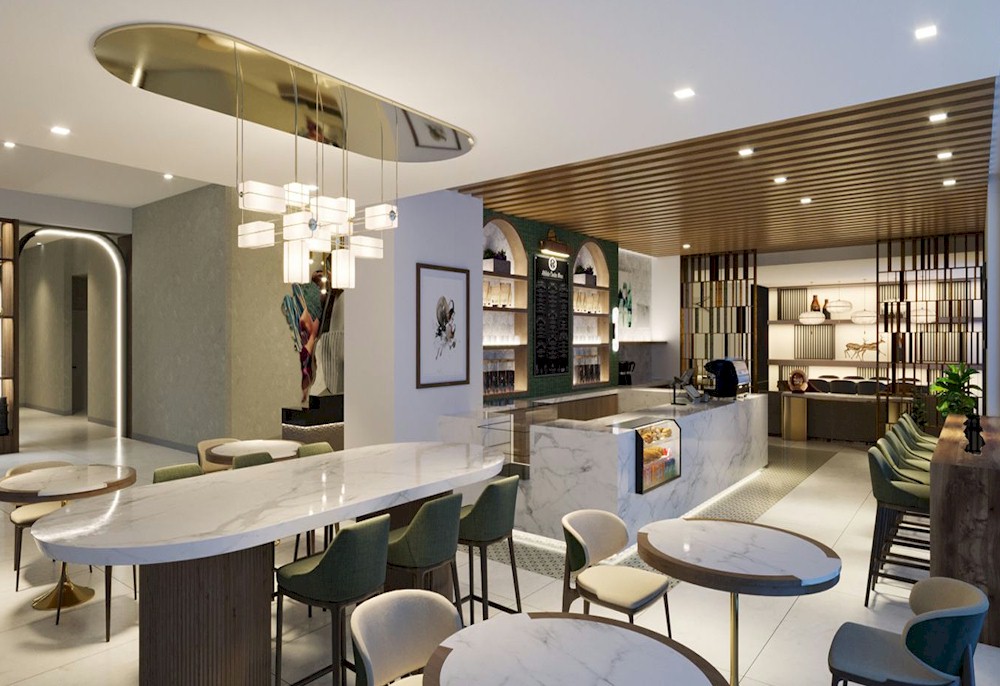 Although many of us feel ready to move on from the pandemic, statistics show we aren't quite there yet. A recent report from the U.S. Travel Association  stated that hotel room demand was at or below the same time in 2019.
Despite the major changes to the way guests experience the hospitality industry, we have continued to design and re-imagine hotels. We even examined the issue in a recent white paper, "The new guest journey," in which we analyzed travel data and interviewed our travel industry clients.
Looking at the guest journey – from booking, to arrival, to all the points of contact during the check-in and stay – we identified several themes that we believe will endure in hotel design and operations in the coming years.
These trends are already challenging hotel executives and design professionals to rethink the relationship between guest and public space.
Hotel proprietors want to offer guests both safety and luxury, and the design team can help them face these challenges by coming up with creative solutions, even challenging the brand team if needed. Tough questions that need to be answered. How can we emphasize cleanliness without seeming sterile? What will make guests feel comfortable and safe? What design and operational elements can help build trust?
High Guest Awareness = High Tech
While few of us are disease specialists, within the last few years most of us have gained a strong working knowledge about how pathogens spread on surfaces and through the air. Moving forward, design features should reflect guest knowledge so that their interactions with the building and staff are efficient and low-touch.
Technology can help. Typically, when guests arrive at a hotel there are immediately multiple touchpoints – both physical objects and human interactions – such as drivers, doors, valets and porters, front desk staff and concierges. Then there are other guests, elevator doors and buttons, hallways and room entry. The old ordinariness of a hotel check-in can now seem like an obstacle course.
Making this process more streamlined, but no less personal or exclusive, is the new challenge. Some solutions include readily available innovations like automatic door openers and mobile key cards. Other technologies on the rise – which can be personalized and add to the guest experience – include room-service robots and electronic baggage handling.
Another major touchpoint that is ever-present but invisible to guests is the air in the hotel. Clean-air technologies and design also help create a safer, healthier space as well as serve as a selling point for well-informed guests. From an owner and management perspective, this means factoring in air quality plans into the overall budget and design process from the very beginning when they are easier to implement, rather than trying to retrofit a space. These plans might include designing larger mechanical rooms to fit high-performance air-handling systems and changing a traditional building envelope design so guests can open windows for ventilation.
In the rooms themselves, hotels are also adopting clear-air technologies from the healthcare space such as negative pressurization. The system works by keeping airborne pathogens, if there are any, away from other guests, by maintaining lower air pressure in the room than outside the room. Whenever the hallway door is opened, clean, filtered air from the hotel flows into the room, and the air inside the room is sucked into the building's exhaust system, where it is again filtered before reaching the outside.
More technology requires both operational and design support. In addition to more electrical outlets, internet access points, charging location and control stations, staff will need to be well versed in these technologies so they are easy to use and enrich the guest experience.
Most of all, these technologies – whether seen or behind the scenes – contribute to an environment where guests feel safe. Marketing these attributes to guests who may be concerned about the "healthiness" of the space will enable them to better enjoy and appreciate their travel experience.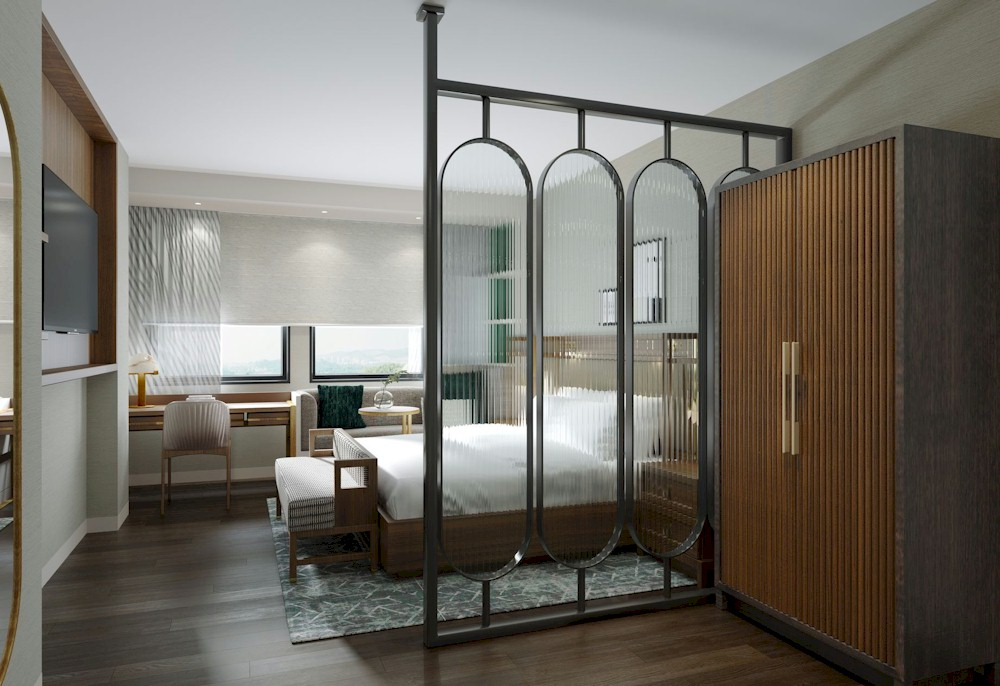 One of the king guestroom types at the InterContinental San Antonio includes an architectural partition to create a separate dressing area for guests.
Maximizing Outdoor Space
Along with greater awareness – and sometimes fear – of crowded, indoor spaces, post-pandemic hotel design includes maximizing outdoor spaces. While we have been designing these spaces for years, we have seen the need to be outside grow exponentially. Outdoor dining, even in inclement weather, is a trend that continues to be popular for both hotel and dining establishments.
Other outdoor spaces can also be transformed. Scarlett Hotel Group and Leo A Daly are currently developing the InterContinental San Antonio, which had an underutilized outdoor pool area with great views. Now, the entire third floor will be transformed. The fitness center, pool and roof tops will be a destination bar, an activated pool area and an overflow space for the bar. This allows the hotel to offer multiple areas for private events while capitalizing on the view. To further enhance the space, we are adding a door system that completely opens up walls, allowing fresh air into the bar and giving guests the opportunity to flow in and out.
Creating multiple points of entry and exits to a space, as we are doing in the San Antonio project, invokes a feeling of being both porous and welcoming, while also maintaining an aspect of exclusivity.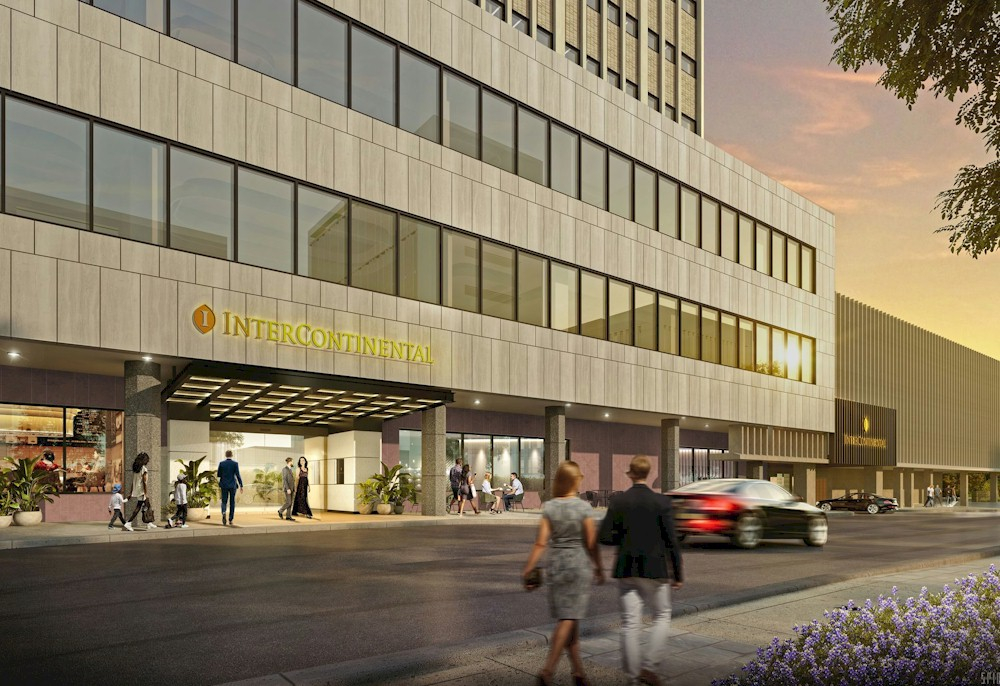 The new hotel slated to open in 2023 will have a proper sense of arrival and an activated street scape, while respecting the integrity of the existing mid-century modern building.
Intimate-but-Safe Indoor Space
Our research and observations showed us that in the past several years, people have really begun to spread out in hotels, utilizing more of the amenity space rather than being on top of one another in a "gather" state of mind. At the same time, when they travel, guests are looking for spaces that feel like home, not a huge box with furniture in it.
Finding that balance isn't too difficult. It's about creating flexible seating areas in lobbies so that guests can create their own "moments." Keeping in mind resilience and easily-cleanable surfaces, we like to incorporate furniture that feels collected and curated with a lot of texture and depth.
For both indoor and outdoor spaces, we've also found that there is more of an opportunity for sculptural objects and unique architecture that guests increasingly use to create one-of-a-kind digital memories for social media.
At the InterContinental, we designed a large hanging sculpture in the lobby consisting of hundreds of small crystals that will create a stunning backdrop for social media moments. Joan Crawford, a native San Antonian, was our muse. Her elegant sophistication and exquisite sense of fashion influenced the blush, jade and cognac color scheme, and the pleating details throughout the hotel are reminiscent of her ballgowns.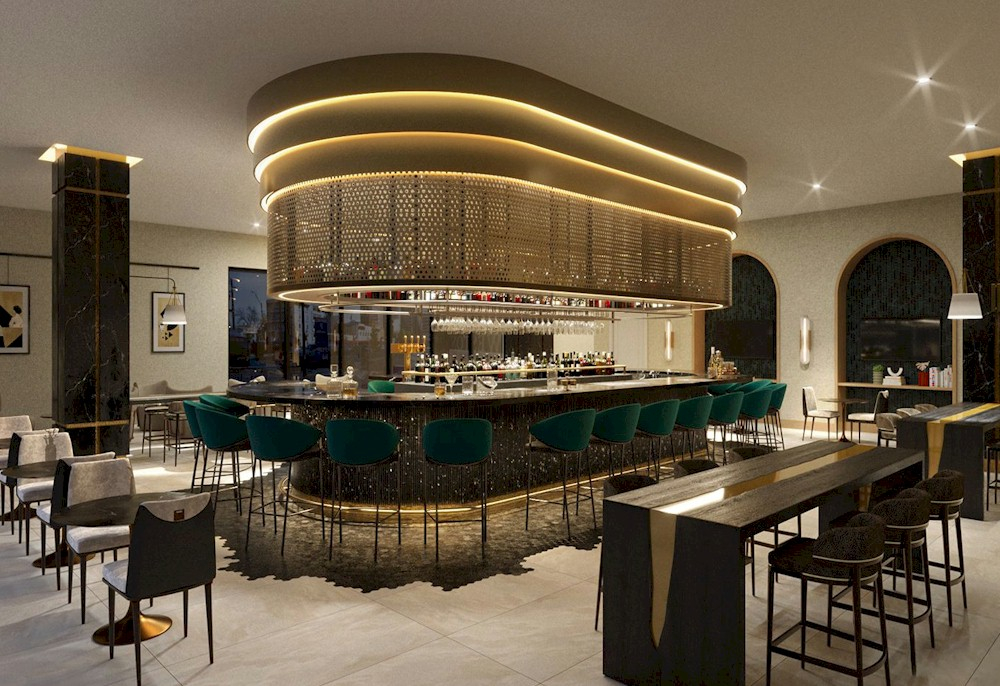 The gold bar is centrally located in the lobby and provides a moody and glamorous ambiance.
The New Working Environment
The same principles of creating a flexible and safe indoor environment apply to the way we now work.
According to consulting firm McKinsey & Company, more than half (58 percent ) of workers now have the opportunity to work from home at least once a week, and about a third of workers have the option of working at home five days a week.
In addition, as work became more flexible and technology evolves to support mobile work environments, so did the growth of working vacations, or "workations" as they came to be known.  At this point, people are used to working anytime and from anywhere, and most aren't willing to spend the day in a hotel business center.
While hotels have offered up better and stronger WiFi for years, today, the demand for high-capacity internet connections is stronger than ever. Along with those connections is more acceptance – from both employers and employees – of physical spaces where employees can do work, whether it's in the guestroom, at the bar or in a cabana by the pool.
From a design perspective, it's about providing options. We can create a space that's used as a co-working space during the day and a private dining room at night.
The same goes for meeting spaces. Companies need flexibility for meetings that include remote as well as in-person attendees. Major glass exposures can be constructed with electrochromic glass, also known as smart or dynamic glass, making it easy to control backlighting or maximize daylight.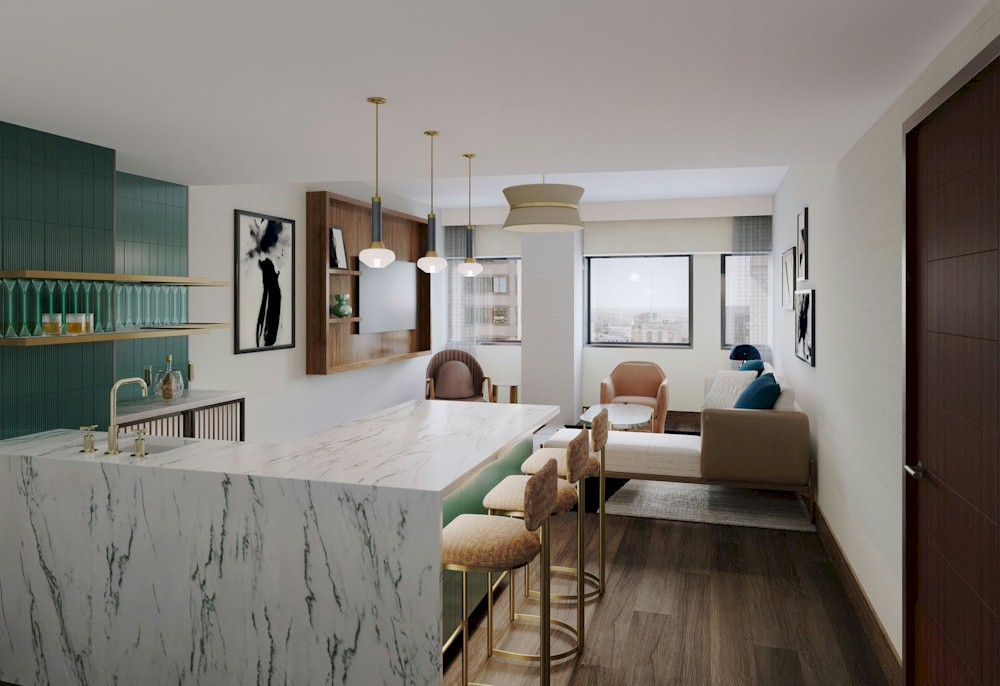 Flexible rooms like the king parlor suite in the InterContinental San Antonio provides guests with their own wet bar and lounge area for a place of respite at the end of a long day.
Design for the Long Term
No hotel design lasts forever, but we believe the underlying trends in guest flow, flexible spaces, working from anywhere and the maximization of outdoor space are here to stay for the long-term.
And in implementing these trends, designers and hotel executives need to keep some considerations top-of-mind as they have always done, like forming a true partnership, understanding the nuance of the brand requirements while balancing a truly singular and spectacular sense of arrival and stay.
Enhancing a property with those design considerations, or working them into a new build or remodel, will go a long way in enhancing the guest experience for years to come.
This article was co-authored by Zio Pekovic, Principal & Co-Founder, Scarlett Hotel Group
Main Image: The Pecan Bar at the InterContinental San Antonio will offer a sophisticated atmosphere with a barista program located adjacent to the hotel's primary Pecan Street Entrance.
HotelExecutive retains the copyright to the articles published in the Hotel Business Review. Articles cannot be republished without prior written consent by HotelExecutive.