How Event Planners Select Hotels Based on Wellness and The Great Outdoors
By Danielle Frias CEO, DFINE Events | September 2022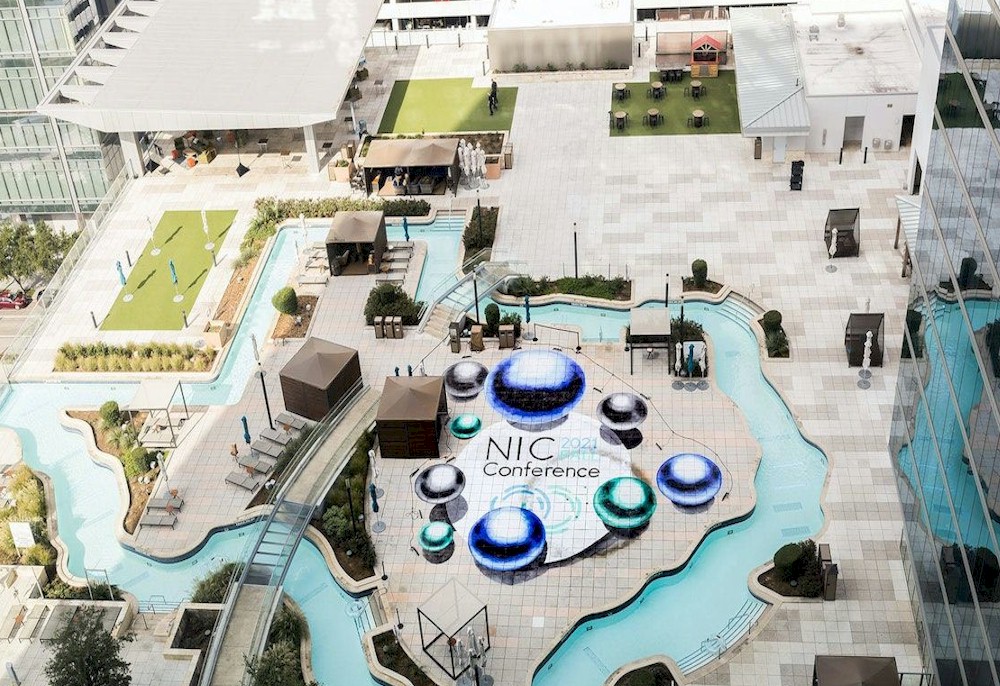 It's difficult to remember a time in the workplace pre-Covid.
The corporate workforce went into work five days a week, video conferences were not common, and employees never worried about being surrounded by their fellow coworkers.
Fast forward two years from the height of pandemic, and things are vastly different for every business, including hospitality. Even though 68% of American are fully vaccinated and 31% believe the pandemic is over the hospitality industry is still taking serious precautions to ensure safe wellness.
In this new age of health, one of the most popular precautions has been the usage of outdoor spaces and activities. Companies are searching for out-of-the-box ways to safely engage their employees during work functions. Not only does being outside serve as a safety practice, but a way to increases work productivity. Spending just 29 minutes outside can increase productivity by 45%. With more productivity, comes more innovation.
The pandemic gave hotels the opportunity to rethink the way they host their group meetings. Having open-aired events as well as healthier lifestyle options, allowed companies to boost work output and create better physical and mental health for their employees.
When creating these outdoor events and experiences, hoteliers must keep a distinct group of professionals in mind: event planners. Most companies will either have an in-house planner or hire an outside planner to coordinate all of their group functions. Event planners are especially excited, because new event styles that never existed, before are now being created. Post pandemic, their main responsibility is to find unique, yet safe spaces that will meet a company's list of demands. To stand to event planners, it is important for a hotel to create a healthy environment and offer outdoor experiences that harmonize with work balance.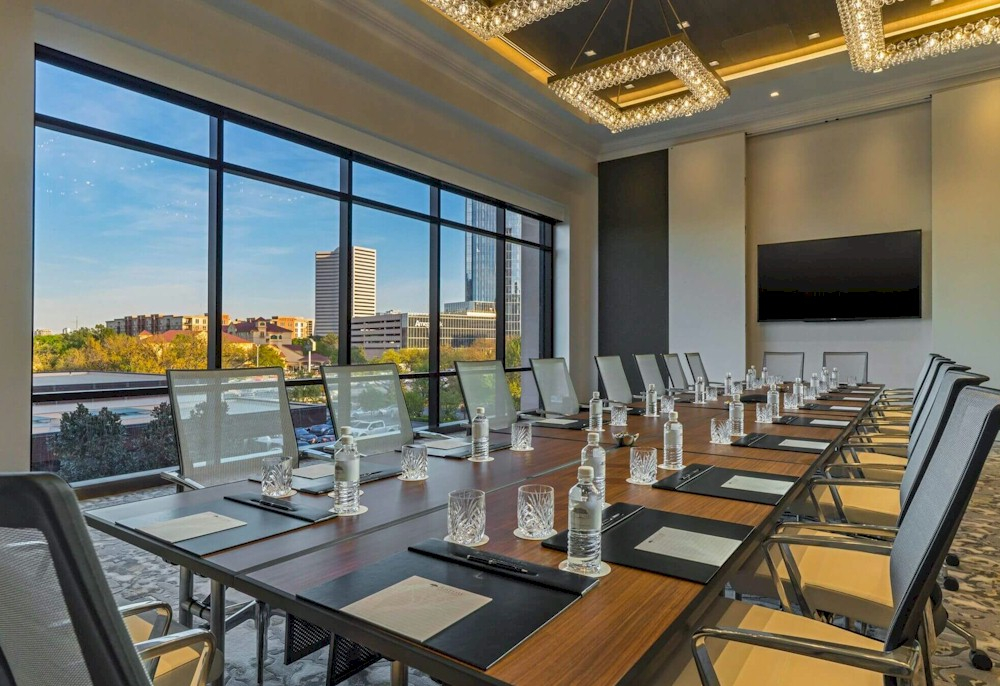 Post Oak Hotel – Houston Galleria Area
The Main Ways a Hotel will Immediately Stand Out:
1. Emphasize Health and Wellness Practices
As event planners begin their research, one of the items at the top their check list will be health and safety precautions. Statistics show that 59% of American range from extremely concerned to somewhat concerned about a COVID outbreak, while 39% is not concerned at all. This proves that health measures at hotels still need to be in place to make guest feel comfortable. If a hotel has a 'clean and safe' certification it is more likely a planner will consider using their space as they are considered to have a higher level of cleanliness. Employees wearing masks, contact free checking in, onsite COVID testing, and offering optional room service, are all ways that will make a company feel more confident in booking their group meeting.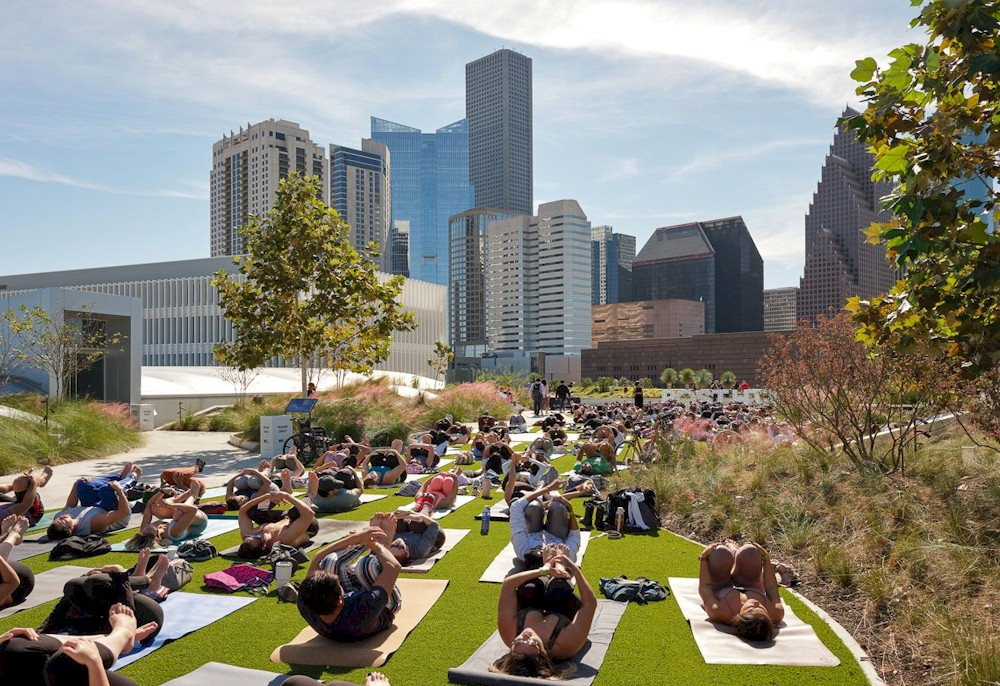 Post Houston- Downtown Rooftop Venue
2. Focus on On-Site Amenities – Fitness, Food, & the Outdoors
On-site amenities are what truly make a hotel stand out when it comes to attracting group meetings. Even though COVID has restricted some of the amenities, there are still several safe options. Whether a group is coming for a day meeting, or a teambuilding weekend, it is important to emphasize all the hotels' wellness, health, and outdoor features. Planners will always gravitate toward hotels and resorts that offers one-of-a-kind experiences.
Since exercise raises productivity by 45%, providing workout classes, up to date gym equipment, swimming pools, and a day spa can all make a difference. Make sure to point out local hiking trails or guided nature walks that are nearby. Some hotels offer unique fitness experiences like bike rentals, surfing lessons, horseback riding, and even sunrise yoga classes.
Offering healthier food and beverage options adds another layer to the well-being experience. A Population Health Management Study found that people with an unhealthy diet were 66% more likely to experience a loss in productivity verse those who ate healthier foods. More and more hotels are even starting to source some of their foods from local vendors.
Highlight outdoor features of the hotel such as quaint patio seating, large windows with a view, picturesque landscaping, and even water features. Characteristics like these allow one to be in touch with nature, and studies have shown that nature increases physical and mental well-being. Combining an array of physical activities, healthy food options, and serene landscapes will ensure that any group staying will be healthy as well as highly productive.
3. Feature Off- Site Outdoor Group Activities
Planners are not only interested in a hotel's in-house amenities, but the activities in its surrounding area. Due to the rise in COVID strains, it is still important for professional groups to opt for outdoor activities. Off- Site activities generally focus on team building and engagement. Companies want group meetings to not only be informative and innovate, but an opportunity for the group to collaborate. When a group has a shared experience, they form a stronger bond and overall work better together. A Gallup Study reported that engaged companies outperform their competition when it comes to profits, productivity, and turnover.
Even though a professional planner will do their own research, it is helpful for a hotel to provide a prepared list of activities they can refer to. Not all activities work with all groups, so the list should include a variety of surrounding attractions, excursions, and experiences. In addition, assistance with maps, transportation, as well as travel guides. If a planner is unfamiliar with the area, she is going to heavily depend on the expertise of the hotel.
The location and climate of the hotel are always going to be major factors. Regardless, it is important for a hotel to showcase the distinct experiences that no other hotel or city can offer. Popular tourist attractions like national monuments, famous landmark, and historic sites are always excellent options. However, a hotel will stand out by recommending out of the box activities or excursions such as a rock-climbing class, park clean-up, an astronomy guided evening, or even a local cooking class. By suggesting unique off property experiences, a hotel will set itself apart from others, and in turn appeal to event planners.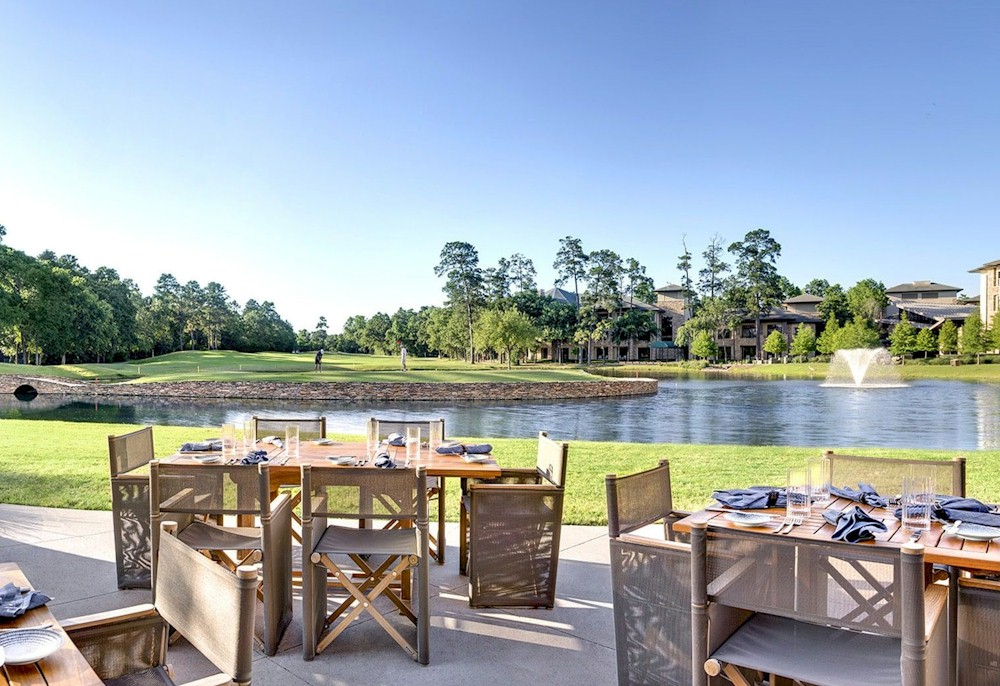 The Woodlands Resort- 30 miles outside of Houston
4. Guarantee Event Preparedness, Backup Procedures, and Vendor Referrals
With any relationship, communication is key, so it goes without saying that strong communication between the event planner and hotel will allow for a smoother event. This is essential when coordinating outdoor events as weather is a major deciding factor. Temperatures might change, a storm could appear, or it could just be off season. Regardless, it is an event planners' job to make sure backup plans are set in place. A planner will feel more confident if they know a hotel has the ability to act quickly in the event of an emergency or unexpected change.
For example, if the climate is warmer than expected, ensuring that there are shaded areas, extra umbrellas, and fans. If it's cold, having propane heaters, fire pits, or blankets. If a meeting must be completely moved inside, providing attendees with sanitizing stations, fewer guest per table, and possibly mandatory masks. Regardless of the change, by already having a plan or procedure in place it will allow for a more seamless event.
Event planner typically have a list of vendors they prefer to work with, but that doesn't mean they aren't open to suggestions. They know that not every vendor is ideal for every event. For this reason, it is important to have a list of vendor recommendations that a planner can refer to. From decor, to photography, tent rentals, and everything in between, an event will run smoother when vendors are already familiar with the layout and logistics.
5. Highlight Outdoor Areas and Activities on Social Media
In this era of technology, an online presence is essential for any business. When a planner is doing a preliminary hotel or venue search, the initial research is mainly going to take place online. Having a high SEO score or purchasing a listing on a corporate site like partyslate.com or eventective.com will allow planners to find a hotel more easily.
Since outdoor gatherings and activities have become more popular, a hotel's website should have high quality content, photos, and videos highlighting those elements. For example, photos of patios and terraces, or videos of scenic landscapes or nearby hiking trails will help it stand out from its competitors. To caterer specifically to meetings, showcase photos with outdoor activities both onsite and offsite the property. The more information a website contains, the more confident a planner will be in selecting a hotel for their event.
Posting consistently on social media sites like Facebook and Instagram will also help establish more credibility. The posts should be easy to understand, up-do-date, as well as informative. Data shows that 62% of consumers believe that businesses need a strong social presence to succeed. Frequent posting, along with online engagement such as responding to reviews, creating polls, and even writing a blog can all give the hotel added online value.
Adapting to the 'New" Normal and Beyond
The pandemic forced so many to reevaluate their lives and the ways they wanted to live it. Spending time outdoors, a healthier lifestyle, and high-quality experiences all became major aspects of the "new' normal. Companies took notice, and realized they needed to recreate these practices in their workplace and group functions. With this new demand, hotels have had the opportunity to explore services based on the great outdoors. Whether it's a team building retreat or a one-day conference, there are so many ways hotels can continue to create safe and unique outdoor settings for guest to feel healthy, productive, and inspired.
Main Image: Marriott Marquis Houston - Downtown Houston
Sources:
https://usafacts.org/visualizations/covid-vaccine-tracker-states
https://www.ipsos.com/en-us/news-polls/axios-ipsos-coronavirus-index
https://worldhealth.net/news/productivity-improves-after-being-outdoors/
https://hero-health.org/wp-content/uploads/2013/06/Presenteeism_8_6_2012.pdf
https://www.gallup.com/workplace/236927/employee-engagement-drives-growth.aspx
https://sproutsocial.com/insights/importance-of-social-media-marketing-in-business/
HotelExecutive retains the copyright to the articles published in the Hotel Business Review. Articles cannot be republished without prior written consent by HotelExecutive.