Utilizing Thoughtful Hotel Design to Lessen Crisis Potential, Long-Term Impact
By Margaret Chebat VP of Account Management for Business Development , PuroClean | November 2022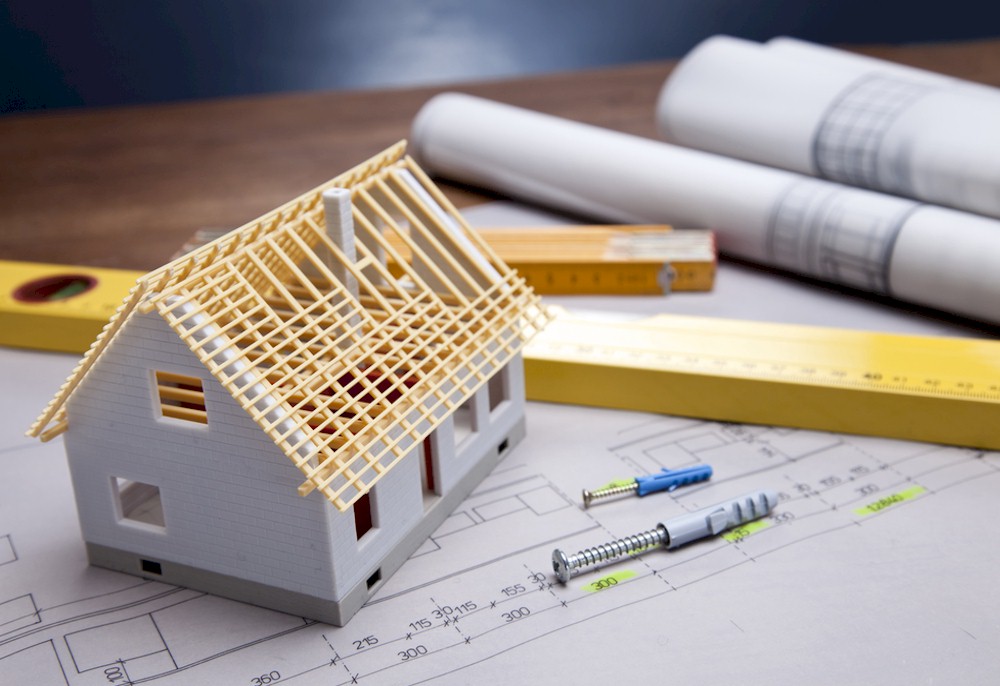 We are living in a new world.
Hotel designers, architects and developers are evolving with the times, adjusting their approach to satisfy the changing needs of today's travelers.
As we come out of a global pandemic and the hoteliers revamp their brands and redesign their assets, safety and sanitation are naturally top-of-mind. Many are taking the important step to implement enhanced protocols.
That said, many are, simultaneously, overlooking the fact that design, function and safety must now truly coexist in every sense. It is imperative, as we think about how to keep travelers both satisfied and safe, to go beyond the obvious and address the unseen dangers that exist in a thoughtful, forward-thinking way.
So, what are those "unseen dangers?" When you look at a potential crisis that can happen at a hotel, you often think about, and plan for, the usual. How often do you think about topics like airborne illness, water damage and mold prevention? While not as commonly discussed during crisis preparation and management meetings, these things can be just as detrimental to a hotel's business, ultimately putting the lives of both employees and guests at risk. There are a variety of ways hoteliers can offset potential issues, big and small, not only adhering to local regulations and codes, but going a step further to truly protect the people who walk through their doors each day.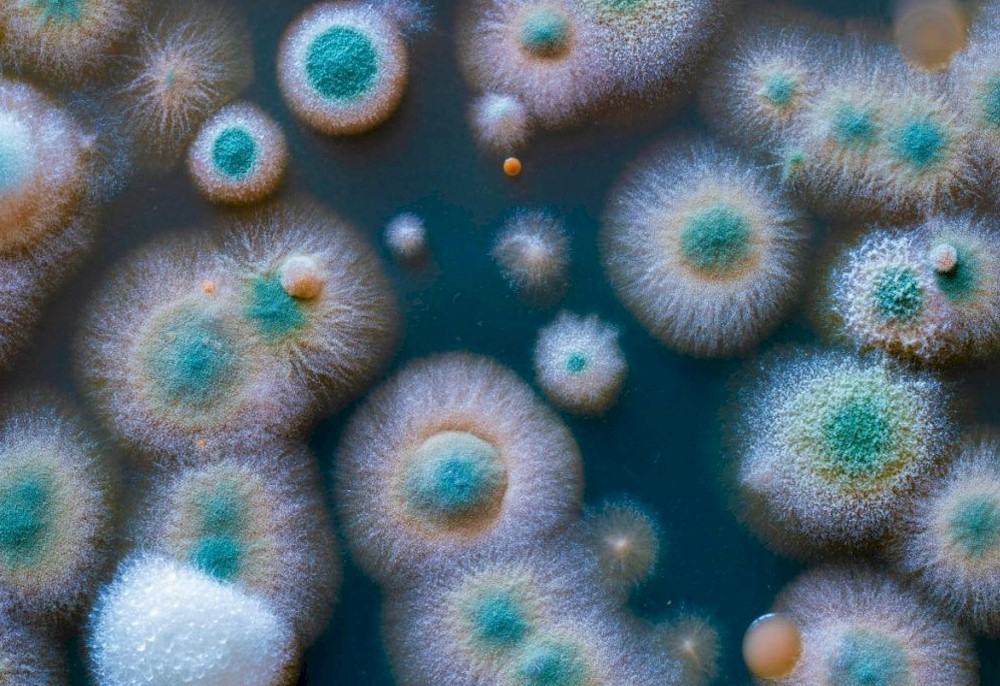 Mold Spores Under Microscope
Mold Prevention
The key to preventing mold growth is controlling moisture levels. The rule of thumb for residential construction is to install bathroom fans and use a dehumidifier to keep humidity at 40%, but as it pertains to commercial building design, an upgraded HVAC system should implement good airflow and ventilation, and all bathrooms should include a fan. Ensuring proper ventilation with outside air can help reduce the concentration of airborne contaminants, such as viruses, indoors and on surfaces.
Mold spores can be found throughout the environment, inside and out, and impact the health of employees and guests. Mold spores are microscopic organisms that live in soil and use plants, wood, paper and other organic material as food sources, spreading by releasing spores into the air that can be inhaled or settle onto surfaces. The spores then grow into mold colonies that release allergens into the environment. According to the United States Environmental Protection Agency (EPA), molds produce allergens that can cause or worsen respiratory problems, such as asthma. For anyone who has ever noticed increased allergy symptoms in musty basements or after it rains, this is because molds are more prevalent in damp conditions.
State-of-the-Art Air Filtration System
If the waning pandemic taught us anything, it is the importance of indoor air quality (IAQ). A state-of-the-art air filtration system helps reduce airborne contaminants, such as viruses, mold and bacteria, to create clean, healthy and breathable air. With guests frequently coming and going, germs are constantly being brought inside. Quality air filtration and regular maintenance serve as major components to reduce the potential for airborne transmission of dangerous micro-particles. Implementing such systems at the beginning of building design will make it easier to ensure effectiveness.
Air purifiers generally work through a system of physical filtration methods to improve IAQ, most working on the principle of interception. During this process, airborne particles are collected when they encounter a surface capable of trapping them.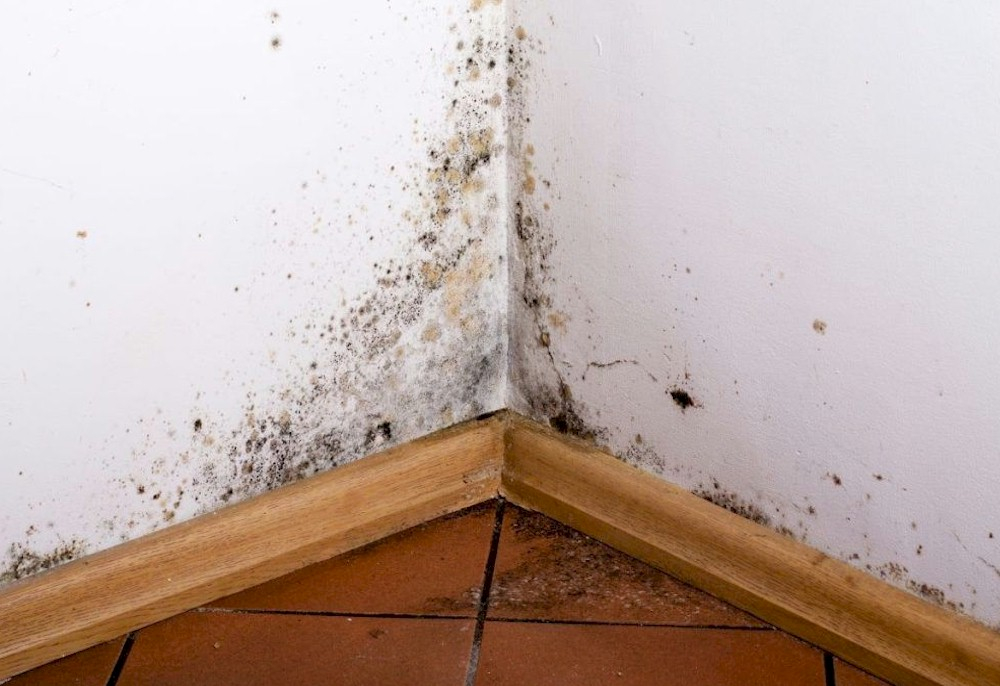 Mold Growing on Wall
HEPA Filters
A common physical filtration method is a High-Efficiency Particulate Air (HEPA) filter, which is capable of trapping small-scale particles including mold spores and other allergens, within the filter material. HEPA filters offer a common solution in the COVID-19 (coronavirus) environment by filtering foreign matter down to .01 microns (10 nanometers). With SARS-CoV-2, the virus that causes COVID-19, measuring the size of 0.125 microns (125 nanometers), installing a HEPA filter to a business HVAC system is an effective way to reduce COVID-19 transmission.
PECO Air Purifiers
A less common but highly effective option is to use a Photo Electrochemical Oxidation (PECO) air purifier. Unlike HEPA filtration, PECO technology has been shown, in some cases, to completely oxidize and destroy pollutants, like mold, bacteria and even viruses. There are a couple of features to look for to buy an effective and smart air purifier, one of which is an activated carbon filter. This special filter helps remove any mold odors, as well as other air pollutants including naturally occurring gases and volatile organic compounds (VOCs) found in paint, adhesives, vinyl flooring, carpeting, cleaning products, etc. Some activated charcoal filters even come with a germicidal ultraviolet-C (UV-C) light, which works to reduce mold spore reproduction.
Also pay attention to the clean air delivery rate. This is a standard measurement that ensures any air purifier performs how the manufacturer says it will. These standards are defined by the Association of Home Appliance Manufacturers (AHAM) and endorsed by U.S. Food and Drug Administration and the Environmental Protection Agency.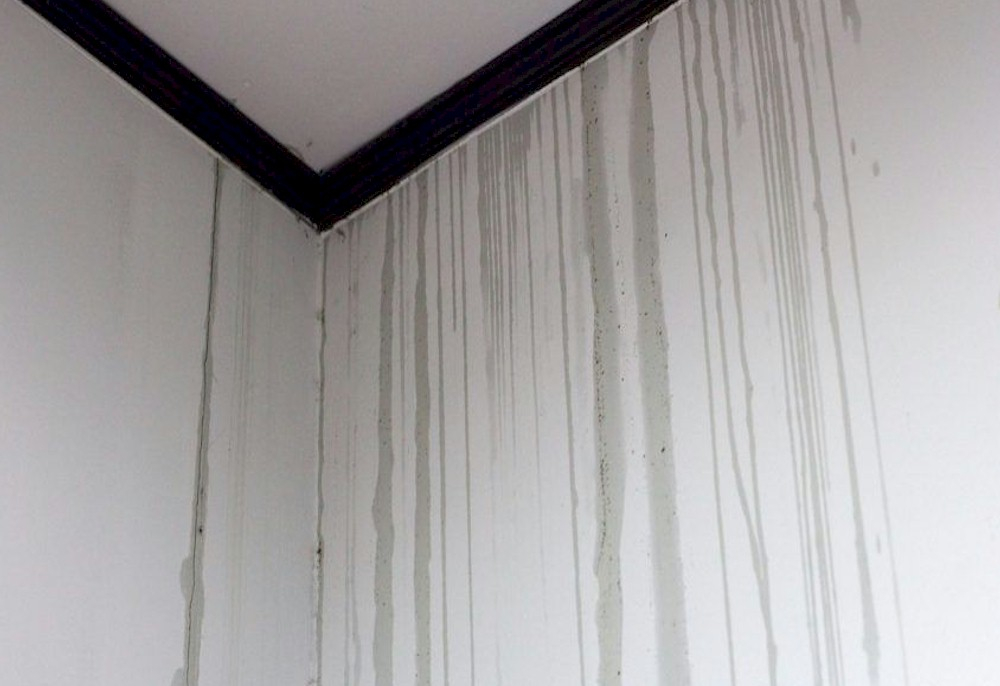 Water Seeping Down Walls
Preventing Potential Water Damage
Design should go beyond what is pretty, trendy or even just functional. There are design features that can reduce the likelihood of water-related issues and decrease the odds of mold. Of course, water is the major element in mold growth, so in addition to regular pipe maintenance, certain design features can help reduce the risk of flooding and water damage.
One of the most common guest behaviors that leads to a hotel flood is hanging clothing or other items on sprinkler heads. Some hotels now feature signs next to the sprinkler heads, requesting that guests keep them free of obstructions (which causes the sprinkler to not activate) and to not hang items there (which can accidentally set off the sprinkler system, causing a flood). A very easy way to alleviate this issue, beyond hanging a sign is to include more wall hooks in the design of a guestroom. This is especially important in extended stay and flexible accommodations, where guests are staying for a longer period and find themselves seeking creative storage solutions.
A bathtub overflow drain is another often overlooked design element that can help prevent water damage. Different from the tub's main drain, an overflow element is located several inches beneath the rim of the tub and connects to the main pipeline. Should a guest leave the tub running for an extended period, the bathtub overflow feature prevents water from encroaching the rim of the tub and overflowing to the floor. While not typical for users to obstruct the overflow drain, instructions for not blocking this feature can also help prevent a damaging water incident.
Vigilantly Monitor for Electrical Issues
With most guests traveling with roughly two to four personal or electronic devices, properties that welcome high numbers of international guests must also think carefully about their solution to power conversion, and how to accommodate adapters. Designers and architects, of course, think about having ample outlets today, but it is important to consider placement of outlets and increase the number of charging access points for travelers to attack this issue head-on from the beginning. Beyond the design elements that can be factored in here, maintenance staff should also be trained to recognize electrical outlet-related issues, so technicians can better assess a situation virtually, and periodically check outlets, plugs, electrical panels and circuit breakers to help prevent significant electrical problems before they become a more serious issue.
Thinking about the intersection of safety, functionality and design is not just recommended to the lodging industry; in today's changing environment, considering these issues is critical. While not every accident can be avoided, having the proper plans in place and being intentional about the building's overall design can foster a safer environment.
At the end of the day, some of this will require an investment; however, smart design does not have to be cost-prohibitive – there are businesses out there whose sole focus is understanding the risks and providing innovative, yet cost-effective, solutions. Hoteliers should consider the potential long-term impact of a crisis as they think through their design and renovation programs, taking advantage of the tools that are available to them, ensuring the safety of their guests while mitigating potential large loss for their business.
HotelExecutive retains the copyright to the articles published in the Hotel Business Review. Articles cannot be republished without prior written consent by HotelExecutive.