Green Hotels = Energy and Waste Efficiency through Sustainability Management
By Scott Parisi President, EcoGreen Energy Solutions | September 18, 2011
Since the earliest days of Thomas Edison's vision of city-wide electrification, there has existed the need to ensure the conservation of power in order to prevent "blackout," grid failures. This same challenge exists today as much as it did then - to do more with less, to save without compromising. The hotel industry is one of the major consumers of electric, natural gas and water.
Today, saving energy is easier and more cost effective than ever before. All major hotel brands have implemented strategies to address their carbon footprint and reduce their energy load to become more responsible stewards of the planet. Energy reduction is major component of transforming or building a property to be recognized as a "Green or Sustainable" building. Support tools and programs to assist hotels in reducing energy load have also been introduced over the past few years with availability of financial incentives beyond the simple net savings like federal, state, and local utility rebates.
In the US alone, hotels represent more than 5 billion square feet of space, nearly 5 million guest rooms, and close to $4 billion in annual energy use. US Green Building Council describes a green hotel to use 26% less energy, emit 33% less carbon dioxide, use 30% less indoor water and send a minimum of 50% less solid waste to landfills compared to their pier buildings without a sustainable strategy in place. Green hotels can also encourage the use of alternative transportation such as walking, mass transit, and low-emission, fuel-efficient or alternative fuel vehicles.
Many hotels have taken advantage of the ability to fund energy reduction projects through local utility rebates and state funded programs. The results have been reduction in energy spend by tens, and even hundreds of thousands of dollars a year. Multiply this reality over an entire portfolio and it results in a solid business strategy that cannot be ignored. These changes are not "your parents" energy efficiency improvement measures" by solely changing the lights to the CFL spiral bulbs.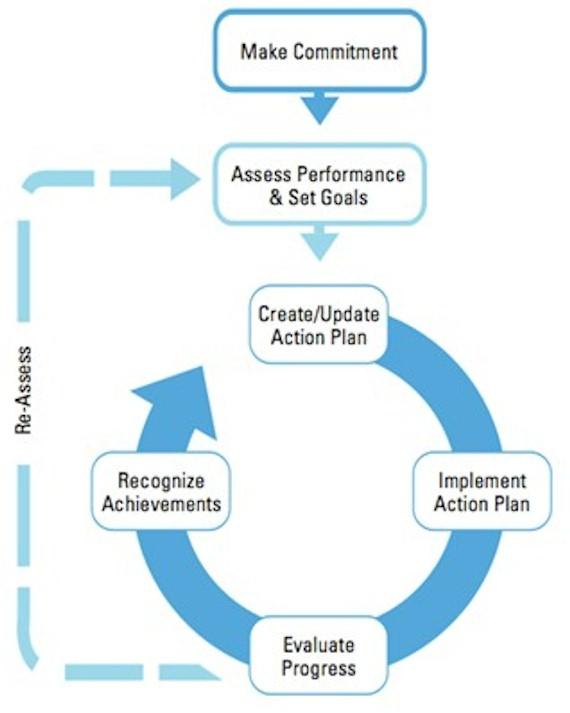 Rather, these cutting edge efficiency conservation measures (ECMs) have improved the guest experience through better aesthetics and more comfortable indoor environments. Whether you operate an 80-room select service hotel, or a portfolio of hundreds of hotels the basic steps of energy conservation are the same. First, have a reputable professional conduct an energy and waste analysis. Next, create a plan to implement the recommendations; finally, monitor energy and waste use to evaluate successes.
The current focus on energy and waste reduction makes this an ideal time to take action and improve net operating income. Incentive programs have been put out by local utilities, state governments and the federal government to improve building efficiencies and promote renewable energy. In fact, the American Recovery and Reinvestment Act of 2009, better known as "the stimulus," allocated over $55 billion for "green initiatives" with $6.3 billion of that going towards state & local grants for energy efficiency programs.
Please Login to read the full story, or you can Get Free 30-Days Hotel Business Review
The Hotel Business Review articles are free to read on a weekly basis, but you must purchase a subscription to access
our library archives. We have more than 5000 best practice articles on hotel management and operations, so our
knowledge bank is an excellent investment! Subscribe today and access the articles in our archives.