Glenwood Hot Springs Turns Up the Heat With Sustainable Initiatives
By Kjell Mitchell President & Chief Executive Officer, Glenwood Hot Springs | April 28, 2013
Flowing at an incredible rate of 3.5 million gallons of water per day, at a sizzling temperature of 122 degrees Fahrenheit, the hot springs resource in Glenwood Springs, Colorado, has always been considered priceless, an abundant gift from nature. Throughout history people have sought to harness its power in one way or another.
The Ute Indians, who originally inhabited the area, used the mineral-rich water for healing and spiritual purposes; the town's founding fathers envisioned a European-style resort frequented by the world's rich and famous; for a short time the hot springs water was bottled and sold as a tonic to cure innumerable ills; and the U.S. Navy found the springs therapeutic for the rehabilitation of injured war veterans during World War II.
Gradually, over the years, the resort was transformed into a family-friendly destination that now includes a 107-room lodge, a full-service spa, a retail shop, a restaurant and a miniature golf course. As Glenwood Hot Springs expanded, the owners became increasingly aware of the possibilities for environmentally friendly growth and of their responsibility to act as stewards of this precious natural resource long before such ideas were fashionably mainstream.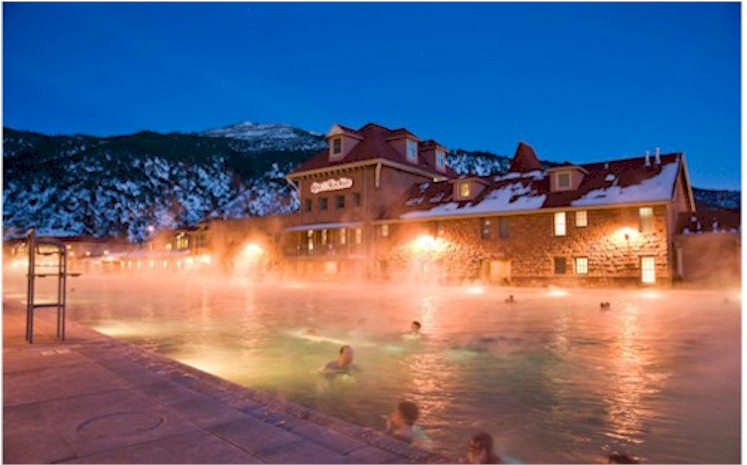 Gary Bosco, our longtime facilities manager, explains Glenwood Hot Springs' commitment to pursue green practices, "We are blessed with an unusual energy source here. The hot spring not only drives our business, it offers us an immense opportunity to harness its geothermal output. At the same time, it's imperative we act as responsible stewards so that this clean, renewable energy source continues to benefit our guests, employees and the community long into the future."
Sustainability in Action