Guests for Life: A Way to Someone's Heart is Through Their Stomach
By Marc McDowell Executive Chef, Makena Beach & Golf Resort | July 28, 2013
What is today's traveler looking for when deciding on where to stay for their vacation or weekend getaway? Do they research all the online reviews in hopes that will lead them to their ultimate destination, or is it where the best value is perceived, best service? Is it a place that has the best spa or the pools with all the slides for the kids, or is it the place with the best restaurants that determine where you book? Because there are so many choices where someone can spend their money, you need to have that something "special thing" that attracts them and keeps them coming back for more. In my opinion it's a hotel or resort that takes the "everything made from scratch" philosophy that will win their patrons over.
It's definitely not the cheapest nor cost efficient way to do business because labor is your highest expense. You will need trained capable culinarians to keep the drive alive. But when people taste that fresh baked bread with that slow-roasted in a wood burning oven meat, it sets the stage for internal happiness. Didn't someone once say "the way to someone's heart is through their stomach"? It's true, when you can satisfy that appetite in a way that is more than just piling in loads of food but instead having that food properly seasoned and prepared; eating becomes more than just a meal, its an event.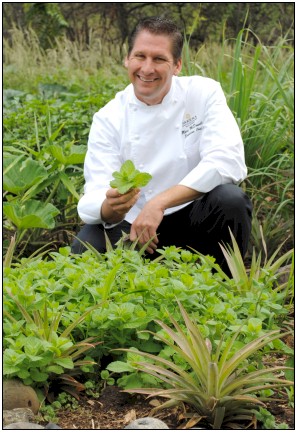 Dressings, stocks, sauces, breads, pastries when made from scratch give the flexibility to be creative on your menus while still keeping a tight leash on the budgeted food cost, but the real key here is" taste" and that's the element that gets forgotten about when you pull that box off the shelf and open a jug of the already prepared convenience sauce and doctor it up a bit with some herbs or a shot of Thai chile sauce. When is the last time someone commented on how good that meal was and wanted a recipe or two after the frozen bread, butter blend, bagged cut greens, doctored dressing from the jug, pre-portioned frozen meat, demi-glace in the can and frozen vegetables, frozen premade dessert came to the table? You might get their money this time through town but forget the "repeat business" idea as you have a better chance gambling in Vegas.
Today's online reviews will kill a restaurant if expectations are not met so really if you take the fresh is always best focus in planning your food revenue centers, you will definitely have a step up on your competition. Think about what you like about your personal favorite restaurant or why you go back again and again? Chances are it's a combination of the food and service that appeal to you or consistency. You have already made the conscience decision that the price paid for the experience is worth it and when it's not you will decide not to return.
Starting this concept for your restaurant or multiple outlets isn't as hard as most probably imagine. Begin with hiring a Chef who likes food, likes to cook and likes to teach his crew." how to make things" Its easy to just stand and direct others or tell someone just as a recipe would tell you but the real point of duplication (thus consistency) belongs to the chef who demonstrates what he wants through teaching. Train key people while keeping consistency a high priority and through their teaching others you will start to develop menu items that people will come back for.
The question now becomes "how large should the menus be?" If you follow the simple rule that "if it can't be made from scratch then don't offer it on your menu" concept you will find yourself creating wonderful dishes that you are able to talk to your guests about because you really do know how it was created. Guests love to see chefs in the dinning room going table to table answering the questions or fielding compliments. You will never see a chef in the dinning room if he is pulling already prepared foods out of boxes and because the mediocre or worse food comments would be more than anyone would want to subject themselves to.
Please Login to read the full story, or you can Get Free 30-Days Hotel Business Review
The Hotel Business Review articles are free to read on a weekly basis, but you must purchase a subscription to access
our library archives. We have more than 5000 best practice articles on hotel management and operations, so our
knowledge bank is an excellent investment! Subscribe today and access the articles in our archives.