What Makes a Concierge Department Great?
By Sam Wilhelm Chef Concierge, Four Seasons Resort Maui at Wailea | December 15, 2013
"What is your hotel doing to support and modernize your concierge department to stay ahead of the competition?"
This intriguing topic, posed by HotelExecutive.com's editors, hit home because I had just been re-reading the story of Isadore Sharp, our Four Seasons founder and chairman, whose business acumen and personal insights are legendary. Sharp built a company and a culture based, essentially, on the golden rule. He says it this way: "The reason for our success is no secret. It comes down to one single principle that transcends time and geography, religion and culture. It's the Golden Rule – the simple idea that if you treat people well, the way you would like to be treated, they will do the same."
Thinking about this principle got me asking myself: What separates a good resort concierge program from a great one? To me, it is providing guests with a level of service and personalized and customized itineraries that exceed guest expectations and industry standards. The golden rule comes into play in everything we do when dealing with guests and colleagues alike. We all want to be "looked after." We all want to have the best possible experience when we travel. As concierges, we intuitively know the importance of making a connection with our guests and with everyone with whom we come in contact. Our job-done right-has a big impact on the guest stay, particularly since expectations are high.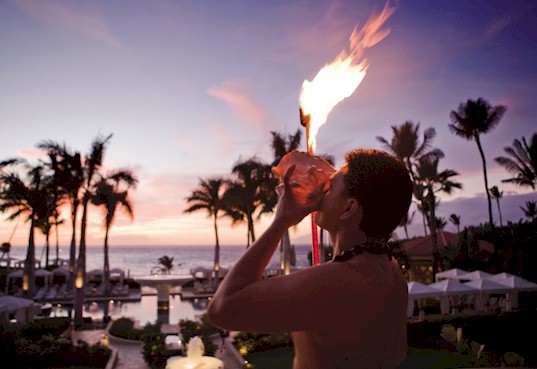 Yet, within the hospitality industry, particularly here in Hawaii, there has been a growing trend toward outsourcing the concierge department. A primary factor for hotels is looking for ways to cut costs and build revenue. Are these business decisions short sighted? I think so. Fortunately, my employer, Four Seasons Resort Maui at Wailea, has not only bucked the outsourcing trend but has allowed my department to grow and has placed major emphasis on our completely in-house services. The philosophy is simple: the concierge program is at the heart of our Resort's operations. We believe that for our well-traveled guests, our concierge service should be considered priceless and indispensable.
Concierges must have both the guest's and the hotel's interest at heart. The job of the concierge is to provide guests with information and the best experiences, whether it involves one or more components that cost money or not. An outsourced desk may have different priorities and, in the end, they are in business to make a profit. The concierge department's role is not to make a profit. Rather, it is set up to be a critical service to enhance the guest stay. Revenue generation is not the goal.
Please Login to read the full story, or you can Get Free 30-Days Hotel Business Review
The Hotel Business Review articles are free to read on a weekly basis, but you must purchase a subscription to access
our library archives. We have more than 5000 best practice articles on hotel management and operations, so our
knowledge bank is an excellent investment! Subscribe today and access the articles in our archives.