Music Therapy Strikes a Chord with Hard Rock
By Dale Hipsh Senior Director for Hotel Operations, Hard Rock International | July 27, 2014
Is anyone else nervous leaving their mobile phone behind, in a locker, all by itself, TURNED OFF, when having a spa treatment? I know I should not be, but I am. Spa goers have traditionally visited with the intent to disconnect, to unplug if you will. At Hard Rock our goal for the Rock Spa experience is meant to plug you in, amp you up and maybe even turn you on. We began our re-tool from this perceptive. Times have changed and many spa operators have not evolved as technology and hospitality brands have. To this end we went about seeking to discover a new way forward to enliven the senses, instill wellbeing and infuse the spirit of rock and roll into our newly envisioned experience. Our objective was stated to energize and excite – we want guests to leave our bespoke treatments ready to hit the dance floor and show the rest of the band how it's done. Rock Spa is where Zen meets Zeppelin.
Long proven, music is directly linked to one's mental, emotional and social well-being, indeed one's physical health. From privately jamming to "Stairway to Heaven" in the car during your teenage years, to that one album that helped you get through your first heartbreak (Fleetwood Mac's "Rumors" for me), we as human beings naturally take a melodic approach to healing. The idea that "music is medicine" has enjoyed an eminent and long-standing position throughout the course of human history. In ancient Greece there was a saying, "Men have song as a physician for pain." The Greeks advocated healing through sound as a sacred science, where the flute and the lyre were tools to treat illnesses, much as Native American Shamans regard the voice to be a healing instrument and synchronized sounds are used in rituals and therapeutic practices.
As an internationally recognized lifestyle and hotel brand that weaves music, the core of our DNA, into everything we do, we saw an opportunity to further connect our guests with the intimacy that music can provide coupled with the skillfulness of massage therapy and the artistry of harmonious composition. By infusing music therapy into our treatments at Rock Spas® worldwide, we are able to not only provide our spa-goers with an immersive encounter, but also bring something wholly new to the table, the massage table that is – an innovative, musically-inspired experience sure to shake up the hospitality spa sector in seismic ways. Quite confidently we are bracing ourselves to be flattered; they say imitation is the sincerest form.
Hard Rock's mission is simple: "to spread the spirit of rock 'n' roll by creating authentic experiences that rock." Not only do we aim to provide such memorable moments, but provide them to an audience that specifically seeks out experiences far from the usual – moments that resonate and stand apart from a pool of generalizations. In the ever-evolving world of hospitality, Hard Rock sought an opportunity to revitalize and take the spa industry a step forward.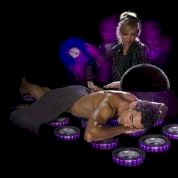 Realizing that our guests are in search of unusual, yet unforgettable encounters, we were able to invigorate our Rock Spa® offerings by providing an immersive and energetic departure from what our spas traditionally delivered. Through the new musically-synchronized treatments, our goal is for guests to embark upon a journey of the senses into which they are subsumed, a journey that makes them awake, alive and at peace all at the same time. Much like seeing your favorite artist perform live, you would rather be nowhere else.
Modernizing Swedish massage techniques, Rock Spa® treatments infuse vibrations rippling through the body while a massage therapist synchronizes movements to an expertly curated playlist. Turning to the newest technology, we found a way for the music's bass line to be replaced with transcendent vibrations and for the higher end frequencies to be delivered. This innovative concept, developed by a Hard Rock think tank, allows for the rhythmic waves to be transmitted into the guest's Rock Spa® treatment experience, inducing the feeling of traveling to the tempo of the musical notes.
Please Login to read the full story, or you can Get Free 30-Days Hotel Business Review
The Hotel Business Review articles are free to read on a weekly basis, but you must purchase a subscription to access
our library archives. We have more than 5000 best practice articles on hotel management and operations, so our
knowledge bank is an excellent investment! Subscribe today and access the articles in our archives.