Mixing Business and Leisure for Today's Business Traveler
By Pat McBride Founder & Chief Executive Officer, The McBride Company | November 2015
The designs of the most renowned hotels and resorts give careful consideration to every aspect of a guest's experience. This is no small task - the design team leads the way to ensuring a property has everything it needs to offer a memorable, comfortable and relaxing stay for customers, which ultimately determines the success of a property.
Complicating matters is the fact that designers very rarely need to consider just one type of customer - there are honeymooners, young families, empty nesters, groups of friends and wedding parties to consider in the design process. The task of designing for still another subset of customers - business travelers - presents an interesting but surmountable design challenge. This is a group growing more and more accustomed to mixing business with leisure.
Designing a property that appeals to business travelers, a critical source of revenue for many properties today, requires its own set of considerations that must be weaved seamlessly throughout the design of the property, from meeting and conference spaces to restaurants and guestrooms and beyond.
In November 2015, the Margaritaville Hollywood Beach Resort opened in Hollywood Beach, Fla. Margaritaville is a lifestyle brand and collection of properties inspired by the lyrics and lifestyle of singer, songwriter and author Jimmy Buffett. A destination resort and entertainment complex set on the legendary Hollywood Beach Broadwalk, the resort features an extensive array of amenities and offers a high level of hospitality, service and attention to detail. At the 349-room, 18-story destination resort, part of the design challenge was to create an environment that "means business" yet delivers on the oceanfront promise and the characteristics of the Margaritaville brand.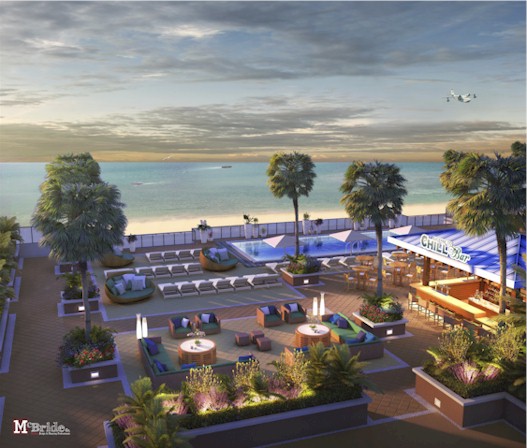 A property looking to appeal to business travelers must be able to accommodate professional events ranging from small meetings of 20-25 people to much larger conventions attended by hundreds. In order to be able to host an array of events and tap into this source of revenue and high-impact brand exposure, hotel operators must be able to thematically and structurally change and partition spaces. In an effort to balance business and leisure, consideration should be given to ways the design can give a nod to the setting and embrace all that the location has to offer.