Creating a First Class Meeting Destination
By Irby Morvant, Jr. General Manager, Hyatt Regency San Francisco Airport | September 04, 2016
As hotel group meeting business grows in 2016, groups are looking to hotels to offer cutting edge technology and environments that are especially conducive to collaboration, creativity and fresh perspectives. Gone are the days of professionals working alone in their rooms-across industries, people want to work in open areas, interacting and socializing seamlessly. With this in mind, Hyatt Regency San Francisco Airport, located between Silicon Valley and San Francisco, recently completed a top-to-bottom transformation to become a hub of connectivity for professionals and group meetings. The Burlingame-based property welcomes approximately 330,000 guests each year, with almost half the hotel's overnight guests visiting for meetings and events.
Group meetings business continues to increase across the country, and this change is especially apparent in the leading economic center that is the Bay Area, where hotel and tourism markets continue to grow in tandem. Hyatt Regency San Francisco Airport is one of the largest meeting venues in the entire Bay Area, and a top focus of its 2016 transformation was adding new features, options and space for groups, in order to distinguish the property as a premiere meetings and events destination. The hotel is in a prime location for business travelers in multiple industries to attend meetings either at the hotel or at nearby tech headquarters, while still having the option to quickly get to the city for meetings or leisure.
Post-renovation, the property will be able to accommodate groups up to 2,200 with 69,285 square feet of flexible function space, including two new ballrooms-one of which can be combined with the hotel's central atrium for a truly unique and expansive event space. In addition to the vast amount of event space, a key element of the renovation focused on completely transforming the hotel's atrium, a unique feature of the hotel that allows guests to see the full expanse of the hotel upon entry. Previously, the area was overly segmented and challenging to navigate. The atrium now creates a new emphasis on space flow, allowing ample natural light to spill into the main gathering area, creating a welcoming environment for guests and business travelers looking for a spot to collaborate or socialize.
The social spaces in our central atrium have been redesigned to be more intuitive, reflecting how people engage and interact in this new age with a significant focus on connectivity. It's all about encouraging a sense of discovery by opening the space so people can move throughout in a more intuitive way. Upon entering the space, the new design allows a full view of the expanse of the atrium, flooded by natural light.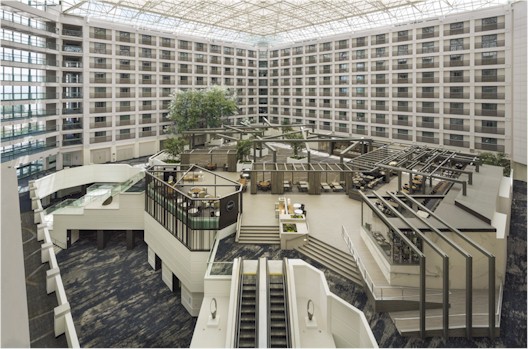 Focus on Connectivity and Flexibility
A key element of the transformation was keeping connectivity in mind, paying close attention to the mobile ways in which people now work. Several areas in the atrium offer communal, stadium style seating with built-in outlets integrated into the seats themselves. These types of spaces allow for impromptu, smaller and more casual meetings among professionals, fostering a sense of community while allowing individuals to be connected and work in a flexible environment. The redesigned atrium also creates a social environment that reflects the way people interact in a way that's intuitive and meaningful. This new type of flexible meeting space is also a response to the increase of the number of millennials becoming part of the business travel class.
Please Login to read the full story, or you can Get Free 30-Days Hotel Business Review
The Hotel Business Review articles are free to read on a weekly basis, but you must purchase a subscription to access
our library archives. We have more than 5000 best practice articles on hotel management and operations, so our
knowledge bank is an excellent investment! Subscribe today and access the articles in our archives.