Telling a Unique Story Through Interior Design
By Tammy S. Miller President, Alternate Resources | November 13, 2016
Every town, village, community, and city has its own character, its own vibe, and its own history. Each location has a story to tell about what makes it unique. Isn't it important to tell that story through the practice of interior design? Shouldn't designers be called to task to bring the story to life in a unique way for each and every project, especially hotel projects where people stay? Doesn't the guest travelling on vacation or on business want to understand the locale, and what makes it unique? Won't this lead to better experiences for guests? Wouldn't it be fun to educate the client about the town they are staying in? Won't that add to the intrigue of the space and the authenticity of the guest experience?
Hotels are huge business, from buying and selling them to developing and renovating them to operating them. It is much easier to set a single standard and name it a brand and make every single detail remain the same regardless of locale. There are those brands that enforce this singularity and then there are other hotels who want to stand above the rest. As a designer, my hats off to those that dare to be different, who want people to remember the unique experience and the location and who want to share it with their friends, to come back for the experience. That makes better business.
The "buzzword" in the hotel industry today is authentic. By definition the word authentic means genuine; real; not false or copied. Guests are seeking these authentic and original experiences by choosing hotels that are unique and interesting. This desire opens the world of design to the talented who seek to learn something of the locale and represent it in the interiors and exteriors of the hotel space. This can be achieved in material choices like using various species of reclaimed lumber in Aberdeen, Washington or Bangor, Maine which both claim to be the lumber capital of the world or to focus on the beautiful reefs and tropical waters when designing a hotel in Grand Cayman.
Designers are retained for a project to bring the space to life. We have vision, and we lend our vision to every project with the hopes of making it unique and special. We are also business people, and we are called upon to tailor that vision to budget parameters, usage, clientele, interests and specialties. Our goal in hotel design is to create an experience for the guest and our success lies in creating a welcoming and memorable experience.
Recently I was working on a project in Springfield, Massachusetts and I learned all about the things that are unique to Springfield: the first game of basketball with a peach basket, and now home to the Basketball Hall of Fame; home of Dr. Seuss, who has a museum in Springfield; home of the first public wading pool, and there are many others. My goal with this project is to represent some of the historical building blocks of Springfield and weave it in to the hotel. In this specific property, a branded hotel with both a leisure and business focused guest, the approach is to bring the history in through the artwork.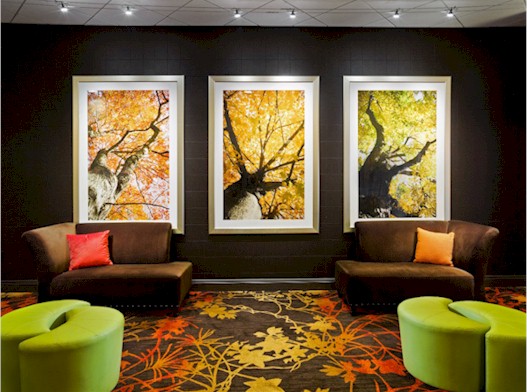 Lobby of the Sheraton Springfield, MA hotel with changing leaves in framed photography
Please Login to read the full story, or you can Get Free 30-Days Hotel Business Review
The Hotel Business Review articles are free to read on a weekly basis, but you must purchase a subscription to access
our library archives. We have more than 5000 best practice articles on hotel management and operations, so our
knowledge bank is an excellent investment! Subscribe today and access the articles in our archives.