Energizing Hotel Lobbies
By Deborah Forrest President, ForrestPerkins | September 2017
Hotel lobbies are undergoing an exciting evolution. Architects, designers, hotel owners, and operators are re-thinking hotel lobbies and transforming them into active social hubs that are becoming the heart of hotels. With flexible designs, professionals are creating spaces that support work and play, dining venues and bars that morph throughout the day, communal tables with computers, library settings for quiet reflections, and game rooms for pure play. In many cases, the goal is to make the lobby as interactive as possible and to attract visitors and locals alike. In some cases, such as the Fairmont Washington, D.C., where ForrestPerkins renovated the public spaces, activated lobbies can translate into increased ROI.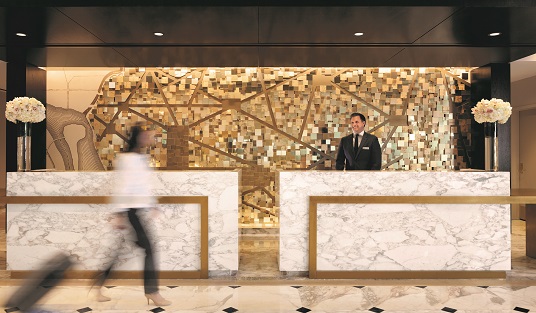 A sculptural Mural Provides the Backdrop for the Reception Desks at the Fairmont Washington, D.C., Georgetown
"With the redesign of the new lobby bar, we have increased food and beverage revenues in this area by 40 percent year-over-year," says Christian Klaus, Director of Operations, Fairmont Washington, D.C., Georgetown.
As architect and interior designer, ForrestPerkins approached the public spaces including the entire lobby, loggia, outdoor courtyard garden, and Kennedy Ballroom, which is directly beneath the courtyard, with a detailed master plan. To activate the lobby, a two-story space adjacent to the courtyard, it was important to create a sense of drama, and simultaneously provide intimate places to gather. ForrestPerkins drew inspiration from an aerial view of Washington, DC, an undercurrent that runs throughout the design, to create a sense of place for visitors. To enhance the guest arrival experience, the firm created a new entry vestibule with a revolving door, which also mitigates outdoor air intrusion, and redesigned the lobby as a dynamic, multi-functional space that includes a focal bar and a variety of seating options to maximize food and beverage revenue.
A sculptural mural inspired by an archival map from the early 1800s, provides the backdrop for the new sleek white marble and polished bronze reception desks. ForrestPerkins collaborated with Kevin Barry Fine Art to create this mixed-metal mosaic mural of the city of DC, executed in warm golden tones of brushed, polished, and satin metals of varying heights that suggest the density and vibrancy of the city. The major streets as laid out by the original city planner, Pierre Charles L'Enfant, are shown in bronze, as are the National Mall and the White House grounds.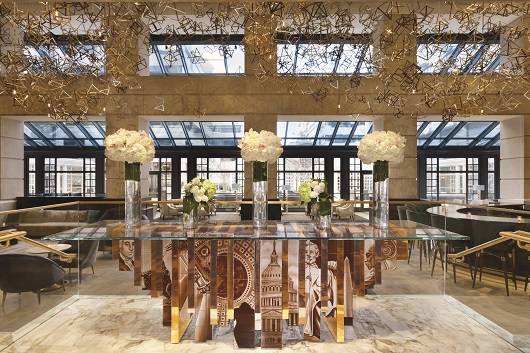 Creating an Immediate Connection to the Courtyard from the Lobby at the Fairmont Washington, D.C.