Going Green Without Losing Green: Biophilic Design Strategies For Every Space
By Anna Kreyling Interior Designer, Baskervill Hospitality Studio | November 03, 2019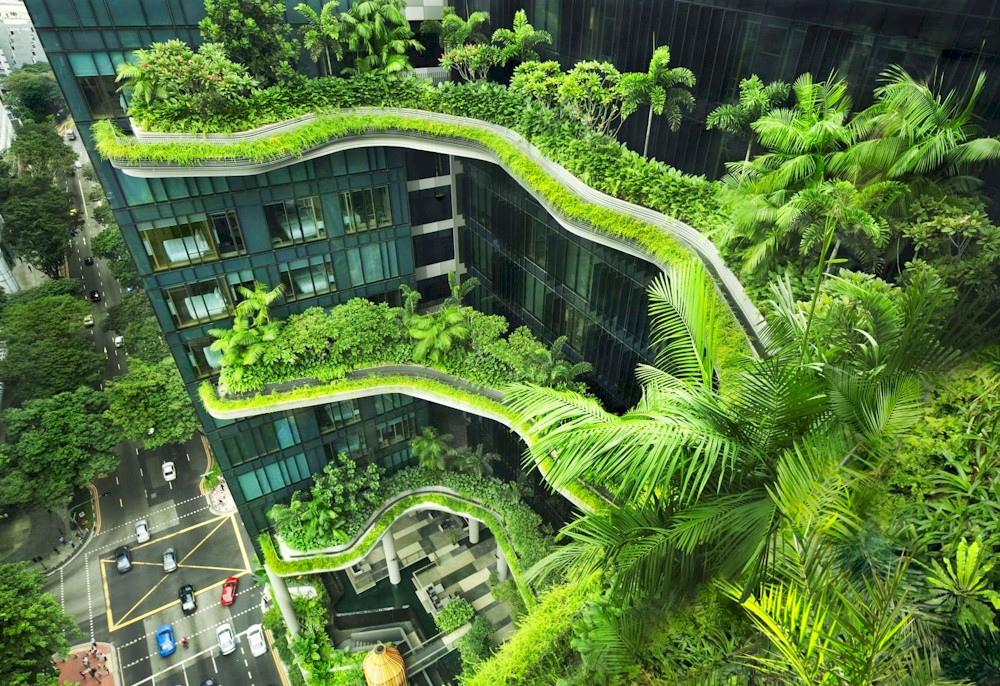 Travel can, at times, be a stressful experience. Being away from home and out of our normal routine can impact our overall health. So, how do we create spaces for guests that can help promote well-being while maintaining a hotel's financial performance? It doesn't have to be one or the other. By being smart about strategies to implement biophilic design, hotels can capture guest loyalty and increase revenue by providing environments guests want to inhabit.
The incorporation of biophilic design approaches – including direct and indirect access to nature and its elements – have demonstrated benefits to people's health and happiness, and hotels are prime opportunities for integrating purposeful design details that can make a meaningful difference. A recent study by Terrapin Green and Interface found rooms with views to water commanded up to an 18% boost in average daily rate to those without.
Additionally, an analysis of public space use found an 11% increase in activation in properties featuring biophilic design with a corresponding decrease in purely transient traffic. These numbers are meaningful: increased guestroom rates and occupation, and enhanced engagement in hotel-operated food and beverage outlets contribute directly to increased profit margins.
While incorporating live plants might be the most commonly used biophilic design intervention, there are many other ways to achieve a more holistically integrated approach that are both more cost effective and impactful in a space. One of the best ways to achieve successful, cost-conscious biophilic implementation is to utilize the 14 patterns of biophilic design developed by Terrapin Bright Green as a key organizer for any new project or major renovation. Using these tenets as a basis of design can create effective, exciting spaces without adding cost to the project (and can even provide savings in operating costs over time).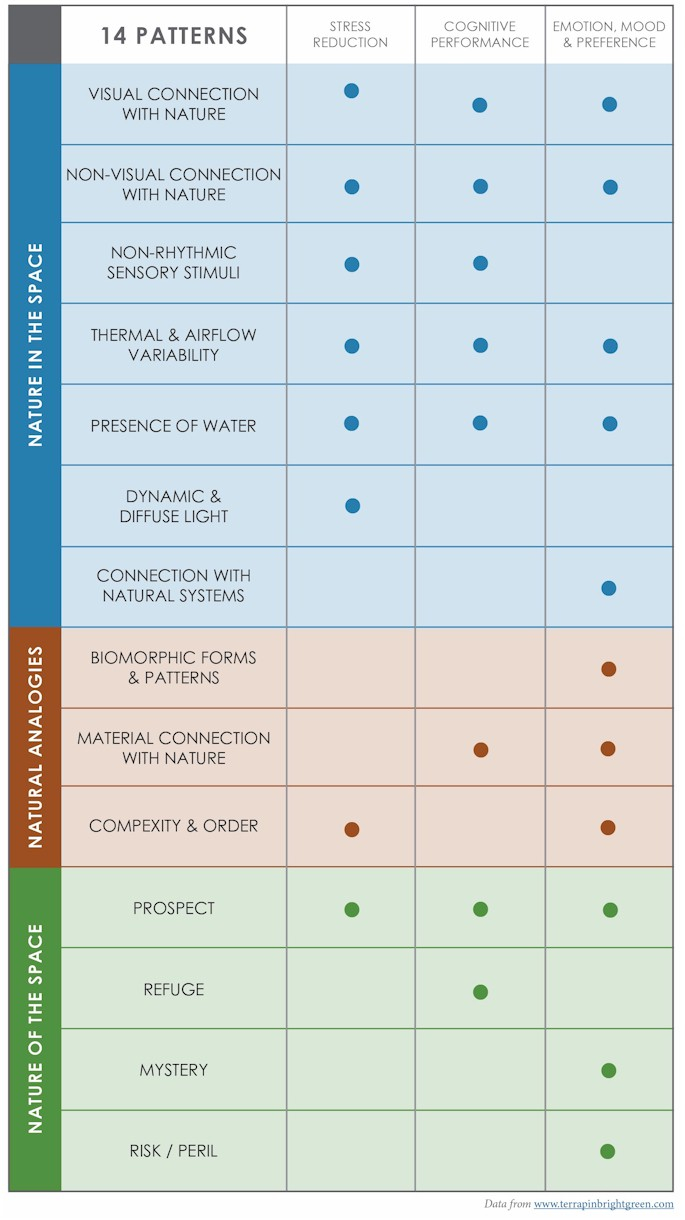 1.Layout Is Key
A good space plan can be one of the most effective, and cost-conscious, means of incorporating biophilic design principles. Focusing on the elements discussed below will not necessarily add additional cost to the project and only requires some extra thought and attention to implement.
Start by orienting the space to maximize natural views. Setting the public space at a slightly elevated level from the exterior can provide interest by tying in the Prospect and Visual Connection with the Nature patterns Terrapin outlines. Additionally, include combinations of unimpeded views and screened areas where guests can sit with a solid surface at their back – reinforcing connection to the earth.
Creating areas of both Prospect and Refuge has myriad benefits including reducing stress, fatigue, and irritation, improving concentration, and increasing perceptions of safety. Partially obscuring views and combining switchbacks with other sensory items manifests moments that entice guests to travel farther into the space, which can be a key revenue generation tool and aligns with the Mystery pattern.
2. Think Local
One of the key tenets of biophilic design is the creation of a sense of place. Beginning the design concept with a strong connection to the local landscape is the first step in achieving a successful biophilic experience. Extra care and thought in the beginning of the process is the best way to prevent adding extra costs, and helps to set the tone for the overall design. For those travelers who spend a lot of time on the road, design considerations rooted in the local vernacular can have a grounding effect. Implementing design elements with this in mind complements both the Connection with Natural Systems and Visual Connection with Nature patterns.
Centralizing design elements that can potentially carry higher costs around targeted areas will provide maximum impact, while combining local materials with local flora provides a synergistic experience. The use of native plants in site design can provide a more prosperous four-season landscape – plants from the region are more likely to be successful long-term, reducing the need for replacement and requiring less watering and maintenance overall since they are adapted to the natural environment.
3. Ecotechnological Equilibrium & Engaging Multiple Senses
"Experiences are more intense and more memorable when multiple senses are engaged simultaneously… The hand of the fabrics, the scent of flowers, candles and food; crackling of logs in a fireplace; the splash of water in a fountain; the texture of wood grain and stone in furnishings; and bird song in a lobby or on a patio are ways of creating more memorable spaces." - Human Spaces 2.0: Biophilic Design in Hospitality
There are two schools of thought within the design world – biophilic and technophilic; but what if we could use the technologies we are already incorporating to further the effects of biophilic design in the space? Technologies such as smart rooms with IoT (Internet of Things) technology can allow guests to control and customize the lighting, HVAC, and even drapery from one central hub. Thinking holistically can create large impact without additional cost.
Lighting is a key opportunity to use technology to benefit guests' overall experience. Pay close attention to the color temperature of the lighting and consider incorporating color tuning in the lighting controls to better mimic natural lighting conditions. Successfully implementing these methods provide non-visual connections to the outside world and promote healthy circadian rhythms, leading to better guest sleep. We've been using zoned lighting in public space design for years to increase guest comfort.
Now, LED technology allows designers to incorporate color tuning measures – including the ability to control the color temperature from 6000K all the way to 2200K. Additionally, the inclusion of motorized drapery in both public spaces and guestrooms allows guests to adjust light levels throughout the day and encourages access to views without sacrificing comfort. All of these strategies are in line with Terrapin's Dynamic and Diffuse Light patterns.
Natural soundscapes have also been shown to improve positive perceptions of well-being, and the incorporation of small water features in key places of public space design can have significant psychoacoustic benefits. Water features that flow over rocks, mimicking the effect of a small stream, have one of the highest C-scores (a measure of "ideational originality" and creativity boosting properties) as compared to other acoustic interventions.
Water features specifically designed for acoustic presence can maximize your return on investment. If a water feature is outside of the scope, nature sounds can be introduced via speakers instead. Alternately, consider combining multiple technological effects to produce positive reactions – i.e. a video of running water played synchronously with water sounds.
Furthermore, scent is a powerful factor in creating lasting memories and forging an emotional connection, ideally leading to greater guest loyalty over time. In public spaces, use of a regionally native or familiar scent can draw instant subconscious connections to nature, while incorporating a scent that changes over time provides Non-rhythmic Sensory Stimuli. Blending scent into the larger biophilic design framework can be an economic but impactful means of creating meaningful connections between guests and properties.
4. It's All About The Fractals – Ff&E And The Connection With Nature
"Physical environment itself has an effect on perception. People who live in a 'carpentered' world are susceptible to different kinds of illusion from those who live in an environment lacking orthogonality." – excerpt from Topohilia: A Study of Environmental Perception, Attitudes and Values by Yi-Fu Tuan
We've been talking about impacting space on a larger scale but incorporating biophilic elements on a small scale is equally important. Furniture pieces are items most closely interacted with by guests and can have the greatest effect through our sense of touch. Benefits of Material connection with nature are significant and include decreased diastolic blood pressure, improved creative performance, and improved comfort – all cornerstones of the biophilic experience.
Avoid using rectilinear pieces in your furniture selections; curvilinear furniture connects with what we might find in a natural setting and reinforces patterns of Non-Rhythmic Sensory Stimuli and Biomorphic Forms & Patterns. Selected for form and function, furniture pieces can provide privacy and protection as well as a place to rest; using items like high-backed or cocoon-style chairs gives guests areas of refuge that can be incorporated throughout a larger space.
Try to include minimally processed natural materials, especially those that have a natural patina such as copper, leather, or wood. Use the surrounding natural landscape as an inspiration for the color palette. This is an extremely cost-effective way to increase the connection between the interior design and exterior space, creating a natural grounding in the environment. Likewise, natural images in artwork, particularly those with a local connection, can be emotionally satisfying. Make sure to implement them in a repetitive and thematic way for full impact – isolated images are not as effective.
In addition, fractal based patterns should be implemented through items like fabrics and carpet patterns to tie in biomorphic elements – those patterns or shapes reminiscent of those occurring organically in nature. Carpet tiles can be used to provide a shifting and randomized effect in the floor pattern, imparting the feeling that it is derived from a familiar stone or plant. Patterned screens and use of organic materials are another way to incorporate fractal patterns in softgoods, wallcoverings, and other FF&E. Even budget materials such as engineered wood or OSB (oriented strand board) provide a random shifting pattern, replicating patterns in nature.
And finally…
5. Live Plants & Green Elements
While we've outlined several options and opportunities to develop a biophilic strategy that doesn't necessarily include live plants, the benefits of live plants in an interior space should not be ignored. Greenery provides a direct Visual Connection with Nature which is proven to lower blood pressure and heart rate, improve mental engagement, and provide a positive impact on overall happiness.
However, the average cost for live plants is between $195-265 per square foot and requires maintenance contracts to be successful – often too costly for the average hotelier to consider implementing. While integrated irrigation systems and carefully designed lighting can help ensure the success of the installation, these items can also add cost.
Still crave the benefits of having live plants in your design? If so, plan for a more effective use of live plants – rather than a towering green wall, consider incorporating smaller groupings of plants combined with preserved moss to enhance the live plant design. Preserved plants have a lower up-front cost (closer to the $125/SF range) and don't require maintenance. Design elements that are out of reach and further from close inspection can be artificial to save on costs as long as they work within the overall design.
Similarly, planning and use of correct substrates when designing a live plant installation, such as rock wool as a growth medium, can help increase efficiency for water consumption and also help insulate plants in harsher climates. When live plants simply don't fit the budget, consider utilizing minimally processed natural materials, focusing on textures – such as wallcovering, carpet, and soft goods – that are within guest reach, maximizing the tactile impacts of natural materials.
Opportunity Grows
"And, from a financial standpoint, incorporating biophilia can increase a hotel's bottom line: Guests are willing to pay a premium for well-being and biophilic design, granting an excellent opportunity for hotels to improve the guest experience while increasing RevPAR." – George Fleck, Marriott International
This is an exciting time to be a part of the biophilic design movement. New research is being released constantly, corroborating what most of us feel instinctively – we feel better – more restored, less stressed, and generally happier – in spaces that connect us to nature. In fact, in a recent survey of 7,500 people, there was a reported 15% increase in perceived well-being and creativity, and a 6% increase in productivity when people were exposed to biophilic elements in their environment.
While most of the research being done has been focused on workplace and healthcare facilities, now is the perfect time for hoteliers to embrace subtle shifts with big benefits. Purposeful choices can provide substantial returns on investment when aligned with broader design strategies and operational objectives, building on guest experience and cementing brand and property loyalty.
By thinking holistically from the start, biophilic design can net lasting benefits for years to come … without a budget-busting price tag.
HotelExecutive retains the copyright to the articles published in the Hotel Business Review. Articles cannot be republished without prior written consent by HotelExecutive.