Hotel Meeting Spaces Break Outside the Box
By Hunter Clayton Co-Managing Director Houston Office, Gensler | November 10, 2019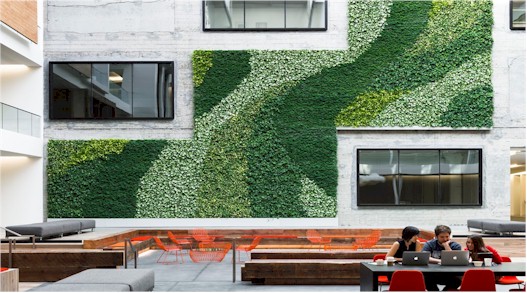 Hotels and hospitality spaces have long been at the vanguard of design and lifestyle trends, inspiring aesthetics that permeate our homes and workplaces. And the same proves true when we look at the activities that today's hotels are supporting. Whether guests are traveling for business or leisure, hotels are supporting a wide range of activities-from the traditional work trip or vacation, to places to hang out, socialize, host or attend meetings, get inspired, take a break, or just work away from the office.
The challenge for hoteliers: accommodating this increasingly wide range of intentions and activities while maintaining individuality and authenticity in a market permeated by choice.
From my firm's recent research into hospitality design experiences, we've found that the best hotels support business, leisure, and the growing blur between them. Focusing in on business travelers, we've found that they are using hotels as far more than just places to sleep. In fact, they typically take advantage of hotel amenities more often than those who visit for leisure travel.
Unquestionably, they are also spending the most amount of time in hotel meeting spaces, business centers and conference rooms. So what is being done to evolve these business-specific amenity spaces to support the guest's intentions for task, social, entertainment, discovery and aspiration? To examine the future of hotel meeting spaces, let's start with the past.
Thinking Inside The Box
In decades past, the design intent for hotel meeting rooms and conference spaces was to create an enclosed, interior space with little to no windows or sight lines beyond the four walls. These spaces were plainly designed, involved minimal maintenance and were intended for focus and limited distractions. On the other hand, the entry sequence or pre-function areas for these meeting spaces were designed to be outward-facing, typically along the hotel perimeter with large windows and daylight.
The goal for these spaces was to provide an inspiring, attractive area that lead guests into the conference areas, or serve as a more engaging space for breakout sessions or social functions during or after meetings. This ability to see and experience nature in the prefunction areas became a natural cue for social connection to occur. It was a figurative breath of fresh air after spending time, typically long hours, in a confined conference room.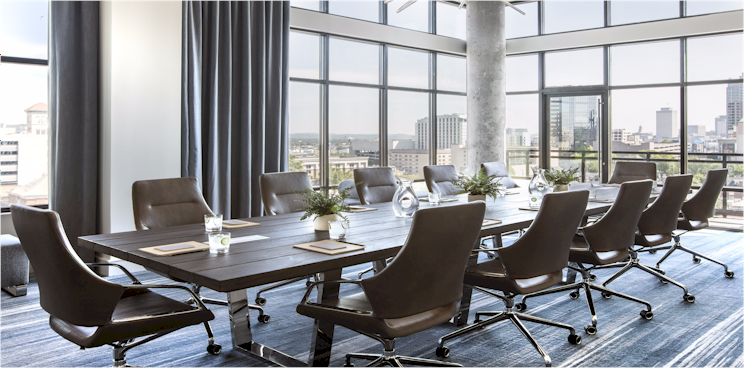 The Rise In Biophilia
Even though the benefits were evident, there wasn't much thought or research into the importance of connecting with nature, or biophilia. Beyond the food and fitness industries, people became more intimately aware of the health benefits that the spaces they lived and worked had on their life. However, as design trends often emulate consumer trends, the nation's enthusiasm for health and wellness brought along with it a popularity in biophilic design.
Numerous studies and data have since proved there are positive benefits to biophilic experiences. Simply being around, near or in sight of nature can lower blood pressure, increase creativity and focus, result in better sleep habits, reduce depression and anxiety and even elevate pain tolerance. As a designer who seeks to create hospitality spaces where people feel comfortable, connected and invigorated by their surroundings, it has become unrefutably clear that biophilia is the answer.
Flipping The Design Script
So how has this played out in the design of today's hotel meeting and conference spaces? We've completely flipped the previous methodology of designing meeting spaces within the building core and placing pre-function areas along the exterior. Gone are the days of stuffy meeting rooms and ballrooms. By reprioritizing the meeting and conference rooms to the outside building envelope, we now bring in daylight, windows and views to the surrounding nature. The entry sequence and pre-function areas are then pulled inward to serve as auxiliary support spaces. We want to give guests a glimpse of nature at all touchpoints in their conference experience.
We are taking it even further to allow the capability for indoor/outdoor meeting experiences. Folding or sliding glass wall systems in temperate climates can create opportunities for perimeter conference rooms to be opened up and let in fresh air. We are also seeing an increase in neighboring, outdoor conference spaces or work patios. These spaces allow for breakout sessions or small meetings to take place seamlessly beyond the physical conference room. Far more than patio tables and chairs, these work spaces have all the built-in connectivity and integrated technology as the interior meeting spaces to sustain productivity.
Prioritizing Landscaping
I'd be remiss to say that the visual aspect of simply adding windows and sliding doors doesn't just make for a perfect biophilic experience for business guests to enjoy. Strategic, thoughtful landscaping design is just as crucial of a component to the success of this new design orientation. If you are going to open up the conference and meeting spaces to the great outdoors, it better look…well, great! It is important to study the visual cues surrounding the perimeter space and consider the overall design aesthetic of the hotel to determine what should be in view.
Perhaps it's a stunning sculpture. Maybe it's simply native plants or trees. Water elements, such as fountains or a pool, can also create a peaceful, aspirational exterior viewpoint. Ultimately, an overall successful design is created through a collaboration of expertise with architects, interior designers, landscapers and art consultants.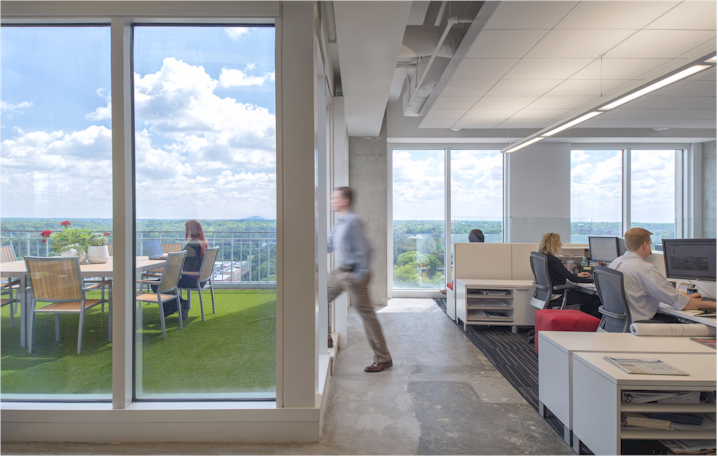 Bringing The Outdoors In
For existing hoteliers with the internal, box-like meeting, ballroom or conference spaces, there are still ways to expand their horizons to bring the outdoors to the forefront. Repositioning and structural analyses can expose opportunities for the existing meeting spaces to expand or reconfigure to include the pre-function, perimeter spaces. A new pre-function or entry sequence could then be repurposed from a segment of the meeting spaces.
Alternatively, as these renovations can be costly – or in some cases impossible with the preexisting structure or building codes - there are countless ways to introduce biophilia into enclosed meeting spaces. For starters, table arrangements, terrariums or introducing potted plants or cactus add an instant dose of life and vibrancy to any setting. We are seeing a huge trend in living walls, often called green walls or vertical wall gardens.
These pre-framed or custom installations can range in size from a small panel of vegetation to an entire floor-to-ceiling surface or suspended 'green' column structures and have grown in popularity for both their health and visual benefits. Specifically, they serve as natural filters to remove carbon dioxide and produce oxygen-rich air. They also combine to form a living piece of artwork that adds depth, texture and color to the surrounding interior design.
Beyond these living walls, we've seen that preserved or living vegetation can be integrated to just about any type of finish or fixture with the right type of plant. I've specifically seen, and been inspired by, the inclusion of biophilia in wayfinding display signage, room dividers that feature integrated planters, light fixtures with succulents cascading beneath them, and even acoustic ceiling elements. This breadth of biophilic variety wasn't available ten years ago, and this resurgence just proves there will be more to come.
The Digital Future
Another new, unique design perspective we are bringing to our clients lies in the realm of digital experience design. As discussed, incorporating living plants into a space brings with it added health and air quality benefits. However, simply the sight of the outdoors or nature has the ability to elicit some of the aforementioned physical and mental affects. With that, I foresee that the future of meeting and conference spaces in hotels will evolve further to include more digital displays. These displays would allow guests to create a customized digital display for their meetings, presentations or breakout sessions that could involve visual imagery or settings of biophilia.
Taking this concept a step further, our digital design teams are working actively with clients today to create 360 degree virtual reality rooms. These go beyond a singular digital wall display to allow groups to meet and be fully immersed in and around the room by whatever setting they choose. For instance, in a meeting to discuss possible locations for a new business venture in Houston, the digital display panels in the VR room could be emitting an image of the cityscape or the specific neighborhood that are in consideration.
A Sensory Solution
Ultimately, the evolution of prioritizing the outdoors in hotel meeting and conference spaces ties back to a fundamental practice of sensory design, whether in views to the exterior, elements of greenery or digital display panels. As designers in our firm, we are always looking for ways to engage each of our human senses to create memorable experiences or moments of escapism.
With more than 463.6 million domestic business trips in 2018 and an expected rise to 493.7 million by the year 2022, according to research by Statista, we know that existing hotel meeting spaces will be put to work to accommodate the evolving needs of their guests. And with more choice and competition in conference locations now than ever before, it is crucial to make your meeting spaces stand out.
Meeting planners are now known as "experience managers" with the responsibility of coordinating meetings and ensuring sensory experiences. Incorporating biophilia within meeting spaces is not just creating an aesthetic. This thoughtful approach to design transcends resiliency to deliver tangible benefits in mood and productivity and to truly embrace our innate human connection with nature.
HotelExecutive retains the copyright to the articles published in the Hotel Business Review. Articles cannot be republished without prior written consent by HotelExecutive.