Numerous Drivers Behind Industry Momentum to Eliminate Plastics
By Glenn Hasek Publisher & Editor, Green Lodging News | May 03, 2020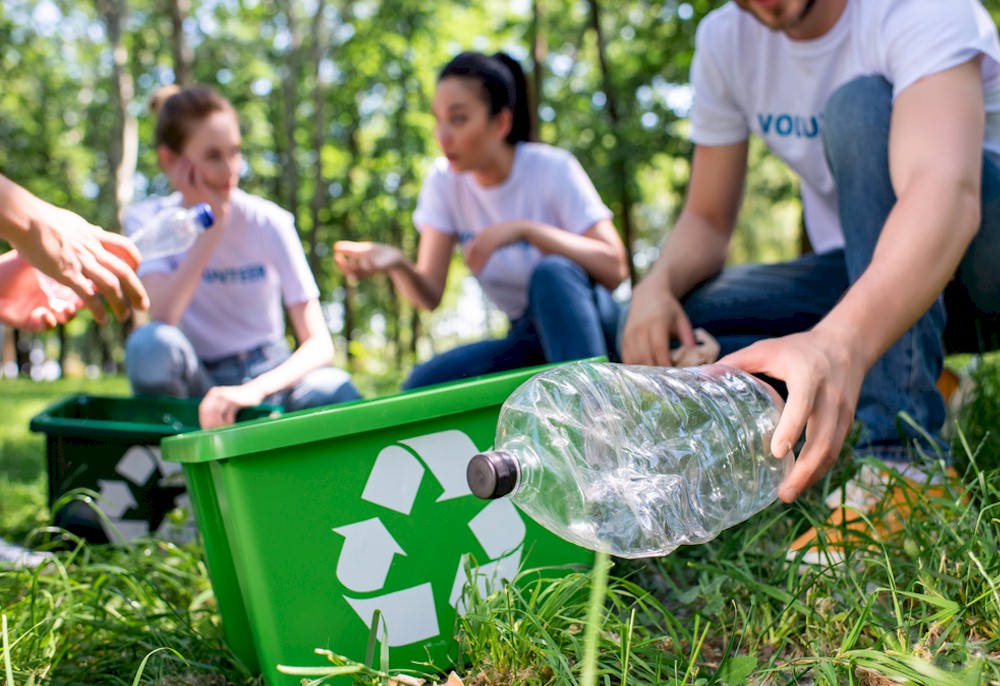 On February 11, U.S. Senator Tom Udall (D-N.M.) and U.S. Representative Alan Lowenthal (D-Calif.), as well as U.S. Senator Jeff Merkley (D-Ore.) and other congressional leaders hosted a press event to unveil the Break Free From Plastic Pollution Act of 2020, legislation to tackle the exploding crisis of plastic pollution and transform waste and recycling management in the United States.
Included in the Act are mandates such as a pause in creating new plastic producing plants, a national bottle bill that would incentivize people to return their empty soda and water bottles, and standardized labels on recycling and composting bins to help people more effectively sort their used containers.
Without bipartisan support the legislation has little chance of passing but the proposed Act is proof that anti-plastic sentiment is growing and percolating up to the highest levels of government. A range of legislation at the state and local level in different parts of the United States has already been passed to stop the flow of single-use plastic to landfill.
In the global hotel industry, there has been a flurry of announcements in the past year regarding the elimination of single-use plastics. One company after another has pledged to rid their supply chain of plastic items such as straws, utensils, amenity bottles, water bottles, packaging and more.
Global Tourism Plastics Initiative
In January, The Global Tourism Plastics Initiative was officially announced by the World Tourism Organization (UNWTO) and the United Nations Environment Programme (UNEP), in collaboration with the Ellen MacArthur Foundation. The Global Tourism Plastics Initiative aims to reduce the amount of plastic pollution caused by the tourism sector. To achieve this vision, tourism companies and destinations will be required to make a set of concrete and actionable commitments by 2025, including to:
Eliminate problematic or unnecessary plastic packaging and items by 2025;
Take action to move from single-use to reuse models or reusable alternatives by 2025;
Engage the value chain to move towards 100 percent of plastic packaging to be reusable, recyclable, or compostable;
Take action to increase the amount of recycled content across all plastic packaging and items used;
Commit to collaborate and invest to increase the recycling and composting rates for plastics; and
Report publicly and annually on progress made towards these targets.
Within two weeks of the announcement about the Global Tourism Plastics Initiative, Accor announced it had joined it and committed to remove all single-use plastic items in guest experience from its hotels by the end of 2022. In addition to its previous commitment to eliminate all plastic straws, stirrers and cotton buds, the new commitment includes:
The removal of individual plastic toiletry amenities and cups by the end of 2020.
The elimination of all remaining single-use plastic items in guestrooms, meeting areas, restaurants and all leisure activities areas (spas, fitness centers, etc.) by the end of 2022.
Sebastien Bazin, Chairman & CEO, Accor, said in an announcement about the commitment: "We are aware of the significant impact we have on our planet and our responsibility to create tangible benefits for our employees, guests, suppliers, partners and host communities. What guides us is the consciousness and social awareness that drives every person who strives to be a good citizen. It's about being aware, socially conscious and consistent."
Images of the Great Pacific Garbage Patch, as well as impacted wildlife have certainly helped propel initiatives to eliminate plastic, but it has also been the changing demographic of travelers, and meeting planners-persons who take corporate, social and environmental responsibility to heart-who have pressured the lodging industry to make changes.
According to an Iberostar survey, 85 percent of guests said they valued the changes Iberostar has made to remove plastics, and 68 percent said they consider sustainability when choosing a hotel.
Much Ado About Single-Portion Amenity Bottles
Perhaps no other item in the lodging industry has epitomized plastic waste more than the single-portion amenity bottle. For years, travelers have been used to using these bottles in hotel rooms but legislation and hotel chain mandates are changing that and liquid dispensers that replace the bottles are becoming more common.
Last October, California Gov. Gavin Newsom signed a bill that bans hotels from supplying single-portion bottles in an effort to reduce the number of plastic containers being thrown away by hotels and guests. The bill, set to take effect in 2023, will apply to lodging establishments with more than 50 rooms. Hotels with less than 50 rooms must stop using the tiny bottles by 2024.
IHG, last July, announced that its entire hotel estate of almost 843,000 guestrooms will switch to bulk-size bathroom amenities, with the transition to be completed during 2021. Building on its efforts to reduce plastic waste as part of a broader sustainability agenda, the pledge made IHG the first global hotel company to commit all brands to removing bathroom miniatures in favor of bulk-size amenities. As of last summer, IHG had an average of 200 million bathroom miniatures in use across its entire hotel estate every year. As the new brand standard is adopted, the company expects to see a significant reduction in plastic waste.
A month after IHG made its big announcement, Marriott International announced its expansion of an initiative to replace tiny, single-use toiletry bottles of shampoo, conditioner and bath gel in guestroom showers with larger, pump-topped bottles. As of last summer, the company had already rolled out larger bottles at about 1,000 properties in North America, and now expects most of its other hotels to make the switch by December 2020. When fully implemented across the globe, Marriott International's expanded toiletry program is expected to prevent about 500 million tiny bottles annually from going to landfills; that's about 1.7 million pounds of plastic, a 30 percent annual reduction from current amenity plastic usage.
Already, more than 20 percent of Marriott International's more than 7,000 properties now offer larger-pump-topped bottles in guestroom showers, doing away with single-use bottles that often end up in landfills.
Workarounds Becoming Easier to Find
While companies the size of IHG and Marriott remove tons of plastic to landfill in one fell swoop, the collective actions of thousands of other hotels are also adding up to a significant plastic-reducing impact. In most cases, the solutions are not complex-offering reusable bottles to guests instead of plastic bottles, for example.
At the Conrad New York downtown, all 463 guestrooms have water filtration devices. Aluminum reusable water bottles are distributed upon request to guests. Iberostar has installed water refilling stations at some of its hotels in Majorca and the Dominican Republic. The project will prevent the use of 85,000 plastic water bottles per year in both destinations and will expand to all the brand's properties around the globe to fulfill the goal to be single-use plastics free, in all hotel areas, by the end of 2020.
Supplier innovation has made it easier for hotels and hotel companies to make environmentally responsible choices. Ocean bound plastic is used in products ranging from carpet tile to beach chairs. Fibers spun from recycled plastic are used in robes, upholstery fabrics, napkins and uniforms. Recycled plastic is also showing up in solid surface materials and has been used in outdoor furniture for years.
Plastic & Public Health
Each time a hotel laundry launders something with polyester in it, microfibers are released into the water that leaves the property. Those microfibers join other microplastics that have broken down in the water over time. Microfibers are now commonly found in ocean life. Most tap water we drink includes microfibers which means we also ingest them. Experiments have shown microfibers will bioaccumulate in the liver, kidneys, and intestines of lab mice; in fish, these microfibers have been shown to cause starvation and reproductive issues.
Last year, the World Health Organization published a report that concluded that microplastics are a "low health concern" for humans, but they stress that more studies and information are needed.
According to the Plastic Health Coalition, so far, there has been consistent evidence indicating that exposure to plastics and the additives therein may lead to a variety of health complications. Plastic particles have been found in human feces, for example. Endocrine disrupting chemicals, often used to make plastic clear and durable, are associated with a disruption in fertility cycles, delayed neurodevelopment in children, immune disorders, and a higher risk of hormone-related cancers. We already know how plastic is maiming and killing wildlife.
Many Benefits to Plastics Elimination
By eliminating not only single-use plastic items but other plastic as well, a hotel property and the environment can benefit in many ways. Less plastic means less petroleum consumed, less carbon emitted into the atmosphere, less potential for plastics pollution in the local and greater environment, a reduction in costs related to plastics handling, recycling and hauling, and a reduction in the potential for a negative impact on public health. Telling the story of your efforts to eliminate plastic just might help put more heads in beds in your hotels as well.
HotelExecutive retains the copyright to the articles published in the Hotel Business Review. Articles cannot be republished without prior written consent by HotelExecutive.