How the Hotel Bath Uses Technology & Emotion to Shape the Guest Experience
By Tim Schroeder President & CEO, Duravit North America | November 08, 2020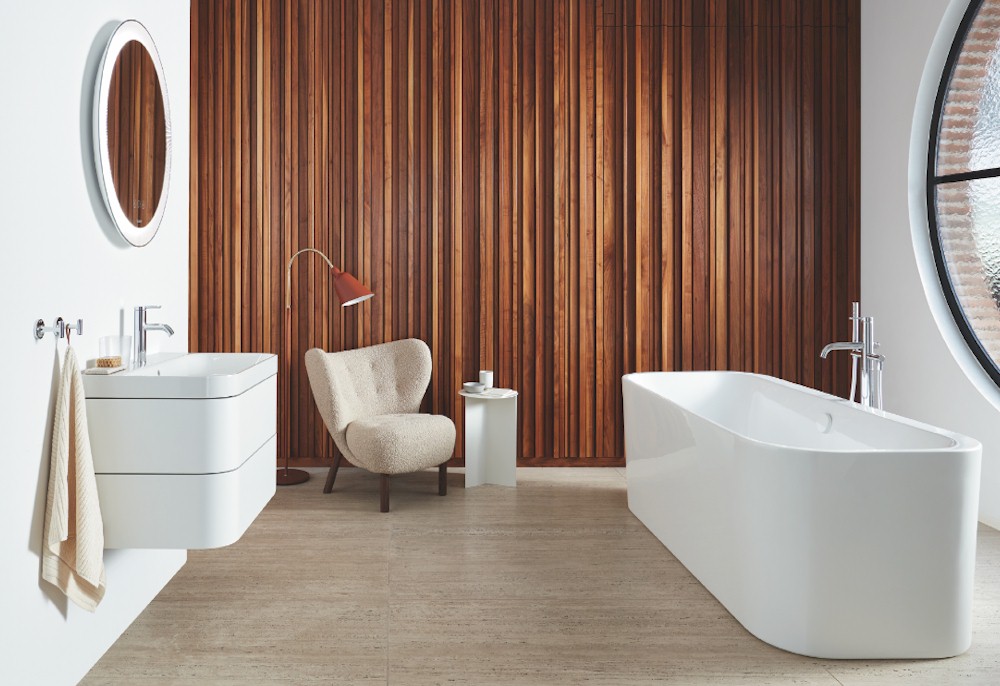 In the past twenty five years we have experienced a significant shift in the way hotel bathrooms are designed. We have seen the bathroom move from a utilitarian space to one that evokes a sense of comfort, relaxation and an at-home atmosphere. Technology and product innovation have played an important role in this development and will only continue to push the boundaries as bathrooms are becoming more and more "connected."
I use the term "connected" to mean two things: 1). I use it to refer to the use of modern IoT technologies that are improving our day-to-day lives, that help us to create spaces that are more personalized and more hygienic. 2). I use it to refer to the ability to identify with the guest and create an emotional and experiential connection. To create a truly functional, personalized and connected space is no easy feat.
In my opinion, it's what separates the good from the great. Below, I reference a few of the great hospitality bathrooms around the world that employ technology and offer a connected experience. These examples can certainly stand as case studies for the future of "connected" design in technology integration and emotional touchpoints for hotel guest baths.
Technology & the Guest Experience
From mobile devices such as door keys to guest apps to increased bandwidth, guests have come to expect that seamless, customized, connected experience from check-in to check-out. Technology has also become an important component of the hotel bathroom. Like all of these other areas, the hotel bath of today is "connected" - connected to the way we live our lives, connected to our need for even more flexibility in design, connected to our desire for even greater personalization and connected to ease of use during our stay.
The hotel bathroom of today offers IoT solutions ranging from sensor flush plates which are commonly paired with wall mounted toilets, to smart toilets operated via a remote control or smartphone app, to contactless mirrors that integrate warm and cool lighting and automatically defog. It draws on research around circadian rhythms and creates optimal light choices for different times of day. Where a smart mirror allows a guest the opportunity to set the mood, a smart toilet offers a guest added wellness features in the bathroom.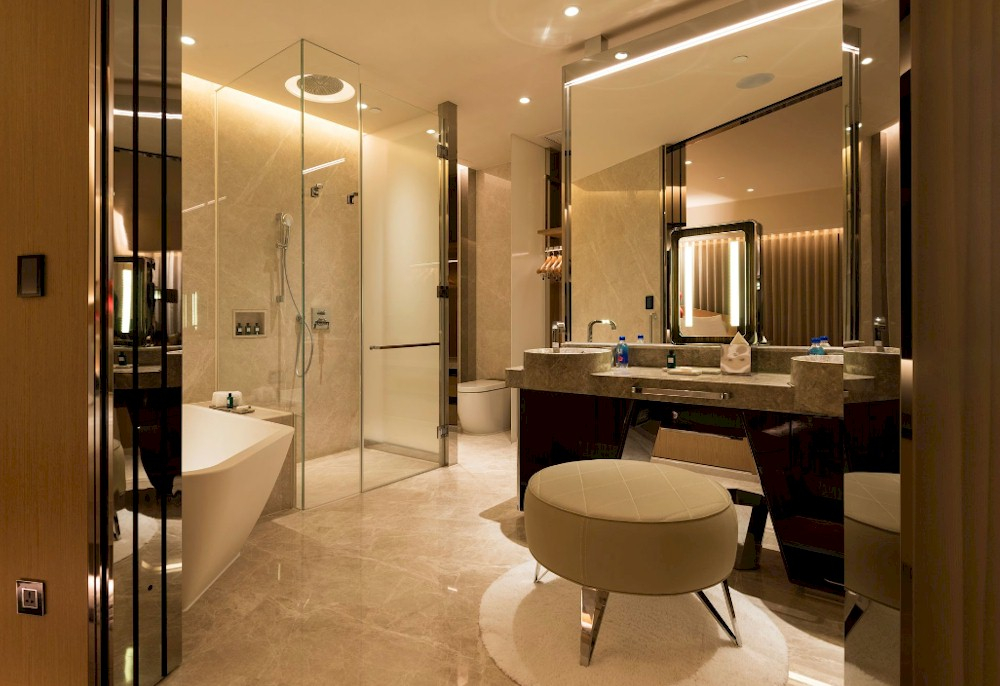 Macau Morpheus Hotel, designed by Zaha Hadid, Photo Courtesy of Duravit
Lucky for us, brands, designers and architects have, for years, been in the pursuit of pushing the needle forward on innovating technologies, especially in hotels where the products are subjected to greater stresses than in a private bathroom. Take for example, Zaha Hadid's Morpheus Hotel located in Macau. The architecture of this internationally-recognized high rise hotel abounds in design, engineering and technological excellence. The interior spaces necessitated a high degree of adaptability to accommodate the many varying requirements of its guest amenities.
The 770-room hotel takes its visitors up to ultra-luxurious rooms via high-speed panoramic lifts. Each guest room and suite was designed by Remedios Studio of Hong Kong with cutting-edge amenities. This level of innovation continues into the bathroom. Each of the five-star-plus guest rooms and public lavatories are outfitted with a smart toilet, among other features, to offer a luxurious experience driven by technology and the best in wellness and hygienic design.
From the bustling metropolis to the beach, Kuala Lumpur-based architect Jean-Michel Gathy lends the word "luxury" a whole new meaning with his design of The One & Only. Situated on the North Male atoll of the Maldivian island of Reethi Rah, the resort is a pearl in a chain of coral atolls, lagoons and white beaches. "The One & Only" boasts 90 beach villas and 32 water villas, all exclusively appointed to ensure the ultimate in relaxation and well-being. Gathy himself describes the hotel in its divine setting as a perfect composition of landscape, architecture and an interior informed by diverse cultures. The extensive beach sites and the water villas with private beach access, infinity pools and spa area feature large, luxurious bathrooms that offer the ultimate in comfort.
While the ideology of incorporating comfort-enhancing technology in the hotel bath is not new, it is a subject in our industry that continues to gain importance, especially over the last few years. At the same time, the topic of hygiene has moved up in importance on many peoples' list of priorities. The need for hygienic, easy-to-clean solutions and innovations in material science - such as antimicrobial surface coatings - has proven even more relevant today, as we experience a global health pandemic.
Emotion & the Guest Experience
The bathroom, whether public or private, is uniquely sensory in a hospitality environment. It is this emotional application that is so important in hospitality, the ability to identify with the guest and create a connection leading them into unexpected routes. The emotional application of design across these spaces is so important as it helps to foster an environment for the guest in which to enjoy, relax and escape.
At once technology and innovation can aid in the creation of a bath that invokes sensory notations of home while equally invoking an atmosphere of spa-like tranquility and luxury. For hospitality design, it is imperative that guests connect an emotion to their experience. For the hotel bathroom, the emotional atmosphere of the space can be accentuated and or defined by certain technologies implemented through product design, placement and use.
One of my favorite examples is from New York City-based artist and designer Robert McKinley. He has fashioned some of the most significant hospitality venues in recent years including The Hall, Ruschmeyer's, Marion, Sant Ambroeus, GoldBar and The Surf Lodge. He prides himself on the attention to detail and creating a seminal vocabulary unique to each property. His designs are notable for transporting the visitor to another place and time, creating a momentary escape from the present. "When it comes to designing, the questions I ask myself are: What is the emotional response we are trying to achieve? Where do we want to take the customer? What do we want them to feel like when they're here?," he shares.
His latest project, the McKinley Bungalow "Etna" in Montauk, NY (part of a series), was thoughtfully curated to marry Montauk's wild salt-weathered coastline with the casual elegance of Europe's seaside towns so that the interiors of the bungalow afford an experience of relaxation and enjoyment. Each bathroom across the series incorporates color, texture and premium products that are both rejuvenating and relaxing.
Gabriel Escarrer Jaume, founder and CEO of the Meliá hotel group in Spain, sees the hotel bathroom as one of the main criteria that influence a guest's overall review. His properties feature bathrooms equipped with cutting edge features such as mirrors with integrated lighting, smart toilets, and materially-innovative washbasins. Each product was carefully selected to create a space that has the power to reinforce the desired emotional relationship one has with space; to establish that feeling of comfort and wellbeing. "The significance of the hotel bathroom has risen considerably over recent years. The bathroom is a key factor for customer satisfaction and the quality of our guests' stay. Our aim is for the bathroom to provide a relaxed atmosphere for our guests while also melding perfectly with the overall concept of the hotel," said Jaume.
Covid 19 & the Guest Experience
When legendary American designer, Charles Eames said, "Recognizing the need is the primary condition for design," he perhaps couldn't have imagined how impactful such a phrase would be in 2020. Today, the ability to create that sense of comfort and trust has never been more important for the future of hospitality design. The pandemic has given us the opportunity to present dignified solutions, healthier, safer solutions.
According to the 2020 U.S Hospitality Pulse Survey by Gensler, "Hotels will need to evolve to survive. By combining innovative operational protocols with design solutions that create a feeling of safety, the hospitality industry has a unique opportunity to create a safe guest experience." As our world works toward reopening and the return of travel on a more 'normal' scale, one wants to be assured of the highest hygiene and cleanliness standards. "There is a real sense that the world is shifting and changing, and it's essential that our design meets those challenges. Especially in the hospitality space where material science and innovation in product design are key to ensure elevated hygiene and thus increased guest comfortability... while not sacrificing design," adds McKinley.
As I look at all the progress that has been made and what's to come for the hotel bath, I think we are in a unique time. A time where technology and trust are pivotal to our industry's success. A time where we are yearning for that physical and emotional connection - whether it's the people we want to be with or the places we want to go.
Our hospitality community is at an important crossroads where we as manufacturers, designers, specifiers, developers, and owners must listen, reflect and think about the values that matter most to our brand and to our customers. It is a time when we can take these learnings and use them to continue to improve and enhance the customer experience moving forward.
HotelExecutive retains the copyright to the articles published in the Hotel Business Review. Articles cannot be republished without prior written consent by HotelExecutive.