The Event Industry Has Been Changed Forever... Here's Why That's a Great Thing
By Joe Schwinger Chief Executive Officer, MeetingPlay | January 03, 2021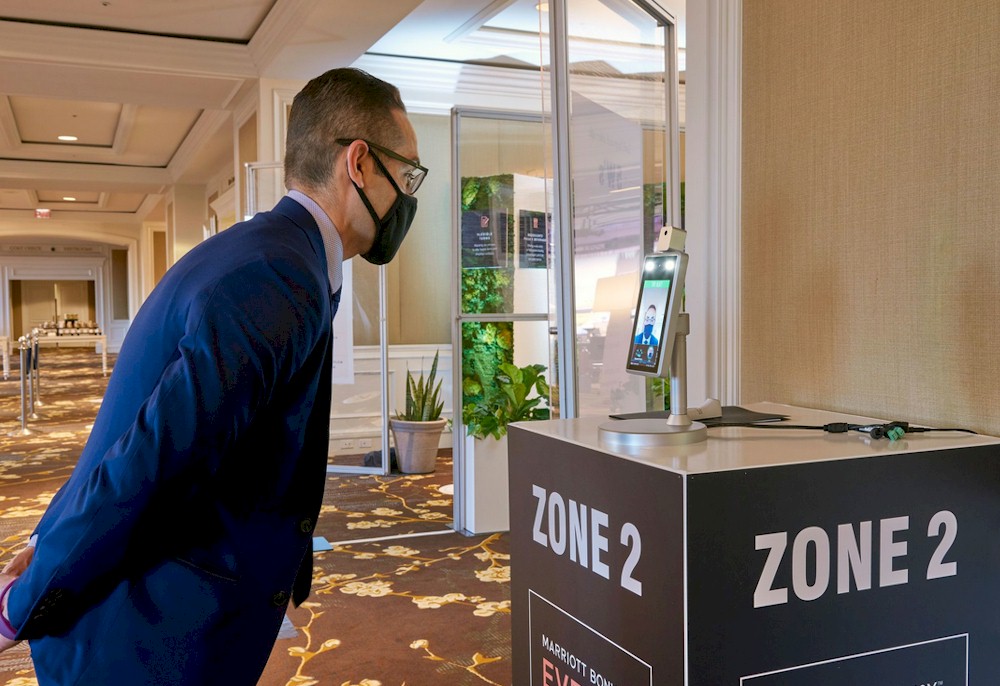 On November 9, 2020, Marriott International invited event industry professionals to the Ritz-Carlton, Tysons Corner in northern Virginia for an event called Connect with Confidence.
For Marriott, the event's goals were twofold. First, Marriott wanted to demonstrate their COVID-19 safety capabilities by successfully hosting people at one of their hotels. Secondly, Marriott wanted to show how new technology can support a hybrid experience, with both in-person and virtual attendees. As the technology partner for the event, MeetingPlay was involved in the planning throughout, and I had a chance to be a part of the experience.
When I arrived at the Ritz-Carlton, I realized that I hadn't traveled in 265 days. The world had changed since my last hotel stay. Like many industries, the pandemic put everything on hold almost overnight. But the industry has persevered.
Large organizations have always held events in person, with thousands of people. During the pandemic, they have been forced to go virtual. Many of these events have been hugely successful. Planners and CMOs watched a thousand attendees become 50,000 attendees. Instead of delivering a message to the people in the room, they now had a global audience. The pandemic forced them to see a major new growth opportunity, and now that they've seen these benefits, they're not going to give it up.
Seeing it all come together at Connect With Confidence, and talking to people about their experiences, it became clear to me that I wasn't just looking at a one-off event. I was seeing the future of the entire event industry unfold around me.
Hybrid events are here to stay - in the COVID-19 era and far beyond - and that's a great thing. Events are going to reach bigger audiences. For attendees, that means expanded access to networking and learning. For hotels and planners, it means increased revenue and growth.
Combining safety and event technology, Marriott and MeetingPlay created not only a successful event, but a model for our industry's future. Here's how we did it.
The New Priority: Safety
Event planners are usually focused on one thing. From the event space and food to the event app and conference speakers, everything is optimized for attendee engagement. This year, attendee safety is priority number one. Every interaction must be carefully considered, every precaution taken.
It's not enough to create a safety checklist and check it off. The key is to communicate all of the details to attendees, and wherever possible, put the attendee in control of their environment.
We knew that on-property attendees would have lots of questions: What precautions will be in place? Where will I sit? How do I know everyone else will be wearing a mask? To get in front of all of these concerns, our strategy was to over-communicate.
Via email, our app and a comprehensive pre-event website, we provided abundant, clear messaging before the event kicked off. We communicated the safety protocols and process to follow on property so that everyone knew what to expect and when, from check-in to check-out. Attendees were invited to choose their "Sanctuary Seat" in the ballroom, a fully-stocked and socially-distanced area just for them.
MeetingPlay technology divided people into two groups ahead of time. These two groups had different arrival experiences, so they would never have to bump into each other. It worked a bit like boarding groups at the airport (but at our event, everyone was in first class).
Once on property, attendees were welcomed with a step-by-step process. They went through a thermal scanner, and were screened for any symptoms. Everyone was observed to make sure they had a mask, so everyone felt protected. Over-communication was extended to signage positioned everywhere in the hotel and meeting space, from social distancing floor stickers to signs spelling out elevator capacity limits. Foot traffic was carefully planned beforehand, with only one person allowed down the hallway at a time.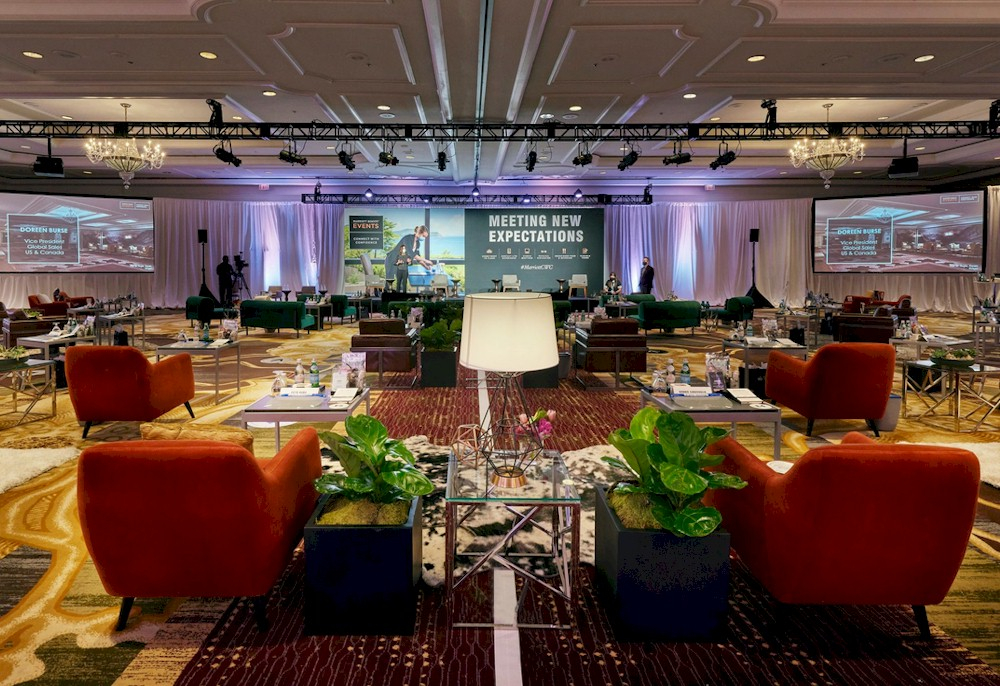 Welcome to Your Sanctuary
Upon entering the ballroom, attendees headed straight to their Sanctuary Seat. A litany of supplies were waiting for them - their name badge, disposable masks, hand sanitizer, water, snacks - all pre-sanitized. Nobody was put in a position to be within six feet of anyone, or have to interact with anyone if they didn't choose to. They felt in control of their physical environment and safety. In feedback surveys, 98% of the attendees said that the ability to choose my seat was a determining factor in whether or not to attend this event. This one simple feature alone went a long way in making people feel safe and in control of how close they were to the doorway and other people.
For their part, Marriott ensured that the entirety of the hotel stay was safe. Attendees downloaded the Marriott Bonvoy app ahead of time, which made much of the stay contactless. The app's Mobile Key feature enabled room entry without the need to stop at the front desk. Other requests during the stay, like room service or turn down, were all accessible through the app. All rooms were deep-cleaned with Marriott's electrostatic sprayers.
Planning an event during a pandemic is a challenge. But hotels and planners are experts at thinking through the details, and Connect With Confidence provides a roadmap: Make a plan, over-communicate and put people in control of their environment.
If you provide people with a safe way to meet, they will meet.
The Virtual Event's Time to Shine
In the event space, virtual attendance has always been an afterthought, and virtual attendees have invariably been treated as second-class citizens. For this event, the goal was to put an end to this and create a first-class experience for virtual attendees. Our challenge: How can we make virtual attendees feel like they're in first-class as well? The solution was to give the same flexibility and features to the virtual attendees as the on-property attendees.
Event technology made this possible. For Connect With Confidence, the reimagining of the virtual experience began well before the day of the event. We reached out to virtual attendees and we asked them: if you were to sit in the ballroom, would you sit on the left side, in the center or on the right? We then replicated that with three cameras positioned in the ballroom to replicate different views on the livestream. If they preferred to sit close, but off to the side, we positioned a camera on the side to give you that option. Attendees reported that they loved having this flexibility.
Another step of the onboarding process was for virtual attendees to choose a selfie of themselves, and pair it with a background that matched the Ritz - poolside, in the lobby, etc. The photos were displayed in a gallery format on flat-screen TVs throughout the meeting space, creating a feeling of connectedness.
We also treated virtual attendees to lunch. When the on-property attendees took a coffee break, We sent all virtual attendees an Uber Eats code. When the on-property attendees were breaking for their lunch, virtual attendees got their lunches delivered simultaneously.
The event was also highly collaborative - 80% of questions were derived from the audience. Anytime a question was asked, we went to the virtual audience who voted up the questions they were really interested in. And on site, we designated a voice for the virtual audience who asked the question in the room. "I'm speaking on behalf of Glenda and 16 people who also want to know," a question might ask. By crowdsourcing questions, virtual attendees were given a voice in the ballroom as well.
Speaking with everyone at the event, and collecting feedback from the app and via surveys, Connect With Confidence was a clear success. On-property attendees felt safe, and virtual attendees were surprised and delighted by how engaging their experience was.
Hotels have seen their meeting business take a severe hit in 2020. But the hybrid model represents a path forward - and those with the knowledge and foresight to see this path will be rewarded. Hotels must invest in technology partners that can deliver a virtual experience, and market themselves accordingly. The pandemic pushed our industry into new ways of thinking and operating, but it also showed us new opportunities. The future of events is hybrid. The only question is, how will you take advantage?
HotelExecutive retains the copyright to the articles published in the Hotel Business Review. Articles cannot be republished without prior written consent by HotelExecutive.