Five Most Important Features in Hotel Design for Leisure Travelers
By Jim Holthouser Senior Vice President Brand Management, Embassy Suites Hotels | October 10, 2010
We all appreciate that a hotel functions as a critical component of the travel experience. Over the years, I've come to think of the hotel stay itself as a journey as well. From arrival and check-in, through corridors and public areas to experiencing the accommodations, enjoying the dining options … every moment forms a key element with potential for making the entire visit an adventure that is at once enjoyable, memorable, and worth repeating. Smart design is the first step in ensuring this journey is a success every time, and presents an important opportunity for developing a brand storyline.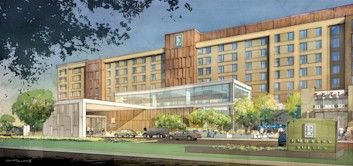 A rendering of the Design Option III prototype, Option B
One way to approach the various design layers involved in planning a hotel property is to view the design logic as a kit of parts. Within that kit is a three-tier pyramid where the diverse style strata can be logically organized. At the base of the pyramid is the Foundation layer. This layer addresses a typical set of materials, colors, finishes, furnishings and fixtures that provide the underpinnings and will likely be consistent across all properties in a hotel group with unified branding. It represents about 60 percent of a hotel's total palette. Context is at the core, covering the elements that create each property-specific personality. In this 30-percent stratum of the pyramid lies the opportunity to create a unique look for a hotel and to introduce a regional design language. At the apex, Accent includes features used to add punctuation and high notes to the hotel experience. Representing only about 10 percent of any property's palette, accent options should be vibrantly unique and easily changed or refreshed over time. Here lies the opportunity to develop a local storyline by celebrating the regional culture in a cohesive, demonstrable, and intriguing manner.
Looking ahead at the needs and preferences of tomorrow's guests, we know the importance of embracing the motivations and the work/leisure styles of millennial travelers, and of smoothing the way for baby boomers as they transition to a more leisurely lifestyle. Flexible, multi-functional design is a prerequisite in addressing the changing needs of hotel guests on a 24/7 basis. At Embassy Suites, our new design prototype, Design Option III, introduces a more cost-effective, scalable model of hotel with a simplified structural system and improved operational efficiencies. It reflects our commitment to sustainability in design, construction, and material sourcing. From a developer's perspective, its smaller footprint with side-by-side suites cuts construction costs, making an affordable franchise option for owners with limited space.
The public's needs change as well, and we're now experiencing an industry-wide elevation of our guests' expectations in terms of design. There's a call for a warm, modern design style to be woven into all areas of the guest experience. Out-of-the-box thinking is a must, and at Embassy Suites we're looking across different genres of commercial, retail, spa and residential design to bring new life and vitality to our hotels.
We believe that it's important to foster natural connections through design that speaks to the traveler we all aspire to be. It starts with easing those transitions that can sometimes make travel a challenge, and enabling guests to enjoy the travel elements that delight, inspire, and spark memories. At the same time, brand awareness is a top priority. Through an innovative design approach, we're creating brand moments that deliver a series of touch points unique to Embassy Suites. In each physical space, a distinctive focal point or experiential discovery is designed to capture guest interest, drawing on the imagination. With consistent brand imagery and iconography, we're ensuring a charismatic identity in the built environment.