Driving Revenue Through Your Mobile App
By Tom O'Rourke President & CEO, O'Rourke Hospitality | September 30, 2012
With every passing day, the mobile market continues to evolve into a necessary marketing channel that guests have come to rely on. Mobile applications have seen constant evolution since they were introduced (arguably with the introduction of the iPhone) and now that they have been on the market for some time, hotels are seeing solid results that prove apps are worth their time and cost. Throughout this piece we will examine how hotels are increasing their revenue with their mobile applications through mobile bookings, in app room service orders, by highlighting on-property amenities, sending push notifications and the most successful tactic – simply being in the mobile space when guests are looking.
Mobile Bookings
In most cases, mobile bookings will be your biggest opportunity for increasing direct revenue. While many of your other opportunities for revenue generation rely on mobile bookings (spa or dinner reservations for example), this section will focus on mobile room bookings. First and foremost, before you can make money with your hotel mobile application you need to put it in the palm of your guests' hands. Increase app downloads with careful planning and strategic marketing tools, and you'll be well on your way to driving revenue through your mobile app. Here's an example:
One of our clients, WorldMark South Pacific Club, added a link to their app in their email signatures and created a feature on their website with "on the go" information promoting their app. These two very simple steps directly led to 216 app downloads during the month of April. They also dedicated a section of their email newsletter to information about the app which led to an additional 207 downloads. As you can see from the charts below, the very same day the email newsletter was sent, there was a significant increase in app downloads (right) and in the days following this, WorldMark South Pacific Club experienced a steady flow of mobile bookings.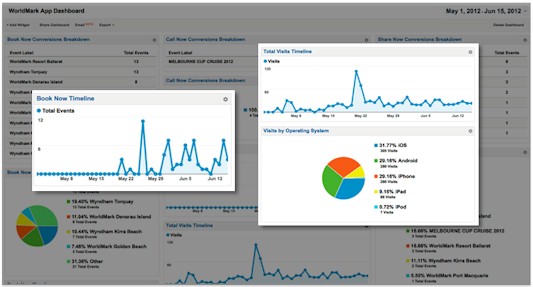 In addition to the spikes in downloads, mobile bookings and revenue our clients have seen from effective marketing, it is important to also recognize successes experienced by others. The InterContinental Hotels Group saw a nearly 1,000 percent increase in room night bookings from mobile devices in 2010 and 2011, because smart phone adoption rates had increased so significantly. The InterContinental Hotels Group also ramped up marketing efforts and increased their usage of push notifications during this time. However, as effective as good marketing can be, never under estimate the power of change. As smart phone adoption rates continue to climb, your app's downloads and mobile bookings will steadily climb as well.