Resort Hospitality Development in Mexico
By Arthur Spaulding, Jr. Partner, Cox, Castle & Nicholson LLP | January 06, 2013
With the exception of a few urban markets here within the United States, the wreckage of the real estate recession certainly encompassed the development of new hotels and destination resort properties. Contrast this, however, with the current development climate south of our borders. Although it is true that we hear perhaps more about the superheated hotel market in Brazil in advance of the Olympic games to be held there in 2016, our immediate neighbor to the South, Mexico, is experiencing an expansion in tourism that may usher in a new period of growth, and this, notwithstanding the continuing negative reporting about Mexico's drug conflicts as reported through our media. Talk to a Mexican businessman, however, and you'll hear that the hospitality business is alive and well in Mexico.
Although figures for 2012 are not yet out, according to an October 11, 2012 article in the Los Angeles Times, Mexico's tourism business in 2012 is on course to reach 24.7 million visitors, up from last year's record number of 23.4 million visitors, a 5.6% increase. The LA Times article also reported that even though tourism originating in the U.S. in 2012 looked to be down about 1% when compared to 2011, over 70% of all tourism visits to Mexico come from the Untied States. The Times cited an interesting dichotomy when it comes to the attitudes of tourists from the U.S. versus other parts of the world: non-U.S. based travelers are much less concerned about the issues of personal safety when visiting Mexico than their U.S. counterparts, and yet over 20 million people from the U.S. continue to visit Mexico annually in spite of the prevailing view of non-traveling Americans that travel into Mexico is not safe.
So, given that the hospitality industry in Mexico appears to be moving in a positive direction, what do hospitality executives on both sides of the border think about doing business in Mexico? I posed a number of questions to company executives both in Mexico and here in the U.S. in the course of my preparation of this article. Most of those who responded were not willing to speak "on the record" about their present views and activities, but were willing to share their thoughts with me without attribution, so I pass them on to you.
Let's start with the views I got from south of the border. I received some very valuable feedback from John McCarthy, a partner Leisure Partners, headquartered in Mexico City. John is the former director of Mexico's "Fondo Nacional de Formento del Turismo" (National Foundation for Tourism Development), commonly called "FONATUR". John is widely respected for his breadth of knowledge concerning resort development in Mexico. My thanks to John for sharing his insights with me for this article.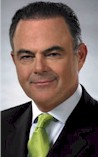 McCarthyAccording to John, changes in the way the Mexican government deals with tourism are going to come from the top down. To begin with, the torch of the Presidency in Mexico has been passed back to the PRI party from the economically conservative PAN party. Newly elected President Enrique Pena Nieto is generally expected to shift the national government's focus away from the armed confrontation with the drug cartels to the business of improving the Country's economy by addressing reforms in energy, tax, education, governance and national security. In addition, President Pena Nieto is on record as being a big champion of tourism. McCarthy says the President is expected to increase FONATUR's authority and funding for development of touristic destinations and to open the funding channels for Mexico's Tourism Promotion Board to spend a portion of its annual funding of several hundred million dollars on the job of selling the Country, both at home and abroad, as a wonderful place to visit. Thisw includes a likelt focus by the Tourism Promotion Board on presenting a compelling marketing story about Mexico's tourism destinations to the growing market of Mexican nationals whose spending accounts for a large portion of tourist dollars within Mexico.
McCarthy also observed that 50% of Mexico's population is now under 25 years of age and comprises a growing part of Mexico's expanding middle class. He said that the Mexican economy has recovered reasonably well from the global financial meltdown and is growing again at a faster rate than that of its neighbor to the north. Consumer confidence is up. And he also reports that in the high-end real estate markets such as Cancun and Cabo San Lucas, occupancy rates have increased to 70% levels and nightly rates averages are commonly in the $500-$600 per night range. With the move-up in occupancy and room rates, he expects the real estate markets will not be far behind. In addition, he noted that prior to the recession, a tremendous amount of speculation in some of Mexico's premier resort projects was made by Spanish investors. Today, most of those original investors are gone and the projects are being held by the Spanish Banks. Accordingly, he believes that there may be some significant opportunities to acquire well-positioned properties at discount from these Spanish lenders.
Lastly, John shared with me that recent financial reforms in Mexico have made it possible for real estate investment trusts to reach the market, along with certain structured equity securities called CKDs designed to promote long term investments in resort real estate projects by Mexico's well-endowed pension funds. McCarthy sees the combination of the establishment of the REITs and the availability of pension money for future investment in resort projects as the basis for optimism that there will be a stable source of reasonably-priced money for resort project development and acquisition.