The Hurdles Involved with Renovating and Re-launching a Spa
By Stephanie Baxter Spa Director, Rancho Valencia Resort & Spa | November 04, 2012
When deciding to undergo a renovation of the Spa at Rancho Valencia, we did not need any structural changes or upgrades; the building itself has always been beautiful and was built just a few years ago, and was one of the newest structures on the resort grounds. However, the underlying problem was that we needed to redefine and clarify our overall concept, which is the case with most spa renovations or re-launches.
It's extremely hard to set yourself apart from other entities, we didn't want to be perceived by potential guests as a "normal" resort; we felt that we offered so much more than that. However, we realized for past and prospective guests to identify and appreciate our nuances, we needed to show our customers in a meaningful way exactly how much we have to offer and how unique we are as a hotel. That is when it was decided to undergo the $30 million resort-wide renovation.
Although a resort renovation of such size is an enormous undertaking, it is paramount in creating the new ideology of a spa. Now more than ever travelers are interested in maintaining their exercise routines and keeping up their healthy habits while away. In order to keep up with this demand for wellness, it was our goal to promote health and wellbeing, along with an active and clean mind-body-soul trifecta; what better way to do this then to start fresh with a new facility? We opted into this total transformation to become one of the leading active wellness spas in the world. Guests appreciate a passion and active effort to ensure their comfort and wellbeing.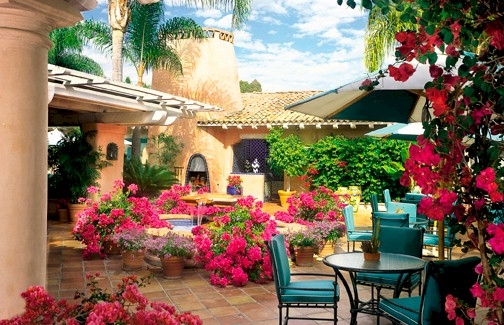 Undergoing the development of a brand new treatment menu and extensive fitness programs can be quite seamless when you have some of the best talent and service providers in the world. Having a strong team from the very start is crucial to a spa's success. Years of experience, a passion for the industry, and constant education are necessary attributes to build a strong team, and with that the development process is easy. Putting such capable individuals together, allows for a tremendous amount of creativity, without any unrealistic objectives. Rancho Valencia already had an incredible technical fitness team whose talent in both fitness and yoga is second to none, in addition to it being named the top tennis resort.
If you have existing collection of experts, tap into their expertise. It's important to keep things in tact that are working at a Spa, and the fitness program was, it just needed to be enhanced to be able to work to its full potential. As a team we developed and defined our new yoga and fitness program, and made sure that it tied in symbiotically with the Spa. When choosing a team, it is important to remember to create a partnership. When the whole team supports the vision and concept, you can collaborate more effectively, which is paramount in successfully recreating a spa from top to bottom.
Please Login to read the full story, or you can Get Free 30-Days Hotel Business Review
The Hotel Business Review articles are free to read on a weekly basis, but you must purchase a subscription to access
our library archives. We have more than 5000 best practice articles on hotel management and operations, so our
knowledge bank is an excellent investment! Subscribe today and access the articles in our archives.