The Interplay between Owner's and Brand's Priorities
Getting the Word Out - It's all about Marketing!
By Tara K. Gorman Partner, Perkins Coie LLP | February 23, 2014
At first blush one would think that a hotel marketing plan would equally benefit the owner ("Owner") of the specific hotel ("Owner's Hotel") and the brand under which the Owner's Hotel is operated ("Brand"). Clearly, marketing Owner's Hotel and marketing the Brand benefit both the Owner and the Brand. However, upon closer investigation, the Owner's interests and the Brand's interests are quite different when it comes to "getting the word out" and marketing. This article will delve into the commonalities and the tension between Owner and Brand in the marketing arena.
This article focuses on the branded hotel - either a managed or franchised hotel. We will leave aside the independent hotels and the smaller boutique hotels for another time. The tension arises when the Owner has entered into, or is about to enter into, a long term hotel management agreement and license agreement or franchise agreement with a designated Brand with a system of trademarks, tradenames, service marks, trade dress, copyrights, logos, insignia, emblems, symbols, slogans, operating standards, distinguishing characteristics, domain names, or other indicia of origin, and other identifying characteristics of the Brand associated or used in connection with the system, product lines or services marketed and sold under the Brand – the whole kit and caboodle. The "System" is the proprietary system which includes all the intellectual property, brand standards (physical and operating standards), manuals and other indicia that distinguish one brand from another. For purposes of this article "Brand" will include the parent company which oversees many brands of hotels and will also include the specific brand of Owner's Hotel. This will ease the discussion.
A Picture Is Worth 1000 Words
The Venn diagram perfectly illustrates the interplay between the priorities of the Owner and the Brand when it comes to marketing a hotel. Venn diagram? Think back to 5th grade, when your teacher took out the chalk and drew a circle on the blackboard and then drew another circle which overlapped the first circle – from just a bit to almost completely, depending on the circumstances.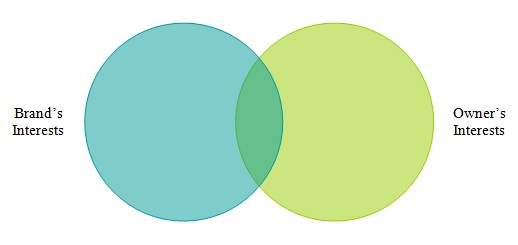 To illustrate the interplay of priorities, we will use a Venn diagram where the blue circle represents the Brand's interests in marketing Owner's Hotel and the Brand, and the yellow circle represents the Owner's interests in marketing Owner's Hotel and the Brand.