How Hotels Should Respond to Sustainability Standards for Meetings and Events
By Susan Tinnish Advisory Group Chair, Vistage | July 20, 2014
Standards have existed since the beginning of recorded history and exist everywhere in the world around us. Standards often reflect humans' desire to harmonize activities with important changes in the environment. Various civilizations have created commonplace "things" that really are "standards" including calendars, weights and measurements. Standards ensure desirable characteristics of products and services such as quality, environmental friendliness, safety, reliability, efficiency and interchangeability exist. Others standards are created in response to the needs of an increasingly complex society. For example, the use of standards in products as far ranging as railroad gauge to financial transactions allowed commerce to flourish. Thus, standards represent a coordinating mechanism in society. Standards can be either voluntary or mandatory and emerge either through market mechanisms or through agreements within standards bodies (Bunduchi, Gerst, Graham, Pollock, Procter & Voß, 2004). Standards, like eco labels or eco certifications, are considered a Voluntary Non-Regulatory Initiative (VNRI).
The hospitality industry has been exposed to and actually embraces the use of some standards, of note standards developed through the International Organization for Standardization or the Organization Internationale de Normalisation (ISO)+. For example, Hilton Worldwide and its portfolio of ten hotel brands earned ISO 9001 certification for Quality Management Systems and ISO 14001 certification for Environmental Management Systems in 2011. Hilton Worldwide worked to certify more than 3,750 properties in 85 countries (Hilton, n.d.). Building upon a focus on environmental management, standards now embrace the concept of sustainability. Table 1 shows a variety of global standards, eco-labels and certifications of which hotel managers might be familiar. Now the Meetings, Incentives, Exhibitions and Conventions (MICE) industry has developed standards related to sustainable meetings and events. Meeting planners rely primarily on three standards. Hotels, as an important supplier, should be aware of these standards and, in fact, have an opportunity to respond competitively to these standards.
Table 1.
Examples of Environmental and Sustainable Voluntary Guidance Tools
Implemented Worldwide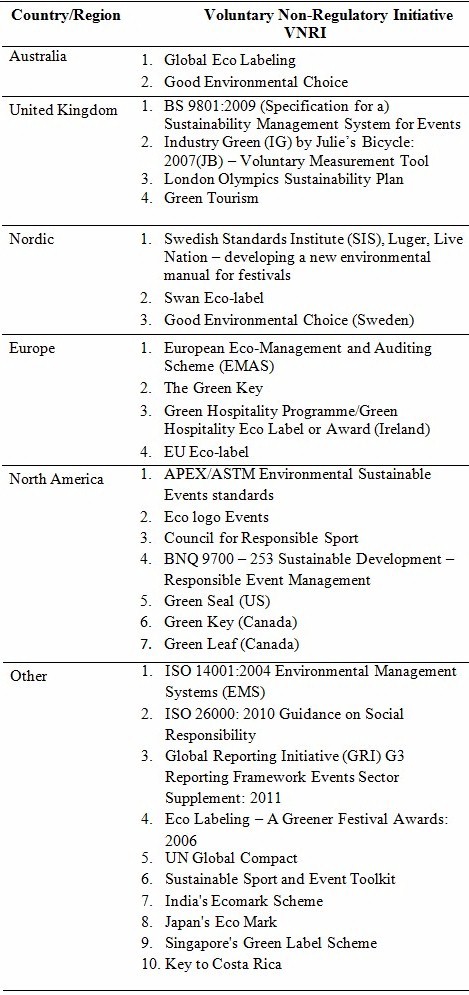 This article will review the three very different standards (APEX/ASTM, ISO 20121, and Global Reporting Initiative) and suggest ways that hotels can respond to the standards.
APEX/ASTM Standards
The Convention Industry Council operating under their APEX (Accepted Practices Exchange) initiative spearheaded the development of the environmentally sustainable meeting standards in conjunction with the ASTM standards setting body. The APEX/ASTM standards are prescriptive in nature; the standards cover nine elements of event planning. Each meeting can be demonstrated as achieving Level 1 – Level 4 compliance status for the meeting. Each standard contains eight specific sections. Table 1 identifies the APEX/ASTM standards; each standard contains each of the specific sections.