Marriott Takes Social Media Listening to a New Level
By Simon Hudson Endowed Chair in Tourism & Hospitality, University of South Carolina | March 06, 2016
"If it's not on social media, it didn't happen" says Vanessa Saw, Digital Executive for Marriott's Creative & Content Marketing department. I was in Marriott's Hong Kong regional office to take a close-up look at 'M Live APAC', the company's new Asia Pacific state-of-the-art marketing and brand newsroom Command Center, which has become Marriott's epicenter of real-time marketing to customers in the region.
Social media has come a long way in a relatively short period of time. Social media spending is currently about 13% of marketing budgets, but this is expected to rise to over 20% in five years. A recent study by McKinsey found that the impact of social media on buying decisions is greater than previously estimated and growing fast, with 50 to 60% of customers looking to social media recommendations for products like travel. They also found that online articles written by journalists prompt consumers to seek out social media to further inform purchase (and that public relations' spending to generate such articles are a worthwhile investment). A large percentage of consumers read reviews of hotels, attractions and restaurants prior to vacation, and whilst on vacation over 70% post photos on a social network or update their Facebook status.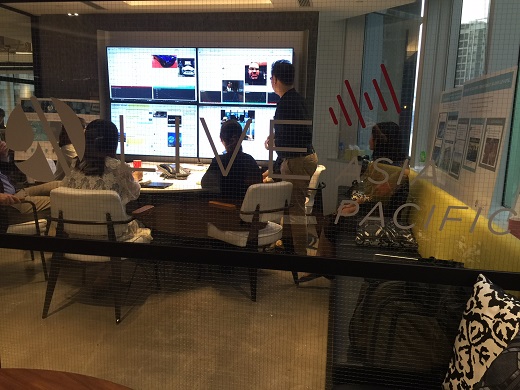 M Live APAC Command Center in Hong Kong
So, forward-thinking companies like Marriott have embraced social media because of its potential for engagement and collaboration with these networked consumers. Through social media, they can gain rich, unmediated consumer insights, faster than ever before. Marriott first unveiled the Marriott ('M') Live concept at its U.S. headquarters in Bethesda, Maryland early in 2015. The concept brings together all marketing disciplines to track conversations, trends, global performance, marketing campaign performance and brand reputation on social media, while also proactively creating original content based on what is trending, or anticipated to trend, on social media. With full-time staff able to monitor data displayed on multiple screens within the M Live APAC real-time marketing and brand newsroom Command Center, Marriott authentically engages customers as relevant social conversations trend.
Says Vanessa Saw: "The region-specific goals at M Live APAC are to help identify online trending stories that our brands can leverage as marketing opportunities, identify breaking news - i.e. local news and if our properties are affected by it - and customer stories - i.e. influencers and brand mentions our properties can amplify - since real customer experiences are the new 'word of mouth' on social." In addition to responding to social conversations, M Live APAC has created a calendar of topics expected to trend, such as Chinese New Year, the Seoul Marathon, the Rugby Sevens in Hong Kong, and the India Premier Cricket League. By anticipating what will trend, M Live is able to plan strategically its creative and content strategy with the other marketing and brand disciplines within Marriott International. "The changing consumer is at the center of everything we do at Marriott," says Anka Twum-Baah, Vice President, Customer Loyalty & Content, Asia Pacific at Marriott International. "M Live is another example of how we are putting our marketing in the context of next generation travelers' lives that is immediate, relevant and authentic. With the opening of the Hong Kong M Live studio and the building out of a network, M Live will help make our new approach to marketing become truly global."
M Live allows Marriott not only to seize more chances to engage with consumers quickly, but also to identify opportunities by brand, by discipline, by market and by channel to create memorable and shareable experiences. Tony Chow, Director of Creative & Content marketing for Asia Pacific, is heading up the M Live initiative in Hong Kong. "We are the first brand in Asia Pacific to have a real time listening platform for social media. In today's very fast evolving marketplace you can't talk so much but you have to listen more. That is the philosophy behind M Live. Sysomos built the system for us called 'heartbeat', to pull data and information across social channels using key words. Marriott-related keywords have been built into heartbeat to allow us to monitor across social media – Twitter, Instagram, Youtube and Facebook. Such social media platforms are expanding rapidly across Asia. Indonesians for example, are heavy users of Twitter, sending out a minimum of five million tweets a day."