Ritzy Riads Putting Morocco on the Map
By Simon Hudson Endowed Chair in Tourism & Hospitality, University of South Carolina | July 10, 2016
This article was co-authored by Louise Hudson, a Freelance Travel Journalist
I have just completed an incredible round-the-world voyage teaching on Semester at Sea, a floating university campus that visits around a dozen countries, giving students a comparative study-abroad experience that is truly global. One of the countries I visited was Morocco where, seeking to understand why the country is Africa's most popular tourist destination, I interviewed two successful entrepreneurs – one French and one British – responsible for attracting tourists to this exotic destination. Both have opened up modernized riads in the beachy-chic resort of Essaouira, on the Atlantic Coast. The Moroccan riad is a traditional house or palace with an interior garden or courtyard. In centuries past, riads were the stately city homes of the wealthiest citizens such as merchants and courtiers. They were inward-focused, which allowed for family privacy and protection from the weather in Morocco. This inward focus was expressed with a centrally placed interior garden or courtyard, and the lack of large windows on the exterior walls of clay or mud brick. This design principle found support in Islamic notions of privacy and hijab for women.
The style of these riads has changed over the years, but the basic form is still used in contemporary architectural designs today. Recently there has been a surge in interest in this form of house with a wave of renovation in towns like Essaouira, where many of these often-crumbling buildings have been restored to their former glory and reinvented as hotels or restaurants. When Air France stewardess, Christine Dadda had a vision for a high quality riad in Essaouira, she did not at first appreciate the barriers she would face in terms of language, the local system of baksheesh, and a lack of general confidence in her destination choice and business savvy. "In 2000 a notary said to me "Why are you buying in Essaouira? You're going to lose your money." In the mind of Moroccans, Essaouira was just a very small village with nothing there.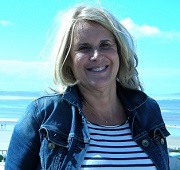 Christine Dadda, Owner of Madada Mogador
But Monaco-born, Christine was way ahead of the curve. She saw the potential for gentrification and growth in the beautifully designed medina and glorious sandy coastline. It took a visit from her family friend, the King of Monaco to speed up her acceptance by local businessmen: "Prince Albert came to stay here. He's a family friend as I'm originally from Monaco, one of the 6500 Monaco passport holders in fact. He came and gave me a good benediction and after that I had no trouble with administration. Before I was just a former Air France flight attendant who bought a house here. For two years it had been very difficult for me - until they knew I was from Monaco, that is."
She now owns the oceanfront Madada Mogador nestled behind the city ramparts and overlooking the port and beaches from its stylish rooftop lounge and dining area. Chic, high-ceilinged rooms at Madada Mogador feature oversized Moroccan ceramics and basketwork, colorful art, huge light fixtures, sumptuous bed linen all in subtle shades of mocha. Extra touches include: fresh roses in rooms; a cell phone to contact the hotel or make reservations; a morning news sheet updating news from your own particular country; top quality toiletries made from patchouli oil and orange blossom. Because of these high standards, Dadda commands a set price year round: 'My prices are based on quality-service-location-human hospitality and I have only one price the same all year because all these things are the same quality all year, too,' she explains. The weather in Essaouira helps as it is warm and sunny for most of the year.