Less is More: Streamlining Design
By David Ashen Principal & Founder, dash design | September 25, 2016
When designing today's hospitality venues, whether they're fully outfitted resorts, boutique hotels, or beach side bungalows, hoteliers are finding ways to streamline design and simplify the guest experience. Muted colors and minimal furnishings in combination with earthy textures, expansive views of the outdoors, fresh scents and liberal doses of natural light not only foster a sense of peace but also help today's travelers set aside everyday distractions for the serenity that simplified living provides. In this article, David Ashen, partner and founder of dash design, explores how today's hoteliers are making the most of the trend to simplify.
During a recent business trip to Curacao, I stayed in 10-room boutique hotel called BijBlauw.
The Dutch couple that owned the place, which included a wonderful restaurant, furnished it simply, but that's not to say it was meager. I stayed in the largest guest room; an elegantly serene suite that had a painted bed prepared with modest, yet beautiful linens. Above the bed, a section of driftwood was suspended. There were, perhaps one or two other pieces of furniture in the room along with a terrace that overlooked the impressive expanse of the Caribbean Sea's crystalline turquoise waters.
There were no hanging pictures or television sets in the room, but not because the hotel lacked the capacity for either-other rooms had both. But the owners had purposely left this room devoid of the distractions. After all, the view of the Caribbean was magnificent; a treat unrivaled by anything that a television or furnishing could provide. My focus shifted. The luxury of simplicity.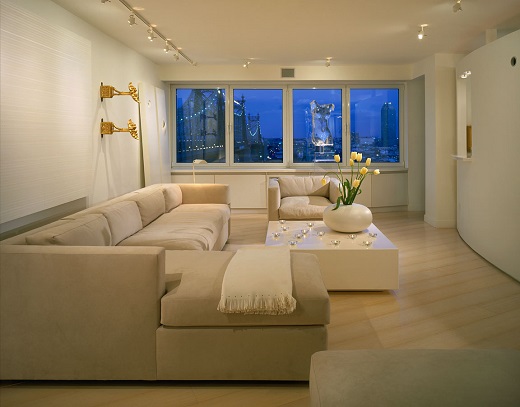 Sutton Place Apartment by dash design
As a society, we process an incredible amount of information daily. The U.K.'s The Telegraph reported in 2011 that a study found that the amount of information that people are hit with every day could fill 174 newspapers. It's no wonder that a simpler approach to life has emerged as a growing trend.
Although lavishly appointed properties provide for virtually any need, modesty certainly has its place. How businesses and hospitality venues carve out their spaces and treat sensory conditions can leave their customers feeling overwhelmed and confused or relaxed and focused. And it's not just smaller operations that are taking note of those effects. Simplifying surroundings with a subtle approach is a universal way to instill a sense of calm.