Tourism in Cuba - Moving Forward and Not Looking Back
By Arturo Garcia Rosa President & Founder, SAHIC South America and SAHIC Cuba | February 12, 2017
There is a great tourism story to tell – and it's in Cuba. Why is the Cuban hotel market expanding? What are some of the key strengths in this market? What can we learn about and from Cuban hotel companies?
On December 30, 2016, Cuba reached 4,035,557 in tourist arrivals, an increase of 14.5% as compared to 2015, when arrivals reached 3,524,779. Regarding foreign exchange, tourism has become Cuba's second largest country after professional services (including medical services), reaching US $ 2.8 billion in 2016.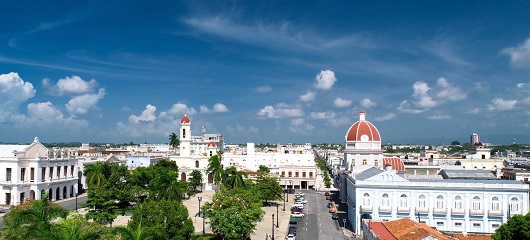 Historic Center of Cienfuegos
In spite of the restrictions still in place, the arrival of travelers coming from the United States has been growing far above the other traditional demand generators for the island nation, having reached increases of 77% per year. While the embargo established in 1952 still holds, the Obama administration has relaxed the relationship by establishing a series of measures that helped increase the number of trips taken by American citizens to the island.
The reality is that the momentum began on December 17, 2014 when Cuban President Raul Castro and U.S. President Barack Obama surprised the world announcing the beginning of the negotiation process that would allow them to advance the normalization of the bilateral relationship between both countries. Change kicked in and has begun to move the needle forward shifting from the trade, economic and financial embargo imposed by the United States on Cuba 54 years ago.
However, as demonstrated at the UN assembly last October, an historic resolution passed in favor of lifting sanctions – with a unanimous vote of 191 countries in favor and none voting against it. Let's hope 2017 continues to provide us with reasons to celebrate positive momentum.