Uncovering Role Models, Mentors and Mantras in Hospitality
By Katharine Le Quesne Senior Director, HoCoSo | January 12, 2020
The hotel industry really is full of extraordinary adventurers. What do you get when you cross a Venezuelan-born, half-Panamanian, half-German, self-motivated graduate of a Swiss hotel school? Meet Sasha Brin, Director of Development for Kempinski Hotels. Her motto? "Accept the unexpected". It was as relevant to me working in China pre-2000 as it is today.
And Brin embraces it daily in her career. "Doing a deal in Cuba was a unique experience. We closed it because we understood how to navigate effectively the cultural differences; we accepted the burden of bureaucracy; and we recognised the need to create solutions." One clause in the contract took close to twelve months to agree. This is not a market for the short-term investor or the bull in a china shop approach.
"When I need to put things in perspective, I think of hoteliers whose first thought each day is 'do we have water in the tank?'. In Havana Old Town in Cuba, for example, not all establishments are connected to mains water. Now try running a luxury hotel under those conditions." There are some extraordinary GMs out there in our industry.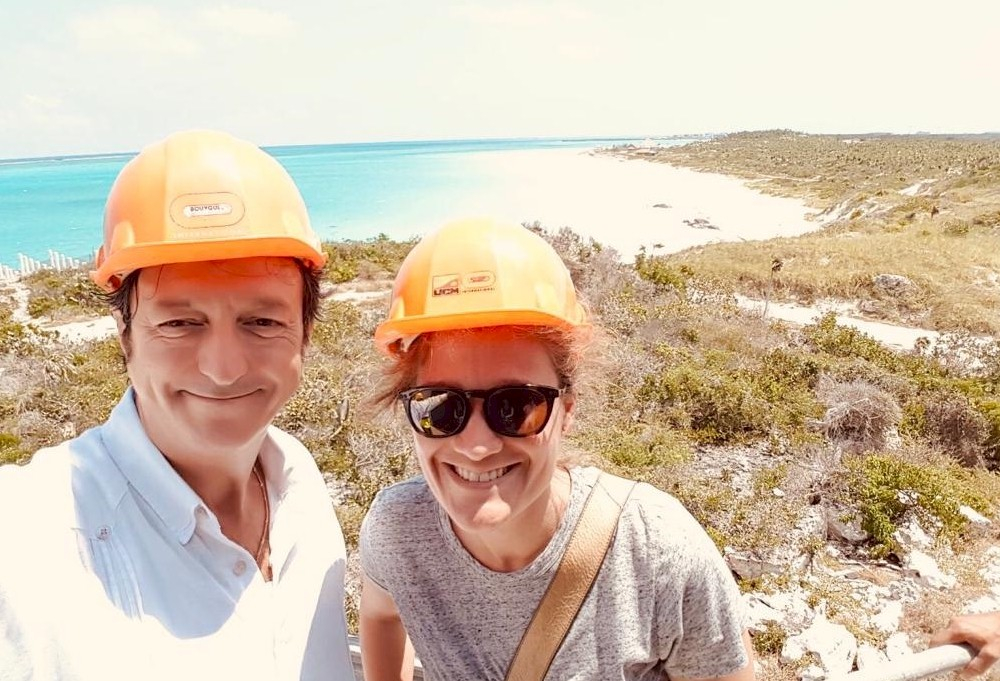 On site in Cuba – Sasha Brin, Director of Development and Xavier Destribats, COO The Americas for Kempinski Hotels
The Chief Financial Officer of IHG-owned Six Senses Hotels Resorts Spas has a similar mantra from her mother: "If you can't change a situation, change your attitude." Yvonne Thomsen has an enviable track record of working internationally on all sides of the table – for the owner, investor, advisor and operator. This is a career defined by more than just good luck and a good work ethic. "I got opportunities because I asked for them," says Thomsen, who also wasn't put off by the first or second 'no'. She was one of the first women joining Saudi-owned Kingdom Hotel Investments, based in Dubai.
From there she stepped off into what was seemingly a solid career with Lehman Brothers, a few months before they went bankrupt. "It wasn't quite what I'd planned", Thomsen reflects, "but you can be a victim of a situation, or you can own it."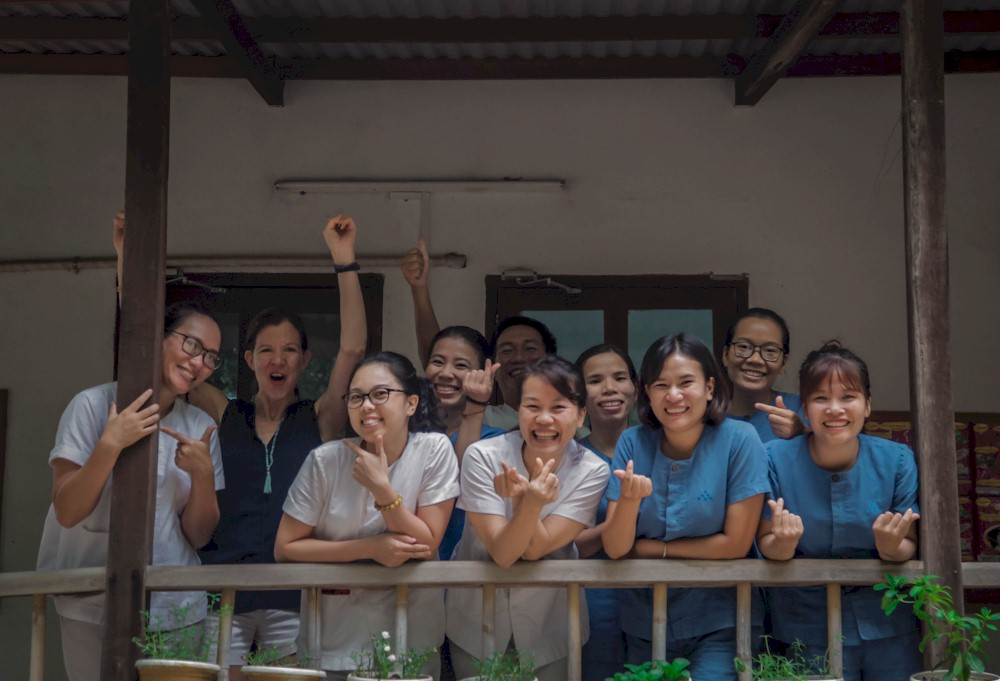 Supporting teams on property – Six Senses CFO, Yvonne Thomsen with the finance team at Six Senses Ninh Van Bay, Vietnam
Former hotel financier with a prestigious career in banking, Diane Scott, says "It's not what happens in your life that defines you, it's how you handle it." She picks up on how widely the hotel industry relies on soft skills to deliver exceptional service; and how heavily under-utilised these skills are within the corporate structure. Now a Senior Hotel Consultant at international law firm Katten, Scott challenges: "Don't your emotionally intelligent teams provide better long-term performance and customer satisfaction?"
Business is moving decisively into a new chapter that will see a rise in importance of these softer skills, partly driven by the growth of ESG-investment (Environment, Social, Governance). In August of this year, Business Roundtable - an association of CEOs of America's leading companies - published a new Statement on the Purpose of a Corporation, signed by 181 CEOs. Most significant is the move away from saying that a corporation's sole purpose is to create shareholder value. Rather, the remit has been broadened to a commitment to lead companies for the benefit of all stakeholders – customers, employees, suppliers, communities and shareholders.
As the workplace changes and skill requirements evolve with AI and technology, our social skills and creativity are going to become increasingly valuable – human to human interface – there's a thought. I don't think we shall lose the art of social interaction, but like any muscle it does need to be exercised and developed. As industry leaders, what should we be nurturing on the human capital side of our organisations?
"The most valuable enhancer of my career to-date has been great sponsors/mentors, who provided the space to discover things, make mistakes, learn to fight my own battles and create work to be proud of," says Brin. Own the role. Diane Scott concurs. "Take control of your career; know your own worth; and be prepared to move on if you're not located where the decisions are made." Scott also emphasised how important it is to find a sponsor within your organisation (i.e. someone who can vouch for your performance), but that this is a critically different role and equally as valuable as a mentor. It was with good sponsors behind her that Scott became one of the first female bank managers at one of the UK's oldest banks.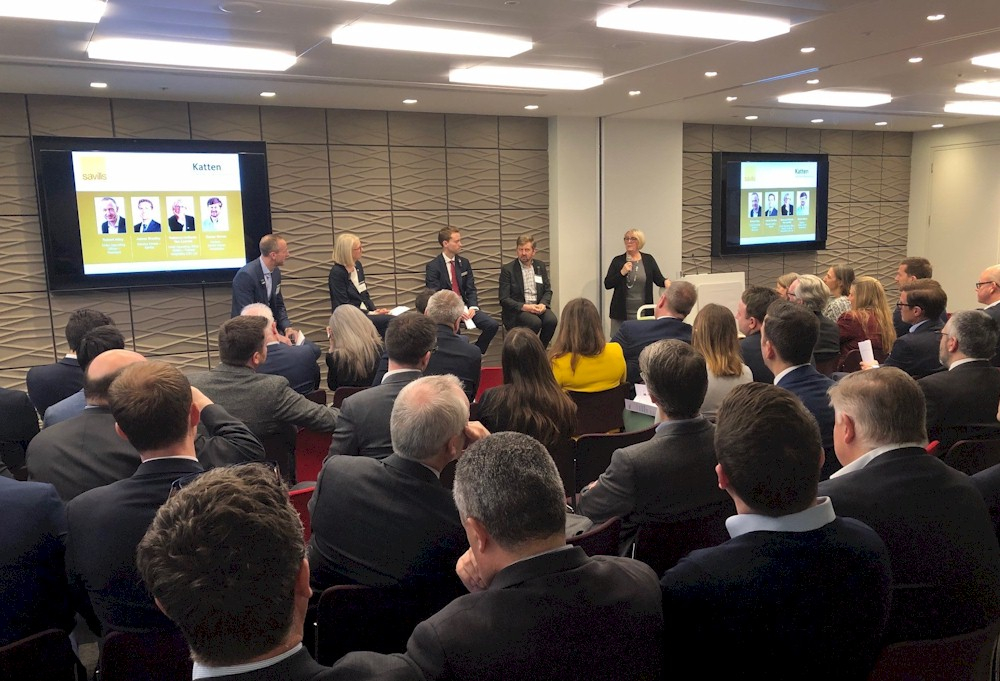 Diane Scott moderating the Q2 2019 SANG Event, London – the industry networking group she founded
"Networks are also key," says Scott. She founded SANG (the Serviced Apartment Networking Group) - the first quarterly network in Europe. In less than a year, SANG has more than quadrupled in size to almost 500 members – a reflection of the immense interest from the investment community in this burgeoning sector, the explosion of co-living and co-working and what we at HoCoSo call the global nomad.
One of the most encouraging changes Six Senses CFO Thomsen sees in the workplace today is the emphasis on the human aspect of human capital, particularly great leadership, gender diversity, a more balanced workplace and wellness.
This is a recurring theme in all my conversations. Former Four Seasons employee Jan Hazelton still stands by the Gold Rule that founder, Isadore Sharpe, instilled in his personnel across the company: Treat others as you would want to be treated. Now Vice President of Development at Kerzner International (Kerzner), Hazelton is actively seeking new opportunities for Kerzner's brands: Atlantis (entertainment destination resorts) and the ultra-luxury One&Only portfolio. Lesser known is that Hazelton is to be inducted into the Hall of Fame at her alma mater, Washington State University, in recognition by her peers of her career in hospitality – a testament to her professional principles and a commitment to "never burn bridges".
Hazelton's current mission is to find the next destination for One&Only – a resort brand synonymous with ultra-luxury, inspiring locations, once-in-a-lifetime experiences and exceptional service.  She's not the only one – I call it the quest for indelible experiences. The difference at the luxury end of the market is that the luxury consumer is discerning and has very high expectations. "One&Only wants to deliver authentic experiences and celebrate each destination for our guests.   This makes for a very innovative and entrepreneurial culture within our organization." Hazelton points to one of their resorts in Rwanda, One&Only Gorilla's Nest, where guests can encounter the rare and majestic mountain gorilla, roaming free in its own natural habitat. That's pretty indelible, I grant you.
When I float the question of what will define the next five years and what direction we hope to see the industry move in, Scott's answer is characteristically straightforward: "I want to see the industry become properly green, not just window dressing it." Hazelton agrees, acknowledging the need for our industry tackle the environmental issues that we have contributed to. Kerzner operates the Emirates One&Only Wolgan Valley resort and in 2019 won the prestigious Virtuoso 'Sustainable Tourism Leadership' award for its commitment to sustainable tourism – "a commitment to environmentally friendly practices, protection of cultural and natural heritage and social and economic benefits for local people."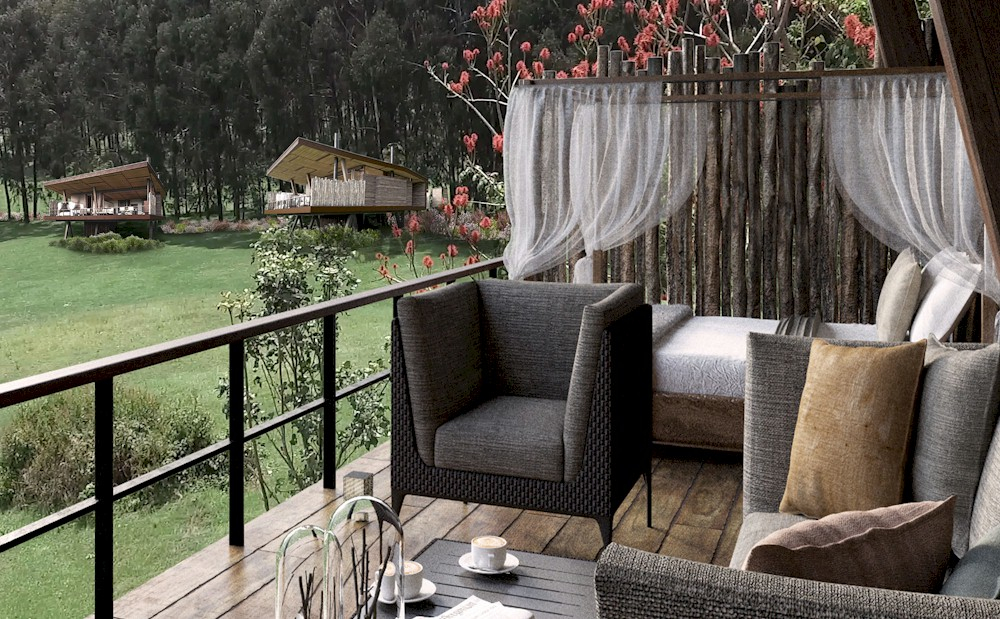 One&Only Gorilla's Nest, Rwanda, East Africa
Sustainability has been at the core of the Six Senses brand promise from its inception and Thomsen also takes the weight of responsibility seriously. Efforts go beyond plastic straw bans (eliminated across the portfolio by 2016). "It begins with a clause in the management contract that stipulates 0.5% of revenue has to be set aside for sustainability initiatives." The resorts have had water bottling plants for 20 years and over 1.6m glass water bottles replaced disposable plastic bottles in 2018. Each property has an Earth Lab where guests can learn about the sustainability programs. "We've also audited all the plastics we have in our resorts. So far, we've achieved a 38 percent reduction in the amount of plastics used," said Thomsen. The company has ambitious goals for further improvements.
Many hotel groups now have bold plans and sustainability agendas … although whilst all still announcing robust pipelines to keep shareholders happy. This inherent contradiction is not easily resolved. However, as I said in a recent article (Sustainable Destinations are a Necessity Not a Luxury ), the idealist in me cheers the rise of social and environmental responsibility across both our industry and wider society; and we really could avoid killing the goose that lays the golden egg, after all.
Inevitably the future direction and impact of tech has also dominated my discussions. "Technology made hotel companies sit up and listen," says Scott. "TripAdvisor and OTAs have given the consumer a voice and choice." Brin sees the future of the industry all hangs on technology: "I see the potential for AI to produce a much more personalised and satisfactory guest experience which will commence with influencing the decision, selection and booking stage and end with a review and tailored after-sales service". Thomsen also notes that it will change how we operate certain aspects of the hotel, including back of house areas, driving efficiency and profitability. 
Brin raised the big question: "What do you think the industry will look like when Amazon and Google finally decide to get their grip on travel?" I imagine we are as divided on this topic as we are on Trump, Brexit and China. Personally, the idea of google organising my life for me sounds like heaven on deadline days and eerily Orwellian the rest of the time. Let's not allow the industry to be controlled by the few.
HotelExecutive retains the copyright to the articles published in the Hotel Business Review. Articles cannot be republished without prior written consent by HotelExecutive.