How Bermuda is Weathering the COVID-19 Storm
By Glenn Jones Interim CEO & Chief Experience Development Officer, Bermuda Tourism Authority | August 30, 2020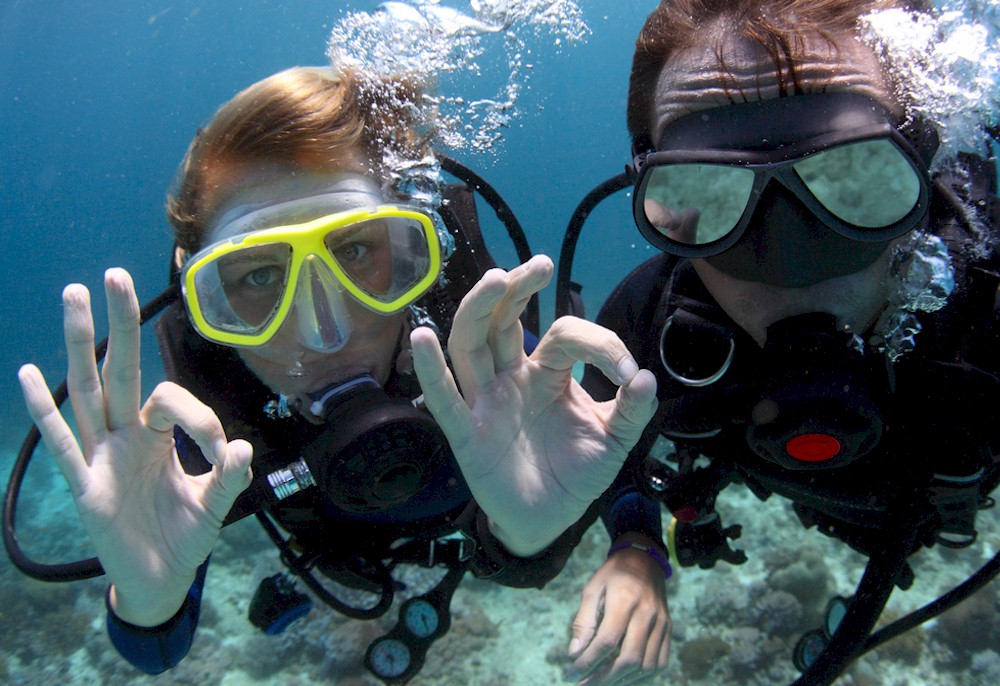 The island of Bermuda - my birthplace and home - is blessed with many wonderful attributes. Yes, the sand on our beaches really is a soft shade of pink. The turquoise waters here offer an aquatic playground, both above and beneath the waves. Our colorful, historic architecture, some of which stretches back to the 16th century, offers a startlingly clear window into the past. But if I were asked to name Bermuda's greatest attribute, I'd answer without hesitation: its people.
Bermudians are among the most welcoming and friendly people on the planet, eager to share their beloved island and its diverse culture with the 800,000 explorers  who visit us each year. Bermudian hospitality is legendary, with good reason. When you're here, you feel instantly at home, no matter where you're from.
That's why when the COVID-19 pandemic struck this spring, we knew our top priority was to protect our most vital resource: the 63,000 Bermuda residents who live and work here. To mitigate the spread of the virus, Bermuda's government closed borders to non-residents in mid-March. Simultaneously, public-health officials introduced an aggressive testing program to track and trace the virus and hold it at bay. Bermuda's approach to testing has been higher than any Caribbean country, according to Worldometer : 150,000 tests/per million, with over 10,000 tests carried out to date. The rigor proved successful in flattening the pandemic's curve, with the island reaching a celebrated milestone of zero cases by early July; of a total 146 people affected, all but nine fully recovered.
The Fates Shall Carry Us
Bermuda's motto is a Latin phrase, Quo Fata Ferunt, which means "Whither the fates shall carry us." It's indicative of the island's long-proven ability to persevere through any challenges the past five centuries have thrown us. Bermuda's community is resilient and has always come together to help one another during tough times. We've certainly seen that collaborative spirit come to the fore in 2020.
When the pandemic struck, the Bermuda Tourism Authority (BTA ), as the island's accredited DMO, was initially focused on communication to visitors, travel trade, and meeting-planner clients about the status of travel restrictions. While we continued to keep external audiences informed, we also focused attention on supporting local stakeholders, adapting to literal 'destination management' due to this unprecedented paradigm shift. Tourism is, of course, extremely important to Bermuda's economy, responsible for some 6% of GDP and 20% of local jobs, with visitors spending close to $420 million in 2019 alone.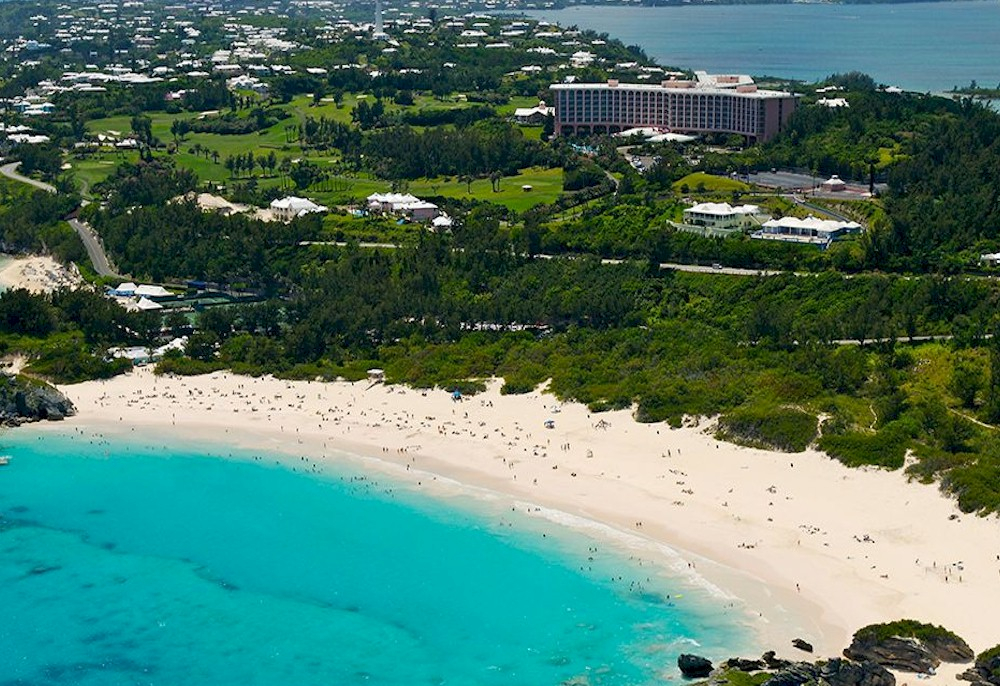 An aerial shot of Bermuda's well-known, Horseshoe Bay Beach, located on the island's south coast in the parish of Southampton. Photo Credit: Bermuda Tourism Authority.
Restricting our borders to all but returning residents and vital cargo was necessary to protect our community, given Bermuda's limited healthcare capacity and resources. But in doing so, we realized the impact on local businesses, big and small, could be devastating. Action was required on our part. We had to take 'the fates' into our own hands.
Local Efforts
Before and after Bermuda's shelter-in-place restrictions, the BTA team worked with local tourism partners to catalogue and communicate which restaurants and retail businesses were providing curbside pick-up or delivery services. This would help the economy continue to serve our local resident community. The BTA launched a dedicated page on our website, GoToBermuda.com, promoting more than 150 operational businesses, including a host of nearly 60 local food and beverage outlets that were demonstrating innovation in reaching customers while keeping distancing requirements in mind.
One particularly successful initiative was the "Great Bermuda Takeout Day," which took place April 2 and May 28. Residents were encouraged to go online or call restaurants to order meals for takeout or delivery. After weeks of cooking at home during shelter in place, Bermuda residents were ready to support local food-and-beverage establishments once again - and the #GreatBermudaTakeoutDay hashtag saw diners sharing their culinary adventures.
Encouraging support of Bermuda's restaurants is a critical piece of the puzzle in helping island businesses survive in the longer term and getting our hospitality industry employees back to work. During the takeout days promotion, it was inspiring to see so many on the island come together to celebrate another of Bermuda's great attributes - its food. I gleefully challenged myself, indulging in three memorable takeout and delivered meals during the first promotion.
Reaching Out
Local efforts have helped keep us afloat, despite hardships that continue to be felt across our industry sector. But we also had to look beyond our borders, both for real-time e-commerce spending and to spark travel inspiration. Not only did we encourage the purchase of gift cards for Bermuda businesses, but our comprehensive COVID-19 Resources page helped Bermuda fans purchase retail and food items to be shipped overseas. It's not the same as visiting in person, but getting a box filled with Lili Bermuda fragrances, TABS Bermuda Shorts or Alexandra Mosher Jewelry was the perfect way to send a bit of island lifestyle to quarantined people all over the globe.
We initiated other campaigns to place Bermuda on collective imaginations worldwide, no matter whether they were longtime fans of the island or, perhaps, bucket-listing a future trip. For example, our team collaborated on creative ways to showcase the island through immersive online content:
We launched the 15-Second Virtual Vacation series via Instagram Stories, which took our followers to some of Bermuda's most soothingly scenic spots, such as Sea Glass Beach, Jobson's Cove and the Crystal Caves.
The classic jigsaw puzzle made a major comeback as a necessary distraction during this time of stress and social distancing. Bermuda got in on the action  with free online jigsaw puzzles that offered an interactive way to experience the island's natural beauty and iconic locations.
Meanwhile, talented Bermudian entrepreneurs have offered educational online courses and classes that travelers can participate in, such as baking cinnamon buns with Kamilah Cannonier of Sweet SAAK Bakery or foraging tours with Doreen Williams-James of Wild Herbs and Plants.
Zoom has become an indispensable communications tool in the past few months. To leverage that platform, the BTA created customized Bermudaful Backgrounds featuring a variety of picturesque island scenes that travelers could download for free.
All these outreach efforts have been essential in keeping Bermuda top of mind for travelers who are already dreaming about their next vacation. And Bermuda's tourism industry is now rebuilding-international commercial flights, allowing visitors to return, resumed July 2.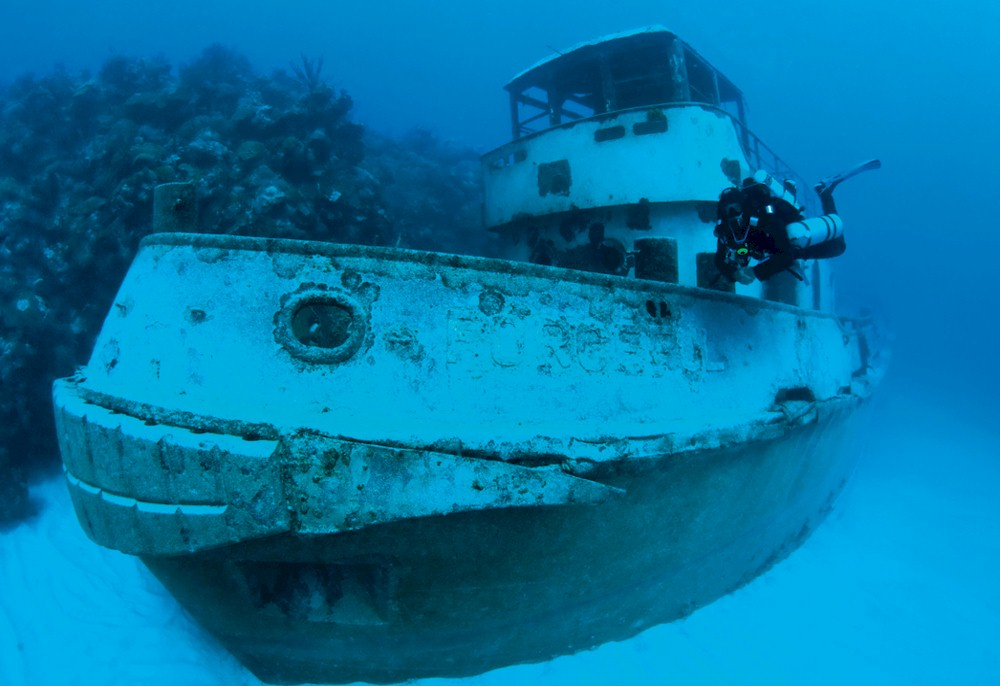 Known as the shipwreck capital of the world with over 300 shipwrecks surrounding the island, Bermuda is a magical, under-the-sea playground for divers. Photo Credit: Stu Philpott.
Eyes on the Horizon
Just 21-square miles with a population of 63,000, Bermuda has always been a precious resource. Post-COVID, we believe travelers will be craving a place and experience like Bermuda. Current forecasts suggest international travel will be slow to recover. However, Bermuda is an international getaway that affords a relatively short flight from many major US cities; we're just a two-hour direct flight from most major East Coast airports-a scant 90 minutes from New York.
Once travel restarts in earnest, with airlines slowly ramping up capacity, we do expect visitors to return gradually. Planning a trip to Europe or further abroad may be tricky this year, as various border restrictions come into play and flights remain unpredictable. Yet, Bermuda is so close, it's easy to plan a short trip quickly and still feel the distinctive cultural immersion of being abroad. Plus, American visitors get pre-clearance from US Customs & Border Protection at Bermuda's airport, avoiding the long waits, inspections and crowded arrivals concourses that are too often the downside of returning to the US from international travel.
Of course, travel will have changed considerably thanks to the pandemic. Some new trends expected to emerge are a need for privacy and space, in addition to a strengthened desire for nature, as travelers seek ways to organically social-distance. Experiences like finding oneself beautifully alone on one of Bermuda's famous pink-sand beaches or chartering a boat to explore the Sargasso Sea should more than satisfy these new luxury travel ambitions.
Additionally, travelers in a post-COVID-19 world will expect higher standards of cleanliness, safety and hygiene than before - standards that Bermuda is more than ready to meet (and exceed), thanks to the island's sophisticated, world-class infrastructure. The variety of accommodation offerings on the island provides an array of options for travelers to choose the type they feel is safest, whether it be a resort hotel with advanced post-COVID cleanliness protocols, or an Airbnb villa with similarly enhanced qualities.
As airlines begin to increase flights to the island, we will re-start our marketing efforts in our overseas target regions-likely tweaked in the pandemic's aftermath. But we won't neglect our enhanced community efforts: with more than 2,000 hospitality industry workers currently unemployed, we will continue our "inside-out" approach for the remainder of this year.
We have developed a rolling calendar of initiatives designed to support our island's economic reopening; as well as Bermuda-inspired retail, we'll be showcasing our world-famous golf courses, nautical heritage, spas and tennis strengths, as well. A campaign for staycations is in the works, to rally the reopening by hotel partners, and an annual food festival slated for the fall will turn its focus on alfresco offerings.
The very same characteristics that make us a top global travel destination before the pandemic will continue to encourage visitors in this new normal. Indeed, Bermuda, with her safe, clean, and close attributes, may have more advantages for discerning travelers now than ever before.
Bermudians have weathered countless storms, both literal and figurative, over the past five centuries. I'm confident we'll come out of this latest challenge stronger than ever. And I'm also sure travel will return on a global scale, with people eager to explore and discover, perhaps in more purposeful and mindful ways. "Travel is fatal to prejudice, bigotry and narrow-mindedness," Mark Twain wrote in his 1869 chronicle, Innocents Abroad. And where was Mark Twain's favorite place in the world to visit? Bermuda.
HotelExecutive retains the copyright to the articles published in the Hotel Business Review. Articles cannot be republished without prior written consent by HotelExecutive.