Greg Norman Golf Course Design: A Legacy of 'Least-Disturbance'
By Brian McCallen Rancho San Lucas Golf Consultant, Rancho San Lucas | August 30, 2020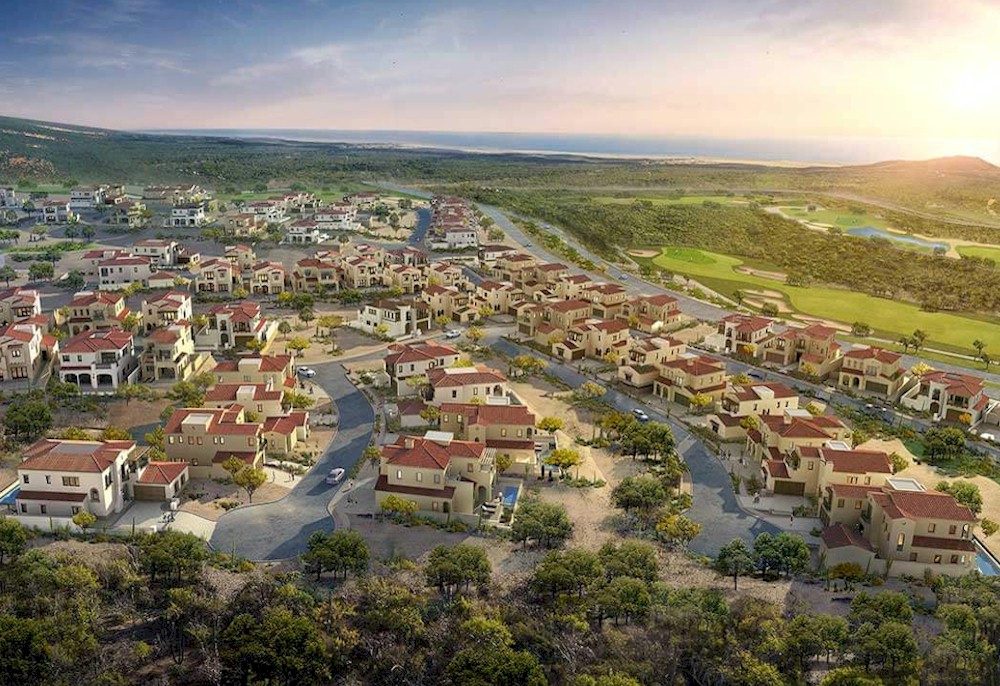 When Greg Norman established his golf design firm in 1987, he did it with a mandate to preserve landscapes, respect Mother Nature and create enjoyable golf courses.
Fast forward to 2017, when ground was broken at Rancho San Lucas Golf Club. Norman has been a huge fan of the course site from Day 1 and believes he had a unique opportunity to create something truly special: a world-class, links-style course nestled in dunes and carved into desert foothills.
"When we were first asked to build a golf course here, I drove over the top of the hill and saw all the arroyos and dunes set back from the sea, and I said 'Wow, this is the most spectacular piece of property I have seen in a long, long time.'"        
With a current portfolio of more than 100 course designs in 34 countries, Norman's globe-spanning design firm promotes itself as a paragon of environmental stewardship. And while affirming that he takes a 'least-disturbance' approach to golf course architecture,  Norman is quick to point out that every site is different.
"Each course we've done is a true reflection of the region in which it's built, and I feel that sets us apart from other designers," he said. "Sometimes, if we have a good site, we work with the features throughout the construction process and disturb as little as we can."
Such was the case of the Greg Norman Signature golf course at Rancho San Lucas, a multi-themed design that explores coastal and desert environments and offers a thrilling challenge from each set of tees. Rancho San Lucas is an 834-acre resort and residential community fronting a 1.2-mile stretch of beach on the Pacific Ocean 15 minutes from downtown Cabo San Lucas. The Greg Norman Signature course, opened in February 2020, is the showpiece of the resort and further positions Los Cabos as one of the top golf destinations in the world. 
Inspired by the native terrain and featuring splendid panoramic views from every hole, the Greg Norman Signature course at Rancho San Lucas is a versatile 7,210-yard, par-72 course laid out within earshot of the thundering surf of the Pacific Ocean. Spanning three different ecosystems, the intricate routing hugs huge windswept dunes at the start, climbs through a thick cactus forest creased by winding arroyos, transitions across a littoral zone and returns players to the beach and dunes for a rousing finish. Most of the greens are medium-sized and subtly contoured, though four of the putting surfaces exceed 12,000 square feet. Deliberately large by design, these greens give players ample targets on a typically breezy day. The fairways are very broad and welcoming for much the same reason.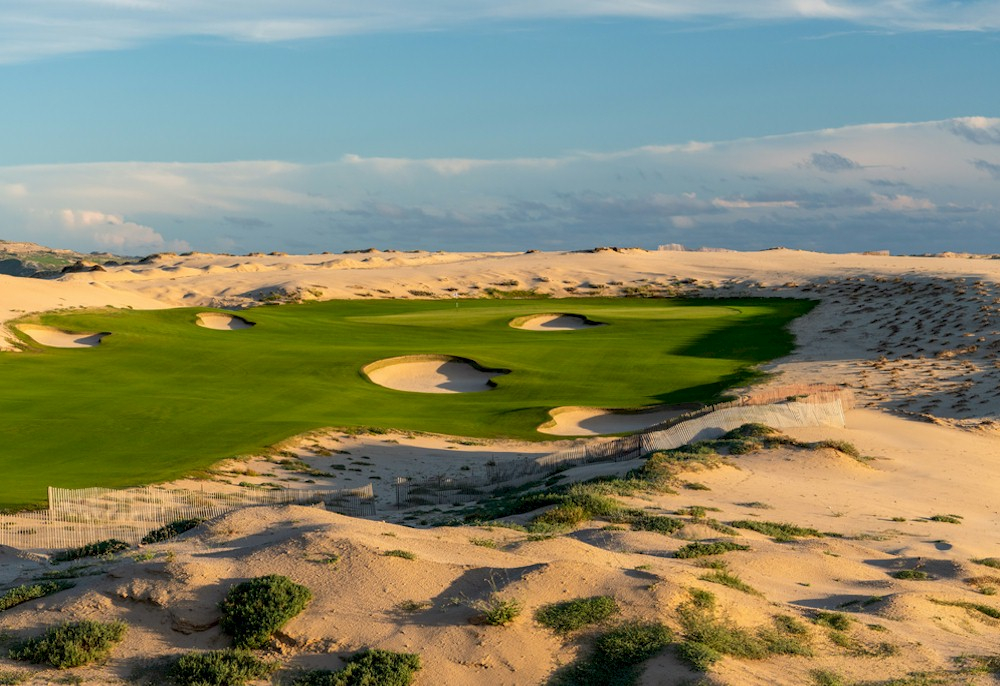 Scattered fairway bunkers and a raised green indented by a deep pot bunker at the par-4 16th hole at Rancho San Lucas Golf Club
Solmar Group founder Francisco "Paco" Bulnes relates a story about how the fairways were created. "In the beginning, Greg told me, 'It's such an amazing piece of property, we're only going to clear the fairway corridors 10 meters at a time.' Most designers mass clear a site and then attempt to re-vegetate it later. Not Greg. He was very careful to remove specimen trees and plants and shelter them in a nursery, to be transplanted later. He wanted to work at a very slow rate, so he could evaluate the site's contours and build the course in an environmentally responsible way. This took several months, but that's what his 'least-disturbance' design philosophy is all about: keep earthmoving to a minimum and step as lightly as possible on nature's toes."
Observant golfers will notice that course enhancements at Rancho San Lucas take their cue from nature, starting with a re-vegetation plan that conserved endemic flora. "We look at integrating indigenous landscapes and grass varietals that use the least amount of water," said Norman. "Our goal was to build a sustainable course that is playable from all perspectives, including the forward tees." As is readily evident, Norman and his design team preserved the integrity of the land by building holes that trace the natural flow of the terrain, incorporating native vegetation and natural surrounds into the golf landscape. The end result is a strategic gem that ranks as one of Norman's finest creations.
The layout's defining characteristic is its revetted pot bunkers. These sharp-edged, steep-walled sandy pits were constructed from recycled artificial turf sourced from British soccer fields. Resistant to wash-outs, the club's pot bunkers, a first in Mexico, are nearly identical to the natural sod-walled sand pits found on British seaside links courses.
Featuring a dramatic 300-foot elevation change, the well-strategized course has five holes on the beach, notably the par-3 third, which parallels the sea and gives players fine views of breaching whales during the winter months. There's also a signature island green at the testing par-3 17th hole. The par 5's at Rancho San Lucas, including the first and 18th holes, are brawny.  The par 3's, angled to all compass points, are varied and enticing. The par 4's, the heart and soul of the course, range from long and stout to short and fun.  
Rancho San Lucas is grassed from tee-to-green in SeaDwarf Paspalum, a drought-tolerant, disease-resistant varietal perfectly tailored to the site's subsoils and climate. This emerald-green turfgrass has a lush canopy and perches the ball nicely.
With two on-course comfort stations, each providing Mexican specialties and ice-cold refreshments, players can enjoy an all-inclusive experience during the round. A handsome ranchero-style clubhouse overlooks the fairways and sea. The practice facility features a spacious driving range, an 18-hole putting course, and dedicated chipping, pitching and sand play areas.
Mindful of the seasonal windy conditions along the Pacific Ocean, Norman devised a 12-hole "course within a course" at Rancho San Lucas. This innovative par-49 layout, with five sets of tees ranging from 4,964 to 3,824 yards, consists of 12 low-lying holes drawn from the regulation 18 that are sheltered by the dunes and shielded from ocean breezes. The club's Short Course promises a pleasant outing in the breeziest months, typically May and June. 
An early adapter, Norman several years ago helped to form the Environmental Institute for Golf, an organization created by the Golf Course Superintendents Association of America (GCSAA) to establish a standard of environmental stewardship. Norman has served as chairman of the organization, recruited high-level board members and facilitated its initial development.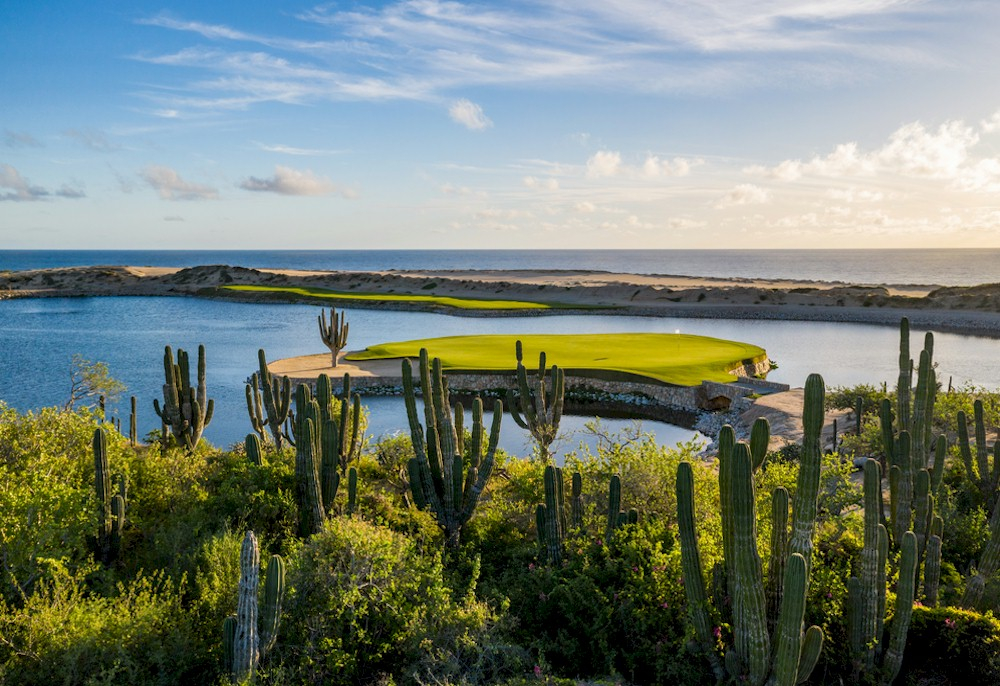 The signature island green at the par-3 17th hole
To demonstrate its commitment to environmental stewardship, Rancho San Lucas Golf Club has applied to join the Audubon Cooperative Sanctuary Program (ACSP) for Golf Courses, a non-profit organization that stresses environmental stewardship and sustainable practices. Once the club completes a site assessment and develops an environmental plan, it will earn ACSP certification for the golf course and become a member of Audubon International's growing network of golf courses, schools, businesses and other organizations protecting the environment in communities around the world.
ACSP is centered on six key environmental areas relevant to golf course management. These components form the basis of the program's educational materials and are the focal points for achieving certification:
Environmental Planning
Wildlife and Habitat Management
Chemical Use Reduction and Safety
Water Conservation
Water Quality Management
Outreach and Education
The golf club's enrollment in Audubon reinforces the conservationist leanings of Francisco "Paco" Bulnes, who roamed the site as a child and who rerouted the resort's entryway to preserve a grove of towering, centuries-old cardon cacti.
"To my mind, Rancho San Lucas is nature at its finest," Bulnes said. "There are lots of turtle nests in the dunes. The desert landscape here is incredibly rich. Herds of deer roam the grounds. The variety of birds is amazing." The creation of wildlife habitats on the golf course, he added, have been a boon to the region's native fauna. The layout's water holes have attracted numerous local species, from birds and hares to deer and bobcats, while simultaneously creating pleasant oases for the resort community's residents and guests. In addition, the man-made lake at the 17th hole attracts ducks, cranes, egrets, herons and other waterfowl.
"We've worked hard to preserve what we have," Bulnes explained. For example, 106 acres of the development's total of 834 acres have been left in a natural state. An additional 186 acres is dedicated to the eco-friendly golf course. Together totaling 292 acres, this parcel represents 35% of the development and has resulted in the creation of a low-density resort community, an ideal fit for ACSP's model.
 "Least-disturbance isn't necessarily just about minimizing earthworks," Norman explained. "It's about protecting and preserving what makes a site great and incorporating a golf course into that. This approach really is a pillar of what we do. We take seriously the legacy we create in developing each golf course." His brilliant less-is-more design at Rancho San Lucas is living proof.
Rancho San Lucas is a private club with exclusive golf access available to homeowners and guests of Solmar Hotels & Resorts, including the new on-site luxury hotel, Grand Solmar at Rancho San Lucas. The low-density community is elevating the standard of coastal living in Los Cabos with The Villas at Rancho San Lucas and the Norman Estates, a pair of residential communities. Real estate pricing ranges from $650,000 to $7 million.                           
HotelExecutive retains the copyright to the articles published in the Hotel Business Review. Articles cannot be republished without prior written consent by HotelExecutive.