The New Elements of Hotel Design in a Hi-Tech World
By Bruce Wright Vice President & Principal, SB Architects | September 06, 2020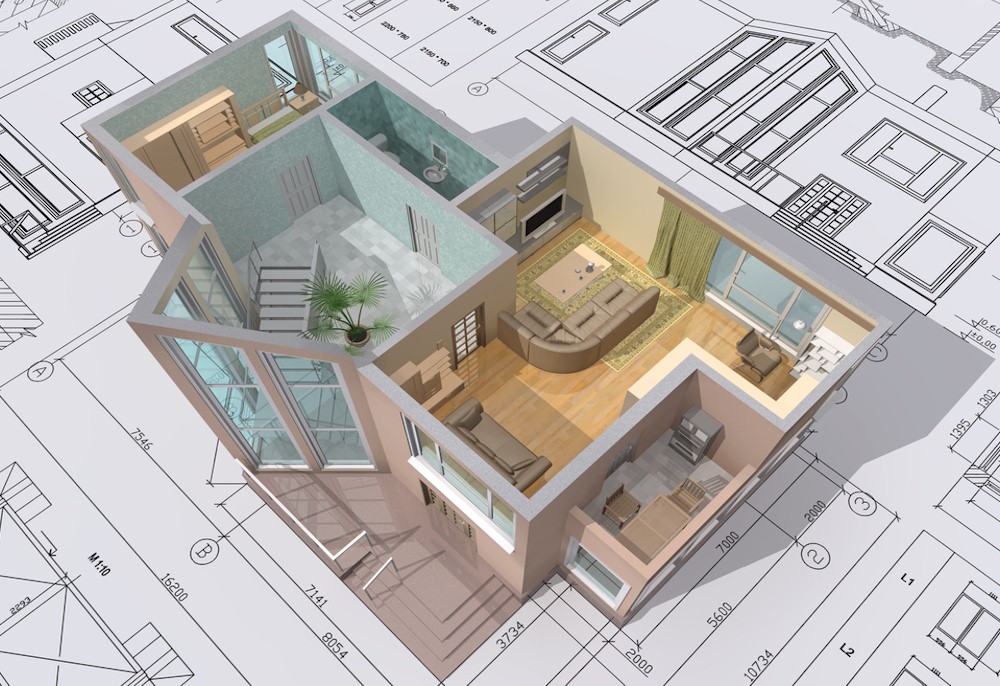 Technology was already evolving at an incredible rate but has gained momentum and taken on a lightning pace in reaction to the COVID-19 crisis. The global pandemic has proven to be a catalyst for acceleration and change.
Will hotels of the future be operated by a robotic workforce? We're not so sure. We need to reframe the perception and understanding of technology. New doesn't automatically mean futuristic and hi-tech doesn't necessarily translate to visionary, unless it is serving a purpose. What is often overlooked is the speed of human evolution – we don't change nearly as quickly as technology. From a design standpoint, the foundation we lay now will impact the future of hotels and their relationship with technology, so brands need to consider what is worth investing in.
People have an innate need for human touch and community especially in times of crisis when physical connection is off-limits. A completely contactless hospitality experience isn't a long-term solution, but rather finding the proverbial 'sweet spot' between high-tech and human touch.
Personalization is at the heart of most luxury brands. In a similar trajectory to automobile innovation, the more luxurious the car, the more climate options you have. The more luxurious the hotel, the more options you have. Luxury is choice.
Imperceptible Tech – Macro Behind, Micro Infront
How do you integrate technology and tell an authentic story without detracting from the human element of hospitality? It begins with providing functional capabilities that guests desire and need. Technology is expensive and it often becomes outdated quickly. To be resilient, hoteliers need to harness technology in a thoughtful and strategic way. In a hospitality setting, hi-tech is defined by big movements behind the scenes. It needs to feel imperceptible to the guest, whilst enhancing their real-time experience.
Guests want the choice of how they interact with technology during their stay, whether that is being connected, offline or somewhere in-between. New advancements can be intimidating, so they need to be packaged in a user-friendly way. No guest wants to enter a room and be greeted with a complex set-up that requires a PhD to navigate. No matter how intricate the 'behind-the-scenes' infrastructure, the user interface needs to be simple and intuitive.
Technology is a streamlining tool. For it to work, a solid digital infrastructure is fundamental. Developers and hoteliers are investing or will begin to invest in a future-proofed tech backbone, especially in new builds, to meet the digital demands of the 21st century. Placing a focus on the 'behind-the-scenes' technological revolution will be much more impactful long-term, than pushing for new guest-facing technology.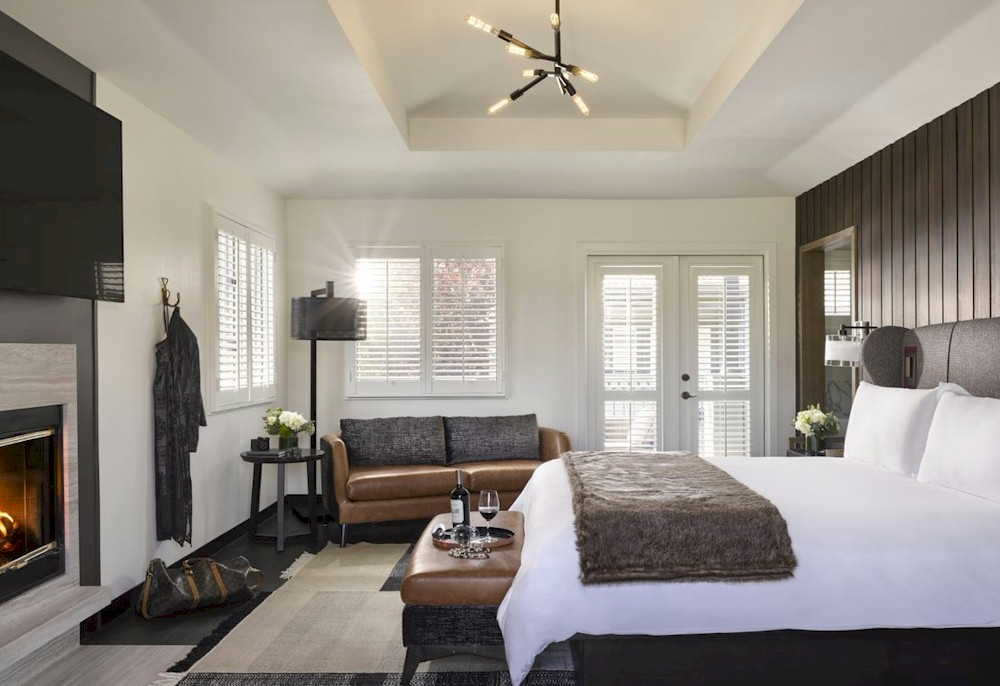 Guestroom at Hotel Villagio, Yountville, California
In SB Architects' 2018 renovation of Vintage House and Hotel Villagio in Yountville, California, in collaboration with Illuminate and Hirsh-Bedner Associates (HBA), our client, Brookfield Properties, chose to install digital lighting controls and other property management infrastructure that allows for nearly endless flexibility in the control of building systems. To attract locals and travelers with an alluring new level of approachable luxury, it was important for the property to be able to offer a variety of experiences. Having the ability for guests to simply and effectively control their environments through a choice of lighting levels for instance, can be the difference between a one-stay guest or a weekend regular.
Personalized service, when implemented correctly, builds brand loyalty, which is incredibly valuable given the plethora of hospitality brands. According to Deloitte's guest experience survey, when hotels understand their guests, stay frequency increases by 13 percent. One of the most effective tools for creating a bespoke experience is the one the guest carries around in their pocket – their smartphone. If utilized in an efficient, meaningful way, guests could log their preferences towards room selection, ambiance, lighting preferences, heat, wake-up, etc. into an app and arrive on property with the comfort of knowing that they are walking into their perfect hotel stay, tailored just for them.
Coming out of such volatile times, it will be important for travelers to embark with a certain level of comfort in what they can expect once they reach their destination. Technology is honing itself down to be on a more detailed level, so that hoteliers can give each of their guests a unique, responsive experience that is integrated with technology, not overpowered by it.
Data Driven Design
Technology impacts how hotels are designed, how they are built, how they are operated and how guests interact and experience the space. As designers, we are tasked with creating spaces that have an emotional impact on the user through materiality and the built environment, but also through the guest's first impression and journey. When designing, we have numerous tools and 'data points' to draw from; intuition, history, culture, and most recently: digital data.
Looking forward, if data-driven design is utilized, hotel renovations and operations, in general, could be streamlined. Analyzing data collected from sensors throughout a hotel could form the behavioral blueprint for a renovation. Design teams could tap into a host of data sources to verify if the original design intent of a space matches the reality, and if not, why not. Say, if a hotel has numerous under-utilized meeting and ballroom spaces - as analyzed by data - transform those spaces to be of better use or fine-tune the guest journey to pull more guests through organically.
According to Nick Albert, Director of lighting design consultancy, illuminate, as technology advances, hoteliers can begin mapping emotional and behavioral information. In theory, the data is already out there. You could look at it as 'digital psychogeography', the sensor circuit is working behind-the-scenes, noting how many people have triggered a particular sensor and at what time. The next step is compiling, analyzing, and using that data in an intelligent way. And, the more places that embrace this, the more we will get out of it.
"The ceiling is the last untapped real estate in architecture. In the same way that we haven't explored the deepest parts of the ocean, we haven't yet explored or utilized the hidden capacities of what lies behind the ceiling grid." Said Albert, "Historically, ceilings only hid lighting and other unsightly building systems, whereas now, they house a complex series of digitally connected controllers, sensors and processors. Even a typical lighting system, that has been built on LED technology, provides a digital infrastructure that is much more capable than simply turning lights on and off. Any building with this set-up could choose to tap into those resources to further leverage the technology but not many do. Those that do, see a great benefit."
Sony debuted its 'Vision S' concept car at CES 2020, which includes emotion-tracking technology that can sense signs of distraction and tiredness, through AI sensors, and adjust the environment to improve the driving experience. Why not apply this technology to anticipate a guest's needs? AI detecting a guest's state of comfort can accommodate their personal preferences even on a subconscious level, from adjusting temperature to regulating light levels and beyond.
Sensory Tech, the Science of Feeling Good
The current global pandemic has instilled a sense of uncertainty and unease, hotels are going to be relied upon to provide a space to escape, disconnect and retreat in comfort. Today's traveler is looking to check-in to a hotel and find the same level of comfort, if not more, than they have at home. Most people are now living a relatively 'smart' life, using AI daily, with smart assistants managing and automating a lot of day-to-day tasks – from waking them up and turning on the heaters, to orderings their groceries – so, a 'smart' hotel room is almost expected.
There's a science to feeling good. As designers, we're tasked with creating immersive spaces and experiences that engage the senses. The confluence of touch, scent, sound, sight, and taste is subtle, sometimes invisible, but they are there, all working together to create a memorable wellness experience. The guest doesn't see the mechanics or science behind feeling good, but they sense it.
According to Nick Albert, lighting is one of the most quintessentially human experiences in design. Access to daylight is incredibly important, but it's not always possible. The technology we have now can play a crucial role. "An LED light system, that can adjust between color temperatures; cool to warm, to neutral; is able to stimulate the human body's natural circadian rhythms. You can utilize this technology to stimulate daylight fir a sense of nature or pre-program your room to cure jetlag. Despite it being a simulation, our bodies still react in the same way, it's a naturalistic rhythm that instills a sense of ease and calm."
"What we really ascribe to at our firm is, no matter how complicated the system is and how much technology is behind the wall, the experience in front of the wall should be as simple as possible. Even the most highly articulated lighting environments should be able to be accessed with just three buttons; effectively 'high, medium, and low' with technology doing the rest; people don't want to deal with more decisions than that." Albert stated.
By harnessing sentient technologies, hotels will be able to monitor guests' emotional needs and make personalized adjustments, improving the guest's mood and elevating the hospitality experience. Helping guests to unwind and boost their energy levels. It's almost as if technology is allowing us to tap into the 'sixth sense', that senses the guest's feelings and mood.  New tools for interaction like light, voice, gesture, and touch will engage our senses and make interaction more natural.
Albert adds "Lighting systems can do almost anything now, from communicating via LiFi, to sterilizing a space using UVC, you just need to figure out need, cost, and interest. People need to buy into the aspiration as much as anything."
Designing for a Digital-Physical World
An upgrade in digital infrastructure will revolutionize the guest experience and allow hoteliers to adapt to rapidly changing technologies. Constant, fast wi-fi connection will be imperative. In a recent survey completed by ALICE, they reported that 34% of guests said that outdated technology was one of the most frustrating experiences in a hotel stay. Today's consumer is accustomed to the digital world and they want and expect physical spaces to reflect that.
These upgrades could be the catalyst for a rise in multi-generational business travel - the entire world has adapted to a virtual way of life, so, why not take your family along on a business trip? The real beauty of technology is that it gives the consumer the option to tailor their trip to suit their needs.
As architects, we build flexibility into spaces to allow them the transform over time. Adaptable spaces that can easily covert to different uses are going to be key in the future of hospitality. We're constantly revaluating and gaining a better understanding of the tools at our disposal, and sensory technology can be wielded effectively to define and differentiate space. Rather than dividing people by intrusive physical barriers, lighting can be a subtle alternative, working as a visual cue to the guest, highlighting occupied and dimming vacant space. It can also be utilized to indicate energy and excitement, which has the power to draw people to a location or make a certain area feel reserved.
One of our current projects in Frisco, Texas, is being designed with a high-level of technical innovation to serve as a benchmark for the future of the sport. Planned to be one of the largest conference hotels in the area, a 127,000-square-foot conference center has been designed to ebb and flow in size dependent on use.
The concept of 'transformational' can take on many forms. The continuous evolution of technology has allowed us to dream big and work within new parameters. We're living in an experience economy. The increased appetite for localization shows no sign of slowing down, in Booking.com's 2020 'Travel Predictions' survey, they reported that 61% of travelers were planning trips based on the journey rather than the destination.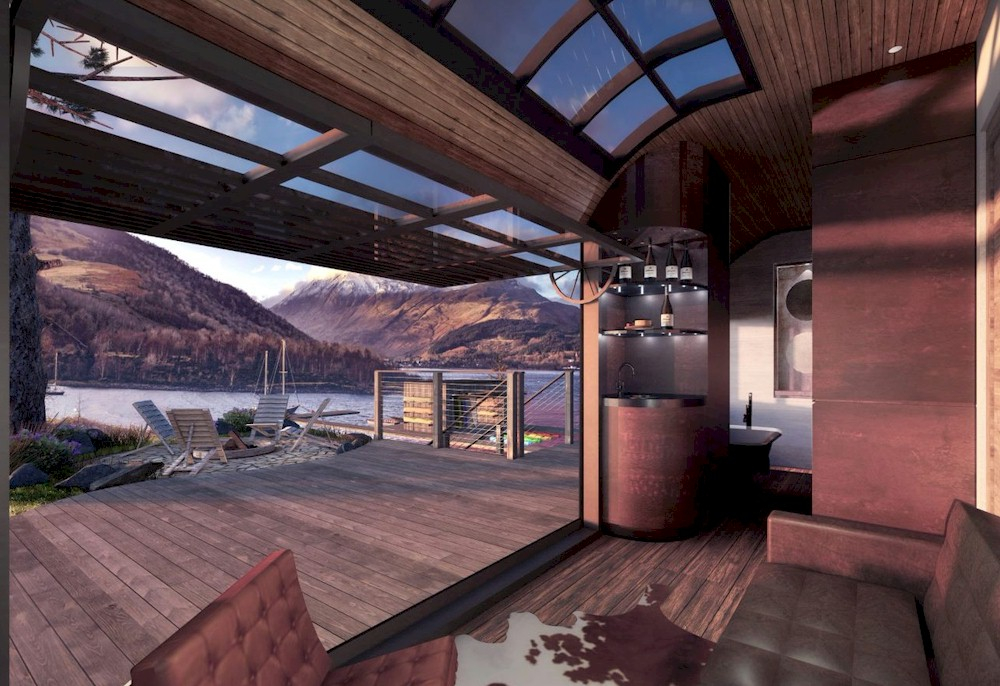 Infinite Explorer, Adventure Platform
At SB Architects, we placed focus on utilizing the existing infrastructure of the western railways to create the Infinite Explorer, a one-of-a-kind hospitality experience, in form of a hyper-luxury sleeper train with hotel-style facilities that makes planned stops as remote, bucket-list worthy locations on the way.
At these natural venues, the private train cars would open up, allowing guests to step from their cabin onto the experiential platforms located along the route. Every platform will be designed with an immersive program of activity, including outdoor adventures, wellness, and dining. The design minimizes the environmental impact and footprint, because the train is the hotel, and the primary amenity is nature.
Redefining train travel, the Infinite Explorer has the capability to keep the guest connected, provide the ultimate in luxury service, and create a memorable experience that taps into the consumer's need for escape and adventure.
Wellness
Human beings have an innate biological affinity to nature. Biophilia, spending time immersed in natural environments, is proven to reduce stress and improve a person's well-being. As architects, we thoughtfully design environments that are rooted in nature, or at least provide a solid connection to the outdoors. In a resort setting, where a site's footprint is usually larger and more remote, bringing the outdoors in is easily achieved. How do you reach the same level of disconnect and calm in an urban resort? That is where technology steps in.
According to Michael Lahm, Vice President of TLEE Spas, technology has established its supremacy in all facets of life and will likely become more prevalent within the spa setting, to amplify high-touch therapies or as a stand-alone option for guests who wish to limit their personal contact or are simply pressed for time. These include LED and infrared light therapy to reduce inflammation and speed the recovery process, sound therapy and acoustic resonance technology to target stress and anxiety while recalibrating the mind-body connection and halotherapy to improve respiratory health and boost immunity.
"In terms of the built environment, the crisis has reinforced my belief in the positive power of nature," said Lahm, "placing it front and center of the spa experience through outdoor facilities, natural light, and fresh airflow. It also reinforces a broader trend in luxury hospitality design for intimately scaled environments that emphasize privacy and personal space."
As consumers demand more wellness options, and a more experiential approach to the tedium of exercise, hotels, and resorts have begun incorporating some of the entrepreneurial ideas spinning around the fitness market. Lulu Lemon has joined the fitness revolution with its acquisition of the game-changing Mirror, a home fitness start-up that produces elegantly designed, wall-mounted displays for streaming workout classes. Home fitness products have boomed during the pandemic, and as hotels become more and more a home away from home, consumers will expect the same level of innovation.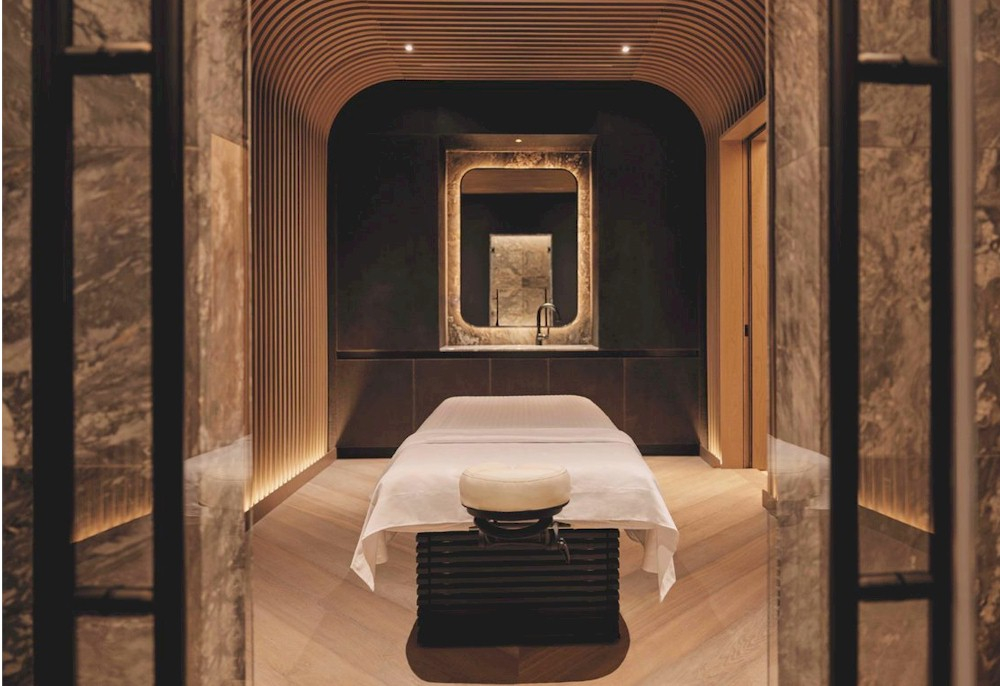 The Spa at Equinox Hotel, Hudson Yard, New York
At the Equinox Hotel, Hudson Yard, New York, the luxury fitness club's first entree into hospitality, TLEE Spas worked alongside the company to create a spa concept as impactful as the brand's fitness offerings. Innovations within the spa menu include quantum harmonics, a sound therapy session designed to train the brain to relax through acoustic and vibrational therapy, and nutrient and vitamin IV drips. Private relaxation cabins called E.scape pods, incorporate an intelligent audio library and EEG data, developed with sleep scientists, to help manage guests' stress and decompress.
Conclusion
We're all rethinking the future, and at this moment, that's not a bad thing. Restrictions have always proven to be the catalyst for new ideas and innovation. We've witnessed how quickly we can adapt when we must, changes that would usually take years, have taken weeks.
Technology has already dramatically expanded how we work and connect with our teams remotely, profoundly changing the way we work and play. With the current speed of advancement, I don't think anyone has the foresight to predict the next frontier of technology, but it is bound to be inspiring. Venturing into unchartered territory – Space travel? Undersea travel? AI travel? For now, technology has been tasked with helping us navigate the 'new normal', to arrive at the point where can experience hospitality and travel in a safe, connected, and inclusive way.
HotelExecutive retains the copyright to the articles published in the Hotel Business Review. Articles cannot be republished without prior written consent by HotelExecutive.