3 Ways to Elevate Your Hotel Experience with Immersive Art
By Martha Weidmann CEO & Co-Founder, NINE dot ARTS | November 22, 2020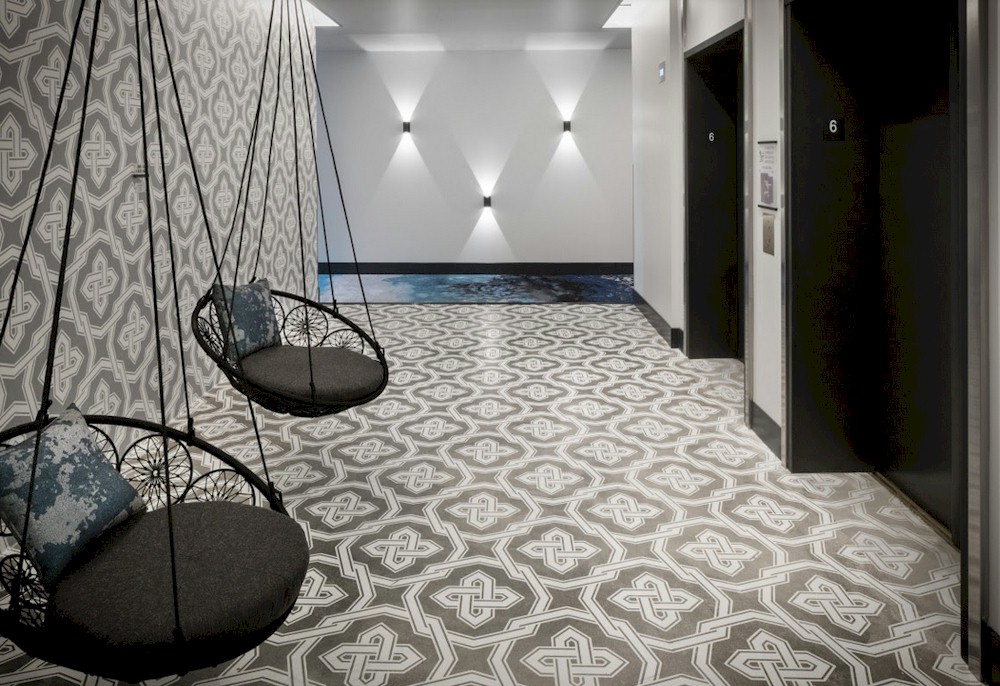 Where was your last great hotel experience? For me, it was the Shinta Mani in Siem Reap. The hotel, a historic former French Embassy just a few miles from Angkor Wat, is steeped in a hospitable blend of European and Asian culture. The hotel had a distinct brand - it looked and felt different from other nearby Cambodian resorts. Hand-crafted design detail, luxury service, and world-class excursions to art and culture sites made the experience unforgettable.
Every good hotel is run with their guests in mind. The best hotels are designed around an immersive experience - one that not only welcomes people in, but one that connects them to a place. Embodying creativity and novelty keeps guests coming back.
Key to creating welcoming, transformative encounters is the strategic use of art within a hotel's design, both in common spaces and in individual guest rooms. In fact, art has been found to be extremely important to the success of projects and across many property types in the hospitality industry.
While this may seem simple, utilizing art to build social-emotional personal connections is far more than hanging an artwork on the wall. Done well, art transforms a brand into a visual story. And every story can be an experience.
So how do you execute an immersive art experience that can curate a narrative and install engagement? Here are three ways to elevate your hotel experience with visual storytelling.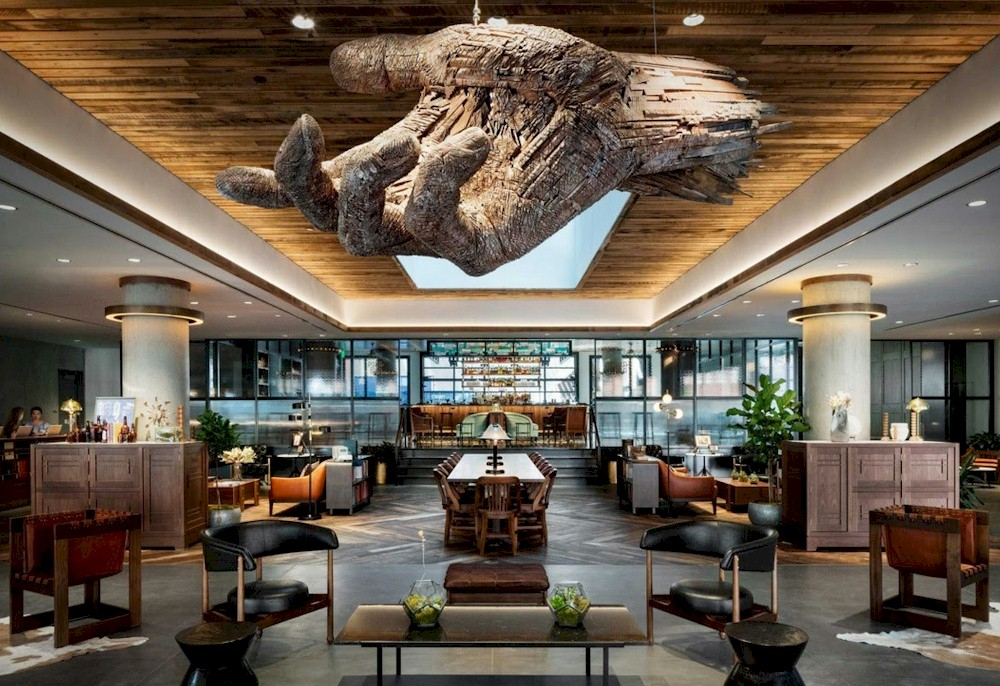 Guests are immediately greeted with large, stunning statement pieces at The Maven Hotel.
1. Begin With Your Brand in Mind
According to NINE dot ARTS inaugural State of the Art Consulting & Curating Business survey, art that expresses the brand is 'absolutely critical' or very 'important' to business organizations. In fact, over 60 percent of respondents said it is critical that art chosen for their space expresses the brand, mission, and visions.
Art is the visual connector to your brand. When done well, art draws the attention of your audience. It gives them a sense of belonging and invites them to explore and discover. Art brings your brand to life.
Curating an art experience begins with an art vision and plan. This plan should align with your brand's goals and translate them into unique, visual mediums. To start, truly dive deep into your brand through a discovery process. Talk about the heart of what you do, what makes you tick, what drives success for your organization. Only then can you begin to cultivate a holistic art experience at your hotel.
An emerging art trend involves multidisciplinary art, combining different methods to tell the story. Look for unexpected places to include memorable pieces, such as parking garages or exterior walls of your building. Look for a variety of mediums, from sculptures to murals to 3D installations, to highly original and carefully curated framed artworks.
A truly cohesive art experience is made up of many parts. It is achieved by a collection of art, not just one single painting. After all, you don't get the story from one page of a book. An art experience is the same way. It's a compilation of narratives and viewpoints, finely knit together and properly curated – art with intention. As you choose pieces, think about the concept of space and the experience of the audience.
How will the art be viewed?
How will it work within the existing space parameters?
How do people typically flow through the space?
Keep the guest in mind as you build out your vision. Viewing the collection and its location from their eyes is key to taking an ordinary space and making it an extraordinary experience.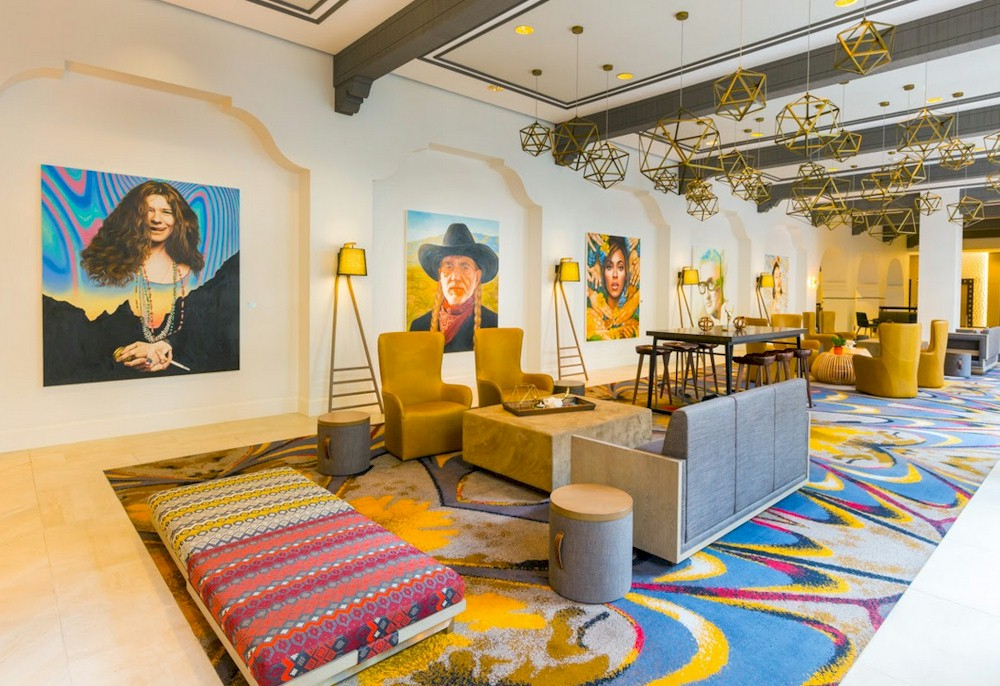 Doubletree by Hilton in Austin features an art collection inspired by the city's vibrant music and culture scene.
2. Create the Experience
An immersive experience aligns your art with the overall brand style. But it also attaches to the idea of place and to the story of your property. Recent art trends have seen the rise in engaging art inspired by the local community and art that bridges to a larger story. Hotels can utilize these to create a destination driven by narrative with art as its guide.
Your art tells a story, as does your community. Find ways to weave together your art collection with the local aesthetic and flavor. Doubletree by Hilton in Austin is a great example of this with an estimated 1,442 pieces of artwork and a collection inspired by Austin's vibrant cultural scene. It is authentic and pays homage to the city's national reputation as a destination for live music, experimental arts and emerging talent. Hotels can utilize these to create a destination driven by narrative with art as its guide.
If your property is based in a historical location or district, craft a plot based on the people who lived there, the life they experienced, tying in your curated art pieces. Create an online experience that showcases signature works so guests can preview the experience before and revel even after their stay. You should consider commissioning original artworks to help tie the experience together.
Another way to create connection and inspiration is to involve the experts. If each piece of art has a story, then even more so does the person who created it. Rather than simply hanging art on the walls, engage the artist at your property. Allow them to showcase their inspiration and connect with hotel patrons. You can do this through an artist tour that regularly showcases the pieces in your facility, as well as the artist's passion and vision. You can also design a dedicated website featuring commentary from the artist on the pieces specifically cultivated for your hotel.
Art can also help drive your marketing efforts. We've seen a recent rise in Instagram-worthy spaces and environments. Find ways to draw people into your hotel, leverage your art narrative for unique PR, create an experience worth sharing. Consider curating spaces ideal for social sharing with easy-to-remember artwork. After all sharing is good for business and helps spread the word about your hotel through its artwork.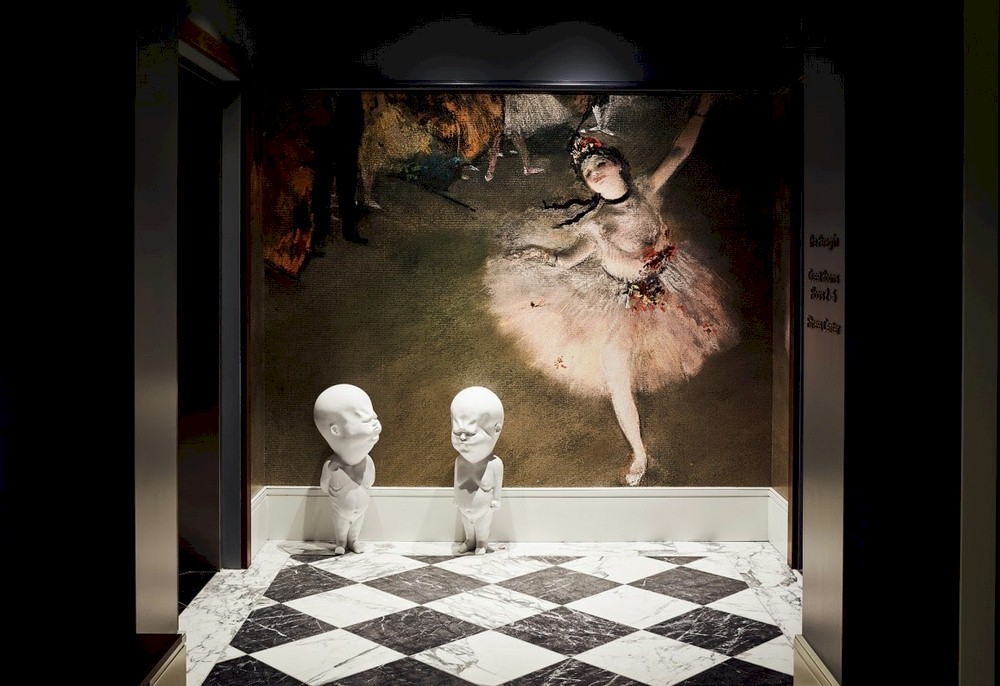 Sparked by the hotel's design, the Perry Lane Hotel's art collection embraces sophistication, wit, and intrigue.
3. Educate Your Stakeholders
Art creates a sense of place. It builds community and drives conversation. Fundamental to the development of an immersive art experience is collaboration.
This all begins with buy-in at the top. For business leaders, it comes down to return on investment. We would argue that good art is good business. After all, two in three people are certain that art adds enough value that the artwork pays for itself.
Yet a lack of understanding often leads to a hesitation to pursue artwork. This is often aligned with uncertainty related to cost or the impression that the acquisition of art is too expensive. In fact, we have found that very few senior leadership team members understand the art curation process. In addition, nearly half of individuals surveyed admit to having no idea what an average total budget for artwork should be.
That's why education is key. Start with clear communication of your overall art vision and its tie into your brand. Discuss the benefits of art for your hotel, such as differentiation, guest attraction and inspiration for employees. Be transparent on the guidelines surrounding design goals for the space, as well as time and budget constraints. All of these are vital factors to a successful art experience.
This education, and collaboration, also extends to others who work in, or on, your hotel. Be sure to partner with, and gain buy in from, designers, architects and contractors as you build out your program. Discuss visual preferences and ensure each piece will work within the space in their designated location.
Educate your staff on your art program and its goals. Make sure they know the details of the artists and the artworks so they can help spread the message and answer questions from guests.
Finally, educate your target audience. Help guests understand where the art came from and why it's there to begin with. The easiest way to begin? Require art identification labels. These labels provide basic information for the viewer, including name of the artist, title of the piece, and other items such as medium or material used. This information gives your audience context for each piece.
If you want to take it a step further, supply printed or online marketing materials to help visitors gain an understanding of the collection as they move through the exhibit. Incorporate social media prompts and guidelines to help amplify the experience.
An Immersive Art Experience Begins With Vision
Art is more than just an acquisition. It's an essential component of your brand's message and your property's unique profile. It's also good business and sets high performing, destination hotels apart from the rest.
A truly great art experience aligns with your brand, involves educated and engaged stakeholders and crafts unique experiences that stay with the guest long after they've departed.
It all starts with vision. Vision gives your art meaning and purpose. It puts your art to work for you. When hotels have a clear, articulate vision, their art program is no longer mysterious. It becomes a tool to share the message of your brand. It builds community, differentiates you from the competition, and amplifies a lasting narrative.
HotelExecutive retains the copyright to the articles published in the Hotel Business Review. Articles cannot be republished without prior written consent by HotelExecutive.