For Innovators in Hospitality, the Best Never Rest
By Diane Centeno Vice President of Enterprise Marketing & Sales , Oneida Nation Enterprises, Turning Stone Resort Casino | September 12, 2021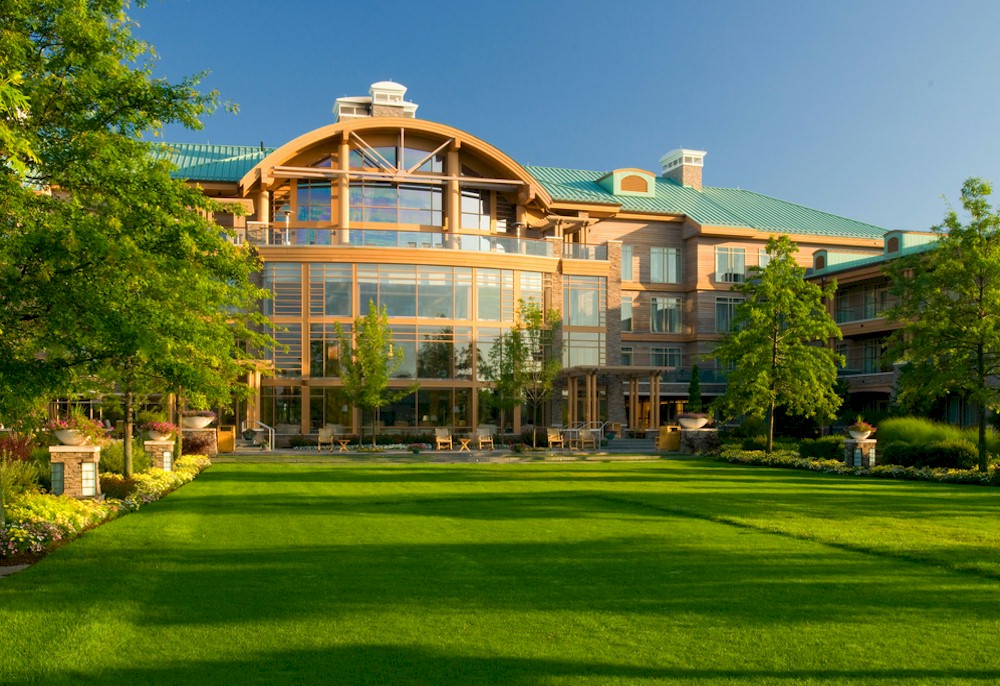 More than a year after the arrival of Covid-19, the pandemic has not only affected every individual and family uniquely, but also every business differently as well. For hospitality establishments equipped with full-scale services for organizing conferences, meetings, and corporate events, it has forced radical changes in the way we plan and even think about accommodating the ever-developing business world.
For most in our industry, it has been a seismic shift – switching from offering businesses live experiences built to service and entertain large groups, absent of any COVID-19 safety restrictions – to now providing these same groups with alternative options that satisfy both safety precautions and highly particular needs of the new business landscape.
Despite this shift, hotel meeting planners and events teams have had to nonetheless grapple with this new landscape. And with the pandemic having long-term, and likely permanent, ramifications on the modern workforce – those of us working in this sector should refrain from viewing these changes as just "temporary workarounds" until a return to normal. Instead, we believe the industry should view these changes as part of an emerging field; one that is ripe for innovation and new possibilities.
This has been a central part of Turning Stone Resort Casino's guiding philosophy throughout the past year. Hotels organizing meetings and events services cannot simply return to the former state of things as far too much has changed and continues to change. As the world begins to return to a sense of normal, we believe we should invite guests and businesses back to newer and more elevated experiences than what they had previously left behind.
In short, we have chosen to adopt the motto: "The Best Never Rest." And now, as Turning Stone celebrates its 28-year anniversary, we have sought to advance this philosophy by embracing the unprecedented changes that the global pandemic has brought to the hospitality industry and use them as a platform for raising the bar to newer heights.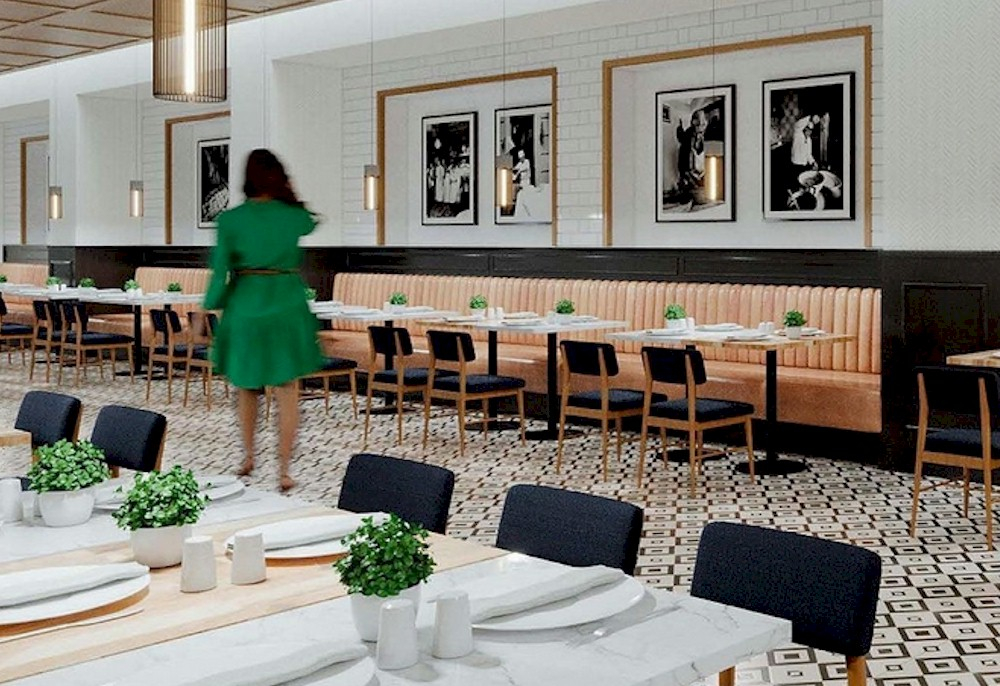 7 Kitchens -- renderings of Turning Stone's highly anticipated new buffet concept planned for a December opening.
Establishing Safety for Meeting Spaces
Of course, while hotels, resorts, and other hospitality establishments may re-imagine group meetings and events, the health and safety of both guests and staff must always remain the top priority, above all else. Even more so than other aspects of hospitality, mitigating risks of COVID-19 exposure requires extensive planning and care to safely organize group meetings – whether large or small, or in closely spaced board rooms or wide-open conference centers.
As the pandemic has worn on, and with vaccines now readily available, we have been able to update our Health & Safety plan in phases to responsibly offer more options for meetings, while also diminishing potential risks across the entirety of our resort. In addition to an extensive range of resort-wide safety protocols, we utilize enhanced cleaning and disinfecting procedures and maintain HVAC changeover rates that exceed all standards for meeting spaces and guest rooms.
With far-reaching safety protocols in place across all areas of our resort, we have then gone further to apply specific measures that focus on making group meetings as safe and accommodating as possible.
In total, we have taken a top-down approach to eliminate potential risks in facilitating group meetings, and we have found that these enhanced safety procedures – in addition to the comprehensive health and safety plan for our entire resort – provide an exceptionally effective method for maintaining security. We have been able to create spaces where every guest feels comfortable, relaxed, and free to enjoy themselves.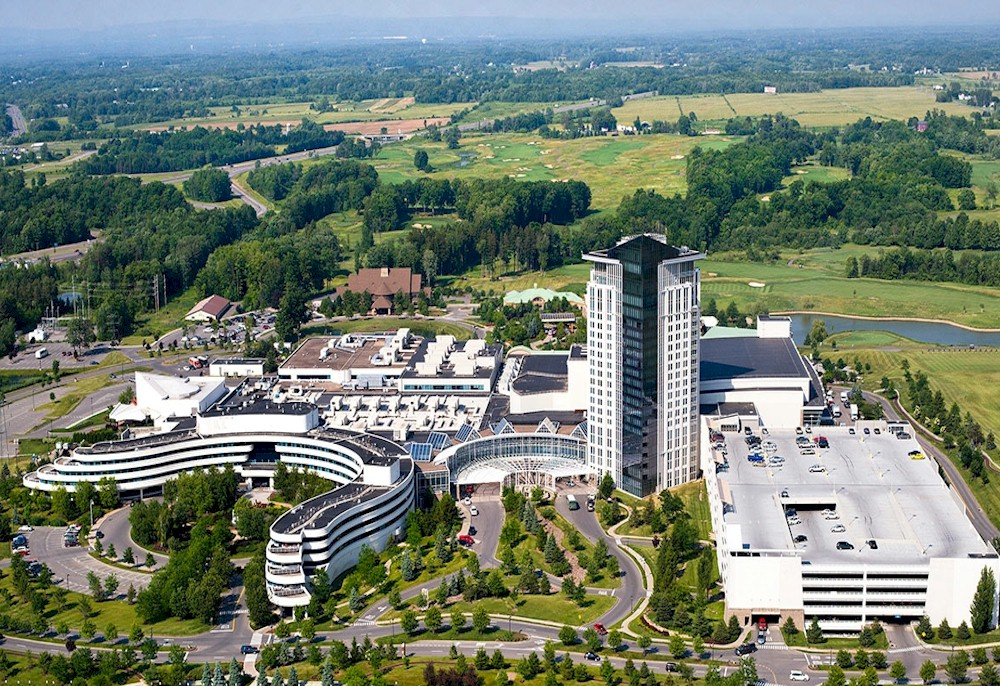 Aerial view of Turning Stone Resort Casino, New York.
A New Horizon for Group Meetings and Events
Of course, securing meeting spaces to the highest standards of health and safety is just part of the equation for hotels and resorts seeking to reinvigorate group meetings post-pandemic.
Located in the heart of New York, Turning Stone Resort Casino has long served as a meetings destination for a wide variety of businesses and organizations that expect the highest quality of services. We did not lose sight of this, and as part of our overarching "Best Never Rest" campaign, our resort used the downtime over the past year to fully renovate our most sought-after spaces for meetings and gatherings to enhance experiences even further.
For professional functions, we've made significant updates to our corporate meetings spaces with new features, state-of-the-art technologies, and format options for fully interactive and hybrid-style meetings. With remote working here to stay, these updates include new audio-visual capabilities that seamlessly allow for remote members to join and feel as if they are directly in the room. To make all events and meetings stress-free and safe for all attendees, they are serviced by on-site staff and dedicated IT and AT teams for immediate assistance.
We have also added new meeting spaces throughout the resort and expanded existing areas to accommodate varying group sizes and needs. Going further, we have supported these spaces by also adding new amenities that are convenient and complimentary to guest experiences.
For instance, we've created an all-new Executive Boardroom, complete with floor-to-ceiling windows overlooking natural green spaces and 24-hour concierge and room service. For after-meeting drinks with colleagues and friends, we've added a new upscale bar in the nearby atrium of our top lodging venue.
After a year of staggered scheduling and working remote, hospitality event planners have noted that many businesses and organizations are eager to re-strengthen their teams through group and corporate bonding experiences. With the resort operating under comprehensive and venue-specific safety procedures, we have sought to welcome these groups back to greater team experiences than before. Our planners have found our wide range of amenities helpful when working with groups to schedule and organize events. Depending on the occasion, groups are drawn to making use of our spas, year-round golfing, numerous dining and night-life options, and even fishing outings.
To show businesses that hosted group meetings are back in style, our interior decorating teams have renovated event spaces with the latest in contemporary designs, including new carpeting, seating, draperies, fabrics, and more. Additionally, we have focused on revamping venues built for other types of group events and large gatherings.
We are currently transforming The Showroom, our premier entertainment venue for concerts, comedy shows, and a variety of live performances. Guests will be able to enjoy a live show of their favorite artist with all-new seating, the latest sound-design capabilities, and updated theatrical lighting. Similarly, we are completing an extensive refurbishment of The Shenendoah Clubhouse, our signature wedding venue for hosting weddings, wedding receptions, and other elegant gatherings. Most recently, we announced our new buffet-concept 7 Kitchens, a market-style buffet that will offer a robust menu across seven diverse stations and numerous types of cuisine.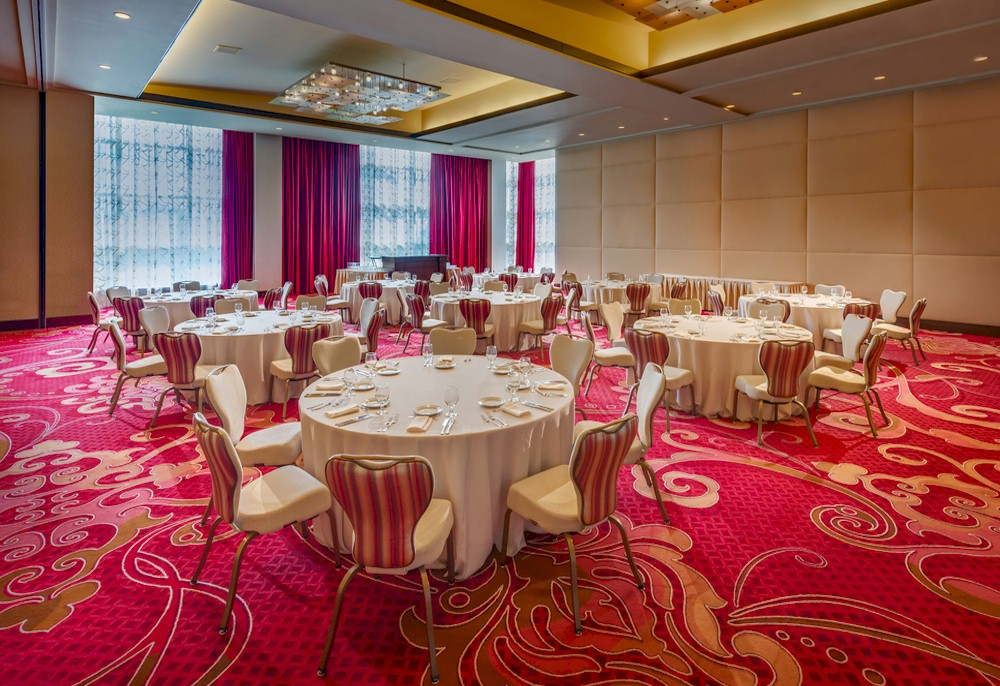 Cypress Rooms -- newly renovated event/meeting space for mass events, conferences, and more.
Making Critical Investments Now
Our focus on updating and adding new features to these meetings and event spaces has resulted in a near total transformation for several of our venues.
Through the process, we have followed our guiding mission to become the leading resort every day, always striving to offer better experiences to accommodate guests and groups longing to get back to normal. While none of us in the hospitality industry can predict how long the pandemic will continue, or how it will further affect our market, or how it may ultimately change other aspects of our entire society – we believe taking this type of proactive approach is an important step for pushing our industry forward.
Even as we continue to navigate the unknowable challenges ahead of us, hospitality establishments can, and should, position themselves to take advantage of the noticeable pent-up demand that the world shares for our services. By planning and making critical investments in the near-term, establishments can be ready and fully prepared to meet that demand when it comes roaring back at breakneck speed.
HotelExecutive retains the copyright to the articles published in the Hotel Business Review. Articles cannot be republished without prior written consent by HotelExecutive.