The Power of Three Hotels: Constructing One Collection
By Tom Wolf Managing Director, A Seattle Collection, Hyatt | December 2022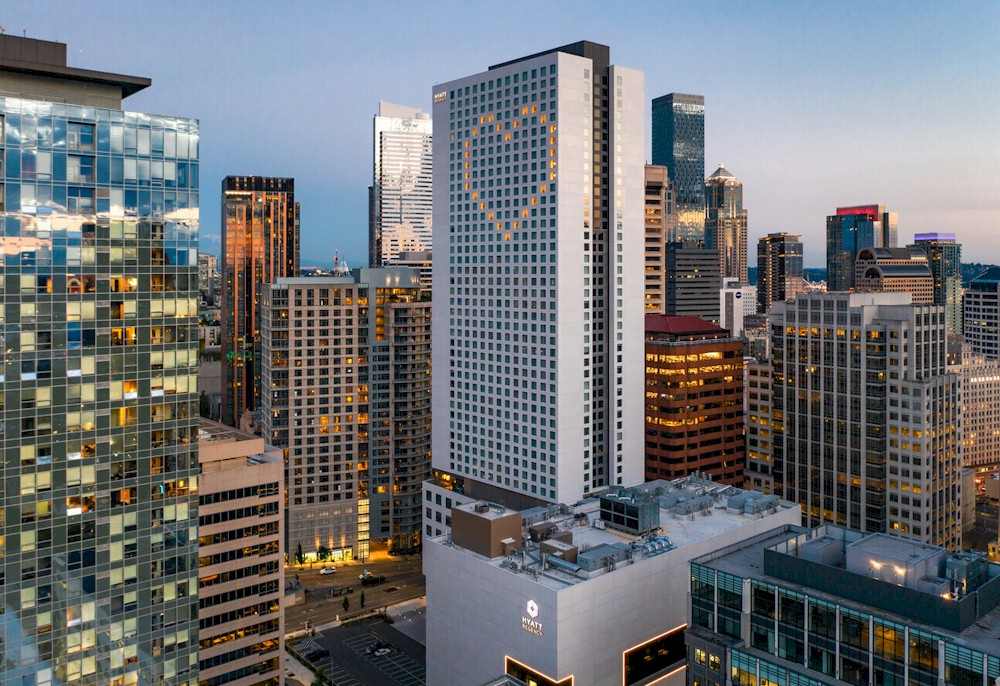 Combining two hotels in the same vicinity into one operation isn't a new concept. Hotels often do this as it makes a lot of sense, resulting in greater productivity, strategic advantages and greater efficiencies that a single hotel cannot provide on its own.
By working together as one unit, you're able to share staff members across both hotels and in-house restaurants, offer guests amenities from either establishment and fold multiple systems, like finance, operations, purchasing, marketing or human resources, into one.
While this has been done with two Hyatt hotels before (including in San Antonio, Denver and San Diego), A Seattle Collection was the first to do it with three hotels.
When the 1,200 room Hyatt Regency Seattle was being built within a block of the Grand Hyatt Seattle and Hyatt at Olive 8 years ago, we had the idea of consolidating all three hotels into one overarching complex-A Seattle Collection. Not only had three properties never been complexed before, but this consolidation would also be the largest due to the size of the Hyatt Regency Seattle. This normally would have taken a few years to get underway and been tough to execute. We would have had to downsize three hotels running full force with high occupancies and fold many of the positions together.
However, when the COVID-19 pandemic unfortunately temporarily closed two of our hotels (both Hyatt Regency Seattle and Hyatt at Olive 8 closed, but Grand Hyatt Seattle remained open throughout the pandemic), we knew this was our chance to start from scratch and reopen with the new collection concept. And because we had a single owner for Hyatt Regency Seattle, Grand Hyatt Seattle and Hyatt at Olive 8, we were able to actually make this happen fairly quickly.
Exterior: Hyatt Regency Seattle as seen from the Seattle skyline
Behind the scenes, it took a lot of time, energy and effort to get this together, but our guests have only seen the benefits from the complexing. Because of the consolidation, our patrons are able to access and customize their experience at any of the three establishments. They can try any of the restaurants (including Hyatt Regency Seattle's Andare Kitchen & Bar, the 24-hour Regency Market, Hyatt at Olive 8's TIDAL+ and 08 Bagel Shop) while still charging their meals to their room number. They can go to the Elaia Spa and indoor saline lap pool at Hyatt at Olive 8, work out at Hyatt Regency Seattle's modern gym, hang out on Regency Club rooftop, view the hand-blown glass and artwork inspired by Seattle's landscape at Grand Hyatt Seattle or grab a bite at its steak house, regardless of the hotel they are spending the night at.
The real benefit, though, is with larger meetings and groups that are staying with us. Having A Seattle Collection allows us to offer a one-stop-shop for all events. Everything Hyatt Regency Seattle, Grand Hyatt Seattle or Hyatt at Olive 8 offer is at our fingertips, so we're able to accommodate large blocks of rooms, event spaces, food and all our amenities spread across all three hotels. Having this complex with an array of amenities, restaurants, rooms and event spaces allows us to meet every single one of our guests' needs.
This change has also been a real benefit for our entire staff at the collection. They get better job security and can spread their hours between Hyatt Regency Seattle, Grand Hyatt Seattle and Hyatt at Olive 8, guaranteeing a full schedule, as well as more flexibility when they need to take time off. We have noticed that people also just like to get out of their routine by not working at the same hotel every day. We have found that the collection has also opened up career opportunities for many of our staff members. Someone can now take a promotion at any of our three hotels when a position becomes available, and people in leadership roles are provided the experience of working for one of the biggest and most dynamic operations in the country.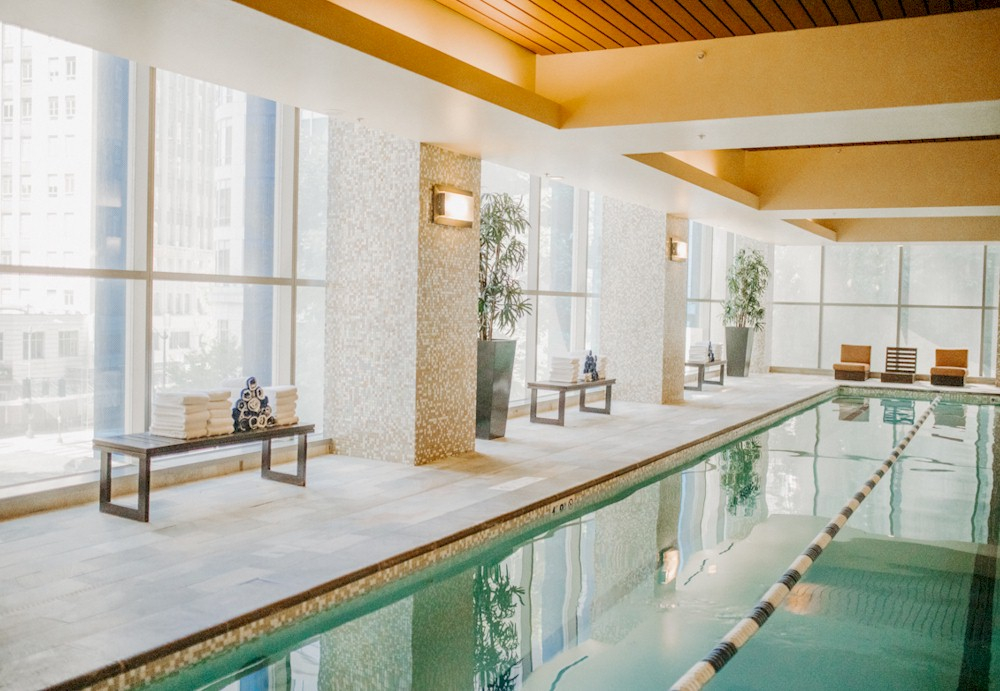 Guests can dive into Hyatt at Olive 8's naturally treated, indoor saline lap pool, while enjoying relaxing views of Seattle city lights.
Combining the three properties was no small feat, and we faced challenges at every step along the way. There were significant legal, regulatory and tax issues that we had to overcome; however, we were prepared for everything that came our way due to extensive planning and being flexible. We planned what processes could be combined and which ones needed to remain separate. We had to plan how to market and sell to optimize the performance of the collection. We had setbacks on the name of the entity and what we could call ourselves. Even smaller things, like making a switchboard work across multiple buildings for customer phone calls, was a struggle.
However, the biggest challenge was making this collection work for the staff and the three distinct brands. The reality is that Hyatt Regency Seattle, Hyatt at Olive 8 and Grand Hyatt Seattle had been working competitively against each other in the past as individual hotels, but for this to be successful, we had to get everyone thinking and working as one cohesive team for an optimal performance.
Building a sense of family was important to us but asking the staff from each hotel to optimize and work as a team is no small request, by any means. Many of them have been working at their distinct properties for years. One of the ways we have approached this consolidation is that we measure success as a complex, so no one property is singled out for any achievements. We also move our scheduled team meetings from hotel to hotel, so we're not favoring one property over another. It's all about optically building one team, one family and ensuring everyone feels equal regardless of the property which they are assigned.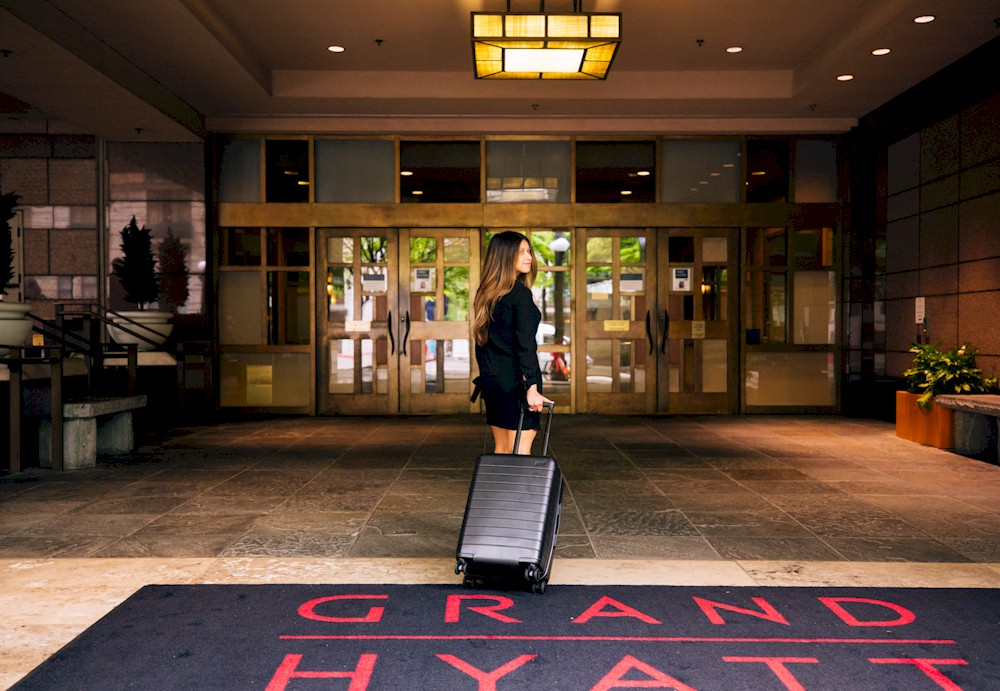 Only steps away from top downtown Seattle destinations, Grand Hyatt Seattle offers the best of both worlds.
The biggest mistake that we could have made would have been to lose the individual brands in this process. The intent was never to create one big 2,000-room A Seattle Collection hotel and lose each hotel's identity, as we always encouraged each property's uniqueness. Each brand offers a distinct experience that our guests have come to expect and appreciate. For example, Grand Hyatt Seattle is more luxurious and meant to deliver an upscale experience for a certain audience, Hyatt at Olive 8 is more of a boutique hotel experience catered to an urban-savvy traveler and young families and Hyatt Regency Seattle is mainly built to accommodate large group and meeting business.
Each one of these properties have their own specific clientele and brand standards. To keep the brands distinct, we committed to maintaining the identity of each of these three properties and trained staff to work in all three establishments. Employees know the protocol for each hotel and customize the guests' experiences accordingly, including things like wearing the correct work attire per property, knowing the menus and signature items at each restaurant and providing the appropriate concierge services depending on property. This lets us keep guests' experiences unique and in line with their expectations at each hotel.
Although the seed for A Seattle Collection was planted many years before Hyatt Regency Seattle's opening in late 2018, COVID-19 accelerated our original plans to create this complex, and it allowed us to bounce back from the strain of the pandemic much faster than we originally expected we would. By having two of the three hotels closed during the height of the pandemic in 2020 and 2021, we were able to move much quicker to consolidate the three properties into one larger collection. With employees trained across Hyatt Regency Seattle, Grand Hyatt Seattle and Hyatt at Olive 8, we were able to operate at a fraction of what our pre-pandemic staff operated at.
Even currently, we are profitable at only a 35 percent occupancy rate, which we've never been able to do before. It's hard to imagine where we'd be and what would have happened if we hadn't consolidated the three hotels during the height of COVID. However, because of the current state of the pandemic, we haven't even scratched the surface of what future results we can expect to see from this complexing.
Creating this complex has allowed us to tap into the strengths of Hyatt Regency Seattle, Hyatt at Olive 8 and Grand Hyatt Seattle while also promoting them collectively as one collection. It took us a lot of work to get to where A Seattle Collection is today, but we'd certainly do it again in a heartbeat due to all the benefits we've seen.
For this to really be successful, I will only recommend forming a complex if all your hotels have the same owner, as this allows the most flexibility for profit flow. When you have only one owner for all the hotels, it doesn't matter where the profit comes from; all the hotels are working together and it all flows into one spot, and this really allows all three establishments to thrive equally. If this is the position you are in and are considering creating a coalition across properties, I would absolutely recommend this to improve your business.
HotelExecutive retains the copyright to the articles published in the Hotel Business Review. Articles cannot be republished without prior written consent by HotelExecutive.