Connecting Travelers and Local Communities Through Hotel Design
By Casey Scalf Director of The Society, The Society | November 2023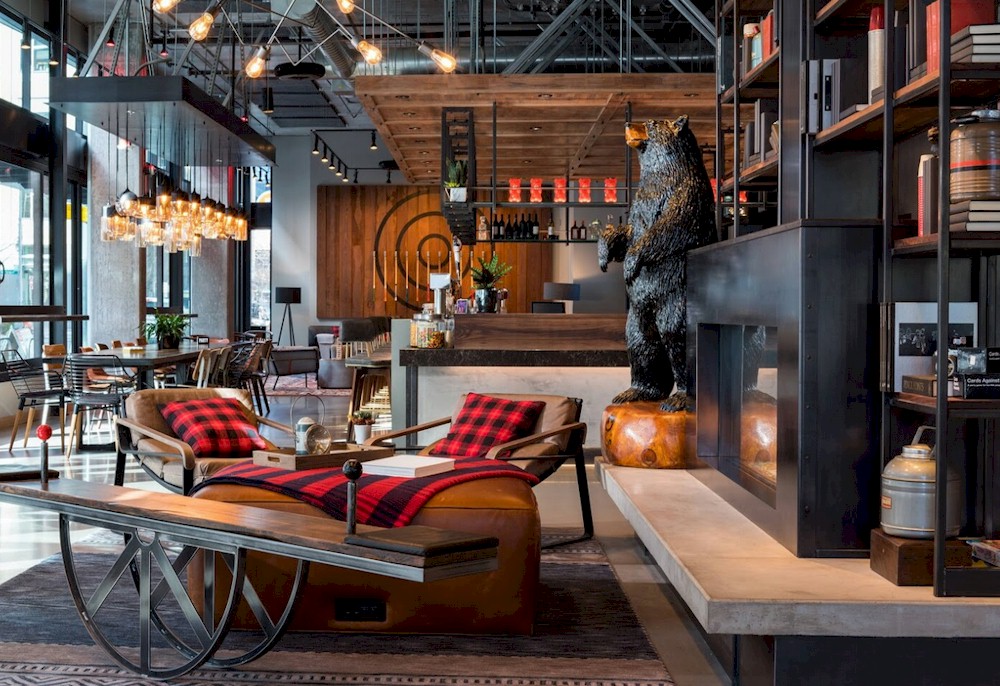 The travel industry has seen a sharp increase in bookings both abroad and domestically.
With more travelers planning trips, jet setters are looking less for "touristy" experiences and more for authentic stays that focus on the local culture.
Today, the favored hotel experience is one where guests feel most connected to their local surroundings; something hoteliers and designers must keep top of mind when working on hotel and resort projects. Whether that's by partnering with local craftsmen and artists for bespoke design pieces or incorporating F&B components that are synonymous with the regional cuisine, guests are after experiences that embody the local flavor. By tapping into the locality of the property, hotels can connect travelers with the surrounding environment and keep their culture alive through thoughtful design.
Telling the Locals' Story in Hotel Design
Hotels have great storytelling potential, engaging guests from the moment they step foot inside. When executed correctly, visitors are able to feel a deeper connection to where they are staying through subtle and hidden moments found inside the property, such as nods to the location's history, culture, and people that unpeel the layers of the hotel's backstory. It may even entice local residents to learn "nuggets" of a property's storyline that stands in their neighborhood. While not all connections between the decor, history, and culture of an area might be obvious, those subtle nods to the community make the design narrative that much more exciting to explore and create a more immersive experience for visitors.
At The Slate Hotel in Denver, Colorado, the design brings what used to be the Emily Griffith Opportunity School back to life, tying in many references to the building's past. Elements weaved into the concept included textbook wallpaper in guest rooms, arithmetic-derived carpet patterns, chalkboards behind the reception desk, and books integrated into the lobby bar.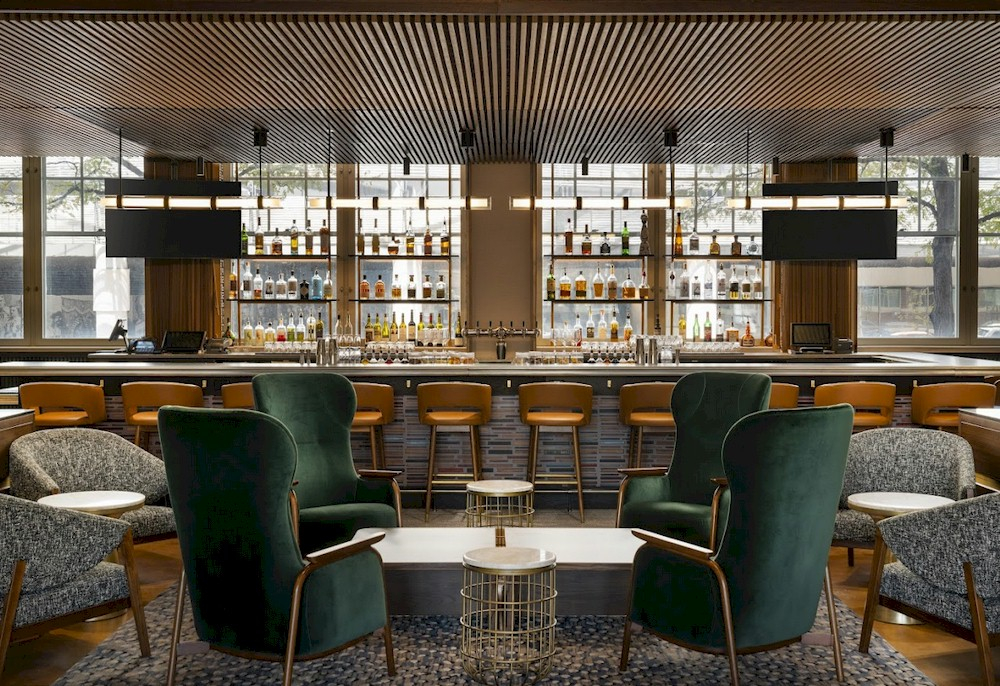 The Slate Hotel's lobby in Denver uses textbooks in its welcome bar to allude to the building's history as the Emily Griffith Opportunity School, a local institution that was dedicated to providing Denverites with access to education throughout the 20th century.
Infusing Hospitality Design Into Local Environments, History, and Culture
In order to capture all facets of a locale, it's essential that hoteliers and designers start by researching the unique characteristics, traits, and idiosyncrasies that make up the location. From there, the next step is to brainstorm ways of drawing out highlights in the findings that will best paint the local region, city, or community's picture for guests to view, learn, and explore. Properties differ where guest rooms at one hotel may feature many details to reflect regional attributes while the lobby and other public spaces may showcase abstract or broader vernacular themes tying to the local vibe.
The opposite can also be true in that a property may want the overt - a more impactful concept to live in public spaces while letting guest rooms quietly reflect the narrative. No matter which strategy is put into play, there are many possibilities to explore. By pulling from a property's culture and history, it is much easier to link aspects of a space to a theme without being too vague.
Amenities to Engage Both Hotel Guests and Locals
When travelers plan a hotel stay, they want a personalized experience filled with amenities that will keep them on the property. This is also true to entice locals into the hotel, but first, the project team has to conduct their own research to see what will draw people in. At the project onset, hoteliers and designers must work to identify program gaps in the current market to understand what will lure locals to spend time and money inside and keep guests entertained onsite.
Research helps to identify holes in the local market and see what is lacking from venues to host both intimate and large events, food offerings, wellness spaces, and other amenities. Incorporating meeting spaces, pop-ups, areas with rooftop views, and food and beverage offerings with celebrity or up-and-coming chefs can often bring the crowds in while also increasing ROI for the property. Thinking beyond food offerings and meeting areas, designers should also think about spaces that entertain and engage outside of the usual amenities like private karaoke rooms, airstream food trucks, recording studios, and business lounges. By evaluating what the community currently has and what it may need, project teams will know what to implement in order to best serve the neighborhood and those coming for a visit.
Hotel guests and locals need to be impressed from the moment they step onto the property and into the amenity spaces. Ensuring that the onsite restaurants, bars, and other F&B spaces offer up something unique that is still tied to the location is an effective way to get locals to return as well as travelers, even sharing their positive thoughts about the hotel and its offerings through online reviews. Furthermore, having a narrative woven into a hotel's design can encourage conversations between guests and local residents. Bonding over a region's traditions and history when it comes to food, drink, culture, and art is the best way for travelers and local residents to connect.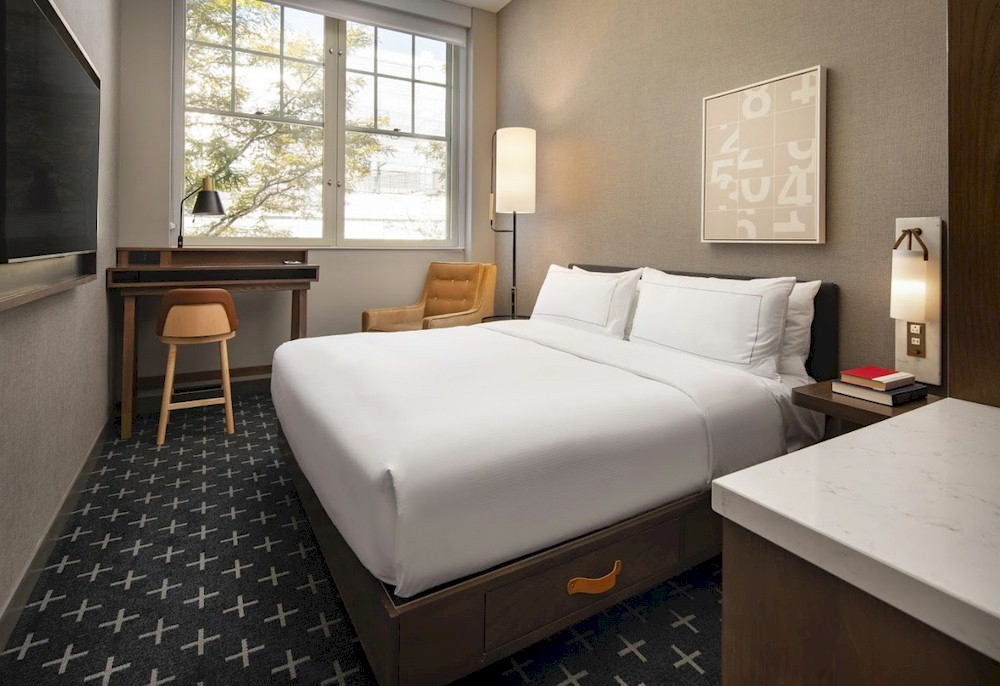 Arithmetic patterns found in the artwork and carpeting of the standard king guest room reference The Slate Hotel's academic past as the Emily Griffith Opportunity School.
Products and Pieces that Tell the Narrative
Guests are more inclined to return in the future when the hotel welcomes them from the moment they walk through the entrance. It's essential for project teams to activate the ground-floor lobby with authentic and unforgettable details woven throughout. The weaving of the locality of the property begins by looking at the floor plan to determine where to be intentional about bridging connections to local associations and significant landmarks.
Picking the right areas to showcase the design narrative is integral to establishing those connections in an authentic manner. The layout of the lobby is key as it should orient guests in a way that opens their eyes to the thematic storyline, even if they don't pick up on all the details on the first walkthrough. Having all the thematic components connected to build out a cohesive story regardless of which detail they notice first, leaves guests in a curious state with a great first impression of the space.
When selecting color palettes, textures, and lighting, it's also crucial to rely on the spirit of the site's surroundings and the narrative to inform unique design decisions. Incorporating a sense of locality should be intentional as it creates a one-of-a-kind experience. In some instances, it might be manifested in a subtle way for the guest to experience subconsciously, while other times, it is an obvious expression. Whichever way it is executed, the regional flavors added to spaces should be thoughtfully considered during the design process. The narrative that is woven into the design guides a lot of that decision-making process as well. Thoughtfully placed materials, finishes, and color palettes inspired by and resulting from native plants, regional history, and other idiosyncratic elements of an area can be informative as well.
Art is another creative way to showcase and represent the community's heritage. By prioritizing, featuring, and collaborating with local artists whenever possible, the story and theme designers are telling becomes much more apparent. Because local artists are more intimately familiar with a location, they are able to portray the intricacies of the local character and history in an effective, respectful way. Project teams often seek out local artists who have a style and perspective that enforces the design narrative and introduces them to art consultants. The key to success is having a clear tie between the design narrative and the final work - staying local as much as possible.
Food and beverage is undoubtedly a key element that can be brought into a space's design to help evoke a sense of place and immerse guests into local culture. The quickest way to grab a guest's attention is by providing them with interesting and unique food and beverage options that bridge the region's history and culture together. To reinforce the local culture in the built environment, bringing it onto a menu can also make local residents feel invested in a hotel as they may connect with their own history and traditions. As a mechanism of design, hoteliers and designers should lean into the unique stories of the community. At Moxy Asheville, seating inspired by a weekly drum circle event that takes place downtown was heavily featured. Acting as a reference that ties into local culture and serves as a conversation starter for guests, this design element allows them to learn about the way the Asheville community comes together to participate in a local activity.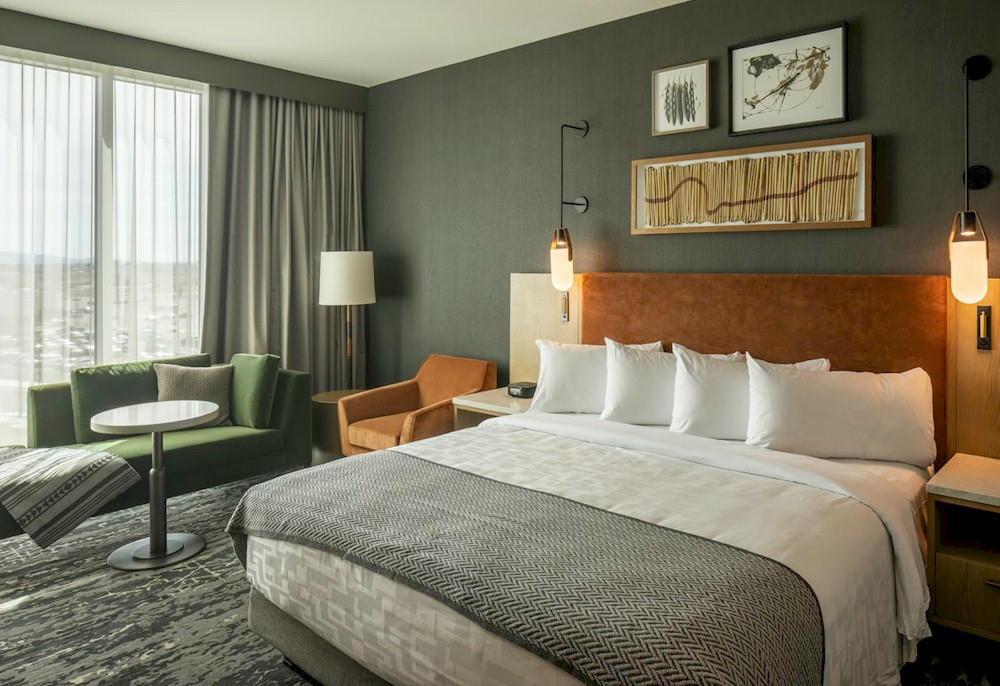 Local connections in Washington State's Northern Quest Hotel & Casino's guest rooms can be seen in the tule mat artwork above the bed's headboard, and the hanging light fixtures that reference 'Pend Oreille,' or 'hangs-from-ears,' a subtle nod to both the traditional jewelry worn by the Kalispell people and the river they journey up every year.
The Challenges of Designing in Local Communities
Designing in local communities requires a lot of research and respect for the residents and the history being told. Honoring the local story and telling it in a way that is true and respectful requires an in-depth exploration to uncover the community's roots. Hoteliers and designers must consider if the story they are trying to tell is even worth telling in the first place. Sometimes, the story or historical fact stumbled upon is so obscure or minute that the community is unable to relate to it. It's essential that the community feels accurately and respectfully represented. That said, project teams must be very mindful and sensitive when depicting the stories and traditions of the residents so they do not feel exploited or taken advantage of.
Typically, the best approach is to find the middle ground. There is a delicate art to finding a balance and creating that cohesive connection between the different levels of depth for a story in order to honor community dwellers while still enticing travelers to come and stay. One solution is to work with local artists, as they can serve as a glue to tie the thoughts, feelings, and sensibilities of the local community together. Local arts and craftsmen can ensure that the story is told in the right way, respectfully, and effectively.
Every location is unique and offers hoteliers, designers, and architects the opportunity to tell the story of its storied past, culture, and people. A compelling design weaves in the richness of a property's surroundings, giving both the area's visitors and locals the chance to pull back the design layers and uncover a captivating story.
Main Image: Moxy Seattle Downtown's welcoming lobby is filled with local connections – most notably one tied to Washington State's rich outdoor exploration.
HotelExecutive retains the copyright to the articles published in the Hotel Business Review. Articles cannot be republished without prior written consent by HotelExecutive.