7 Evolving Trends That Are Reshaping the Hotel Experience
By Mary Cook President & Founder, Mary Cook Associates | November 2023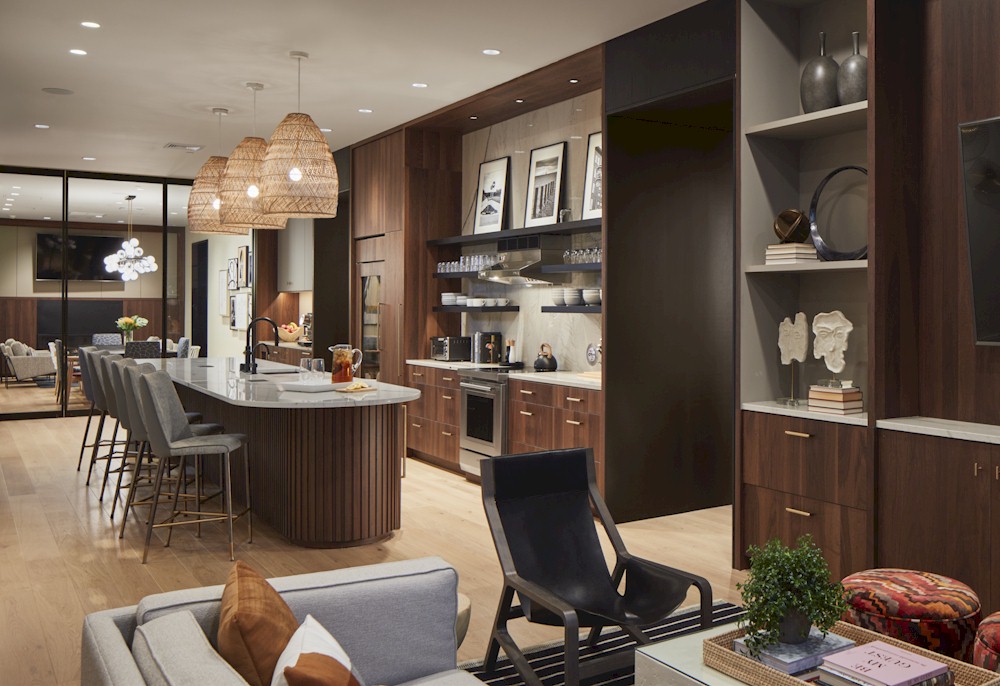 What do we mean by the word "trend?"
A trend is an idea, activity, philosophy, or action that's constantly changing over time.
It's a general shift in the direction of behavior, that's developing and becoming increasingly common. Whether it's fashion, design, aesthetics, products, or anything else, people make trends, and they reflect their psychology.
There are uptrends, downtrends, and horizontal trends. Trends can be seasonal, cyclical, or irregular. They can be inspired by advances in technology, product innovation, economic news or conditions, demographic shifts, pandemics, and more.
Lifestyle trends and preferences, travel, work, and design trends, wellness and fitness trends, F+B trends, and cultural and sustainability trends are each fundamental. They're compelling to watch as each reflects the ever-changing needs and preferences of the people we design for. These 7 trends underscore how people experience various spaces, what elevates their experience, what streamlines their efforts, and what ultimately provides a sense of well-being.
1. Assuming Office - Hybrid Work Normalizes
Due to the pandemic, advances in technology and a forever changed work paradigm, hybrid work is here to stay. According to Forbes, as of 2023, 12.7% of full-time employees work from home. Simultaneously, 28.2% of employees have adapted to a hybrid work model which offers flexibility while maintaining a level of presence at the workplace. By 2025, 32.6 million Americans will work remotely suggesting a continuous shift towards remote work arrangements.
Lobbies, lounges, F+B venues, and outdoor amenities should be adaptable, flexible and highly functional to accommodate this remote worker. Expect guests, locals, and all visitors to be working while sitting, walking, working out, and dining at least some of the time. Keep in mind that working remotely and meeting remotely are two different things so design separately for each.
Business travel is making a comeback and BLEISURE is said to be its future. As the lines between work and life blur, so are the distinctions between business and personal travel. During this hybrid of business and leisure travel, companies may include tourist experiences as part of a team building effort for employees or to enhance the overall travel experience. Or business travelers may choose to extend their stay and explore the destination once their work engagements are done.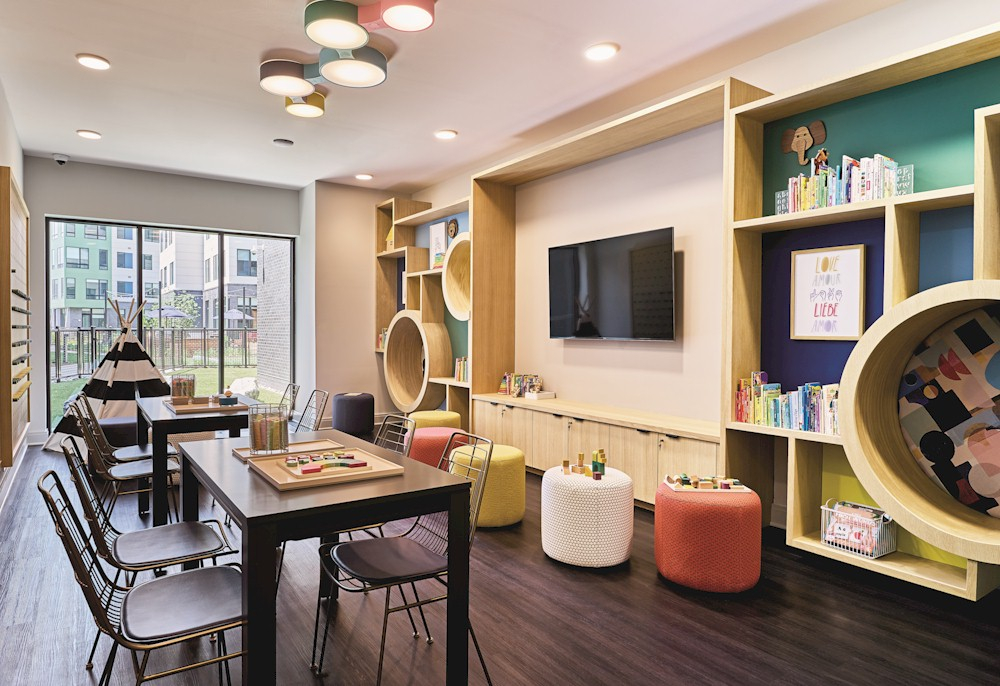 A kid-focused activity room offers fun for the whole family on a Bleisure travel experience.
Digital nomadism, which surged post-pandemic, is mostly seen among millennials with an average age of 32 years old. They're online workers, freelancers, or entrepreneurs with a lifestyle of traveling as they work. As they age, and as life on the road living from a backpack begins to pay its tolls on health, relationships, fitness, and other interests besides travel, the trend may be losing some of its allure.
2. Experience This! Experiential Tourism Expands
Travelers getting tired or bored of cookie-cutter vacations in touristy hotspots are now looking for authentic experiences and are open to new adventures. They're looking for meaningful trips that enable true connections with local communities and destinations. In response, hotels are reaching out and forming community partnerships with specialty service providers and venues, then curating custom stays that include VIP and meaningful experiences.
Tim Plamondon, Director of Sales and Marketing for The LaSalle Chicago, Autograph Collection, incorporates curated Chicago experiences into guest stays, including a "VIP Foodie" experience at Esme and Proxi, priority admission to the new Color Factory at Willis Tower, and growing partnerships with wellness experiences like AIRE Ancient Baths.
All experiences work like booking a room, except guests are booking an experience with all the details taken care of and embedded in the stay. They're creatively marketed as Getaways, Escapes, or Meaningful Experiences. Bucket list trips have also made a comeback.
For short term or last-minute options, ResortPass is a popular app that gives travelers and locals access to hotel and resort amenities for the day at rates typically between $25.00 - $75.00 with options like cabanas or services available for additional costs.
3. Beyond Fitness - The Wellness Revolution
Wellness and fitness remain top of mind with all demographics. According to Tim Plamondon, the important post-Covid shift is the priority focus on wellness not just fitness. "Prior to the Covid shutdowns, both business and leisure travelers were looking to replicate their at-home fitness experience," Tim says. "Post covid, guests are looking for a different, better fitness experience than what they have at home. It needs to be travel worthy!"
At the LaSalle Chicago, wellness experiences like complimentary guided meditation on Wednesday and Saturday mornings and Sound Bath sessions in its Ballroom help support mindfulness and elevated wellness during the stay.
Some hotels list in detail the specific state of the art fitness equipment available together with the quantities of each equipment type. Even more in demand than fitness and endurance amenities are wellness focused experiences with the main purpose of achieving and promoting a sense of well-being and balance. This trend includes Spa services promising rejuvenation and restoration, yoga, and meditation, as well as experiences that provide a chance for personal growth by expanding one's horizons, learning a new skill set, immersing in community, and fostering socialization.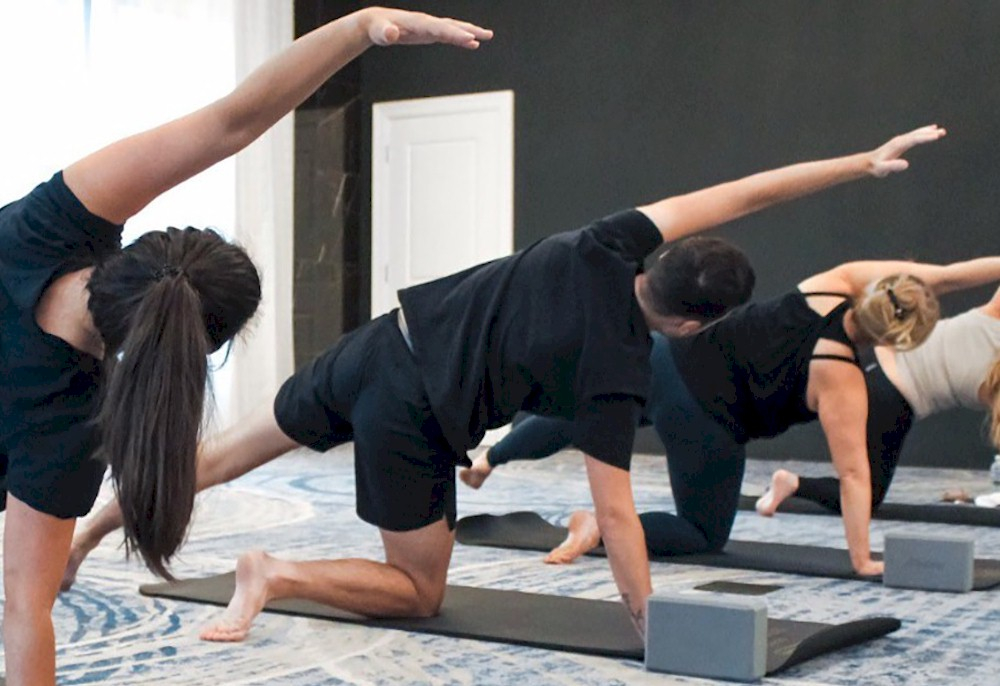 Guests at the LaSalle Chicago enjoy a restorative yoga experience.
4. The Great Outdoors
Since the rooftop boom of the early 2010's exploded, we've only increased our desire to have a seat outside weather permitting. Fresh air, natural light, a cozy fire, beautiful sunsets, dramatic skylines, great holiday card or Instagram backdrops, and incredible views have all provided elevated, memorable experiences. I recently took my family to a prestigious roof-top destination in Chicago to capture a photo for our holiday greeting card. The iconic Wrigley Field and Chicago Tribune building created a beautiful backdrop.
As always, there are lessons to be learned and details to improve as we watch and learn over time. With close to 40 open air rooftop restaurants and bars to choose from in Chicago, Tim Plamondon shares a few must haves from his experience.
Food and beverage element has to be strong enough to draw people.
Create spaces or moments at the hotel that guests want to post about on social media.
Lighting design and integration is critical for both function and atmosphere.
Protection from the elements is essential. Shade structures with protection from sun and light rain expands the use of outdoor spaces.
Make outdoor space multi-functional with experiences like film screenings or live music.
A well-executed outdoor gathering space packs a lot of entertainment options with a bar, large screen movie viewing area, ping-pong table, bean bag toss, and plenty of comfortable seating.
5. A World of Good – Sustainable Travel
Today's travelers are looking for ways to reduce their impact on the environment as well as support local communities and economies. Sustainable travel experiences offer travel experiences aimed at protecting the environment and preserving it for future generations. Ethical tourism, active ecotourism, and sustainable tourism are expected to grow in popularity. Led by an experienced guide, sustainable tourism does more than protect the environment. It allows travelers to connect with local communities and positively impact their cultures and economies.
Eco friendly accommodations ranging from LEED Certified urban hotels to glamping in the wild offer a variety of options focused on sustainability. Be sure to look for the Green Key label when choosing accommodations to verify its sustainability practices.
Trips that explore destinations on foot or bikes as well as public transportation options like taking the train or bus vs driving or flying to a destination are additional eco-friendly choices. In addition, many hotels and resorts are now implementing recycling programs and water and waste reduction features. Reducing single-use plastics, a major environmental concern, is another priority.
6. Digital Socialization
The partnership between the hospitality world and social media is nothing new. We've seen the power a single photo can have when posted by an influential guest, and that power continues to grow as we transition from still photos to video. Across a variety of social platforms, people have shifted from the world of photographs, meant to capture a moment in time, to video, meant to capture an experience at a certain time and place.
This shift in content type shouldn't go unnoticed, especially as it relates to the operational amenities and/or programming offered for guests. Video allows content creators to go beyond the limitations still photography once posed, and now, a full guest experience can be captured, articulated, compiled, and shared in a matter of seconds. What was once a photograph of your morning coffee, is now an immersive experience for the viewer – the clinking of glassware in the background, the sun shifting behind the camera, the cars honking and splashing against the rainy street.
Video offers more than a backdrop though. It's building a memorable journey that's worthy of documenting. Video has transformed the way content creators are able to share their experiences, and in turn, allows guests to experience that same effect right alongside them. Influencers will often look for the most memorable or notable locations to film, and once shared, tends to encourage guests and followers to reenact that same experience.
These video snippets function as a digital marketing campaign for both the hotel brand, as well as the creator's personal brand. There is a certain sense of authenticity to being let into someone's life via video, as it isn't as easily manipulated or edited as a photo could be. As the power of video continues to mount, design will need to react as well. Video is quick, but we'll need to be quicker to keep up.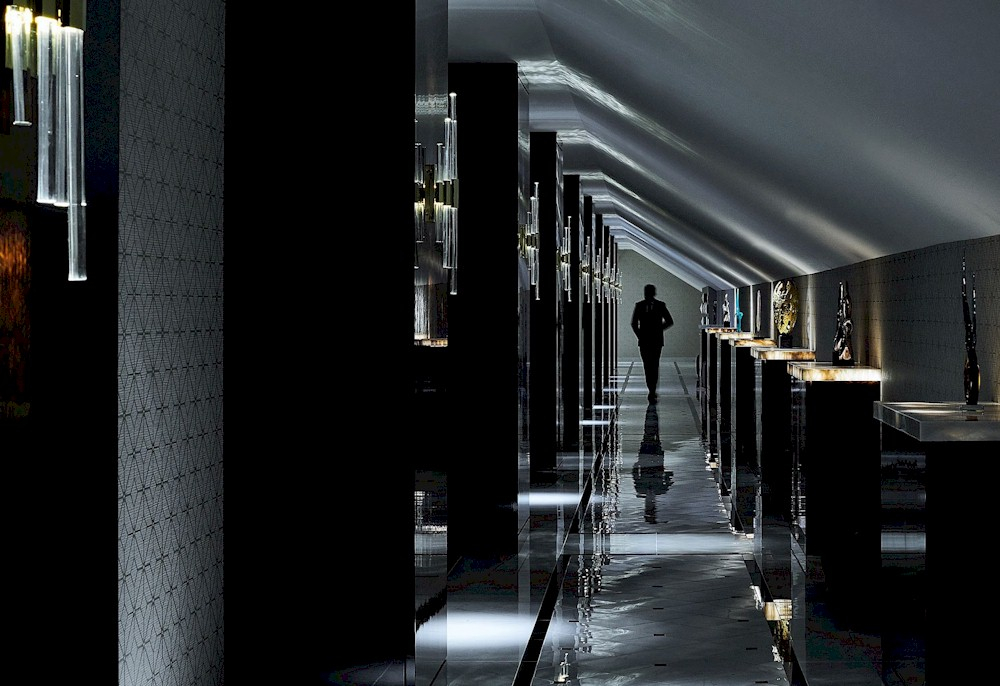 Guests and social media influencers frequent this sleek and sophisticated hallway at the LaSalle Chicago to capture special moments.
7. Me Space vs We Space
Over the past decade hotels, multi-family residential and office space have all participated in an unprecedented amenity arms race. The focus has been on the next big thing for the "We Space." Dualling billiard tables, multiple pools – one for laps and one resort style -- roof top decks, chef's kitchens, concierge services, the latest in technology, entertainment, fitness, or socialization was all the talk. We even installed a beautifully resorted 1964 Bugeye sprite in a bar/lounge. And they're still talking about it 5 years later.
According to Tim, hotels are focusing attention on "Me Space" as well. Amenity-laden hotels will draw guests in and give them an experience to talk about, but spacious guestrooms with plush, comfortable furniture and upscale bathrooms will truly bring road-weary guests back.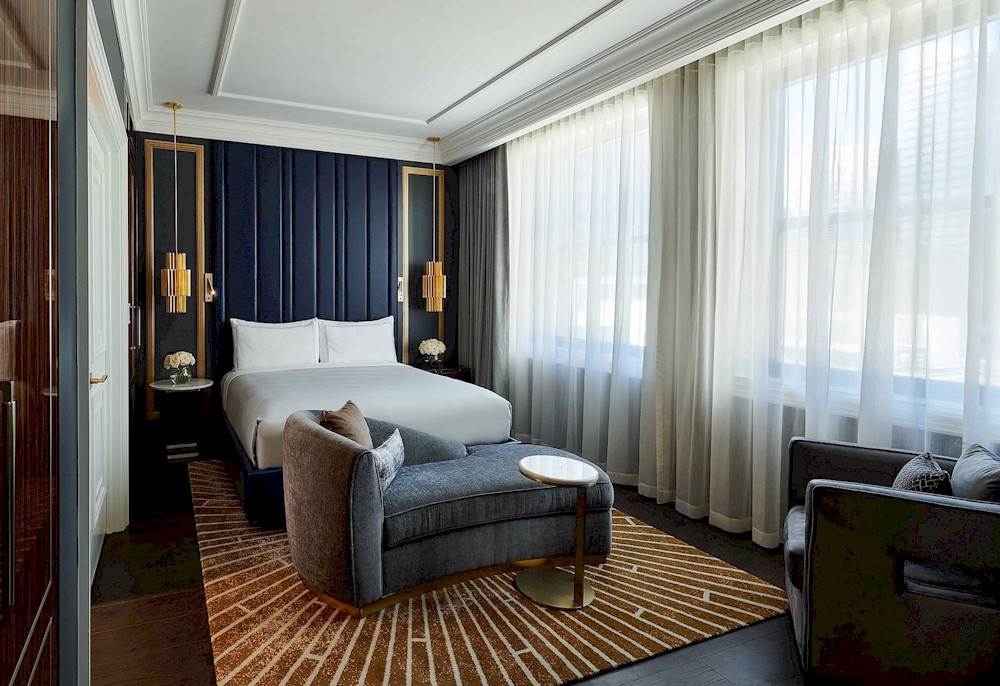 A plush guestroom at the LaSalle Chicago offers a luxurious "Me Space" respite.
The recently opened St Regis in Chicago features Presidential Suites that boast Immersive views of revered landmarks, The St. Regis signature Butler service, signature linens, well-appointed bathrooms, and multi-bedroom options for extended stay families.
A final note on flexibility that bears consideration for each of the ttrends. Most of the travel industry offered flexible policies post-pandemic and the trend is likely to continue. With new Covid strains emerging and uncertainty about their impact in not just the U.S. but international destinations as well, travelers increasingly appreciate flexible options as well as "cancel for any reason" clauses.
Main Image: A unique hotel experience at Kinn Guest House in Milwaukee features a chef's kitchen and intimate dining space that also includes a fireplace and seating area for entertaining.
HotelExecutive retains the copyright to the articles published in the Hotel Business Review. Articles cannot be republished without prior written consent by HotelExecutive.