Hotel Consumers Value the Convenience of Limited-Service Options
By Jodie Tristano Business Development Manager, Technomic, Inc | November 20, 2011
While menu trends at hotel-based restaurants lean toward fine New American cuisine, gastropub specialties and tapas-style offerings in the bar and lobby, when it comes to quick meals and snacks, customers turn to limited-service concepts.
They do so for the same reasons customers visit quick-service restaurants like McDonald's and Subway and fast-casual concepts such as Chipotle and Panera Bread: They know they can get a meal or snack without waiting or needing to pay a tip; the food is portable and easy to eat elsewhere; they are comfortable for families; meals are easily customizable yet inexpensive; and the options are increasing healthful.
Technomic's extensive study of hotel customers, summarized in The Hotel Food & Beverage Consumer Trend Report, included an analysis of their patronage of onsite limited-service options.
More than a third of consumers say they dine at a limited-service restaurant, or LSR, located in a hotel at least once per hotel stay. An equal percentage reports that they visit one occasionally. While consumers visit hotel-based full-service restaurants more often when staying overnight, this is likely due to the higher prevalence of full-service options at hotels.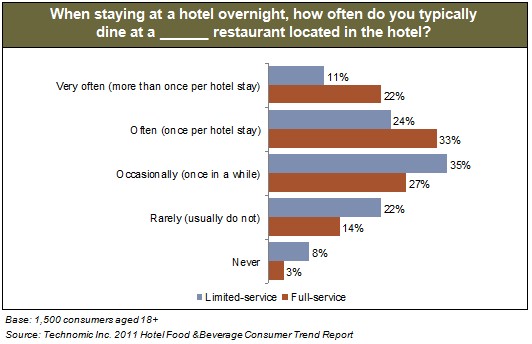 At hotels, consumers visit limited-service restaurants most often for lunch. Nearly half of consumers (46%) report that they are likely to purchase lunch from an LSR located inside the hotel. Additionally, more than two in five consumers (42%) say they are likely to purchase breakfast from an onsite limited-service restaurant.