The Hotel Lobby
By Jennifer Skaife Design Director, DiLeonardo | June 16, 2013
You arrive in it, you leave via it, you meet friends and colleagues there, you linger there, or alternatively hurriedly pass through it. You register, you find your way, seeking direction to successfully navigate the next stage of your stay in the hotel. You encounter a whole list of experiences throughout it and of all the public areas you probably remember it - or alternatively find it as forgettable as any space in the Hotel, and yet what is it really?
Is it simply a 'public' space, a hallway, a passageway, an exaggerated corridor, a waiting room, a hub, a necessary place on the way to your inner sanctum, your private space - your room, or is it a social venue, a bar, a restaurant, a lounge, a nightclub, a breakfast diner, a brunch cafe, a business center, an extension of home, or home as you would love it to be? We now find ourselves being asked to respond to an operational program that includes some, if not all of the former. This mostly, but not always, interior space is now asked to function as all of these some of the time, and by definition is unquestionably asked to function as some of these all of the time. It is the ubiquitous, Hotel Lobby.
Over the recent past couple of decades we have seen many iterations, variations, and interpretations of our design briefs, and program demands, from owners and operators alike, and as designers we have contributed to the same but as I recall it was sometime in the 1980's when the current trend in which we still find ourselves participating, for Hotel lobbies being something more than circulation, registration and the hub for vertical transportation really started - again.
If we look to the grand hotels of the late 19th Century - they certainly offered as much if not more complexity and variety to the guest experience, with lounges and cafes, terraces, often with vast themed, public spaces, offering a clear identity, luxury and sense of place, lavishly furnished and activated by the new affluent upper middle classes, those engaging in the "Grand Tour" in Europe, and in North America exploring the newly discovered and accessible wonders of the great destinations like Yosemite, Yellowstone and the like. Subject for another written piece perhaps.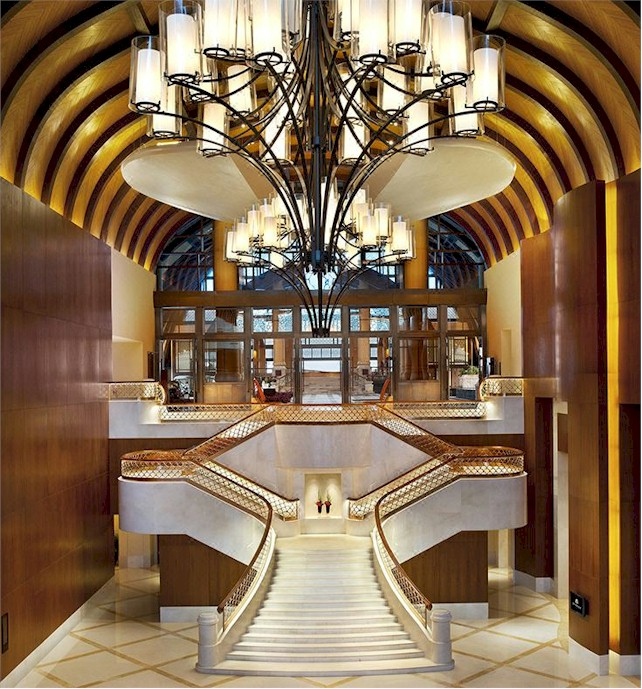 St. Regis Sanya Resort