Differentiation Through Authentic Food and Beverage Experiences
By Melissa Paston Catering Sales Manager, The Kitano New York | August 11, 2013
It is important for a hotel to find compelling ways to stand out from competition. Hotel guests are increasingly more sophisticated in their tastes which is why interesting food and beverage offerings are often a way to differentiate a hotel and provide a memorable experience. One way of being unique is to offer authentic cuisine from a certain region of the world. In the case of The Kitano New York, this involves showcasing food and beverage from Japan.
The Kitano New York is New York City's first and only Japanese-owned hotel. The hotel is celebrating its 40th anniversary this year. Its Michelin-rated restaurant Hakubai specializes in Kaiseki Japanese cuisine, a traditional multi-course meal of thoughtfully balanced seasonal dishes served at carefully timed intervals. It is analogous to new trends in Western haute cuisine as the ingredients are often local and always artfully arranged. The selection of serving dishes compliments the presentation of fresh ingredients. The plates and bowls include fine Japanese porcelain, pottery, and lacquer ware. A Kaiseki meal can be enjoyed on its own but it also can be served in the context of preceding a traditional Tea Ceremony, which is further discussed below.
For those who may not be familiar, a Kaiseki dinner has a set order for the courses that comprise a beginning, middle, and end. The formal banquet begins with an appetizer, clear soup, and sashimi (fresh, uncooked fish) served in succession. The middle of the meal consists of more courses being served. They include a grilled dish, a steamed dish, a simmered dish, a deep fried dish, and then a vinegared or dressed salad. The meal ends with rice, pickles, and tea. Fewer courses are sometimes served but the basic order is still maintained.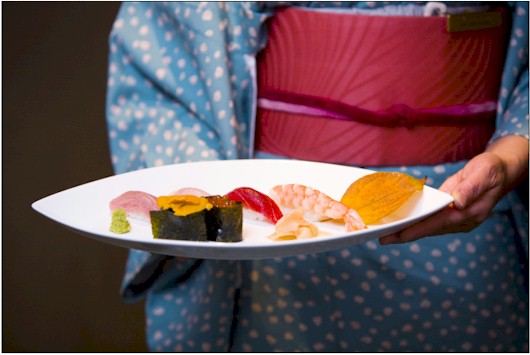 The Kitano is able to incorporate Kaiseki-style dishes into banquet menus in a number of ways. At a cocktail reception, a buffet table can be setup with many small Japanese appetizers in exquisite bowls and dishes. Taste, appearance, texture, and colors of the food are important to the artistry. The appetizers are seasonal selections of vegetables, seafood, and meats that may include items such as house-made sesame tofu, ohitashi boiled green vegetable with fish broth, aigamo simmered duck breast, and others. Pleasing to both the eye and the palate, the 8-10 different dishes presented expose reception guests to Japanese delicacies they may not have tried before.
Sushi rolls are another Japanese food that presents well at a cocktail reception. This offering is popular with guests as it is easy to eat and most guests are already familiar with this type of Japanese food. For a cocktail reception, we estimate that each guest will eat 3-8 pieces of a sushi roll, which aids in our ability to properly plan and reduce waste costs. Sushi rolls work best on a buffet (instead of passed) so guests may choose their selection using authentic chopsticks or tongs. We also provide small plates that include a section for the guests to mix soy sauce and wasabi (Japanese horseradish) to taste. There is additionally room on the plate for guests to sample some gari (pickled ginger), used as a palate cleanser in Japanese cuisine.
Please Login to read the full story, or you can Get Free 30-Days Hotel Business Review
The Hotel Business Review articles are free to read on a weekly basis, but you must purchase a subscription to access
our library archives. We have more than 5000 best practice articles on hotel management and operations, so our
knowledge bank is an excellent investment! Subscribe today and access the articles in our archives.