Checking Out the Competition
How Do You Find Out What Your Competitors Are Up To?
By Simon Hudson Endowed Chair in Tourism & Hospitality, University of South Carolina | November 03, 2013
Every business needs to know what its industry rivals are up to in order to meet customer expectations, stay current, charge competitive prices and be ahead of the game. For hoteliers, this can involve discreet mystery shopping with visits to local establishments or checking out the websites and social media initiatives implemented by direct competitors. For those serious about being the best in their industry, though, the search for new ideas and customer service excellence can go further than the hotels in the same town, to other countries and even other industries.
Visiting competitors seems to be the most popular method of gathering competitor intelligence. Todd Felsen, General Manager of the Cheyenne Mountain Resort in Colorado Springs, visits both neighboring hotels and hotels nationwide to gain insight into the competition. "We do many 'blind' visits of other properties and we also conduct business meetings off-site at competitors'," he says. "Both ways give us great insight. When we meet with our competitive set personnel, the focus is more on destination objectives and lifting the entire region." Other hoteliers are doing the same kind of field research. When Michael Papierno travels he is always on the lookout for areas other hotels are excelling in: "If it something that I can do myself with my team, I will bring it to them and implement it right away," he says. Papierno - General Manager of Viana Hotel and Spa in Westbury, New York - also notes any negative situations and looks at these from the guest's perspective. "I say to myself, is my team doing the same thing? If so, I change it and start training those individuals that might be providing the bad experience," he explains.
Tim Peters, Senior General Manager of The Nautical Beachfront Resort in Lake Havasu City, Arizona, visits local competition monthly, specifically looking for nuances on staff interaction with guests. "I am looking for changes in sense of arrival, communication to guests whether by a personal concierge or via information boards etc," he says. Peters is also vigilant about checking out the competition in different locations whenever he finds himself in resort destinations. "You can never learn enough and I am always looking for ways to bring new ideas back to my resort that I may not find in my immediate market," he says. "Someone is always coming up with new ideas to improve the guest experience and your competition or similar hotels and resorts can provide some great direction in this area. You can never be too old to learn new things from just about anyone."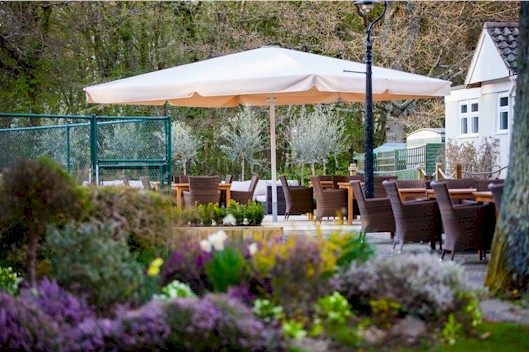 Wickwoods Country Club, England
Lee Goossens is Director of Wickwoods Country Club in the South of England, and considers competitive intelligence to be critical to his business. "We have heads of department for all key areas of our business – the hotel, food & beverage, spa, and fitness – and they are all tasked with keeping tabs on industry trends," he says. "We also subscribe to all major trade-related magazines." Goossens encourages his head chefs to dine on him once every three months in any restaurant they want – "as long as they bring back what they have learned to improve our business," he explains. Goossens wants Wickwoods to be the premier boutique country club, hotel and spa in that part of the world. One of the trends he is noticing is that people are increasingly conscious of the importance of maintaining a fit and healthy lifestyle, seeing it as a necessity rather than a luxury. They also want to be able to socialize and relax with other like-minded friends and family. With that in mind he has invested over $2m in the last year to expand the health facilities in the club.
Managers at the Renaissance Harbour View Hotel in Hong Kong will often visit other hotels for inspiration. "We sit in the lobbies of other hotels and observe whilst drinking tea," jokes Multi-properties VP and General Manager, Karl Hudson. His co-managers regularly visit rival hotels to see what they are doing well. "By drinking tea my meaning is that we are spending money and not taking up potential revenue-generating space of our competitors," he explains. The service focus at Renaissance is on surprising and delighting the guest, therefore it is up to management to devise ever more creative ways to do this.