Innovative Culinary and Wine Scene in the Turks & Caicos Islands
By Nikheel Advani Chief Operating Officer & Principal, Grace Bay Resorts | August 10, 2014
When people think of the Caribbean it's often the crystal clear, turquoise blue waters and powdery white sand beaches that come to mind first. For most, the culinary options are not at the forefront when booking a Caribbean getaway, but this perception is changing and the Caribbean Food & Wine Festival has led the way in making Turks and Caicos an international destination for sophisticated epicurean travelers over the past few years. Our award-winning team at Grace Bay Resorts, in partnership with the Turks and Caicos Tourist Board and The Wine Cellar, is proudly going into its fourth year hosting the annual Caribbean Food & Wine Festival in Providenciales on November 6 - 8, 2014. The festival brings together international chefs and winemakers who partner with local chefs to create a truly memorable, and always sold-out, event focused on the local food and flavors of the island.
We launched the Caribbean Food & Wine Festival in 2011 because we realized the islands' culinary landscape was changing. When I joined Grace Bay Club in 2004 there were only two restaurants I would recommend, but as food and beverage programs became more important to travelers worldwide, Turks and Caicos adapted and now we have over 20 restaurants with talented, award-winning chefs serving the best food in the Caribbean. As such, my partners and I designed a creative culinary experience that high-lights our local chefs and introduces our amazing new restaurants to an international audience. To establish the Caribbean Food & Wine Festival as a must attend annual event among the epicurean set, we knew that we also needed to partner with some of the best chefs and winemakers from across the globe, and that's exactly what we did. The vision and direction of key leaders like Ralph Higgs, Director of Tourism, and Anthony Garland, Co-Founder and Co-Chairman of the festival, has been invaluable in the growth and development of the event over the past few years. Now, just four years later we have gained international recognition with festival attendees traveling to Providenciales from all over the world.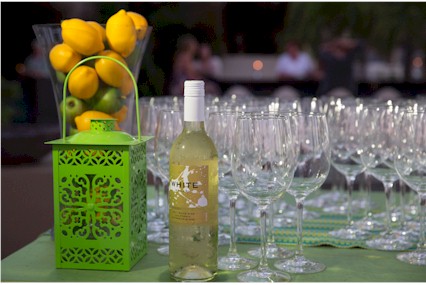 Why the Caribbean Food & Wine Festival is Different
Our festival has three important factors that set it apart from others. The first is our size and focus on creating a boutique festival, even as awareness of the festival grows and we see increased attendee numbers and recognition around the world each year. We insist on keeping our dinners and tasting events small so that all of our guests can interact with the chefs and winemakers directly and learn something new about Caribbean cuisine and the islands. Our goal is for everyone to have a good time, but to also walk away feeling like they really got to know our local and guest chefs and learn something extraordinary. Each year, we offer the most current culinary experience available, always one step ahead of the latest trends, and all in a stunning Caribbean setting.
We place a great emphasis on our local culinary talent. While we invite internationally known celebrity chefs, they are not our only focus. Our mission is to keep the focus on the local culinary scene and keep the event feeling very real and not too over the top. Guests are able to experience the most local cuisine available, like sea to table and farm to table dishes from farms in North Caicos. We want our guests to know they have access to the chefs, and we have found they appreciate the authenticity and unique programming of our festival year after year.