Building Group Meeting Attendees' Need for Technology Into Scheduling
By Katie Davis Director of Sales & Marketing, Le Meridien Chicago - Oakbrook Center | September 20, 2015
We've all been there. First, the finger tapping and darting eyes – will I make it in time? Next, heart palpitations and small beads of perspiration. Oh God, please don't let it happen. Amidst an intense feeling of dread and potential hyperventilation…the unthinkable. The black screen. Push any button you'd like and nothing, I mean nothing will happen. Immediately your mind races, how many important calls, vital e-mails and essential Facebook posts will go un-received, unread and un-liked?? In this unfathomable and unconnected state, one has to wonder…why didn't I plug in at my last stop?
Dramatic? Yes, but not an uncommon scenario. As Pew Research Center study shows, 90% of American adults own a cell phone, 64% of American adults own a smart phone – what does this mean? 7 out of 10 American adults needs to be connected. Mind you, I'm not a mobile technology expert, or a research professional of any kind – but if I were to hazard a guess, I would say that this number drastically increases when discussing the habits of the traveling professional. Travelling professionals need to be connected continually. This connection is central to the fast paced, information age in which we live. Which is why almost every public industry has responded in unison - with BANDWIDTH. Of course your local coffee shop bathes you with free connectivity…along with legal stimulants and classic coffee cake. A pedicure at the local nail salon? Despite a language barrier, you repeat, "I'm sorry, what did you say the Wi-Fi password was"? As I heard myself repeat the words of the receptionist at the pediatrician's office in disbelief "no Wi-Fi"? That's when it hit me. As a hotel professional, I need to make sure that my guests and meeting attendees are able to stay plugged in and connected at all times. Period.
This topic is one of the most discussed, deliberated and revered within the hotel industry. Should it be fast? Should it be free? If I can get free High Speed Internet Access at Starbucks, why would I pay $1,000 for my 40 person training meeting? This question is an oldie, but a goodie. As a convention hotel veteran I can respond as I was trained with…"If you tried to train 40 people in your local Starbucks, the Wi-Fi wouldn't be what you'd expect". To be honest, I've never tested this scenario and would be remiss if I didn't apologize to Starbucks for the years I spent overcoming the objection at their peril. I will say this - connectivity costs money. Bandwidth (the waves that make the Wi-Fi go) do cost money to install, maintain and grow. In the hotel world, as in most for-profit industries, we need to commit to a balancing act of customer loyalty & satisfaction PLUS revenue & profit growth. One thing is true when it comes to HSIA, it must be easy and fast.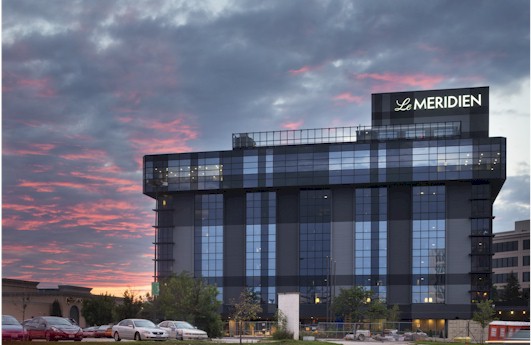 All of this brings me to the topic of this article, how Le Meridien Chicago – Oakbrook Center addresses meeting attendees need for technology. I'm very lucky to represent a brand new hotel – we opened the doors of Le Meridien Chicago – Oakbrook Center on July 31, 2014, after a 1 year and $30 million transformation. Le Meridien is one of 10 distinct lifestyle brands owned by Starwood Hotels & Resorts Worldwide, one of the leading hotel and leisure companies of the world. Established by Air France in 1972, Le Meridien was acquired by Starwood in 2005, ushering in a new era of experience and discovery. As a brand, our mission is to expose the curious and creative minded traveller to the most unexpected and engaging experiences our destination has to offer. In the pre-opening stage of the hotel, there are so many items to do – hire the right people, purchase the equipment and supplies, the list goes on and on. But with this unique hotel brand, the team was also faced with bringing 'the brand' to life. From design and decor to food and beverage offerings, we needed to 'Unlock the Destination'…which means we needed to allow our guests to experience all that Chicago had to offer, both in and outside the hotel.
One area where we were able to activate 'the brand' on property is through our food and beverage offerings. How do food and beverage offerings integrate with a meeting attendee's need for technology you may ask? This's easy – through meeting breaks. As the need to stay connected has grown, so has the need for breaks during meetings. As a trend, there are now 3-5 breaks scheduled within a full day meeting, with refreshments being served at almost each occurrence. Although some meeting attendees will never make it out of the hotel to experience Chicago, our goal is bring a piece of Chicago to them. Catch up on e-mails while building your own local Chicago sausage. Check-in on social media over a selection of Chicago craft beers. Each of these examples fulfills our brand promise to Unlock the Destination, meets the needs of an attendee by scheduling technology breaks and drives revenue for our owners. A true win, win, win.
Please Login to read the full story, or you can Get Free 30-Days Hotel Business Review
The Hotel Business Review articles are free to read on a weekly basis, but you must purchase a subscription to access
our library archives. We have more than 5000 best practice articles on hotel management and operations, so our
knowledge bank is an excellent investment! Subscribe today and access the articles in our archives.