Connecting Guests with their Surroundings
By Tammy S. Miller President, Alternate Resources | November 04, 2018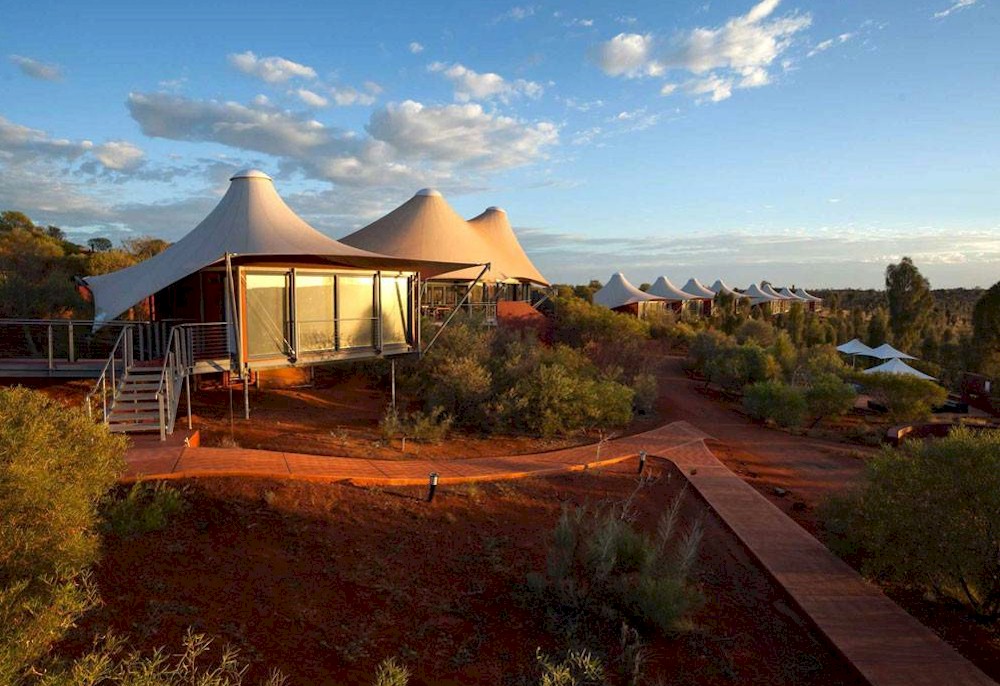 Sometimes travelers want to commune with nature and be right in the midst of it when they step out of their hotel room. With significant competition for getaway travel dollars, design professionals must think out of the box, continue to up the ante and create extraordinary design to attract guests for hotels to stand out. These unique experiences are what adventurers seek when they book travel on safaris, trips to the rainforests, mountain hiking or visiting Iceland to name a few.
A design trend that we are seeing play out in a multitude of creative ways is tying the design of a hotel to its' surroundings, to nature…bringing the outside in and marrying inside and outside to create authentic and naturally harmonious surroundings.
The trend in hotel design is to blur the lines between interior and exterior spaces and connect your guests with harmonious surroundings which is equally as important as personalizing the hotel space to make it original. Designers' should be taking their cues from the locale of each hotel and using their imaginations to create the individuality of each space.
When I take my family skiing in the Colorado Rockies, I am inspired by Aspen trees, snow, hiking trails, natural wood, log cabins, moving streams and the like. I want to breathe the fresh air and feel the crisp night air that makes the starry night brighter than ever before. When I take my family to an island in the Caribbean, I cannot wait for the white sandy beaches and the blues and greens of the tropical waters. My design eye seeks brighter colors, cleaner lines, open spaces clear of clutter, modern artwork, wispy sheer fabrics that billow in the open air spaces.
I am in awe of nature, whether it be in the middle of a thunderous and lightening rain storm or watching the waves crash on the jetties. I like the feel of running my hands over a raw slab of natural walnut in a live edge table, the smoothness of mahogany after it has been hand sanded and polished until it glows, and the roughness of driftwood with all its splintery glory. There is a time and a place to use each material in design and the fun of it is creating the unexpected.
Gone are the days where hotel owners are seeking consistency and everything matching, instead we have ushered in trends of eclectic and natural. It is still important to note that designers can't forget about modern conveniences in their designs, like charging ports, reading lights and working spaces. We all have (or are seeking) a lifestyle of being healthy, communicative, physically active, mind expanding and adventuresome. The places we want to go for our leisure, and even our business travel, have to offer us an experience or why bother going there.
Years ago when I was travelling in Southern California, I stopped at a hotel in Laguna Beach and stayed overnight in a room that was largely only a king size bed but across from the bed was an entire wall of glass including large doors to a small terrace. I arrived at night and I opened the doors wide and slept to the sound of the ocean waves. When I woke in the morning, I was greeted with the most spectacular view of the Pacific Ocean! The hotel was honestly nothing special, but it was built into the side of the cliffs, suspended over the beach with uninterrupted views of the ocean. To this day, when I think about my extensive travel, this experience is one of those that I remember vividly as it was so magical.
My partner recently visited Australia and stayed in Longitude 131° which is a luxury desert basecamp with direct views of one of the world's largest monoliths, Uluru, where the lodge is nestled in the rust-red dunes. The views are exquisite and the spaces with canopied roofs and indigenous artwork make for a unique experience. These types of projects challenge the hotel designer to marry the hotel to its surroundings and blend it with the environment.
When I was a young designer in training, I worked with renowned designer Naomi Leff (deceased 2005), building what started as a corporate conference center with 12 townhouses in Beaver Creek Colorado. Now this property is called Saddle Ridge, but back in 1980's it was built into the mountainside and teams of junior designers culled the local antique shops throughout Colorado looking for "finds" that made this gorgeous place look like it had been there forever. The mountains of Colorado and the ski slopes provided not only the view, but that feeling carried inside and outside of every single space. The hot tubs were built from local stone and you could walk outside with your warm and cozy terry cloth robe and feel like one with nature. Naomi put together an extensive, museum-quality collection of American West antique furnishings and artifacts that was considered one of the best of its kind. This type of training as a young designer taught me the importance of location, culture and environment.
Wellness Centers, combining fitness, healthy food and mind activities together is an increasing trend. The newly built YO1 Luxury Nature Cure in the Catskills was designed to incorporate the natural beauty of the surrounding lake and forest coupled with therapies, food and ZEN focused rooms. Retreats like Canyon Ranch have to continue to up the ante to stay relevant because many hoteliers are trying to tie nature and wellness together. Sunrise Springs, an OJO Spa Resort in Santa Fe, New Mexico offers private outdoor soaking tubs surrounded by towering cottonwoods under blue skies or twinkling stars. You can nourish your soul with fitness, recreation, yoga or culinary delights.
1Hotel Central Park, a hotel located in close proximity to NYC Central Park, maintains an on staff horticulturist to care for their displays of living greens and nature bringing elements that are indigenous to Central Park into the hotel spaces. 1 Hotels, whose CEO is Barry Sternlicht of the former Starwood Hotels, is developing a new hotel brand focused on creating natural, unique environments bringing the outdoors inside creating synergy with surrounding environments.
Then there is the Kakslauttanen Arctic Resort in Finland where some of the sleeping facilities are glass igloos so guests can watch the Northern Lights while snuggling under the starry sky. What an amazingly unique design concept beckoning travelers for an authentic experience.
These hotels highlighted above are a small sampling of thousands of unique design ideas all headed in the same direction, one of the most important directions of current hotel design…..make each location and each project something special that will make the adventurous traveler want to come there. The beginning of project is usually programming – gathering and analyzing data so the design is based on sound directions. This stage includes establishing the goals of the design project – what is going to make this hotel different and how will this be achieved?
Competition is tough these days in the hotel space. There are so many options to choose from when you are travelling so design is critically important in supporting success. I also want to point out the importance of budget, because it would be irresponsible for me not to. There is a misconception that good design has to cost a lot, but I don't really think so. Good design has to be developed at whatever the budget allows and that is exactly where creativity comes in. Designers' should be tasked with creating the aesthetic at any and every price point, it is achievable but may take more talent, not less. Push your owners to make each hotel unforgettable, however you achieve it!
Guests are being drawn into lobby spaces that are inviting and encourage social interactions or offer a haven for a glass of wine and sending emails. Mid-century modern furniture, industrial elements and diverse wall treatments are all part of the current design trends. Vignettes combining communal tables and private niches are all visible in the same public spaces. Dining/restaurant areas are inviting their patrons to sit in classic tables and chairs, tuck their legs under them in an oversized lounge seat, or pull up a stool and plug in their laptops on a live edge communal table.
The design challenge is what the spaces look like, what aesthetic is happening throughout the space that makes it feel welcoming and interesting all at the same time. Maybe it is the architecture, like in an oversized picture window looking at a rushing stream with a water wheel or the industrial ceilings that show the steel supports of an old building. Find what is special about the space, location, community, or surroundings and bring it inside the space to make the hotel a "one of a kind" decor and experience. This is what makes your hotel memorable and brings guests in for the experience or back for more of it. Nature is a very powerful resource for inspiration and for mirroring or for using as a foundation to build from. Designers are using the outside for creativity as they bring it inside for the hotel design.
HotelExecutive.com retains the copyright to the articles published in the Hotel Business Review. Articles cannot be republished without prior written consent by HotelExecutive.com.